5 Green Bay Packers Who Cannot Get Hurt in 2012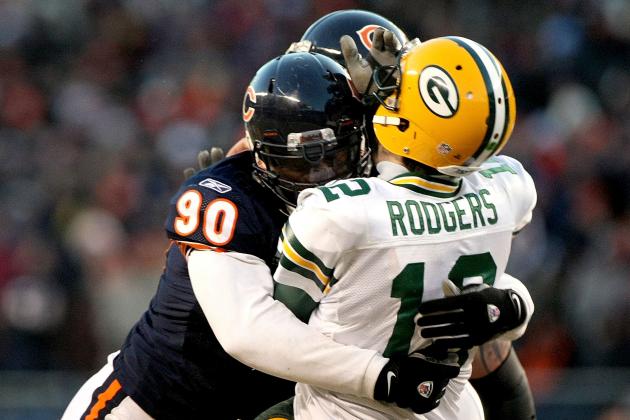 Doug Pensinger/Getty Images

The 2012 Green Bay Packers are probably the most talented team Ted Thompson has put together since he became GM in 2005. This team is also the deepest of the Thompson era as well.
That being said, the Packers would be in deep trouble if certain players were injured, especially if the injuries were season-ending.
I'm going to list five players that need to stay healthy in 2012 if the Packers expect to bring home another Vince Lombardi Trophy.
I think you know who my first player is...
Begin Slideshow

»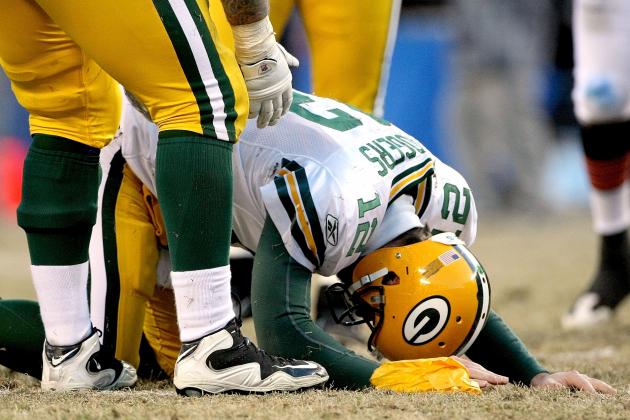 Doug Pensinger/Getty Images

What can you say about Aaron Rodgers?
Rodgers threw 45 TD passes to just six interceptions for 4,643 yards in 2011 and also had a QB rating of 122.5. He had a completion percentage of 68.3. The 122.5 QB rating was the best in the NFL and also broke the all-time record of 121.1 set by Peyton Manning in 2004.
The QB rating system also determines which QB wins the passing title in any given year. Therefore, Rodgers won the overall passing title in the NFL in 2011.
He led the Pack to the NFC North title with a 15-1 record, which was the best mark in the NFL.
He was also named first-team All-Pro and was named the starting QB for the NFC in the Pro Bowl.
That all led to Rodgers being named the NFL's Most Valuable Player in 2011.
He not only had the best-ever QB rating in a single season in 2011, but he is the all-time leader in QB rating in the regular season.
Rodgers has thrown 132 TD passes vs. just 38 interceptions for 17,366 yards and has a 104.1 QB rating in his career during the regular season. He is the only QB in NFL history to have a QB rating of over 100 based on 1,500 passing attempts.
He is also the all-time leader in QB rating in the postseason as well, as he has thrown 15 TD passes vs. only four picks for 1,781 yards and has a QB rating of 105.5.
Since Rodgers has been a starting QB in the NFL, only once has he had a QB rating below 100, and that was in 2008, when he "only" had a 93.8 QB rating.
No QB in the history of the NFL has thrown for yardage than Rodgers has in his four years as a starter (17,037).
Oh yeah, he was also MVP of Super Bowl XLV when the Packers won the Vince Lombardi Trophy after the 2010 season.
If Rodgers goes down for a couple games, the Packers might be able to stay afloat. If he goes down for the season, the Packers would have almost a zero chance of winning the Super Bowl, much less making the playoffs.
Rodgers' backup in 2012 is expected to be Graham Harrell, after Matt Flynn took off for Seattle via free agency. The 2012 season will be Harrell's third year with the Packers. He has not played a down in the regular season in his career thus far.
Harrell will get plenty of playing time this preseason, as will rookie QB B.J. Coleman, but exhibition games are one thing, while the regular season is another.
Bottom line, Rodgers has to stay healthy. Why? He is not only the best player on the Packers but also the best player in the NFL.
Jonathan Daniel/Getty Images

Clay Matthews needs to stay healthy in 2012 because he is the primary pass-rusher for the Packers. There are some who feel that Matthews had a down year in 2011, but overall, it may have been his finest year as a pro.
Matthews only had six sacks last year, compared to 23.5 his first two years in the NFL. But he also led the team in pressures for the third year in a row, plus was second on the team in tackles for losses and also played well in coverage, as he had three picks, including one for a TD.
Matthews will be getting help this year via the pass rush, as Ted Thompson has added plenty of weapons to help out in that regard, in both free agency and the draft.
Matthews has been selected to three straight Pro Bowls and almost won Defensive Player of the Year in 2010, when he finished second to Troy Polamalu.
The Packers finished second in the NFL in sacks in 2010 but slipped to 27th last year. I expect Matthews to lead the Packers to top-10 status again in sacks with the added help that Thompson has given him. But he needs to stay healthy, as he is the best defensive player on the team.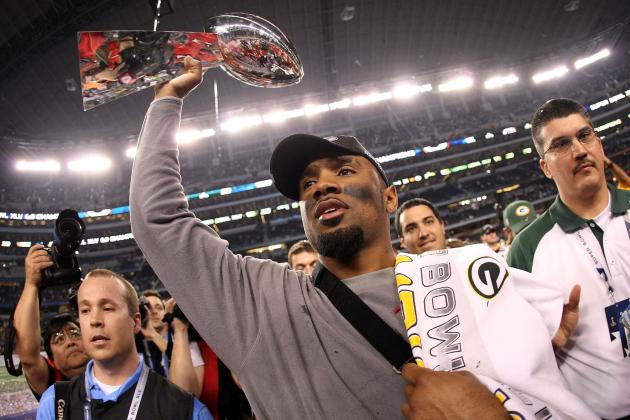 Doug Pensinger/Getty Images

Charles Woodson has slipped a.little as he has gotten older, but not too much. His six-year career in Green Bay has been unbelievable overall.
Since his arrival in Green Bay in 2006, Woodson has 37 interceptions, nine of which were returned for TDs. He has averaged almost 85 tackles per season. He has 10 sacks and 14 forced fumbles—one of which he recovered and returned for a TD.
He was also the Defensive Player of the Year in the NFL in 2009 for the Packers.
Woodson has been named All-Pro four times as a Packer and has also been selected to four Pro Bowl squads.
He had seven picks in 2011, which was tied for the NFL lead.
Yes, he occasionally gets called for holding or interference. Woodson also doesn't have the foot speed he once had. Like the rest of the secondary of the Packers in 2011, he needs to improve his tackling.
But overall, Woodson usually guesses right and almost always makes a big play in any given game. Sometimes a number of big plays.
The Packers won Super Bowl XLV with Woodson sitting out the second half due to a broken collarbone. The team was very fortunate they did with Pat Lee playing CB.
Like with Matthews, the Packers can get by for a couple of games if Woodson gets injured, but not for a long stretch.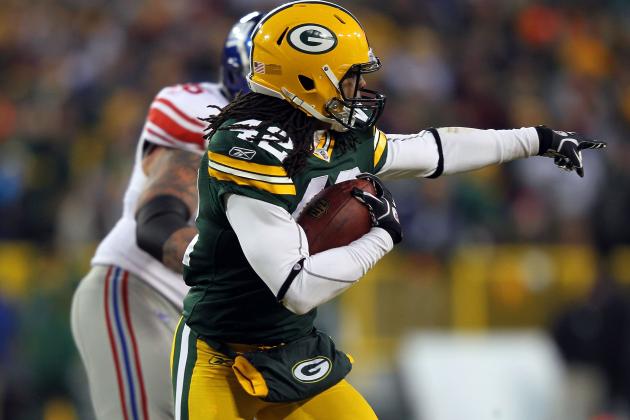 Jamie Squire/Getty Images

Morgan Burnett had a decent season in the NFL in 2011, which was really his rookie year after missing most of his first year in the NFL in 2010 due to a knee injury.
Burnett had three picks and played solidly at safety, even after Pro Bowl S Nick Collins went down with a season ending neck injury in week two.
The Packers ended being ranked 32nd in the NFL in pass coverage, which was mostly due to three reasons.
For one, the Collins injury. Secondly, the lack of a pass rush. Finally communication issues in the defensive backfield.
That's why it's imperative that Burnett stays healthy as he and the rest of the secondary learn how to be cohesive as a unit.
Burnett has the skill set to become a Pro Bowl-type player, but he needs to stay healthy for that to happen.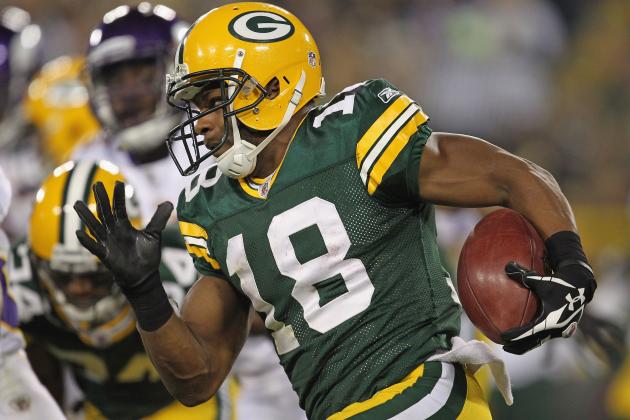 Jonathan Daniel/Getty Images

In 2011, rookie Randall Cobb became the best return man the Packers have had since Desmond Howard in 1996.
Cobb led the NFC in kickoff returns as he had 941 return yards for a 27.7 yard average, which included 108-yard TD, which was a NFL record.
Cobb was also fourth in the NFC in punt returns, as he had 295 return yards for a 11.3 average, which also included a TD (80 yards).
Cobb figures to get a lot more playing time at WR in 2012, as he showed flashes in 2011. Cobb had 25 receptions for 375 yards (15.0 average) and one TD.
But the biggest role Cobb will have for the Packers will be his return skills. The Packers have a number of players that can return kicks and punts, but none even come close to the ability of Cobb in that particular endeavor.