Will the Brock Lesnar Era Be the Biggest Ever for the UFC?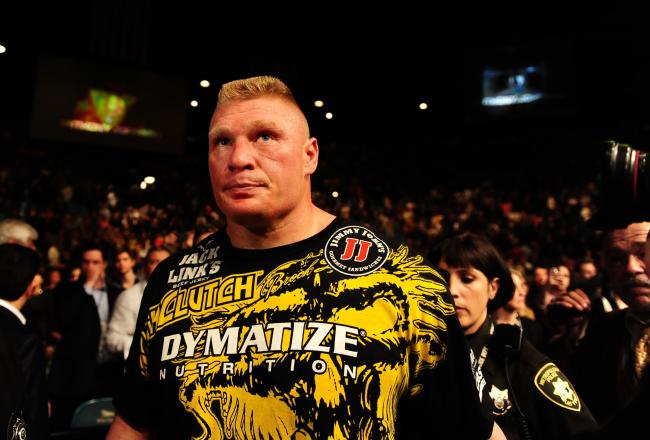 Mark J. Rebilas-US PRESSWIRE
If you ever get a chance to pay a visit to the ivory tower of mainstream American sports, be sure and take a moment to explore the basement. If you bring a flashlight down there and you look closely enough, you'll see a dark line running around the perimeter of the drywall. That's the high-water mark caused by a storm that came through the tower a couple years ago.
Most storms only go by one name. But this one had two: Brock and Lesnar.
For a minute there, it looked like Hurricane Brock and the UFC (not MMA...the UFC) might take up permanent residence there. Since then, however, the waters have receded.
The UFC's signature television program, The Ultimate Fighter, is in a ratings tailspin. UFC on Fox has, for various reasons, struggled out of the gate, you might say. There were better days when Lesnar was on the bus. UFC 100, co-headlined by Mr. Lesnar, is believed to be the promotion's biggest pay-per-view draw ever with about 1.6 million buys.
But that was a stacked and heavily promoted card, you might say—and you might be right. But consider this: Just recently, UFC 148 hit 1 million buys, but was the first to do so in nearly two years, and it took the sport's best fighter and best showman working together to make it happen. The last event to break that magical threshold? UFC 121, featuring Cain Velasquez and one Brock Lesnar.
The benefits carried over to cable as well. The installment of UFC documercial Primetime featuring Lesnar and Velasquez is the third-highest in the series, not counting the one between Velasquez and Junior dos Santos that aired on Fox. Countdown to UFC 100 program, showcasing Lesnar and Frank Mir preparing for their rematch, drew in 1.1 million viewers. That record still stands.
Now, of course, Lesnar was no panacea. TUF 13, featuring a sudued Lesnar as coach, was far lower in the ratings than the seasons preceding and following it, not to mention the ratings zenith achieved in the show's earlier years. UFC 141, which included Lesnar's final cage fight (though no one knew it beforehand), was a relative disappointment.
Nevertheless, this all the other evidence out there makes it clear. Brock Lesnar is the biggest draw in the short history of the UFC. Did the UFC get where it is today because of Brock Lesnar? Of course not. But did he help, perhaps more than any other single person who earns his paycheck inside the cage? Yes.
And they sure are missing him now. Through no fault of anyone in particular, the UFC is suffering from personality deficit disorder. All of MMA's most charismatic champions are extinct or going that way. Chuck Liddell, Randy Couture, Tito Ortiz and Fedor Emelianenko have retired. Wanderlei Silva, Matt Hughes, Quinton Jackson, Forrest Griffin and B.J. Penn are probably not far behind.
Now don't get me wrong. There are plenty of great fighters on the landscape. It's just that none of them come with that franchise tag. Anderson Silva doesn't really speak English, and comes off to fans as aloof or cocky. Chael Sonnen isn't good enough to beat Anderson Silva. Jon Jones is still young, and people can't seem to make up their minds about him (never an issue with Lesnar). Dos Santos, despite having a very appealing split personality—dimpled Boy Scout away from the cage, lightning-fisted soul reaver inside it—hasn't quite captured living room imaginations yet, and may never.
And then of course, there's good ol' Georges St-Pierre. To borrow a phrase from Seinfeld, the greatest welterweight of all time is just too good. He's a peerless fighter, he works like a maniac, he's extremely smart, he's polite to a fault, he's highly telegenic and he ties himself in knots to please his bosses and fans and say and do the right thing at all times.
How many people can relate to that? He's great for the TV cameras and the billboards to the point that he doesn't always seem three-dimensional. He doesn't have Lesnar's larger-than-life physicality. GSP inspires respect, but he does not inspire awe.
Lesnar checked off plenty of these boxes. He was a heel to some, an anti-hero to others, but no fan could stand the thought of missing an event in which he was involved.
There's also the fact that Lesnar carried the pro wrestling audience to the cage with him on his back and presented it to Dana White like an offering. Imagine if St-Pierre had been an NHL hockey player before crossing into MMA and you'll have a pretty decent analogy.
It's not so much that the specific presence of Brock Lesnar, the individual man, is what's lacking. It's what Lesnar brought to the table.
The UFC has a lot of events these days—maybe too many. A recent string of medical, and eh, medico-pharmaceutical setbacks have further diluted the talent pool. Whole weight classes are stagnating under the weight of stagnant champions. Hey, these things happen. But the UFC is having a hard time pulling out of the tailspin. That's what Lesnar brought to the table.
Think of a baseball team. Every good ballclub needs a stopper. That's a starting pitcher who, when healthy, gives them a chance to win every fifth day. Injuries and losing streaks and bad luck and bad airplane food be damned. If you can get him to the mound, this guy can stop the bleeding. Stopper.
Brock Lesnar was the UFC's stopper. They knew during his short run that he, when healthy, would deliver the goods in the cage and in front of the mic. Pencil him in for the main event and start spending the money.
The UFC is still many miles farther along than it was just a handful of years ago, and that's a credit to a lot of people. But it's clear that the momentum has slowed. Can the UFC reclaim that momentum? You bet. But they'll have to do it without their stopper.
They'll need shrewd planning, and they'll need a lot of luck. They'll need to play small ball for a while. They can definitely, absolutely do it, and they definitely, absolutely will. They can get back to that high-water mark they left on the American sports edifice.
But the current era offers no shortcuts. The Lesnar era did. Maybe it wasn't the best era, but I'm pretty sure the UFC is missing it all the same.
This article is
What is the duplicate article?
Why is this article offensive?
Where is this article plagiarized from?
Why is this article poorly edited?