British Open 2012: 5 Things to Take Away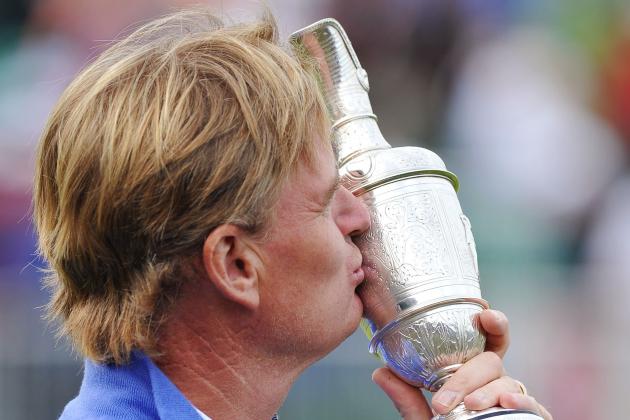 Stuart Franklin/Getty Images
Ernie Els, Champion Golfer of the Year
The 2012 Open Championship that just finished will be remembered for generations to come.
The seemingly unthinkable collapse over the last four holes by Adam Scott will be what most people will remember. That, however, takes away from a few other story lines that played out along the four days on the Irish Sea.
Seemingly lost already is that Ernie Els becomes one of the rare golfers to win majors over the course of three decades. His 18-year stretch is now only one year short of fellow South African Gary Player. Els is more than likely to add at least one more in his career before finishing.
Here are five things to take away from a rather eventful Open Championship that you should keep in mind.
Begin Slideshow

»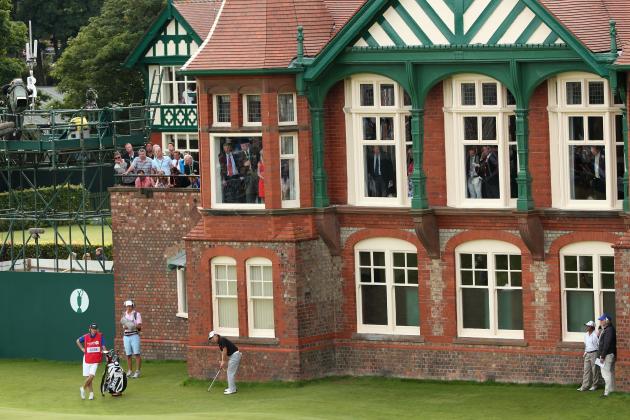 Andrew Redington/Getty Images

It is a good thing that the Royal and Ancient Golf Club of St. Andrews is not as fussy as the United States Golf Association is about getting a target winning score for their elite championship because Royal Lytham and St. Annes was pretty defenseless over the week.
If Adam Scott had shot par Sunday, his 11-under par score would have beat David Duval's 10-under winning score in 2001 by five shots. Duval's win came on a course that played to a par of 71 while 70 was par this year. Duval shot 274 for his win while Scott's total would have been 269.
As it is, Els's winning score of 268 was one lower than Duval's 11 years ago.
With the rain and lack of wind Thursday, you will never see a links course play as easy as what Royal Lytham did. Scott's opening 64 and Nicolas Colsaerts' 65 were not surprises.
Colsaerts' closing 65 yesterday also shows that despite the added breeze and breathless commentary, Royal Lytham was toughening up. The truth is that the carnage Sunday afternoon was more due to nerves and not just the course.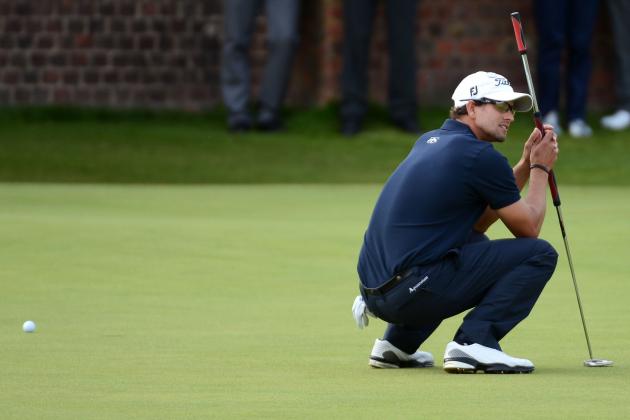 Harry How/Getty Images

While that sounds extremely harsh, yesterday was not the first time this week that Adam Scott let himself think a bit too far ahead.
While on the verge of an historic 62 Thursday that would have been the all-time lowest score shot in a non-war year major, Scott told reporters this according to Jason Sobel of the Golf Channel:
"I was waiting to use the bathroom going to the 17th tee. I did a look at the leaderboard and realized it was a par 70."

"I also probably then realized that I wasn't going to be the guy to shoot 62. It's one of those things that you don't want to go through your mind, thinking about your final score and stuff like that."
Scott was thinking down the stretch Sunday afternoon that he had his major won. Then the wheels really came off on the 17th green. He realized it was too late and that the train wreck he was in was his own doing.
Golf is unique among sports that there is no coaching in the middle of a round. Gymnasts get instructions after each routine. Coaching from the player's box in tennis is illegal, but happens all the time without any sanction. A golfer is alone with just his caddy and his own thoughts.
Scott was already a bit thrown off when his ball moved between a practice shot and Scott walking to the hole around the seventh green. Scott let his head work ahead and, like a football receiver that starts to run up field before he actually catches the ball, let his focus go from winning the Open.
It cost him dearly.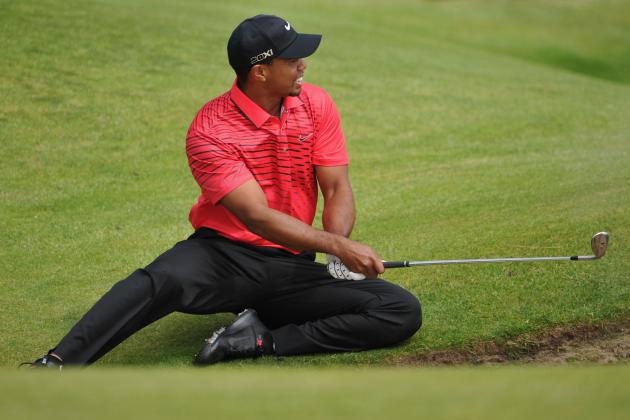 Stuart Franklin/Getty Images

We could not have known at the time that the winning score would settle at seven-under, but Tiger's thought process around his impossible bunker shot on the sixth green was really puzzling for someone of his course intelligence.
Woods approach pretty much landed directly at the base of one of those big turf walls that are a staple of links golf. While they scrambled on ESPN to explain his options in getting out, Woods chose to try and play his buried shot out on the green and missed.
When he literally got on his knees on the grass to get the next shot out of a shorter corner of the same bunker, the ball initially did not clear the wall and came very close to staying in yet again.
Tiger's concentration lapsed on the green and he never recovered from the three-putt triple bogey he scored.
When Graeme McDowell faced a similar shot about ten minutes later—McDowell's ball did not plug like Tiger's—McDowell hit his next shot backwards, while still staying in the bunker. His next shot from the bunker was clear of the obstruction and Graeme had a direct shot at the hole.
The fact that Tiger and his caddy never really thought of that or take the two club-length unplayable lie penalty that would have put the ball roughly where McDowell's did is a surprise.
It might have even cost him the tournament.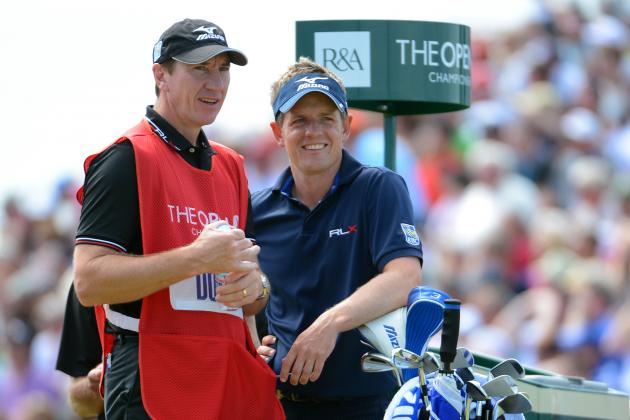 Harry How/Getty Images

The United Kingdom's big three golfers, Luke Donald, Lee Westwood and Rory McIlroy were non-factors on the weekend in a blow for the British game and the Official World Golf Rankings.
While Donald snuck in the backdoor with a good result, he was 10 shots behind Sunday morning and was never a factor.
While Rory had a bad Friday to play himself out of contention, Westwood completely missed the cut.
We know that these three are among the world's best, but the fact they have done so little this year when it really counts despite the computers saying they are the best in the world is saying something,
One of them—especially Donald—needs a stand-and-deliver moment on a weekend in a major soon or the perception of the ranking system starts to become pointless.
They need to get that Open Championship monkey off their back or continue to be eaten alive by the English press like mosquitoes in a mosh pit.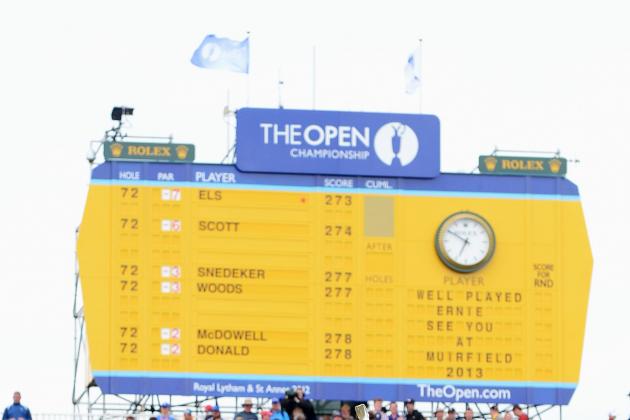 Harry How/Getty Images

Els told anyone that would listen before his round started yesterday that he had a good feeling about the day.
Six shots behind a seemingly unflappable Scott, the notion seemed kind of silly. But on a day when the field went backwards, Els fired a 68 and won his fourth major.
You can thank the fine folks at Augusta National for lighting a major fire under Ernie's pants. Out of the top-50 in the OWGR before the Masters, Els found himself on the outside looking in this spring. He increased his schedule and got his game back in marvelous shape, but failed to qualify when his bid to win the Shell Houston Open the week before.
When told that Augusta would not grant the exemption, he told anyone that listened he would not have accepted.
That was all the motivation the elder South African needed and, while not winning this year, his play got better and better. By the time he hit Royal Lytham, he was ready and had played himself into a position he was comfortable with to attack on Sunday.
While he really did need Scott to move back towards the field to have a chance, Els was the only pursuer to take full advantage. His 68 was the best score of anyone in the last five groups and his confident birdie putt on the last hole showed all of us never to take his game for granted.
While it really is impossible to say just who has been impacted most in the win column during the Tiger Woods era, you get the sense that at Els peak he would have won at least a Masters and probably another US Open.
While Woods three victories are quite an accomplishment, the resurgence of Els is the real comeback story.