US Olympic Men's Indoor Volleyball Team: Updated News, Roster & Analysis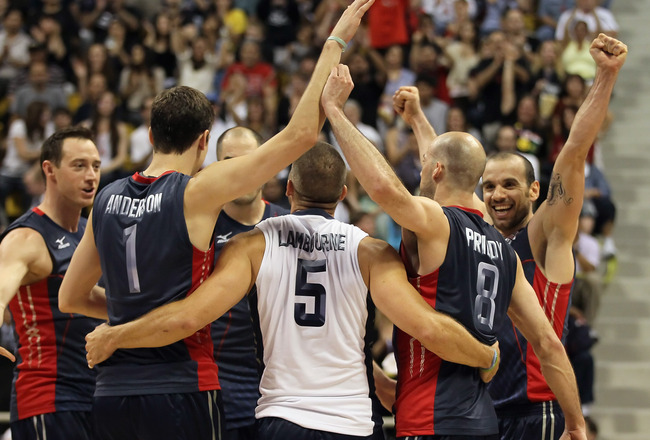 Jeff Gross/Getty Images
USA Volleyball announced its final roster for the 2012 London Olympics on July 6, and Team USA has a good shot at success.
Much has changed in four years, when Team USA pulled off a dramatic upset against Brazil to win the gold. Now, Team USA is ranked fifth in the world and qualified for London by winning gold in the North, Central American and Caribbean Volleyball Confederation (NORCECA) Olympic Qualifying Tournament.
Hugh McCutcheon was head coach for the 2008 team and has since moved to the women's side. Alan Knipe has taken over for the men.
Will Team USA be able to defend their title? Or will Brazil be gunning for revenge?
Let's look at the latest news in men's volleyball in the next few slides.
Final Roster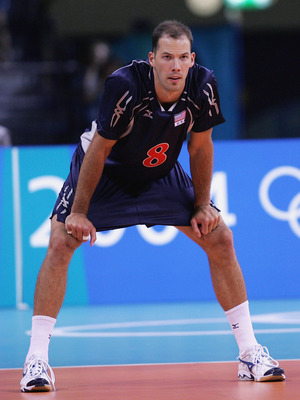 Reid Priddy.
Jonathan Ferrey/Getty Images
Outside hitters
Matt Anderson (West Seneca, N.Y.)
Sean Rooney (Wheaton, Ill.)
Phil Lotman (Lakewood, Calif.)
Reid Priddy (Richmond, Va.)
Middle blockers
David Lee (Alpine, Calif.)
Russell Holmes (Fountain Valley, Calif.)
David Smith (Saugus, Calif.)
Libero
Rich Lambourne (Tustin, Calif.)
Setters
Donald Suxho (Korce, Albania)
Brian Thornton (San Clemente, Calif.)
Opposites
Clay Stanley (Honolulu, Hawaii)
David McKienzie (Littleton, Colo.)
Key Players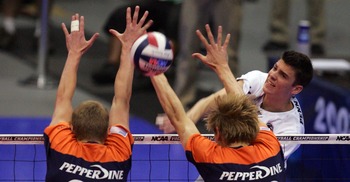 Matt Anderson during the 2008 NCAA volleyball championship final.
Victor Decolongon/Getty Images
Matt Anderson (outside hitter)
Anderson, who at 25 is the youngest player, brings youth and power to an aging team.
He may be the youngest, but he is the tallest at 6'10".
It's Anderson's first time at the Olympics and he will be a team leader.
He led the national team in 2011 in scoring, and in the FIVB World Cup, he led the team with 158 points, 139 kills, five blocks and 14 aces. He was named "Best Spiker" at the NORCECA games with 52 kills.
The U.S. will rely on the 6'10" former Nittany Lion and his youthful legs to carry them to a gold medal.
Donald Suxho and Brian Thornton (setters)
There is a big gap in the setter position as the team looks to replace former star Lloy Ball, who retired from the national team after the 2008 Olympics.
Head coach Alan Knipe has spent the past three years searching for a replacement as setter is arguably the most important position on the court.
The uncertainty has been a struggle for Team USA, though Suxho, a 2004 Olympian who missed Beijing due to injury, will most likely be the starting setter.
Reid Priddy (outside hitter) and Clay Stanley (opposite)
Priddy and Stanley will each compete in their third Olympic games. The duo were starters in Bejing and Athens.
Stanley was named the most valuable player in the Beijing Games and is the U.S. team captain.
The combination brings experience and leadership.
Main Challengers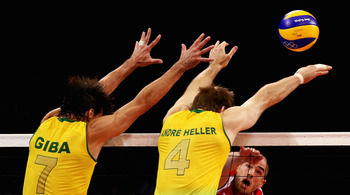 Quinn Rooney/Getty Images
Brazil
The 2008 upset was a stunning experience, and the Brazilians will undoubtedly remember that and be gunning for revenge. Brazil is currently ranked No. 1, just like in Beijing. They were runners-up in the 2011 World League and placed third at the 2011 World Cup.
Brazil has many returning players from Beijing, with an experienced, but aging, squad.
Russia
Russia, currently ranked second, will be a top contender for the gold. They took the bronze in 2008 and have been improving ever since, taking the World League Championship in 2011. Russia has eight players over 6-feet tall, which will prove dangerous.
Poland
Poland had a disappointing fifth-place finish in Beijing but has been on the rise. They were runner-up in the 2011 World Cup and took first in the 2012 World League.
Prediction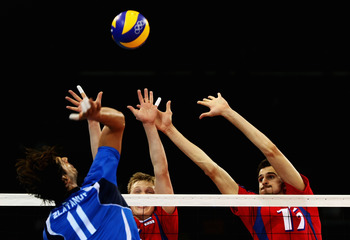 Jonathan Ferrey/Getty Images
Russia will win the men's Olympic volleyball tournament.
It is going to come down to a heated championship match between Russia and Brazil, as the two strongest teams are going to fight until the end when Russia simply outplays Brazil.
Yes, that's the way someone usually wins a game, but it is going to come down to the final points until Brazil just can't do anything anymore.
Maxim Mikhaylov, an outside hitter for Russia, is going to spearhead a dynamic offense and be unstoppable.
Team USA is going to lose in the semifinals and claim the bronze medal. Their mix of experience and newcomers is not going to flow perfectly and the loss of their strongest setter is going to show.
Keep Reading