Raw 1000: The 50 Most Entertaining Diva Matches, Moments and Segments in History
The 2010 Divas Roster

With Raw's 1000th episode coming so quickly today, I wanted to take a trip down memory lane and remind everyone of one of the key components that made Raw (and the WWE) as popular as it is today--the Divas.
It's sad what the women's division on Raw, let alone the entire WWE, has come to, which is why I want to look back at better times when seeing a Diva smash a weapon into another wrestler's face wasn't so out of the norm.
We tend to forget how entertaining the women can be, so allow me to remind you.
Here are, in no particular order, what I consider to be the 50 best Divas matches, moments and segments:
AJ Puts CM Punk and Daniel Bryan Through a Table
Let's get some of the obvious out of the way here.
No one will ever forget the pint-sized fireball putting two of the WWE's top workers through a table after methodically wrapping them around her finger.
Lita and Stephanie McMahon in Raw Main Event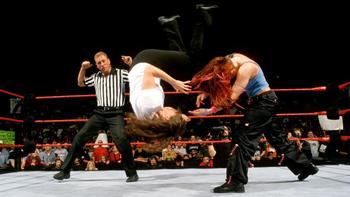 This was the first Divas match to ever be featured as the main event on Raw. Stephanie and Lita had been feuding for weeks when this match finally came about. The Rock was the special guest referee, and the match saw interference by Kurt Angle and Triple H, adding to the already high-profile match up.
Trish Cuts a Very Candian Promo, and Kane Makes His Presence Felt
Trish always had a way with words, and it was no different when she returned to her home country. The fans ate up her spiel about being appreciated and destroying Lita. But Trish ended up eating a very nasty chokeslam.
First Ever Divas Steel Cage Match
The first Divas steel cage match saw two of WWE's best Divas ever, Lita and Victoria, battle it out with no fear of ramming one another into the intimidating cage. In the end, the winner would be Victoria when Lita's jaded ex-boyfriend Matt Hardy intervened in the matchup.
Melina Attacks Beth Phoenix
In a time of decline for the Divas, it was highly entertaining to see one actually attack another. Not to mention with a shoe! Oh that Melina...
First Ever Divas Falls Count Anywhere Match
Mickie and Melina, to me, have always been the successors of the Trish/Lita dynamic. Their careers always paralleled one another accordingly, and they had just as much talent (I think more) than their predecessors.
So it wasn't surprising that when the two clashed in this high-stakes matchup they delivered a fast-paced, gritty and memorable brawl.
Trish Returns with a Can of Whoopass on Jazz
After being pummeled by Jazz weeks prior, Trish made her return with guns a-blazin'. Not even Victoria was able to overpower the fired up Trish.
Trish vs Victoria in a Street Fight
Trish and Victoria beat the tar out of each other, and afterwards Trish faces Jazz's wrath which led to the previous slide.
Trish Returns in 2005
Vince's Devils were planning to have even more fun with Ashley, but the 2005 Diva Search winner wanted to have some fun of her own...
Trish Stratus vs Victoria for the Women's Championship
One of the many brutal battles between Victoria and Trish saw the "Widow's Peak Freak" defeat Trish using just that--the Widow's Peak.
Lita Returns in 2003
Lita's return in 2003 was simply put--epic.
Lita and Gail Get Almost 10 Minutes on TV
Lita came back from her injury to fantastic fanfare and, as seen in this match, fantastic ring work as well.
Lita Returns in 2005
Yet another epic return for "The Queen of Extreme"
Lita and Trish vs Gail Kim and Molly Holly
Revel in the greatness that was the year 2003.
Lita and Trish on Raw's 15th Anniversary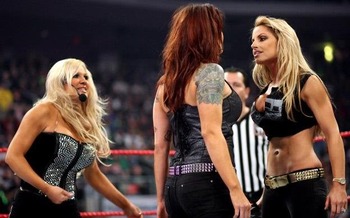 Jillian Hall found herself in a world of hurt when Trish and Lita put their past differences aside to create a memorable moment for the fans.
Alundra vs Bull Nakano
Now this is a match! People tend to forget women like Bull and Alundra, which also makes them forget how ahead of their time these two women were as well. Not even some of the women in the Golden Era could put on a showing like this one.
Molly Holly Turns Heel in a Nasty Way
I don't think I'll ever forget this. Molly literally broke a wooden paddle over Trish's head. Now that's a tough cookie!
Molly Wins the Women's Championship
One of many countless technical showings by the ever underrated Molly Holly.
Trish PO'ed
I love this segment for multiple reasons, but the main thing I love about it is Trish's attitude about losing her championship. She really believed it was her property.
That's the type of attitude I wish the Divas would be allowed to show nowadays. It would make the belt mean something again. A key component to the credibility of the division back then.
Beth and Melina's Feud Continues to Boil
What made this bout so great was clearly the interaction between Beth and Melina. Melina, as per usual, played her role to perfection. The fans really felt the adrenaline coursing through her veins, which caused them to erupt when she got the tag. It was fabulous!
Kharma Annihilates Maryse
This is my favorite attack by Kharma because of the way Maryse sold it. Absolute perfection!
Alicia vs Gail Kim vs Kelly Kelly vs Beth Phoenix
I find this match to be highly underrated. Considering the women involved at the time, it was a surprise that they put on such an entertaining and solid matchup. Props to them!
Trish Puts Victoria Through a Table
One of the reasons Trish and Victoria's feud is so often praised is how intense it was. These girls really were not afraid at all to beat the living hell out of each other. It was refreshing to see.
Lita and Trish vs Molly Holly and Victoria
A solid match from the four most influential women of the Golden Era.
Lita's Last Match and Message to the Fans
Lita set out to make a very obvious point in her last match on Raw--that she is the best and always has been. I can't say I agree, but I loved her retaliation at the fans in the end. I felt like it was some sort of comeuppance. That was until her last match with the company.
Lita Turns Heel
Speaking of Lita, her heel turn was shocking and executed without a hitch. Take a look for yourselves.
The Infamous Walking Kiss of Death Promo
This promo took Trish and Lita's feud up yet another notch. Back in the good old days when Lita was beloved by the fans, Trish just continued to prod and prod at her like no other. It led to another one of their big brawls.
Lita vs Jackie with a Side of Hardcore Rules
Keeping the Lita train going, here she faced the stiffest worker in Divas history. And how fitting that the stiffest worker got to utilize some stiff weaponry.
Victoria Turns Heel
It seemed to be just another bikini competition on Raw when Victoria's crazy reemerged in the most vicious of ways. It was fantastic!
Gail vs Victoria
Most people probably haven't seen this match, or just don't remember it. But I definitely do! It was one of the stronger bouts between these two very talented ladies.
Trish, Lita and Nidia Backstage
It's the little things in wrestling that are the most entertaining, and the attention to detail in this segment was great. It was a hilarious segment that served it's purpose--to continue Trish and Lita's feud and to just plain entertain.
Divas Battle Royal, 2003
Clearly the best Divas Battle Royal in history.
Trish Calls Christy Hemme Out
Not even Britney friggin' Spears is gonna steal Trish's spotlight, and Christy needed to know that.
Trish vs Jackie vs Victoria, Hardcore Rules
Again, when Jackie has a weapon it ain't gonna be pretty.
Christy Hemme's Playboy Unveiling
Best Playboy cover unveiling in my book.
Victoria Wins Her Second Women's Championship
I remember this match like it was yesterday. I was on the edge of my seat when it came down to Lita and Victoria. When "Miss Peak Freak" won, the crowd was surprisingly supportive since she had just turned face.
Sable Gives Vince McMahon Two Middle Fingers Up
Seeing Sable flip her two birds up at the owner of the company sent the fans into a wild rampage, and it's no surprise why--that's not very ladylike behavior at all!
Six of the Best Workers Makes for One Entertaining Match
Now that's how a six Diva tag-team match should be done!
Trish Stratus on the Highlight Reel
Everything about this segment was entertaining. Again, it's the little things, like Trish mimicking Jericho's entrance, that just get you.
Victoria Hits Trish with a Steel Chair
Now that's brutality! Victoria put all of her hate into that shot, and it translated so well on screen.
Melina Kidnaps Trish
It can't get any better then this. When the two top females of their respective brands and the two top talkers in the company meet, it's bound to be a must-see.
Melina Claims the Torch from Trish Stratus
Another meeting between Melina and Trish saw the feisty Latina claim herself as the new top Diva in the WWE, but Trish wasn't exactly going to back down so easily.
Lita Wins a Women's Championship Opportunity
Lita was headed fast toward gold, but it was no easy feat defeating the three other women involved in this match.
Mickie Has a Present for Trish
People think AJ is crazy, but they clearly must not have seen Mickie James. You wanna talk about an absolute schizophrenic, psychopathic genius? Then talk about Mickie James.
Mickie Topples the Glamazon
Beth was the alpha-female of the WWE when this match took place. She was literally unstoppable. That is, until the energetic Virginia farmgirl rolled her up for the shocking upset victory.
Trish Returns Mickie's Earlier Favor
Wow. Ok. Does anyone else remember how hard it was to explain this storyline to people?
Gail vs Trish
Another intense matchup from the Divas. This time from two of WWE's best Canadian talents to date.
Candice Goes out on Her Best Match
Never has a match ended in such tragedy. It was undoubtedly Candice's best match to date, so seeing it end the way it did (and end Candice's career the way it did) really spoke volumes about what risks wrestlers take every time they step into the ring.
Trish and Lita on the Highlight Reel
With so much talent in one ring at one time, this segment was bound to make an impact.
Trish and Lita in Raw Main Event
Okay, okay. I know I said this was going to be in no particular order, but I just couldn't help myself. I had to save the best for last. This has to be the best Divas moment ever, from where I stand.
The build up, the drama, the excitement, the atmosphere, the payoff, the everything!
This match was 10 minutes of perfection. If WWE could somehow re-create this moment, I would be in heaven. Everything that had led up to this moment for months finally came together. It was perfection personified.
And I, like many others, would give anything to relive this match.
It represents everything everyone loves about wrestling and then some. When you think best Raw moments, you think of this match.
And that, in and of itself, says it all.
FIN

Trish's promo for her last match.

While I'm sure I missed many other matches, moments and segments, this is my complete list.
I'd love to know your favorite Diva matches, moments and segments. So let me know in the comments section!
Keep Reading