Battle of New York: Matching New York Knicks vs. Brooklyn Nets at Every Position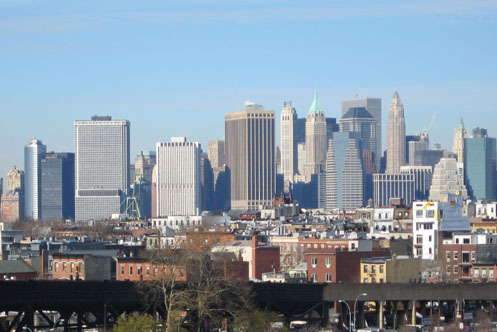 Manhattan towering over Brooklyn brownstones. Will the Knicks do the same to the Nets? Photo courtesy of www.gowanuslounge.blogspot.com
One of the NBA's biggest story-lines this upcoming season will be whether the Manhattan based New York Knicks or their new neighbors, the Brooklyn Nets, are the best NBA team in "The City That Never Sleeps."
This comparison is an embarrassment of riches. Both teams have multiple max-contract all-stars. The Nets boast arguably the most formidable backcourt in the league, while the Knicks have a high pedigree frontcourt and a veteran bench.
The following is an analysis of how the Nets and Knicks match-up at each position. Team chemistry, coaching, and bench comparisons are also made.
Let the battle of the boroughs begin.
Begin Slideshow

»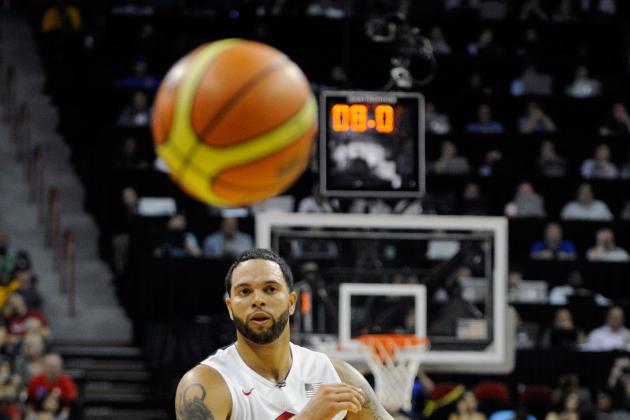 David Becker/Getty Images

Deron Williams is a 20 points per game, 10 assists per game All-Star who will be playing for the U.S. Olympic basketball team in this summer's London games. He is one of the most fluid players in the game.
Raymond Felton is an average point guard at best, with a questionable jump shot and diminishing defensive skills.
Significant edge: Williams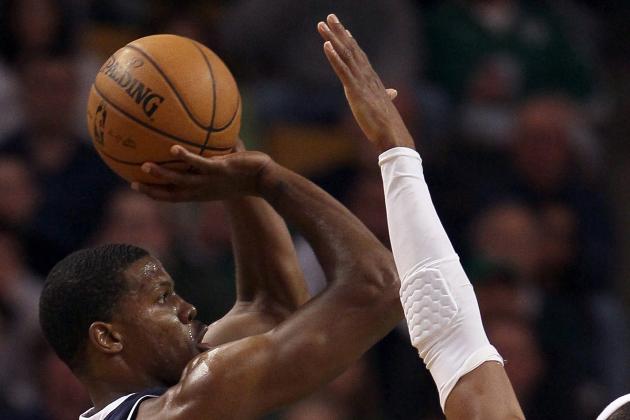 Elsa/Getty Images

Another match-up heavily in the Nets' favor. Johnson has a career 18 point per game scoring average on 45-percent shooting. Against J.R. Smith—a sub par defender—Johnson may light up the Knicks for 25 or more points.
Smith is a streaky, high volume scorer who is capable of destructive or explosive shooting outings. Count on the former against Johnson, whose perimeter defense is amongst the best in the NBA.
Significant Edge: Nets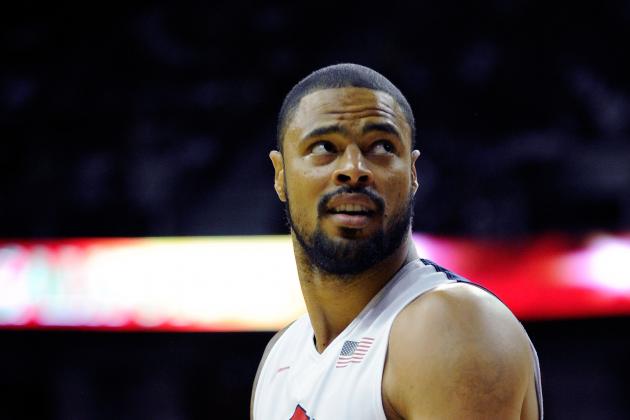 David Becker/Getty Images

Brook Lopez's offensive game is unusual for his position. Unlike most NBA centers, Lopez likes to shoot from beyond 15 feet from the basket. However, Lopez only shoots 40 percent from this range, and his opponent—defensive specialist Tyson Chandler—has no problem defending away from the basket.
If Lopez tries to score around the rim, Chandler will challenge him there as well.
Because Lopez is not a strong man-on-man defender, the Knicks will use Chandler more on offense against the Nets than usual. Expect Chandler to out-muscle Lopez under the basket and regularly score in the high teens in this inner-city rivalry.
Advantage: Knicks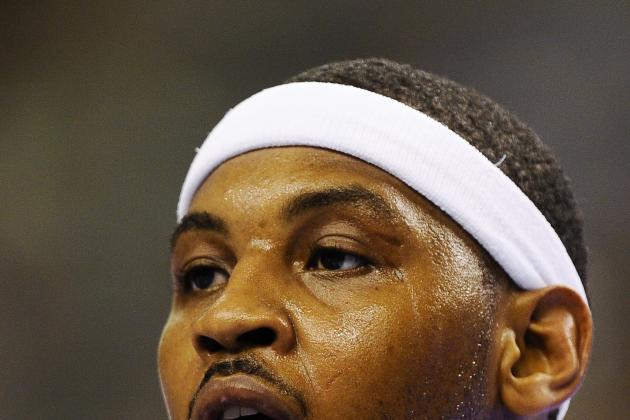 David Ramos/Getty Images

On paper, it looks like Anthony has a "big" edge over Wallace. Anthony's career scoring average is 25 per game; Wallace's, 13.5.
However, Wallace is one of the premiere defensive players in the league. Much of Anthony's scoring comes from high volume shooting from the wings and corners: the two areas Wallace defends best.
Also, expect Wallace's offensive game, which thrives on a full-court offense, to get a boost from playing with Deron Williams.
Anthony does have a clear edge, but it's not as significant as it may appear.
Edge: Knicks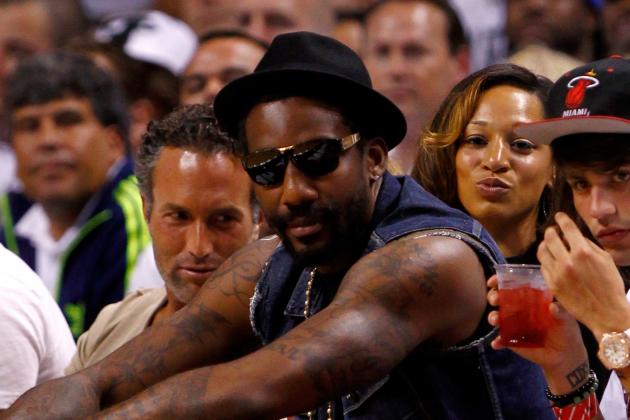 Mike Ehrmann/Getty Images

What was evident from last season is that persistent back injury problems have significantly diminished Amare Stoudemire's explosiveness. In the 2011-12 season, Stoudemire averaged six-year career lows in points (17.5), field goal percentage (48 percent), and rebounds (7.8).
Moreover, Stoudemire has never been a terrific man-on-man defender, even during his prime.
Stoudemire's shortcomings beg the question of just how much an edge he has over Kris Humphries, the Nets double-double machine. The 27-year-old Humphries is healthy and coming off a career year (14PPG, 11 RPG). It's possible that Humphries' game still has some upside
Both players will put up respectable numbers against one another, with Stoudemire having an edge.
Edge: Knicks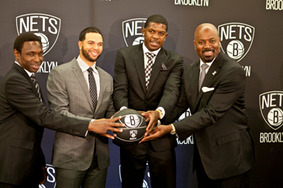 Photo Courtesy of the Brooklyn Eagle (www.brooklyneagle.com)
Good chemistry comes down to excellent ball-movement. Unselfish players tend to get along better than selfish ones.
The Knicks starting line-up needs to learn this principal fast. Both Carmelo Anthony and Amare Stoudemire stop ball movement too often, running impromptu isolation plays for themselves. J.R. Smith is a chronically selfish player as well.
Raymond Felton is a decent point guard, but the offense will run through Anthony and Stoudemire by far more often than it will through Felton.
Anthony, Stoudemire, and Smith's propensity to feed the New York media circus with controversial back-page material will not help the Knicks team chemistry either.
South of the Hudson River, the Nets chemistry is looking considerably better. Although the Nets' Joe Johnson and Deron Williams will be new teammates this season, expect them to gel quickly. Williams is one of the best pure-point guards in the NBA, and Johnson is a capable passer for his position.
More importantly, the Nets starting line-up is comprised of solid NBA citizens, which is an important yet grossly underrated factor in consistently winning games.
Significant Edge: Nets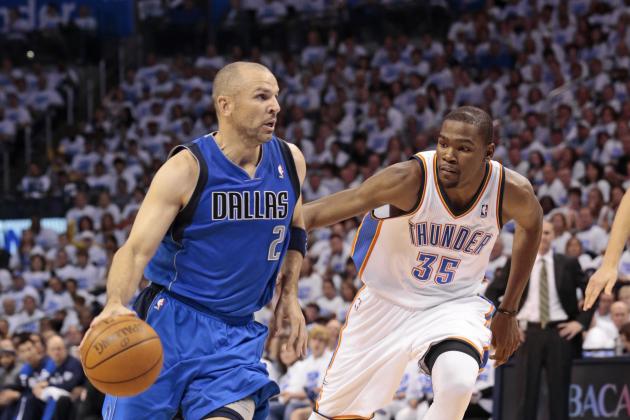 Brett Deering/Getty Images

The Knicks boast a deep, experienced bench lead by point guard Jason Kidd and center Marcus Camby. Having quality back-ups at these two positions is a luxury in the NBA.
Kidd will provide solid floor leadership at twenty minutes a night; he'll keep the Knicks offense running just as (if not more) fluidly as when the starters are on the floor. Camby will provide rebounding and shot blocking over the same number of minutes.
Each player's veteran leadership will be integral both on and off the court.
The Nets could have a high scoring sixth man in second year guard Marshon Brooks, who had a promising rookie campaign (12 PPG in 29 minutes of play). Reggie Evans is a banger who can gobble up rebounds in limited minutes. However, both players won't provide the same overall excellence as their counterparts on the Knicks.
Edge: Knicks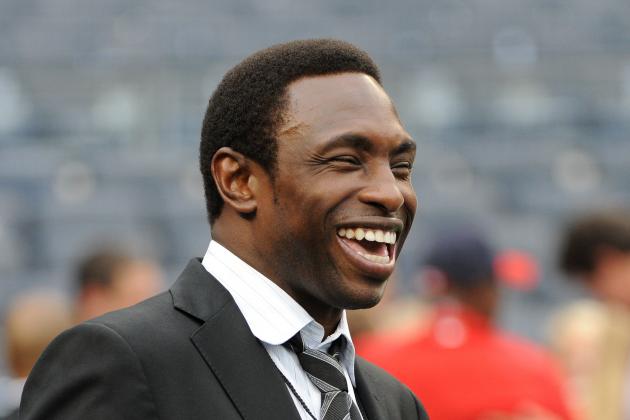 Christopher Pasatieri/Getty Images

The two coaches have clashing styles. Avery Johnson is an offensive minded head coach who prefers an up-tempo style of play. Woodson emphasizes a grinding, half-court style with emphasis on running set plays.
The problem for Woodson is that many of his players aren't well suited to incorporate his style. Anthony, Stoudemire, and Smith leave a lot to be desired in terms of defense and executing plays.
The Nets starting line-up, on the other hand, all excel at pushing the ball in a full-court offense. Avery Johnson's style is one that Williams, Johnson, and Wallace will be very comfortable with. Moreover, all three players are solid perimeter defenders, which can translate to a very potent Nets fast break offense next year.
Edge: Nets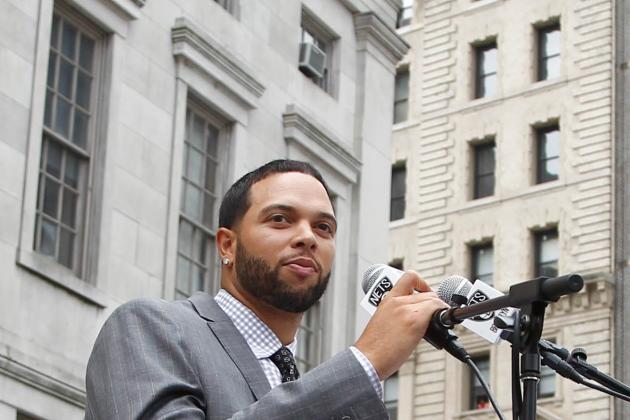 Debby Wong-US PRESSWIRE

The Knicks have many edges over the Nets in individual categories: small forward, power forward, center, and the bench. However, each individual edge is not significant. The Nets have by far bigger edges over the Knicks in their backcourt, team chemistry, and optimal execution of their coach's desired style of play.
Expect the Nets to eclipse 50 wins this year, in large part due to what will be an extremely fluid team offense. The Knicks win total should reach the mid to high 40s, but they will be plagued with defensive lapses, chemistry issues, and niggling injuries to veteran players (Kidd, Stoudemire, and Camby).
In their four regular season contests, the Nets should win the series three to one. Particularly, the Nets superior guard play will open up easier scoring opportunities for the Nets forwards and center Brook Lopez.
Carmelo Anthony will bring his "A" game to these marquee match-ups and generate a lot of offense. But the combination of Williams and Johnson will still be too much for the Knicks to handle.