NCAA Drops the Hammer on Penn State University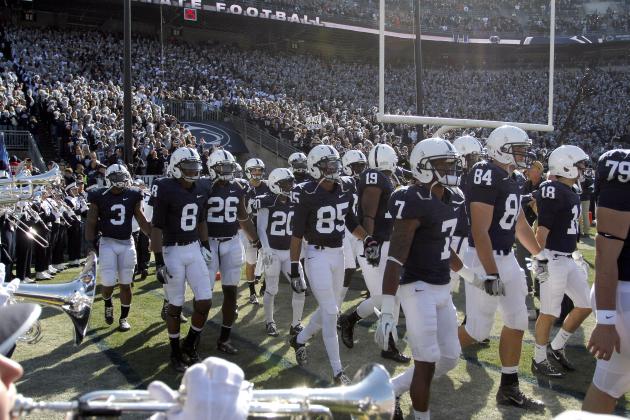 Justin K. Aller/Getty Images

We all know the horrific actions that have gone on at Penn State University. Even if you do not follow sports, the coverage has been so been so intense and covered from so many angles that you simply could not avoid it.
Though Jerry Sandusky is now rotting in a jail cell, the fallout from his deplorable actions continues to go on, with Monday morning being the biggest shot to the gut to the Penn State football community.
People have debated a bronze statue for a week, with the image of Joe Paterno finally coming down Sunday morning. Ironically, the removal of the statue was done in relative secrecy, as the University put a fence and a tarp over it so no one could see.
But Monday morning, the real punishment came in from the NCAA, and while Penn State avoided the death penalty, you might as well call it one.
Here is a breakdown of the NCAA's decision as it pertains to PSU.
Begin Slideshow

»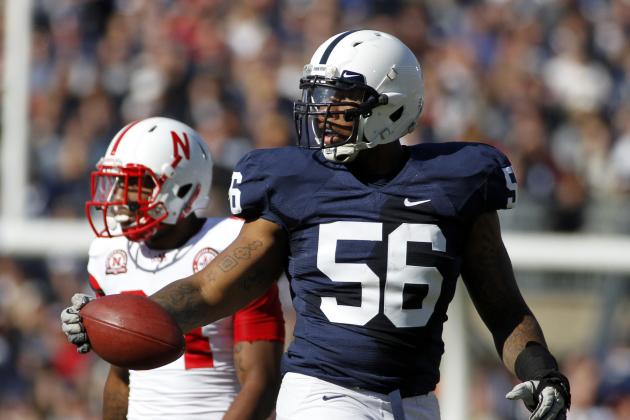 Justin K. Aller/Getty Images

The NCAA has banned Penn State from playing in bowls for four years. Though the Nittany Lions do not have the "death penalty," this is double the length of time that USC recently had for its scandal involving Reggie Bush.
The next time the Nittany Lions will be able to play in a bowl game is 2016.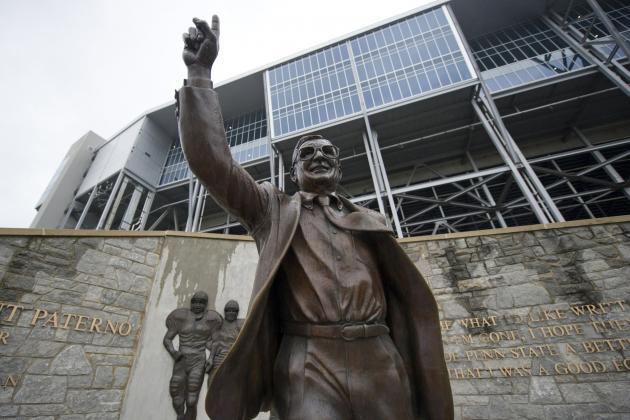 Jeff Swensen/Getty Images

People have debated furiously over what should happen to Joe Paterno's statue as well as his legacy. Well, if you go by the what the NCAA just did today, it wants nothing more to do with Paterno, and with its actions today, you will never see him close to the wins record he so coveted.
The NCAA's decision to vacate these wins is a direct reflection of Paterno's decision to never act on the numerous times he was told about potential issues relating to Jerry Sandusky. There is absolutely no coincidence here that this starts with 1998, as it was the first report Paterno heard and was "very interested in" according to the Freeh Report.
This decision is perhaps the biggest blow to Paterno, as he stayed with Penn State for years to try and become the coach with the most career victories.
Officially, Paterno now has a 298-136-3 record, eigth all time.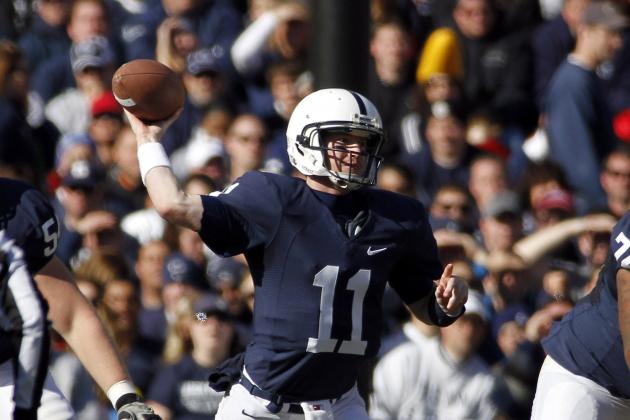 Justin K. Aller/Getty Images

Penn State was fined $60 million, a number close to the amount of revenue the football team typically receives. An immediate fear is that smaller sports programs may be hurt by this, but NCAA President Mark Emmert insisted in Monday's press conference that no money can come out of those programs.
Of all the things here, I do not believe the fine is that big of a deal. Penn State University has one of the biggest alumni communities in the country, and while I have spoken to several who will no longer donate money, that certainly does not seem to be the case for others.
Despite the scandal, Penn State received the second highest amount of donations last year in the school's history. With all of this news coming in, I don't expect that to subside at all.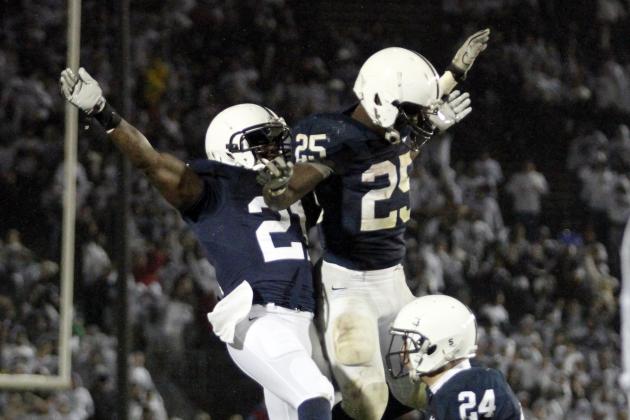 Justin K. Aller/Getty Images

According to ESPN, Penn State must reduce 10 initial and 20 total scholarships each year for a four-year period.
As Jesse Palmer explained, these loss of scholarships is severe enough that Penn State will have to use a good number of walk-on players during this period.
Taking away scholarships, to me, is another way to make these punishments resemble a death penalty without actually suspending the entire program itself. With fewer high-caliber players coming to Penn State, the results will certainly be seen on the field.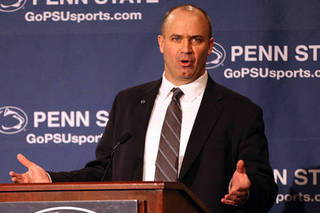 Photo Courtesy of Fox Sports
This is the lightest of the sanctions, as Penn State will have a five-year athletic probation. In my opinion, this really is just a way the NCAA will more closely monitor the program.
Justin K. Aller/Getty Images

One thing I really liked about these sanctions is players can transfer immediately, effectively making them free agents.
Far too many times in recent years did current players get affected by punishments over issues that occurred before they ever set foot on campus. Look no further than USC, which just had a two-year bowl ban over problems stemming from Reggie Bush several years before.
In Penn State's case, no current player will be stuck in the same situation. While their dream of winning championships at Happy Valley may be over, they can decide on their own if they want to stay in the blue and white or seek to play elsewhere.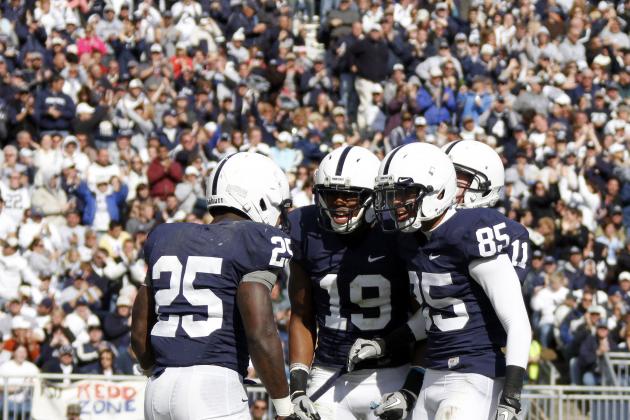 Justin K. Aller/Getty Images

As a person living in Pennsylvania, but not a Penn State fan, I often get told by people that if this was "my team," my views would be different.
But as a fan of Michigan, I can say without a doubt that if that university were to cover up such an unspeakable type of crime, I would want the book thrown at it.
And I am glad that has happened to Penn State. Universities need to know now and in the future that you truly cannot win at any cost.
These sanctions will hurt Penn State's football operations. They also further diminish the legacy of Joe Paterno.
But some people who will not be hurt by this decision are the current players and the community itself. A big reason I was against a death penalty, or a full suspension of athletics at Happy Valley, was those kind of actions could have bankrupted many businesses in State College and Center County.
Additionally, current players can now leave. Again, maybe they cannot achieve glory in a Penn State uniform, but they also will not be forced to play there during the duration of their bowl ban.
Ultimately, this is the kind of thing where it is hard to make anyone happy. In the end, what happens to a football program is trivial when you consider this stems from a monster ruining the lives of countless children.
But I feel these sanctions do a good job of hurting this university while not destroying the entire region economically. State College will live on, and in several years, the Nittany Lions can take the field again and bring forth a new era of Penn State football.
While the years following this will be the darkest in Penn State history, I am actually hopeful it will be able to rally around the fact that it will be a new era and re-enter the college football scene, bigger and better than ever.