5 Biggest Storylines Heading into NFL Training Camp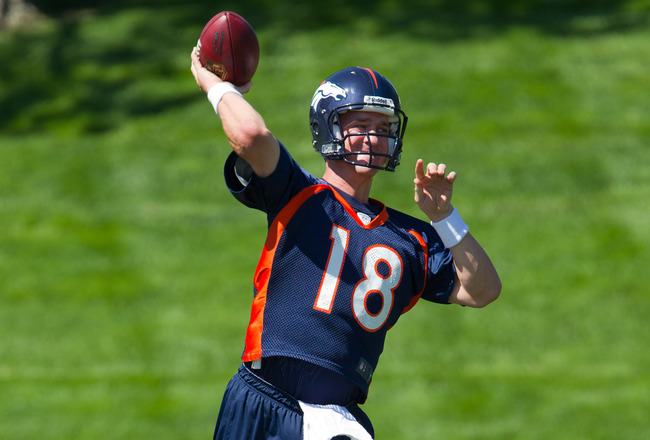 Justin Edmonds/Getty Images
In just a matter of days, many NFL teams will report to training camp as they begin to prepare for the 2012 season.
There are so many exciting storylines to pay attention to as teams begin their camp, including new players looking to build team chemistry, the possibility of some players holding out and any injuries that may occur during camp.
Let's look at five important storylines to follow during training camp.
Will Randy Moss Have a Successful Return?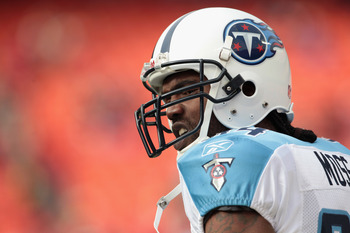 Jamie Squire/Getty Images
Randy Moss didn't play at all last year and was fortunate that the San Francisco 49ers were willing to give him a chance to join a Super Bowl contender this season.
Moss joins a 49ers team that needed one more top receiver last year, and he can give them the deep threat down the field that could make their offense much improved this season.
Moss, wide receiver Michael Crabtree and tight end Vernon Davis could make up one of the best receiving trios in football.
Watching Moss develop his chemistry with 49ers quarterback Alex Smith will be fun to watch during training camp.
Tim Tebow and the Jets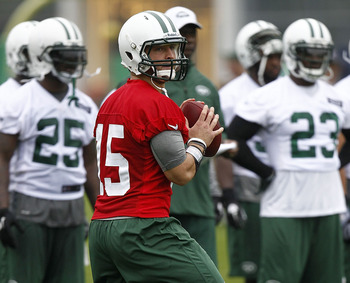 Jeff Zelevansky/Getty Images
Tim Tebow is always a fascinating player to watch, and this season he will certainly be one of the most-watched players in the league whether he plays quarterback for the New York Jets or not.
Tebow's presence on the roster could force current starter Mark Sanchez to take the steps in his development that must occur for him to become an elite quarterback. If Sanchez doesn't focus on his job, Tebow could take over the starting role at some point next season.
Watching the Jets is always fun because of the exciting personalities that many of the players and coaches have, but with Tebow now in the mix, New York could be the most interesting training camp to watch in August.
New Orleans Saints Replacing Sean Payton and Suspended Players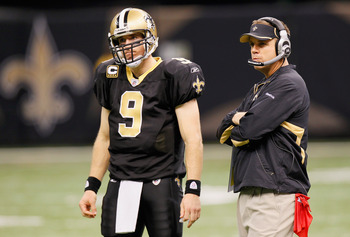 Kevin C. Cox/Getty Images
The New Orleans Saints will need players to step up and replace those who have been suspended by the league for their involvement in the team's bounty scandal.
Making up for the loss of head coach Sean Payton for an entire season could be the toughest challenge any team faces this season.
Payton is a remarkable coach, and without him on the sidelines, the other coaches and veteran players who know the playbook well will have to become leaders.
It'll be interesting to see how the Saints deal with the loss of several important players and their head coach.
Seahawks QB Battle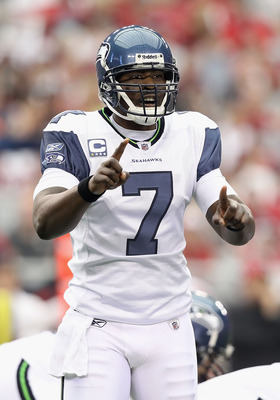 Christian Petersen/Getty Images
The most interesting positional competition will be in Seattle, where the Seahawks will discover if Tarvaris Jackson, Matt Flynn or rookie Russell Wilson should be their starting quarterback next season.
Flynn is the best player of the three, but he will have to earn the spot because Jackson and Wilson will give all they have to be the starter.
The Seahawks offense ranked 22nd in the NFL last season with 194 passing yards per game, which must improve for the team to return to the playoffs.
Peyton Manning's Health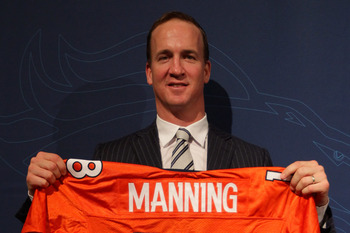 Doug Pensinger/Getty Images
The Denver Broncos gave Peyton Manning an enormous contract this offseason to help bring a third Super Bowl title to the franchise, which can only happen if Manning's health is near 100 percent.
How he performs and throws during training camp will tell his coaches, teammates and the fans a lot about the progress he has made during his recovery from neck surgery.
If Manning looks good in training camp and appears ready for the new season, the Broncos will immediately become a contender in the AFC.
Keep Reading