WWE Raw 1000 Live Blog: Coverage and Analysis of 7/23/2012 Raw Supershow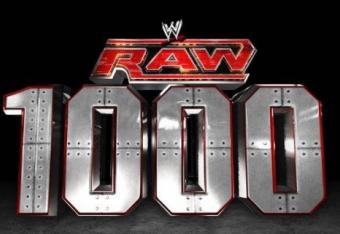 in10words.wordpress.com

It's the one we have all been waiting for. The one the WWE has been touting for weeks.
Well, it's finally here. Welcome to the big show (no pun intended) and hold onto your seats. This one may get a little interesting.
At 8 pm, Degeneration X will reunite to kick off what we can only hope is the biggest and baddest Monday Night Raw EVER. The night will feature special appearances by former WWE superstars (The Rock), a wedding (Daniel Bryan and AJ) that will have a few twists and turns, not to mention we'll get to see the WWE Title match between CM Punk and Mr. Money in the Bank, John Cena.
And that is just the start of things.
Vince McMahon has always prided himself on turning out the best for the best. WrestleMania has been the staple by which we always see how great this company is. This past April's event set the standard. Hopefully, Raw's 1,000th episode can meet the expectations not only of McMahon, but the fans as well.
All we can do now is sit back, wait and see what unfolds.
But with three hours to fill and a chance to prove the WWE is still the baddest wrestling organization on this planet, you have to figure you will be left with your jaw hitting the floor by the end of the night.
We can only hope.
Dilemma!
Confliction!
Cena kicks out
Will it cost Punk?
Big Show again interrupts.
Why can't we have a match without interruption? We are seeing the change of Punk.
ROCK defends Cena! Punk hits Rock! OMG
Never saw this one coming. What an ending to the night.
CM Punk turns on the WWE Universe.
Great to see them still sell for each other.
Love the mocking of Cena.
Taking too long here. Too planned.
I knew there would be a chink in this match.
Big Show spear!!!!
Knockout!
Love the chants in St. Louis.
Stalemate early on.
Watching the look on both faces, could we see Punk turn tonight?
The night has been pretty good. Definitely met my expectations. I think when you have a situation where the world is your stage, you need to deliver.
There has not been a segment where I thought it was poor.
The storylines were sharp and the segments poignant.
Just still spinning my wheels over AJ becoming GM and possibly Charlie Sheen wrestling.
HERE WE GO!
This cannot be as good as it should be with the time permitting.
Hopefully it will prove to be decent.
Please do not tell me Charlie Sheen could get into a ring, at SummerSlam against Daniel Bryan!
UNDERTAKER!!!!!
Finally. The look is enough to make you shudder.
The staredown is pretty cool too.
Great to see them together.
Double Chokeslam
Tombstone!
This is awesome!
Finally we see Rock and Cena meet face to face.
Seeing the two of them in the ring at SummerSlam would be pretty great as well.
Glad to see all these stars. Still want to see Undertaker.
Oh my god...my prayers have been answered....
LITA
Bye bye Heath Slater.
Oh no...how cool.
APA!!!!!!
Glad to see all the past wrestlers n the ring.
Damn, Lita's hot.
Another segment I could do without.
Hornswoggle and Santino are a match made in heaven.
And The Fink...
An odd threesome.
Add Heath Slater and this is really odd.
Love the flash back to Austin/McMahon.
Helped to win back the Monday Night Wars.
The footage was awesome.
I remember all of it and wanted to drive the Zamboni.
The beer truck rocked!
One hour to go....What will happen next?
That's all it took.
But we really needed to see Lesnar.
Stephanie is kicking his ass.
Here he comes.
Yes!!!!!
What kills me is how much larger Lesnar is than him.
And HHH is not a small dude.
Heyman is classic. He continues to amaze me year after year.
The bait...HHH took it.
And now Stephanie McMahon...
Yes! Yes! Yes!
That so rocks!
She makes it so easy to love her and hate her at the same time.
Now down to the serious side of business.
Hopefully this is a foregone conclusion.
Lesnar has no choice but to accept this challenge.
Eh, you knew this would happen - Heyman coming out before the big man. Heyman is the kind of man we stuffed in lockers in high school.
What the hell?
I like this matchup.
Thought it would be Cody Rhodes, which begs the question of what happens to him? Is he still a IC title contender or does he move on?
The Miz looks primed to win tonight.
The short face plant is impressive.
Miz WINS!!!!!
New Intercontinental Champion.
Bret Hart....not a big fan.
But, you have to include him in this kind of show.
Mr. Perfect was a legend and is sorely missed.
Glad to see Christian in a match against The Miz.
This is an awesome match.
Could this be one of his shinning moments and part of his push back to the top of the ladder?
On a side note, I really like the graphics and the commercial for the new WWE Video game.
Starting everything off with CM Punk is great and really fits the style the WWE was trying to go for with the new game.
Can't wait to play it.
What an interesting dynamic.
Rock proclaims he will be the WWE Champion.
Where is John Cena in all of this?
Don't you get the feeling before the end of the night, Cena will beat Punk and then be int eh face of The Rock?
This ought to be rich!
Boots to Asses!
Gotta love the fact CM Punk is watching this unfold.
Love the Frodo reference.
And the WWE Championship talk begins.
Royal Rumble vs. The Rock.
Got to love it!
Pouring salt in the wound.
Someone please give Daniel Bryan a razor!
THE ROCK....Now we can get down to business. Let's see what the Brahma Bull has to say...
I almost feel bad for Daniel Bryan...LOL.
What happens now? What will be the new path for him and why the hell is AJ the general manager?
This ought to be interesting with CM Punk coming to the ring. Could this affect the WWE Championship match?
HOLY COW!!!! ARE YOU SERIOUS?
Left at the alter because she is the new GM of Raw?
Ok, big swerve of the night!
And this makes no sense whatsoever.
Love Jerry Lawler's comments on wrestling.
Damn, I thought for sure someone like Kane would jump through the crowd and snatch AJ up.
This is such a bad act!
They do such great things with zircons.
STOP THE MUSIC!
See, what did I tell you. The little voices in her head.
And the psychosis continues.
This article is
What is the duplicate article?
Why is this article offensive?
Where is this article plagiarized from?
Why is this article poorly edited?