US Olympic Volleyball Team: 5 Biggest Hitters for U.S. Men's Team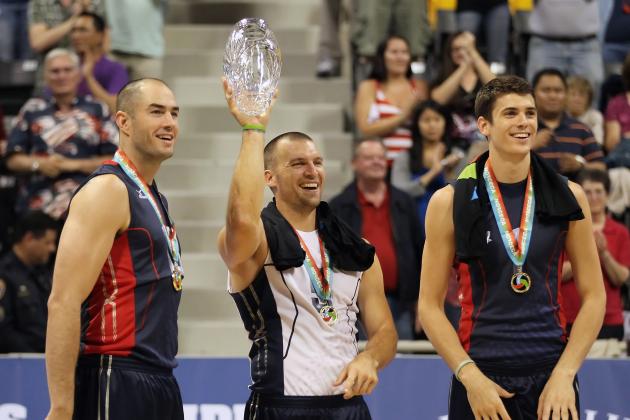 Jeff Gross/Getty Images

If you followed the USA men's volleyball team at all back in the 2008 Olympics, you're well aware that their story is one of tragedy and triumph. The unspeakable tragedy came when then-head coach Hugh McCutcheon's father-in-law was inexplicably murdered in Beijing during the Olympics.
Then, the euphoric triumph came when Team USA—bolstered by MVP Clay Stanley—went on an improbable run and captured the gold medal. Now, if new head coach Alan Knipe (McCutcheon is now coaching the American women's team) and his 2012 version of the men's squad is looking for a golden encore in London, they'll have to rely on a particular group of hitters.
The importance of the spike can never be overlooked in volleyball, which makes the hitter an invaluable part of the sport.
That means that these five hitters—in terms of importance to the team—are going to have a major say as to whether or not Team USA wins a medal in London.
Begin Slideshow

»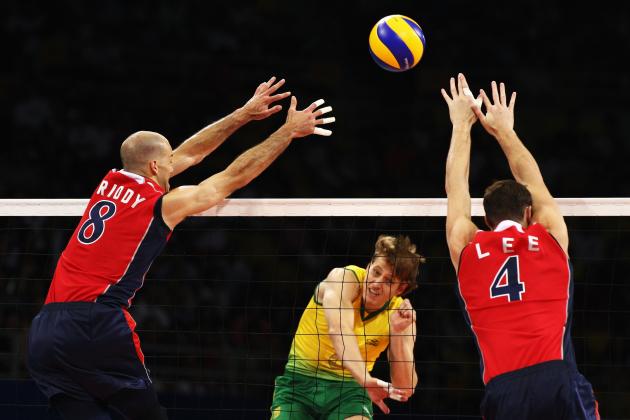 Quinn Rooney/Getty Images

How well David Lee can man the middle of the net in London will go a long way in determining the success of Team USA. A veteran middle blocker who played his college volleyball at Long Beach State, Lee is one of the many returning players returning from the 2008 Olympic gold-medal squad.
Obviously, a major reason the 6'8" Lee is back on the Olympic team for 2012 is his imposing defensive presence at the net. But don't overlook the importance of a middle blocker offensively in indoor volleyball.
Often times, a kill right down the gut of the court provides a great "wow" factor for fans and can really handcuff an opposing team's defensive strategy. If Lee can take advantage of the occasional quick feed from setters Donald Suxho and Brian Thornton and come up with some timely kills down the middle, it will likely keep opposing blockers honest.
It could prevent opponents from keying in too much on outside hitters like Matt Anderson and Clay Stanley. If Team USA's outside hitters are allowed to flex their muscles freely thanks to Lee, then they'll have the firepower needed to make another run at a medal.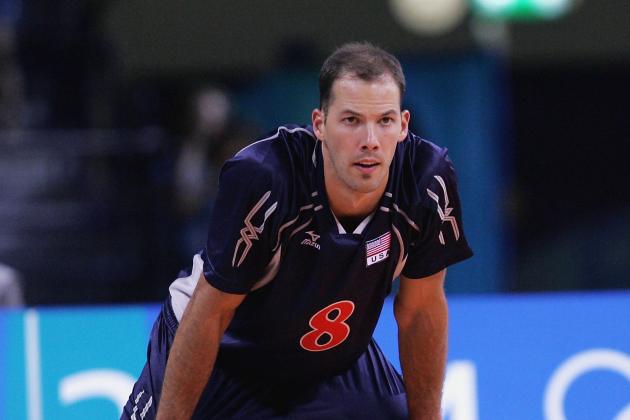 Jonathan Ferrey/Getty Images

When it comes to important hitters on the United States men's volleyball team, don't overlook the steady arm of an Olympic veteran like William "Reid" Priddy. This will be the third Olympics for the 6'4" outside hitter out of Loyola Marymount.
And while Priddy is likely to come off of the bench during the London Games (like he did for much of the recent FIVB World League tournament), that doesn't mean that he won't be a major contributor on the 2012 team.
Priddy brings a lot to the table in his new, complimentary role. He can swing at a solid .400 hitting efficiency (a percentage you always look for in a quality hitter).
That's the percentage he put up in becoming Team USA's third-leading scorer during their Olympic qualifying run earlier this year. And Priddy also made a positive impact in substitution mode during Team USA's gold medal game during the FIVB World League games earlier in July.
Although the team was swept by Poland, Priddy scored five points on four attacks and one block. Being able to bring a decorated Olympian like Priddy off the bench certainly speaks to the depth that coach Alan Knipe can utilize on his team.
After getting his feet wet at the 2008 Beijing Olympics, Team USA Men's Volleyball coach Alan Knipe and his staff are hoping outside hitter Sean Rooney is ready to dive in and make an even bigger splash in London.
During Team USA's gold medal run in 2008, Rooney served primarily as a substitute and a serving specialist. In addition to his impressive serving, Rooney will be expected to play more of a significant role as an outside hitter for this year's edition of the Olympic team.
He started for coach Knipe for Team USA in the gold medal game of the 2012 FIVB World League games, a match that saw the United States fall to Poland in straight sets back on July 8 in Bulgaria.
The 6'9" Rooney (who played collegiately for Pepperdine) failed to make a significant impact on the stat sheet in that game, registering only two kills. Still, Knipe and Rooney's teammates will be counting on the promising outside hitter to be another vital gun in Team USA's hitting arsenal.
And Rooney certainly has the tools in his repertoire needed to be a reliable offensive option in London. He has a smooth arm swing and gets some serious air on his kills, as seen in this highlight tape from his days of playing professionally in Korea.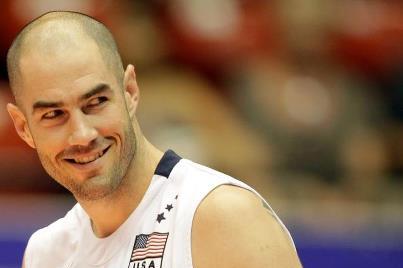 When it comes to leadership on the United States men's volleyball team, you can make the strong argument that it starts and ends with veteran opposite and team captain Clayton Stanley. Without Stanley's significant contributions to the team, there's no way they would've left Beijing back in 2008 with the gold medal.
Stanley was named MVP of the Olympics in Beijing after helping steer his squad to an improbable four-set victory over volleyball power Brazil in the gold medal game.
And now that Stanley is back in the fold for his third Olympic run, Team USA will have another legitimate shot at a medal in London. Stanley is still widely regarded as one of the sport's most well-rounded players.
Not only was Stanley named MVP of the 2008 Olympics, he was also named "best scorer" and "best server." Stanley definitely doesn't have a problem with throwing down the kills when need be.
This is a guy who once had a staggering 50 kills in a match against mighty UCLA while playing for the University of Hawaii back in 1999. While it's unlikely Stanley will be registering 50 kills in any Olympic matchups, it's still pivotal for the team to rely on his wicked jump serve and composed arm swings during these upcoming games.
If Stanley can come anywhere close to duplicating his mastery from Beijing while in London, then that's nothing but good news for coach Alan Knipe and his team.
There was a time where stud outside hitter Matt Anderson was considered the future of USA men's volleyball. Well, with the 2012 London Olympics upon us, the future is now.
Even though Anderson will compete in his first Olympic games, he's still considered Team USA's strongest hitter. Sure, he doesn't yet have the accolades of Clay Stanley or the experience of Reid Priddy. But if you were building the perfect outside hitter in a volleyball laboratory, then consider Anderson an athletic version of Frankenstein.
Compared to other Team USA members, Anderson is in his prime at the spry age of 25. He has impressive size for an outside hitter at 6'10".
Back in 2008, Anderson led Penn State to the national championship and was named the NCAA tournament's Most Outstanding Player in the process. That certainly wasn't an easy feat to achieve, considering how rarely a college team east of the Mississippi River wins the men's volleyball national title in Division 1.
And Anderson was so good in college that he left Penn State early after the 2008 national championship season to play professionally in Korea. If I had to describe Anderson's game in one word, it would be vicious.
He has a violent arm swing, which he utilizes for kills that can leave dents in the floor. If you need proof of this, just watch his highlight tape. I pity the fools that will have the unenviable task of trying to dig out one of Anderson's many kill attempts in London.
And it doesn't hurt that Anderson also has a jump serve that leaves opponents absolutely helpless. Anderson will be a matchup nightmare for any of Team USA's opponents during the Olympics, which could create a dream scenario for the Americans: another gold medal.