NBA Summer League 2012: Grades for Dallas Mavericks' Potential Rotation Players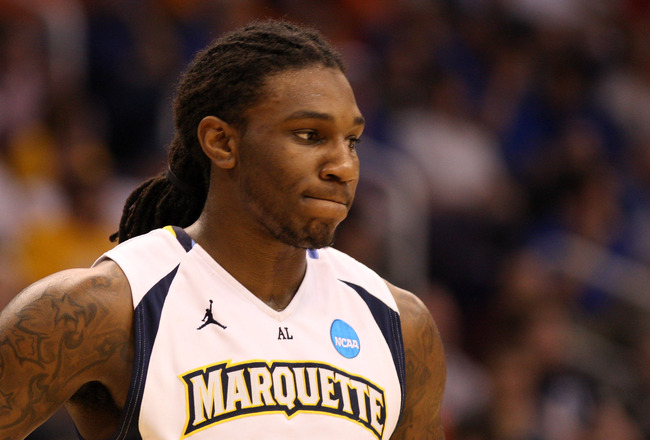 Christian Petersen/Getty Images
The NBA Summer League concluded this weekend, and two Dallas Mavericks participants--rookie Jae Crowder and third-year guard Dominique Jones--were honored as a part of the Summer League All-Star team.
The Mavericks finished their portion of the Las Vegas league in high fashion, defeating the San Antonio Spurs in overtime 82-76 to push their record to 4-1 in the last glimpse we'll see of these guys until training camp approaches in September.
After a slow start to free agency, the loss of hometown hero Deron Williams back to Brooklyn and cries from Dallas fans that this team won't be able to compete next season, they've rebounded nicely with the likes of Chris Kaman, Elton Brand, OJ Mayo and Darren Collison.
Add to that the three rookies, two of which impressed in summer league, and all of a sudden this team has some of the youth and athleticism they've severely lacked over the entire Dirk Nowitzki era in Dallas.
Here's a look at some of the Summer League performances of five guys who have a chance to be rotation players for head coach Rick Carlisle and the Mavs.
G Dominique Jones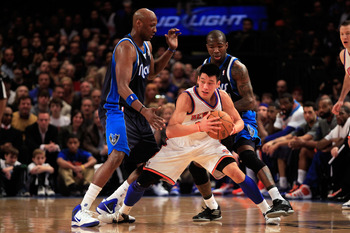 Chris Trotman/Getty Images
The third-year guard from South Florida, who drew comparisons to Dwyane Wade upon being acquired by the Mavericks on draft night 2010, has little time to prove he belongs on this team past next season, when Dallas has a team option on his services.
He got off to a great start in Vegas, averaging 16.4 points over the course of five games. He stuffed the box score in other areas too, averaging 4.8 rebounds and 5.0 assists in roughly 29 minutes of action each game.
Those numbers could have been higher, but Jones had 1 point and five assists when he exited the Mavs' last game against the Spurs with back tightness after only 10 minutes. He would not return.
After two meaningless years buried at the end of the bench, Jones "was going to Vegas on business" this summer, looking to snatch some guard rotation minutes. He'll have a tough road in training camp to surpass Rodrigue Beaubois, Dahntay Jones and Jared Cunningham, but DoJo got off to a good start.
Grade: B+
G Jared Cunningham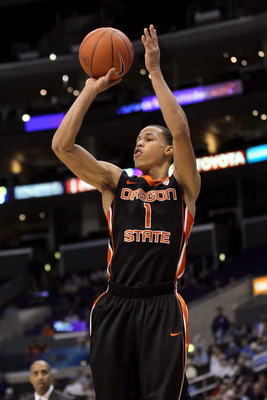 Stephen Dunn/Getty Images
The 24th overall pick in the 2012 NBA Draft didn't see the court this summer, but the Mavs have high hopes for the guard from Oregon State—whom they inked to a deal this past weekend.
A hamstring injury suffered in pre-draft workouts kept him from playing in Las Vegas, but make no mistake that he'll receive every opportunity to prove he belongs in the rotation in 2012-13.
This grade doesn't reflect him as a player, but as a Maverick fan, all you have to evaluate him on is college right now, so it's hard to do anything more than get excited for training camp.
Grade: INCOMPLETE
G Justin Dentmon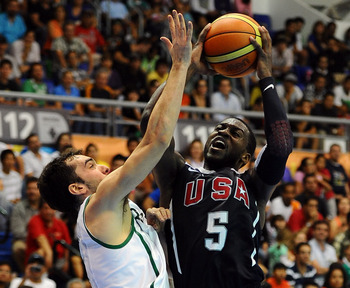 Dennis Grombkowski/Getty Images
The reigning D-League MVP looked like anything but an MVP in his five-game stint in Vegas. He shot a paltry 32 percent from the floor, 12.5 percent from downtown and only averaged 9.0 points per game. Some of that has to do with Dominique Jones having the ball in his hands the entire game, but that's just not going to cut it.
What Dentmon does do well is play the game hard, control the pace and he is an excellent closer. Every time the Mavs needed a basket late in a ball game, it seemed like Dentmon was coming through with a layup or free throw to seal the deal.
Not only that, but he shot 95 percent from the line, something always valuable to a team. I think Dentmon will get a training camp invite, and don't be surprised if he's No. 15 on this roster come October. Not many people knew JJ Barea when he was dropping 40 points in the D-League, and look how that turned out.
Grade: C
F Jae Crowder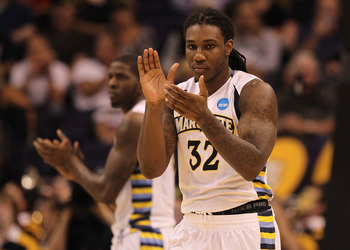 Jamie Squire/Getty Images
The Junior college transfer and Marquette standout did the same things in Vegas he did during his time in college. He spread the floor from the three-point line (37 percent), showed an ability to play great defense (2 steals per game) and was the leader of the roster (32 minutes per game).
Crowder was one of the bright spots in Summer League play for the entire league, as he showed an array of offensive and defensive moves that left some wondering why he wasn't drafted higher.
Shooting 42 percent from the floor isn't great, and 60 percent from the line surely isn't going to cut it, but if those are your only complaints from his All-Star summer league performance, then Crowder is a player with a real chance to get all of the backup SF minutes this season behind Shawn Marion.
Grade: A-
C Bernard James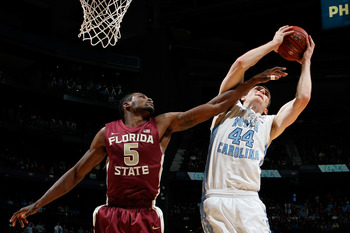 Kevin C. Cox/Getty Images
Mavs fans love Brandan Wright, but after Bernard James' Summer League, is there a little doubt in your mind that this guy can't come in and get minutes right away?
Sure, the 27-year-old former Air Force serviceman is ahead of the curve from a physical and age standpoint. But if he does the things in the regular season that he did in Vegas, maybe the whispers of losing Tyson Chandler will continue to get less loud each day.
James averaged a near double-double, scoring 10.2 a game while averaging 9.0 rebounds on 61 percent shooting. Yes, it's summer league, but they wouldn't play these games if they didn't mean anything. James added 1.8 steals and 2.6 blocks to his box score totals, an overall nice showing for the center.
Dallas' blueprint for a center alongside Dirk Nowitzki was a man that could protect the rim and clean up the offensive and defensive glass, a la Tyson Chandler, since the big German has always been a questionable defender. Maybe they found some of that with James, especially if he's sending away shots at that pace.
Grade: A
Keep Reading

Dallas Mavericks: Like this team?