2012 Summer Olympics: 3 Weaknesses Team USA Basketball Must Work on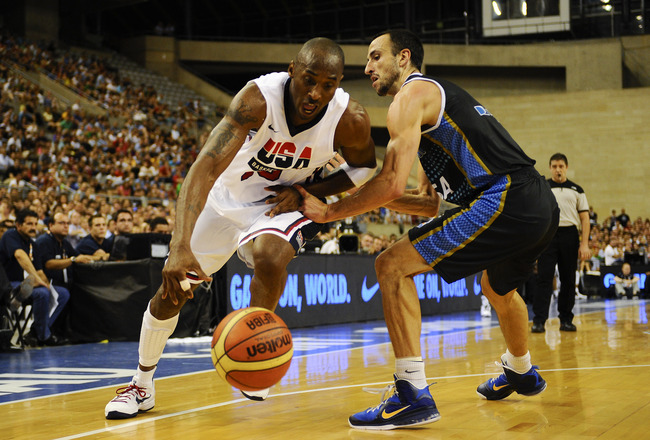 David Ramos/Getty Images
Team USA is a team with very few weaknesses as they approach group play in the 2012 Summer Olympics in London.
However, in close wins over Argentina and Brazil, some weakness have been exposed for this American squad.
It is clear that defending their gold medal will be no easy task.
Team USA has one final exhibition game against Spain—the 2008 silver medalists—before the beginning of the big show in London.
Here are a few things they must improve on if they hope to defend their gold medal.
Tenacity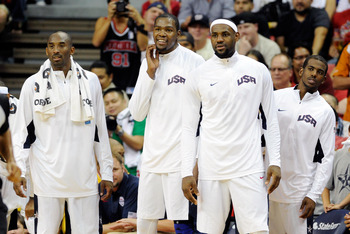 David Becker/Getty Images
Every single team at the Olympics will be looking to take down Team USA.
Spain, Argentina, Tunisia, and Lithuania will all be going at the Americans 100 percent in their games.
Maybe due to playing only in exhibition games so far, Team USA hasn't shown a whole lot of tenacity on the court.
While there's no real way to measure how hard a team is playing at a given time, it seems that Team USA's opposition is playing with more emotion and urgency.
This was most obvious example occurred early in the game against Argentina: Team USA jumped out to a 14-1 lead, but failed to put them away down the stretch, winning by just six points.
With every team in the world looking for an upset, Team USA must learn to step on the opposition's throat once they have them down.
Again, this could all change once the real games start in London, but you can bet that every team is going to bring it against the defending gold medalists every time out.
Team USA is clearly the most talented team in the world, but they are at risk of being outplayed by some of the good teams in London.
This is something that will need to change in the coming weeks.
Inside Presence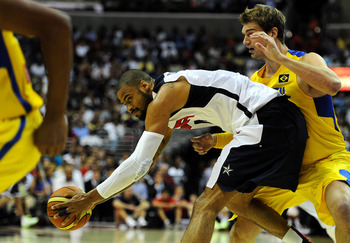 Patrick Smith/Getty Images
The inside game has probably been the biggest knock on Team USA during this exhibition season leading up to the Olympics.
Against Brazil, Tyson Chandler and Carmelo Anthony started down low and combined for only six points and five rebounds.
They were embarrassed by Brazilian forwards Tiago Splitter, Nene and Anderson Varejao, who teamed up for 26 points and 25 rebounds.
Against Argentina, Chandler didn't score a point, but saw some more success on the boards, bringing down eight by himself to lead the team.
With so many prolific scorers on the roster, the American forwards won't need to score a lot, but their rebounding on both sides of the floor will be vital.
Their final exhibition game with Spain will be a great test as to how effective they can be against a very strong front court led by the Gasol brothers.
Winning the battle down low will be the key to beating Spain, who may be the biggest threat to Team USA's gold-medal defense.
Shot Selection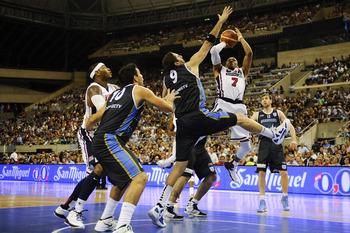 David Ramos/Getty Images
One of the big reasons Argentina was able to battle back into the game after facing deficits of up to 20 points was Team USA's poor shot selection down the stretch.
Once they had the lead, the Americans starting attempting circus shots or contested shots (the one pictured above) and just generally jacking up three-pointers.
They made 13 of their whopping 34 three-point attempts, which led to just 12 offensive rebounds.
Team USA has some talented shooters, but they also have some of the best slashing and driving guards in the game.
If they are going to attempt those three-pointers, they must be set up through penetration or at least screening.
We saw some of that against Argentina, but we also saw a lot of renegade threes being thrown up.
LeBron James said it well himself after the game with Argentina (via USABasketball.com):
"We've got to be more balanced," James said. "We can't get too caught up in the 3-point line. We need to be more balanced and attacking and getting into the lane and creating some more."
Balance will be the key, especially against talented teams like Spain and Argentina.
Keep Reading