MLB Trade Deadline 2012: One Player Who Could Help Each Contender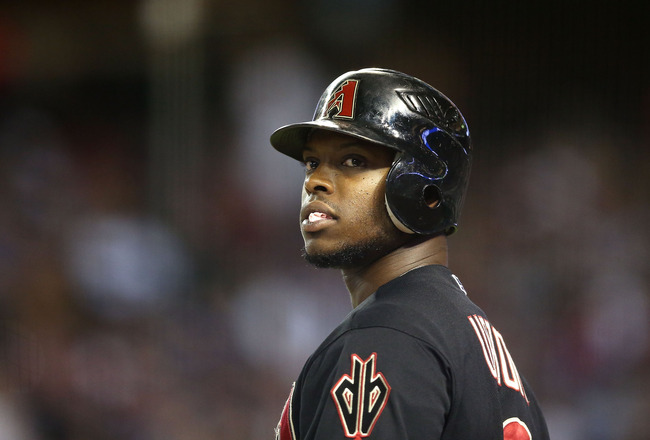 Christian Petersen/Getty Images
The July 31 Major League Baseball trade deadline is still another week and a half away, but there's no time like the present for contenders to start trading.
With 19 of the league's 30 teams still within five games of wild-card spots, acquiring boosts via trade can't be done soon enough.
Big names like Zack Greinke, Justin Upton and Ryan Dempster are available for the right prices, so there are plenty of options for teams looking for edges.
Let's take a look at one player that could help each of the 19 contenders.
Atlanta Braves: Ryan Dempster, SP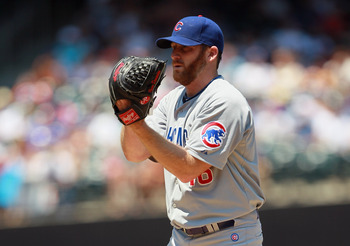 Mike Stobe/Getty Images
When Brandon Beachy went down with a season-ending injury, the Braves rotation took a major hit.
Jair Jurrjens has struggled mightily this year, even spending some time in the minors, so he's not going to replace Beachy's production.
Thus far, the Ben Sheets experiment has been productive, but don't expect that to last.
The Braves need to get Dempster if they are going to keep pace with the Washington Nationals.
Baltimore Orioles: Justin Upton, OF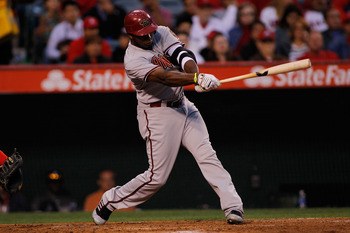 Jeff Golden/Getty Images
With Nolan Reimold injured and Chris Davis playing out of position in left field, the Orioles could really use a guy like Upton to stabilize their lineup.
Acquiring Upton would give the O's a solid outfield of Adam Jones, Upton and Nick Markakis. That would certainly be a good start for a team that has to compete with the deep pockets of the Yankees and Red Sox every year.
The surprising performance from the Orioles rotation this year has made acquiring another bat the top priority at the deadline.
Getting Upton would give them one of the best bats on the market and would help them hold on to their wild-card slot.
Boston Red Sox: Ryan Dempster, SP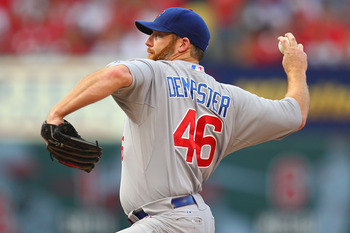 Dilip Vishwanat/Getty Images
The Red Sox need starting pitching. Jon Lester has been horrible this year, and the rest of the starters haven't been doing their share either.
Dempster, on the other hand, has been one of the few bright spots in another dismal season for the Chicago Cubs.
The Cubs want to trade him, and the Red Sox should have enough assets and cash to get a deal done.
Then maybe Dempster can teach the rest of that rotation some heart and professionalism.
Chicago White Sox: Zack Greinke, SP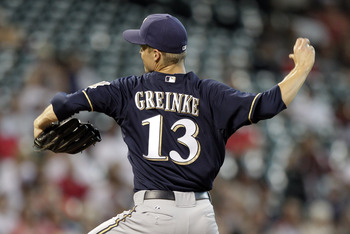 Bob Levey/Getty Images
With John Danks and Gavin Floyd on the disabled list, the White Sox need some pitching help.
Pairing Greinke with Jake Peavy would give Chicago a very formidable one-two punch at the top of the rotation.
That sort of strikeout power from the starters would really help out against the Detroit Tigers, who have Prince Fielder and Miguel Cabrera anchoring the lineup.
Greinke would make the White Sox tough extra tough on light-hitting teams like the Cleveland Indians and Minnesota Twins, as well.
Cincinnati Reds: Shane Victorino, OF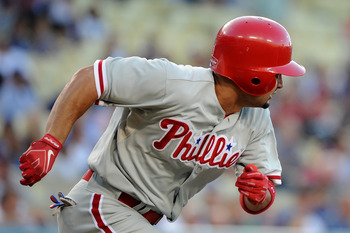 Lisa Blumenfeld/Getty Images
Zack Cozart and Drew Stubbs haven't been getting the job done at the top of the order for the Reds this season.
They need a player who gets on base more often to set the table for Brandon Phillips and Joey Votto (when he returns from injury).
Victorino fits that bill. He'd be a legitimate threat at the top of the order and would also steal more bases than Cozart or Stubbs.
Acquiring Victorino, moving Stubbs to the No. 2 slot and dropping Cozart to No. 7 would be a good series of moves for the Reds.
Cleveland Indians: Justin Upton, OF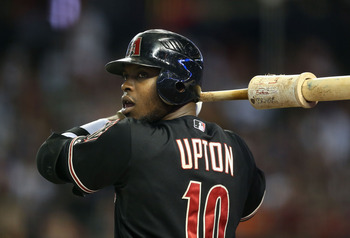 Christian Petersen/Getty Images
The Indians need to hit more and could really use some more production from their outfield, outside of Michael Brantley.
Shin-Soo Choo and Johnny Damon aren't producing the way they need to produce for the Indians to make the playoffs.
Upton could provide power, speed and defense while giving the Indians a young star to market to their fanbase for the next few seasons.
Trading Choo and some prospects might be enough to make Arizona accept this deal.
Detroit Tigers: Ryan Roberts, IF
Christian Petersen/Getty Images
The Tigers need a more consistent second baseman, and Roberts is just the man for the job.
He could also replace Miguel Cabrera at third base in late-game situations and would provide versatility to the Tigers lineup.
His numbers are down from last year, but a change of scenery might revitalize him enough to get back to 2011 form.
With the Diamondbacks falling behind in the NL West, he should be available for a reasonable price.
Los Angeles Angels: Zack Greinke, SP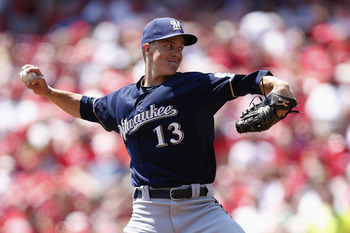 Joe Robbins/Getty Images
The Los Angeles Angels look really good on paper, but they are still struggling to keep up with the Texas Rangers in the AL West.
Getting a power arm like Greinke would give the Angels a very fearsome rotation of Jered Weaver, Dan Haren, C.J. Wilson, Greinke and Ervin Santana.
A rotation like that might just be able to shut down the powerful bats of the Rangers.
Giving up a player like Garrett Richards along with a couple other prospects might be enough to snag Greinke from the Milwaukee Brewers.
Los Angeles Dodgers: Jimmy Rollins, SS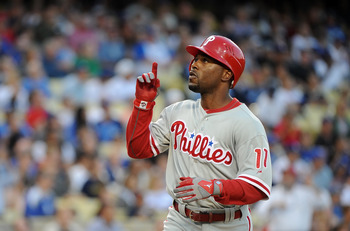 Lisa Blumenfeld/Getty Images
The Dodgers' regular shortstop, Dee Gordon, will still be out a few more weeks, after injuring his thumb.
In that time the Dodgers can't afford to fall behind at all in their race with the Giants for the National League West crown.
Rollins has been one of the best and most consistent shortstops in the game for much of the last decade.
Acquiring him from the Phillies would ensure that the Dodgers don't miss a beat with Gordon on the DL.
New York Mets: Ramon Hernandez, C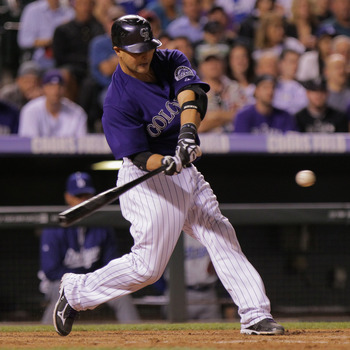 Doug Pensinger/Getty Images
Josh Thole isn't getting the job done in the batter's box, hitting .273 with one home run and 13 RBI in 65 games.
Hernandez hasn't been much better so far this season, but he's been battling injuries.
He's healthy now, and the Colorado Rockies should be willing to part with him for a reasonable price.
Getting Hernandez will give the Mets a fighting chance against Washington and Atlanta in a very competitive NL East.
New York Yankees: Cole Hamels, SP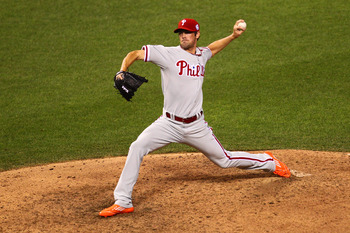 Dilip Vishwanat/Getty Images
The Yankees have deep pockets and are always in the mix when it comes to big-name players at the trade deadline.
After injuries to Michael Pineda, Joba Chamberlain and Andy Pettitte, the Yankees should be in the market for a pitcher.
Getting Hamels would help out current ace CC Sabathia and would allow New York to have enough pitching to go deep in the playoffs.
Look for this team to make some noise in the next week and a half, and don't be surprised if they find a way to land a pitcher like Hamels.
Oakland A's: Stephen Drew, SS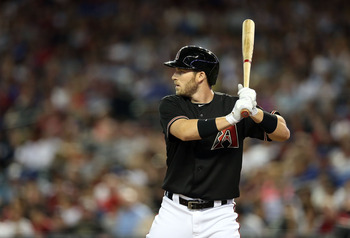 Christian Petersen/Getty Images
The A's are surprisingly only half a game out of a wild-card spot.
But, with starting shortstop Cliff Pennington hitting an embarrassing .197 and currently sitting on the disabled list, this team needs shortstop help.
The A's aren't going to go out and make a big splash with a name like Jimmy Rollins; it's simply not their style.
Instead, they'll try to find a guy like Drew, who will be available for a reasonable price and will still be a vast improvement over Pennington.
Pittsburgh Pirates: Justin Upton, OF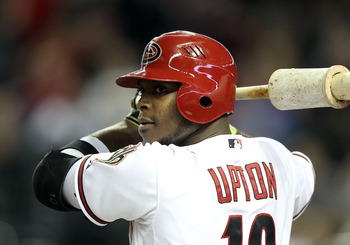 Christian Petersen/Getty Images
The Pirates finally have a competitive team and will be buyers instead of sellers at the trade deadline.
They need to make a big splash if they want to hold off the Cincinnati Reds and St. Louis Cardinals and win the National League Central, though.
An upgrade in the outfield would be ideal, especially if they can get a guy like Upton.
Landing Upton to play alongside Andrew McCutchen for the next few years would ensure that the Pirates will be competitive into the future.
San Francisco Giants: Huston Street, RP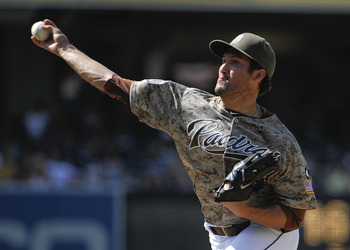 Denis Poroy/Getty Images
The Giants are seemingly always looking to add relievers at the trade deadline, and this year is no different.
Although Sergio Romo is putting up unbelievable numbers from the bullpen, the team seems reluctant to use him as the closer.
Given Brian Wilson's injury, adding a veteran closer like Street would be ideal for the Giants.
Acquiring Street would allow Santiago Casilla to rejoin Romo as a setup man, giving the Giants one of the deepest bullpens in the league.
St. Louis Cardinals: Rafael Betancourt, RP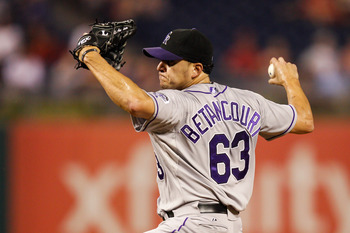 Brian Garfinkel/Getty Images
The Cardinals desperately need relief-pitching help if they are going to repeat their magical 2011 World Series run.
Acquiring Betancourt from the Colorado Rockies would make a lot of sense for this club.
Getting Octavio Dotel at the trade deadline worked wonders last season, and Betancourt could be a very similar acquisition.
He'd be an excellent eighth-inning guy, bridging the gap between the starter and closer Jason Motte.
Tampa Bay Rays: Shane Victorino, OF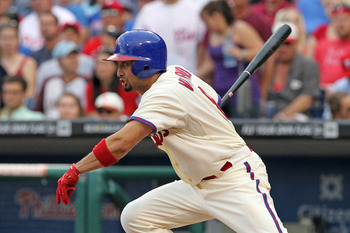 Hunter Martin/Getty Images
The Rays have a terrible, .232 team batting average, the third-worst mark in the majors.
Hideki Matsui has been especially terribly, batting .147 in the DH spot.
Acquiring Victorino, who is currently hitting .253, would be a much better fit for the Rays.
Then, they could move Matt Joyce to the DH role, move B.J. Upton to right field and put Victorino in center.
A change of scenery might also be what Victorino needs to jump-start his season offensively.
Texas Rangers: Cole Hamels, SP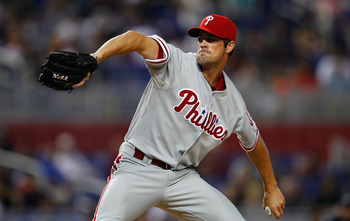 Sarah Glenn/Getty Images
The Texas Rangers have been to back-to-back World Series, so they don't have a lot of holes on their roster.
They need a player to put them over the top, though, and that player could be Cole Hamels.
Derek Holland has been struggling this season, with an ERA above 4.75, so getting a left-handed starter would be ideal for Texas.
The Rangers missed out on Cliff Lee last offseason, but maybe they can land his teammate this year.
Then, they'd be a favorite to get to their third straight World Series.
Toronto Blue Jays: Matt Garza, SP
Jonathan Daniel/Getty Images
The Blue Jays pitching staff has struggled this year, amassing a 4.46 ERA thus far.
Too many starters, notably Brandon Morrow, are on the DL for this team to remain competitive without adding some help.
Getting Garza from the Cubs would solve that problem, giving the team a reliable top-of-the-rotation starter for a very reasonable price.
Then the Blue Jays might be able to come out of the AL East with a wild-card berth.
Washington Nationals: Ramon Hernandez, C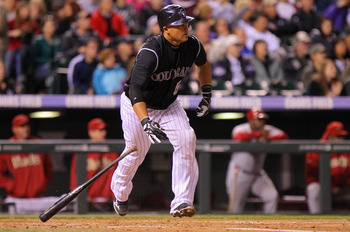 Doug Pensinger/Getty Images
With Wilson Ramos out, the Nationals need a more permanent option behind the plate than Jesus Flores.
Hernandez is having a down year and hasn't played much due to a hand injury, but he's healthy now and could have some value.
Getting him would make the Nationals batting order even scarier for opponents and could give them the edge in the NL East.
Hernandez would ensure that there would be no easy outs in the Nats lineup, and he'll be available for a fair price.
Washington should do what it must to land him and make the playoffs for the first time since leaving Montreal.
Keep Reading