Sanchez and Tebow: Can Two-Quarterback System Work for the New York Jets?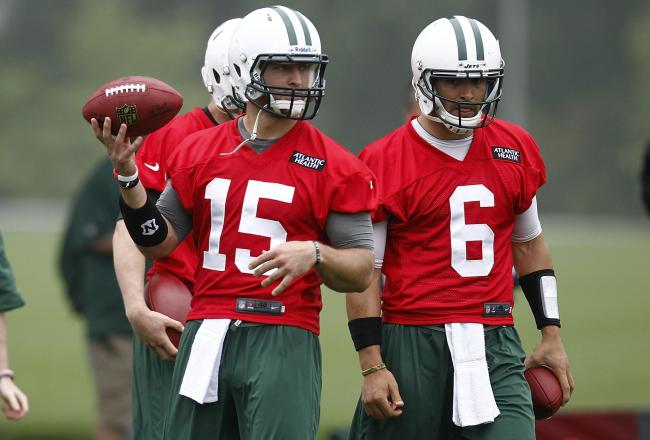 Jeff Zelevansky/Getty Images
Tim Tebow arrived in New York this offseason and, in doing so, initiated what many are considering a quarterback controversy. Yet to be determined, however, is whether or not this will turn into a full-fledged QB competition or if, as Rex Ryan insists, the two will work cooperatively.
Is a two-quarterback system plausible? If so, are Tebow and Sanchez the quarterbacks to bring it to fruition?
Pros
Rex Ryan and the Jets are trying something new this season in incorporating two quarterbacks in every game. He has said that he anticipates Tebow taking approximately 20 snaps per game, making him a significant part of this offense.
Evidently, Ryan believes some positives can come from this approach, but one has to assume that if it does not progress the way he envisions, there is room for adjustment.
Looking past, for the moment, the players filling these roles for the Jets, the very fact that it is a new approach can yield positive results. A few years ago when the Miami Dolphins incorporated the Wildcat into their offensive scheme, it resulted positive results due in large part to the fact that teams were not expecting it.
While the sustainability of cooperative quarterbacks is debatable, the uncertainty that defenses will face could be an advantage for the Jets.
The defensive uncertainty could raise questions in defensive preparation. How much time do you spend preparing for each quarterback? Do you put in different packages for each person? Granted, after a while, defenses will catch on, as they typically do in the NFL, but in the beginning of the experiment, the newness of the approach could yield positive results.
Who will be the Jets' Quarterback week 17?
The other major potential pro of this approach is that it expands the capabilities of an offense by utilizing the unique talents of both quarterbacks. The system would work best with a quarterback who is a strong pocket passer and another quarterback who is more mobile.
The Jets are trying to accomplish this with Sanchez being more of a pocket passer and Tebow being a player who is more capable of getting things done on the ground. Having the capability to put in a viable quarterback for any given scenario is a positive, but a team would have to have the right players to make this work.
Cons
Adopting the two-quarterback approach certainly comes with a fair share of drawbacks. The first, and likely most damaging, is that you would be hard pressed to find a quarterback who will openly embrace the system.
The player in Sanchez's place will always want to take every snap for the offense and will likely resent any player taking his spot for any amount of time. The player in Tebow's position would be more apt to appreciate the approach, but that is more due to the fact that he is getting far more opportunities to vie for the starting position than the typical backup would.
If either quarterback is being honest, he would prefer to be the full-time starter with his counterpart relegated to backup, bringing into question the sustainability of this approach.
Another major negative is that of leadership. Any coach will tell you that a quarterback's strong leadership voice is vital to the success of an offense. Giving any quarterback 20 of the starter's touches is going to dilute, if not completely invalidate the starter's attempts at leadership.
Can a 2-Quarterback system work in the NFL?
It could be argued that giving a "mobile" quarterback 20 touches and incorporating running backs takes away some of the need for a single strong leader at quarterback, but it still presents a challenge of who will be the leader and whether too many leadership voices confuse things in the locker room.
The final negative of this approach is that it has the potential to impede either quarterback from getting into a strong, productive rhythm within the context of an individual game. There is something to quarterbacks getting the feel of a game, seeing what the defense is doing and reacting appropriately. This ability may be weakened or lost if snaps are taken away.
Pros, Cons and the Jets
Applying these ideas to the Jets, it is difficult to see how this experiment will yield sustainable, positive results.
On the positive side, the Jets go into this season with Tony Sporano as their offensive coordinator. As the head coach of the Miami Dolphins when they were running the Wildcat effectively, he has experience in using different offensive schemes to catch defenses off guard and will be able to utilize Tim Tebow effectively.
The two-quarterback system also gives them the aforementioned situational flexibility that the Jets may have lacked last season, specifically in short first-down situations and red-zone opportunities.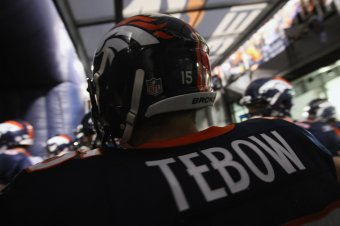 Doug Pensinger/Getty Images
This, however, is where the perceived positives end. As suggested earlier, the main caveat in having this system succeed is having the right two people at quarterback, and questions linger about the abilities of both Mark Sanchez and Tim Tebow.
As far as Mark Sanchez is concerned, he has been a capable game manager for the New York Jets, leading them to two AFC championship games, but he has not proven himself to be anything more to this point.
As a passer, he threw for 26 touchdowns last season, nine more than the year prior, which is an impressive jump but does not hide the fact that he completed under 57 percent of his passes and threw for 18 interceptions. His numbers are slowly improving year-to-year, and one has to question if this new approach will stunt his development.
Tim Tebow, in his first two seasons, has not broken 50 percent completion in a given year. Of course, Tebow was not brought in for his passing abilities; he was brought in for his strength on the ground and the perception that he possesses intangibles that can lead a team to victory in different situations. People do wonder if his running style is truly conducive to a strong offensive attack.
These negatives actually are not that atrocious as Sanchez and Tebow are both young quarterbacks with room for improvement. The main negative lies in the fact that these players are not robots and have aspirations that do not include yielding touches to another player.
Sanchez seems more accepting of this possibility, stating that Tebow has "been a great addition so far. I'm thrilled to work with him." Sanchez seems to talk about Tebow as a backup and has avoided starting any controversies with his discussions about the acquisition.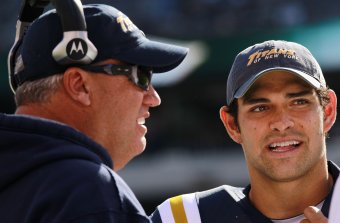 Nick Laham/Getty Images
One of Tebow's recent quotes is more revealing about his attitude toward the relationship. When talking about rooting for Sanchez, Tebow said, "It's really very easy to say I am rooting for him. I will not root against him. I wish him nothing but the best. Now, that doesn't mean I have to try any less, but I really think he's done a great job."
The cited article interprets this quote as evidence that there is no QB controversy, but the statement "that doesn't mean I have to try any less" is intriguing.
It could be argued that if Tebow truly bought into the two-quarterback approach, he would obviously be rooting for Sanchez because Sanchez's success would be vital for the team's success. This quote reads more like a statement made from a backup who would like to compete for the full-time starting job; granted, he would be saying it very nicely, but it sounds like something he may have said early last season about Kyle Orton and we all remember how that played out..
Tebow's presence could be a serious detriment in terms of Sanchez being able to lead the team at all. As previously noted, any quarterback who loses 20 touches to a backup is going to struggle to maintain a strong voice in the locker room, but when it is Tim Tebow taking those touches, the problem could escalate.
The only way for this system to work would be for the backup to relegate the reins to the starter, and Tebow may not be willing or even capable of doing so.
Conclusion
It is hard to imagine the two-quarterback system enduring in New York with the pieces they have in place.
That is not to say that it would be impossible with another team, but with the perception that Sanchez may be mentally weak, teammates not buying in to the philosophy and the ever-present threat of "Tebow-mania" rearing its head as it did in Denver, this may not be the team to make it work.
This article is
What is the duplicate article?
Why is this article offensive?
Where is this article plagiarized from?
Why is this article poorly edited?

New York Jets: Like this team?