Florida Football: Ranking UF's 13 Recruits by Potential Impact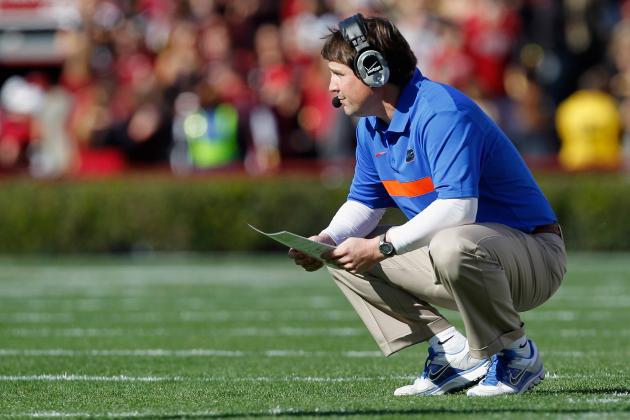 Streeter Lecka/Getty Images

It was not the first time Will Muschamp had spoken the words, but he repeated himself in Hoover, Alabama, at SEC media days. "It's a minor miracle we won seven games" said the coach, according to Patrick Brown of the Chattanooga Times Free Press. In his first season as head coach, Muschamp's Gators were riddled with injuries and didn't have the depth to make up for it.
The only way to rebuild a program is to dominate recruiting. Muschamp and the Gators have gotten off to a hot start in recruiting, and despite the recent decommitment of LB Dillan Lawson, have begun building one of the best classes in the country.
With so many holes to fill, the Gators class of 2013 will have a unique opportunity to step in right away and compete for playing time. The Gators have the space on their current roster for a class of approximately 22-23 players. So while 17 commits is a good start, Muschamp and the Gators are far from being done and the class of '13 can only get better.
Let's take a look at the current players who have decided to take their talents to Gainesville and power rank them according to what kind of impact they could make and how early they could make it.
Begin Slideshow

»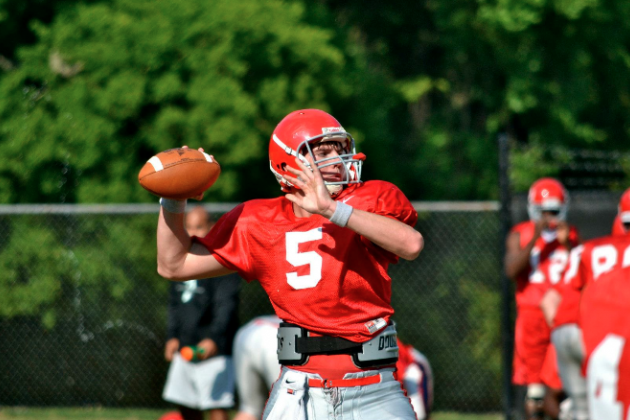 Photo Credit: nfanation.com
Despite only having three quarterbacks on scholarship, former offensive coordinator Charlie Weis didn't see a need to recruit another one. After Weiss hightailed it to Kansas and Brent Pease took over, he was left scrambling to add another quarterback to the roster.
After adding Skyler Mornhinweg, the Gators now have four quarterbacks on scholarship for 2013. Both Jeff Driskel and Jacoby Brissett should still be on the roster along with Tyler Murphy.
This leaves a possible redshirt freshman season for Staver. Staver and the Gators were not originally drawn to each other, but after some pieces falling into place, Staver impressed the coaches and earned himself a scholarship.
He may just have to wait his turn, before he can make an impact for the Gators.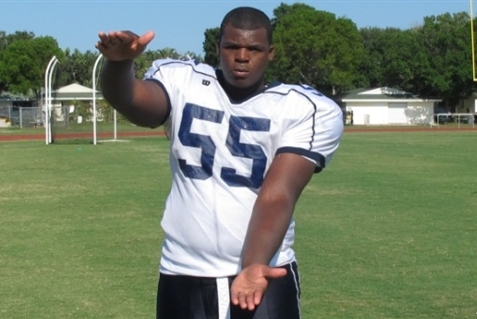 Photo Credit: 247sports.com
While Rod Johnson said he intends to remain committed to the Gators, he still intends to take visits to see other universities. (Via Zach Abolverdi, Gainesville Sun)
Both Outlaw and Johnson said #UF fans shouldn't be worried, but they still want to take visits and keep their recruitment open. #Gators

— Zach Abolverdi (@ZachAbolverdi) July 14, 2012
Johnson is a 4-star recruit and a massive player. At 6'6'', 316 pounds, Johnson is physically ready for college football, but with Chaz Green, Matt Patchan, D.J. Humphries and Trip Thurman all slated to return in 2013, he will have to earn his playing time. On top of the returning starters, Florida remains in contention for top-rated tackle Laremy Tunsil.
Johnson plays with the kind of mean streak you want to see in an offensive lineman, and while the Gators still have depth needs all along the offensive line, Johnson has an uphill battle to get on the field.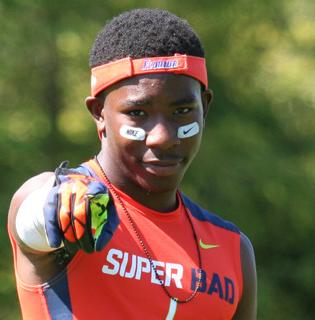 Photo Credit: 247Sports.com
Initially, I was surprised that Florida was so interested in Tre Bell. At 5'11'', 158 pounds, Bell didn't seem to fit the mold of a Will Muschamp cornerback.
Muschamp has favored bigger cornerbacks. Marcus Roberson (6'0'', 180 lbs) and Loucheiz Purifoy (6'1'', 180 lbs) are both early favorites to start at either spot and former starter Cody Riggs (5'9'', 180 lbs) has been moved to safety.
After watching Bell at the opening, I now see what the coaches see. Bell is a ball-hawking corner who plays much bigger than he's listed on paper. He's a willing tackler who is not only a good cover corner, but can play a factor in stopping the run.
Last season, the cornerbacks were asked to play on an island throughout the season. Bell excels in being able to stick with his man, and when he's beat, has the speed and agility to turn and close on receivers. Bell plays well enough in space to be a viable nickel option for the Gators.
With both Roberson and Purifoy set to be back in 2013, cracking the starting lineup will be tough. But as a cornerback, Bell will have an opportunity to play in both nickel and dime packages as well as on special teams almost immediately.
Vernon Hargreaves III recently released his top five schools, with Florida being at the top. Hargreaves' commitment would cut into Bell's playing time on defense considerably, as Hargreaves could immediately challenge for a starting position as a freshman.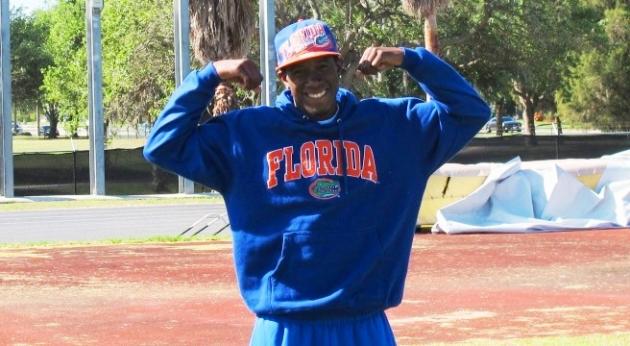 Photo Credit: 247sports.com
The Gators need help on offense. That can been seen with their 89th-rated passing offense from a year ago. Latroy Pittman surprised and impressed with his ability during spring camp, but the Gators receivers have been as inconsistent as any group on the team.
Andre Debose, Frankie Hammond and Quinton Dunbar are all adept in the art of disappearing, and the Gators need to find consistency at the position.
Adams does not jump off the page when you look at any aspect of his game but continues to be a productive receiver for his high school team. At 6'1'', Adams has good size for the position, and unless the Gators' receiving group does a 180 in 2012, he will be in a position to earn playing time early.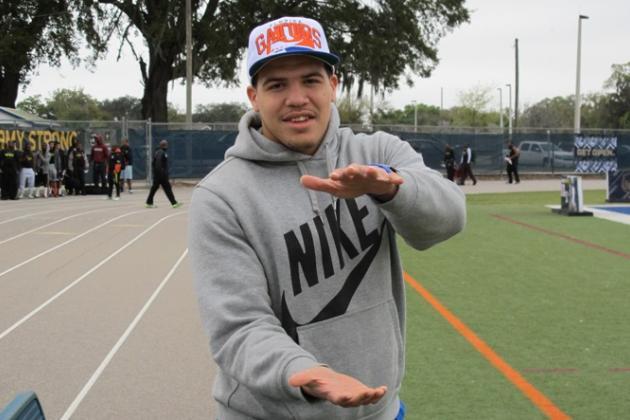 Photo Credit: 247sports.com
Hearns created a stir when he was ejected from a 7-on-7 tournament at Florida State for throwing up the chomp.
Hearns is an inside linebacker who, physically, is ready for the next level. Hearns has a frame that could add some more bulk, and he will be a good addition to the Gators defense.
With Jon Bostic set to graduate after this coming season, Michael Taylor is the incumbent starter, and Antonio Morrison could also be called on to play the Mike linebacker. An all-too-early projection would have both Taylor and Morrison slated to start at SAM and Mike, leaving Hearns with some time before he cracked the starting lineup.
Hearns is better suited to play against the rush currently and could see time in a goal-line defense and as a run stopper in certain situations. He's a player who has a bright future at Florida, but it may take some time for Hearns to reach that level.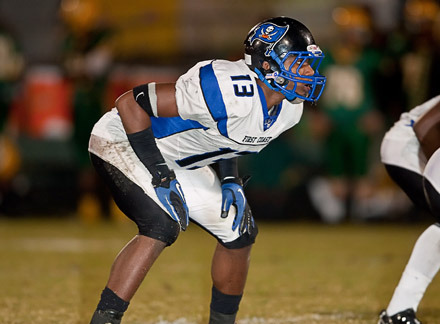 Photo Credit: MaxPreps.com
McMillian is a scheme-versatile linebacker who can play all three linebacker spots. At 6'2", 220 lbs and with a frame that could support a considerable amount of weight gain, McMillian could end up at BUCK.
With such versatility, McMillian could end up taking some time to find a home. I could see a scenario where McMillian takes a redshirt and ends up playing both BUCK and Sam linebacker when Taylor's eligibility is up.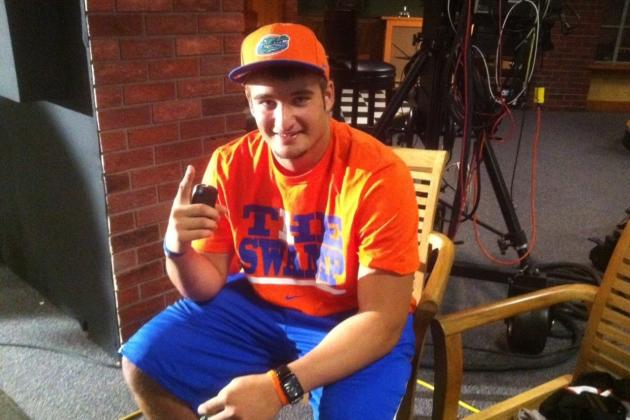 Photo Credit: baynews9.com
In his unending endeavor to toughen up and beef up both lines of scrimmage, Will Muschamp is getting commitments left and right from linemen prospects.
The Gators signed 10 linemen last season (the number dropped to nine with Dante Phillips denied university admission) and already have commitments from five more linemen.
Joey Ivie could fill in at the 5 technique—a position that Sharrif Floyd played last season or continue to fill out his 270-pound frame and make the move to DT full time. He also plans on enrolling early which will give him a leg up on the rest of the recruiting class. (Via Bob Redman, Scout)
Florida DL commitment Joey Ivie plans on being at Friday night Lights and enrolling early in Gainesvilleflorida.scout.com/2/1204462.html#Gators

— Bob Redman (@BobRedman_Scout) July 23, 2012
Floyd could choose to forgo his senior season and test the NFL waters. If Floyd does this, Ivie will be asked to contribute sooner rather than later.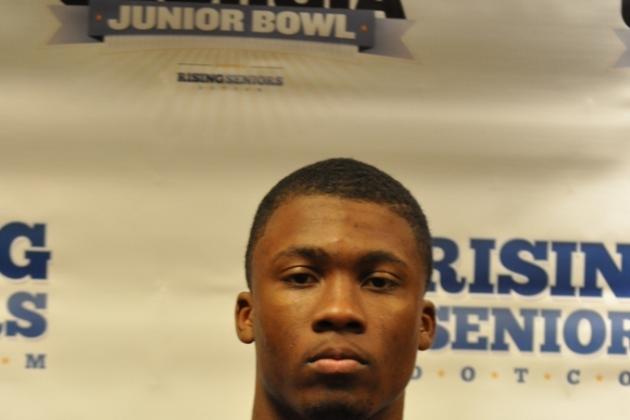 Photo Credit: 247sports.com
Hawkins has all the physical tools needed to succeed at the next level. Most importantly, Hawkins is a playmaker with the ball in his hands. This is something the Gators lacked in 2011 and are looking to fix for this coming season.
Hawkins has above-average hands, is a great route runner and can make defenders miss once he has the ball.
Similar to what we said about Adams before him, unless the Gators find two or more reliable playmakers on offense in 2012, Hawkins will have an opportunity to show the coaches he can be relied on and earn considerable playing time in 2013.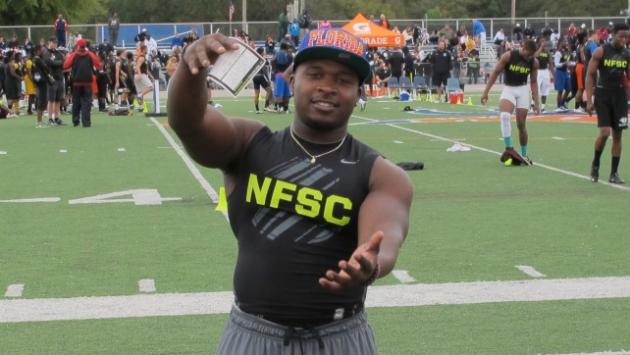 Photo Credit: 247sports.com
Adam Lane is a player who went under the radar due to an injury that caused him to miss most of his junior season.
Lane made his comeback this spring and looked better than before the injury. Lane scored three times in his high school's spring jamboree on runs of 15, 28 and 60 yards.
Lane is built in the mold of Ray Rice and Maurice Jones-Drew. A short bowling ball of a running back who's hard to bring down but shows enough speed and quickness to make people miss.
Lane would be higher up on the list if the Gators hadn't already received a commitment from the top running back in Florida. With Mike Gillislee playing his final season in Gainesville this year, that only leaves Mack Brown, Chris Johnson and Matt Jones on the depth chart at running back.
Lane will compete for playing time and should see limited time as a freshman.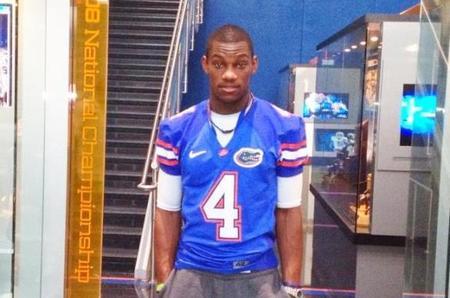 Photo Credit: Nick Washington Twitter @NickWashington
Washington is not only one of the top defensive back commits the Gators have, but he has been actively assisting the coaching staff in recruiting. Washington has played a major role in reaching out to fellow '13 commits and trying to sway them in Florida's favor.
Washington is a ball-hawking safety commit who can cover a lot of ground in the passing game. He's scheme versatile and could see some time at cornerback if need be. Washington is not afraid to come down into the box and plays against the run, much like Elam does now.
With Elam likely to test the NFL draft after this year, that leaves Florida with Cody Riggs, Jabari Gorman, De'Ante "Pop" Saunders, Valdez Showers and incoming freshmen Rhaheim Ledbetter and Marcus Maye left at safety. Washington can be a serious contender for early playing time in that group of players.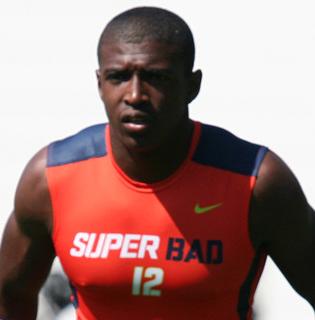 Photo Credit: 247sports.com
Like Washington, Neal is a ball-hawking safety who can cover in space along with being able to play effectively in the run game.
Unlike Washington, Neal is physically big enough to play linebacker and could eventually develop into one before his college career is over. What would be better for the Gators defense is for Neal to continue developing as a safety and play a kind of hybrid/rover position for the Gators.
Neal has the talent to compete right away for playing time.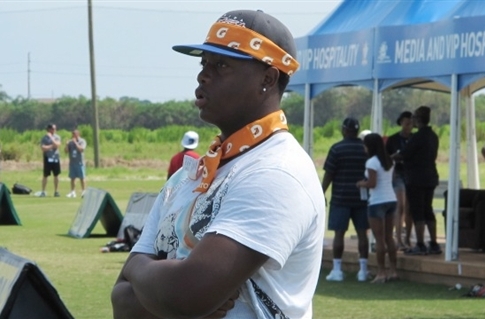 Photo Credit: 247sports.com
As you saw in a previous slide, while Outlaw remains committed to Florida, he will keep his options open and visit other schools.
Outlaw is more advanced as a run blocker than he is as a pass blocker, but the Gators will be in desperate need for depth at both guard positions and center. This could be a way for Outlaw to come in and contribute right away as a freshman.
After this season, the Gators will have Jessamen Dunker, Kyle Koehne, Jon Halapio, Ian Silberman and Tommy Jordan left to fill in at both right and left guard. Halapio is the presumed starter at right, and Dunker should be starting at left. 2013 is the last year of eligibility for Halapio, and he could decide to leave early prior to the 2013 season.
With interior lineman being such a pressing need, the coaching staff will do everything they can to keep all three offensive linemen commits in this class.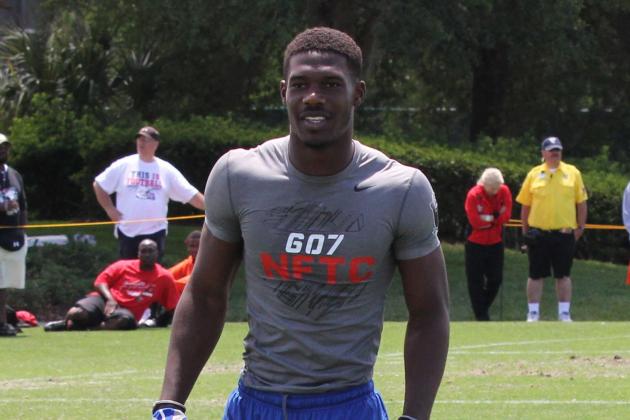 Photo Credit: 247sports.com
Powell is a speed-rushing defensive end who projects as a linebacker at the next level.
Powell is a very good sideline-to-sideline player but will need to work on his coverage skills to be a successful linebacker in the SEC. He will also need to add some considerable bulk to his 6'2", 200-pound frame.
Powell has all the potential in the world but will need to be a gym rat and dedicate himself to getting bigger before he can become the player whom Gator fans and the coaching staff hope he will be. If he does not receive a redshirt as a freshman, Powell can be used in passing situations and on special teams, but his future is as a starting linebacker.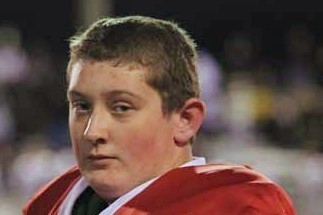 Photo Credit: Orlandosentinel.com
Like what was said in Josh Outlaw's slide, the Gators will be hurting for interior offensive linemen.
Dillard has the nasty streak that you like to see in an offensive lineman and is a force in the running game. He comes from a run-first high school and will have to learn and develop more pass-protection skills, but as a run blocker, is ready to play at the next level.
At 6'3'', 290 pounds, Dillard is physically ready to play in college and could be an early favorite to replace Halapio if he decides to leave school early for the NFL.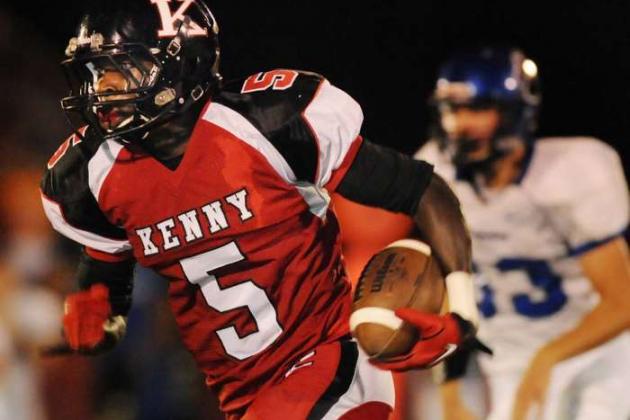 Photo Credit: jacksonville.com
At 6'4'', 190 pounds, Fulwood is the big target who will fit perfectly into Pease's pro-style offense.
Fulwood possesses a sneaky speed for his size is an excellent route runner and a load to bring down with the ball in his hands. Fulwood is willing to go over the middle and can even muscle through linebackers after the catch.
Even at 6'4'', Fulwood shows a good ability to high point the ball and can leap over defenders with ease.
Fullwood is destined to be a star for the Gators for years to come, and he will fit right into the starting lineup with either Quinton Dunbar or Latroy Pittman.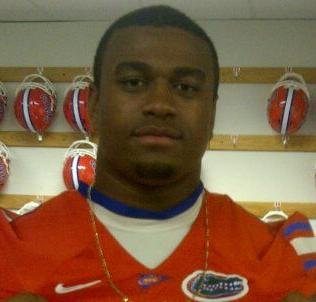 Photo Credit: gatorsports.com via Caleb Brantley
Caleb Brantley is a defensive tackle commit, but at 6'3'', 304 pounds, he could develop into a nose tackle as well.
Brantley has a good initial burst off of the line and uses his hands well to separate himself from offensive linemen. Equally good against the run or pass, Brantley is ready to play in college right now.
When Brantley arrives on campus in 2013, the Gators will have Leon Orr and Damien Jacob at defensive tackle. Jafar Mann and Quinteze Williams at nose tackle. Wherever Brantley lands, he won't have too many people to hop over on the depth chart to become a starter, and he should be starting sooner rather than later for the Gators.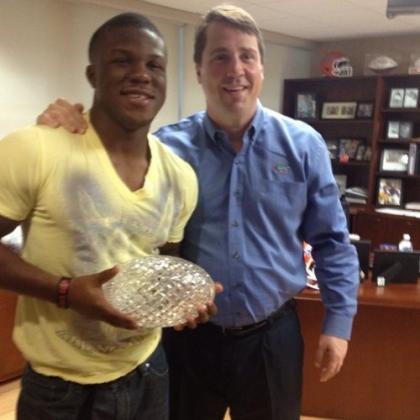 Photo Credit: gatorsports.com
Kelvin Taylor is a Gator legacy. His father, Fred Taylor, was a Gator great, and Kelvin has the ability to be a better running back at Florida than his father was.
That's a tall order. In a four-year career, Fred Taylor amassed 3,078 yards and 31 touchdowns.
Kelvin will come in as a freshman and immediately compete with Matt Jones, Mack Brown, Adam Lane and Chris Johnson to become the starting tailback, he's just that good.
Like Washington, Taylor has been on the recruiting trail and doing his best to bring other top players with him to Florida. Taylor was tweeting at the top-rated cornerback recruit Vernon Hargreaves III today. (Via Kelvin Taylor Twitter account, @ImKelvinTaylor)
@VHargreaves24 when You going be apart of the #GatorFamily bro!?

— Kelvin Taylor™ (@ImKelvinTaylor) July 22, 2012
Taylor has the ability and pedigree to become one of the best running backs to ever play football at the University of Florida.