10 Fighters That Are Impossible to Prepare for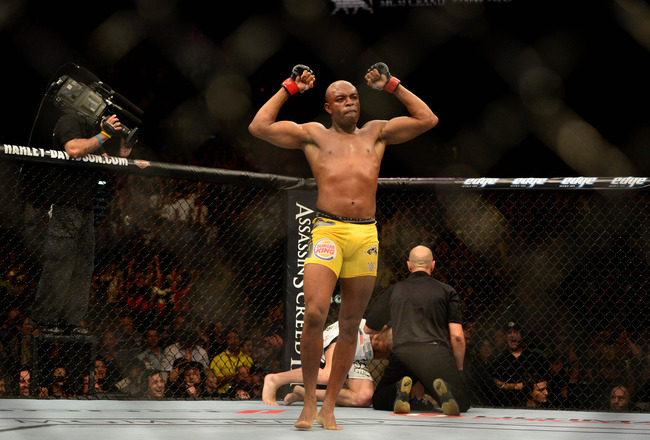 Mark J. Rebilas-US PRESSWIRE
Mixed martial arts is a beautiful sport because of the diversity displayed through its art.

Some fighters manipulate that art into a spectacular fighting style that truly defines them, and it's truly a mesmerizing sight. Perhaps the best part however is watching fighters use their style to become a world champion.
Developing these awkward styles and using it to create an unorthodox fighting style is beautiful to watch.
With that in mind, these are the fighters that have mastered their craft to a tee, and they're borderline impossible to prepare for.
Dominick Cruz
Dominick Cruz's movement should caution those with motion sickness to look away.
Cruz is always moving in and out of striking range with superb footwork that is unlike any other fighter in the UFC.
Not only does he switch stances while changing the distance, he unleashes one combination after another, and because it's so varied, you never know which kick or punch is coming next.
For that very reason, Cruz is truly an artist in the Octagon. Every time he steps in there, he paints a perfect portrait with his speed and skill.
Brian Ebersole
Brian Ebersole is a wildcard inside the Octagon.
With his chest hair shaved in the form of an arrow, Ebersole's game-plan is as predictable as he looks.
The guy throws anything from cartwheel kicks to punches to the thigh, and because of his unorthodox approach to MMA, people have reason to believe he's borderline insane.
As if that wasn't unusual enough, Ebersole has a rare ability to withstand chokeholds from some of the best Jiu-Jitsu practitioners in the game and somehow remain conscious. Some mysteries are meant to be unsolved, and Ebersole's fighting style is certainly one of MMA's most intriguing.
Alexander Gustafsson
Alexander Gustafsson is lanky but lethal.
His body frame comprised with great boxing skills and solid ground game have made Gustafsson a force to be reckoned with in the light heavyweight division.
Gustafsson will fight with his hands down, but that's because his height and movement allow him to do so.
He uses his skills and length so well that it has allowed him to go on a six-fight win streak, and it's made him a true contender for Jon Jones' title.
Anderson Silva
You can never be truly prepared to face the greatest MMA fighter of all-time.
Anderson Silva is an icon in the sport. He's the true definition of a champion, and his legacy, like his will, is unbreakable. Just ask Chael Sonnen.
Even against his greatest foe and greatest weakness, Silva found a way to defeat Sonnen twice. Powerful double leg takedown or not, Silva's on-point striking and Brazilian Jiu-Jitsu proved to be too much for the only man to ever bring the fight to Silva inside the Octagon.
Moving forward, Silva's aura surrounding him will only become more legendary.
Chan Sung Jung
The Korean Zombie brawls like no other.
If you have a scheduled bout with Chan Sung Jung, you better keep your chin down low and be able to weather a storm.
Jung's excellent conditioning allows him to push forward and push the pace on his opponents. Punch after punch, followed by kicks and knees, the Korean Zombie doesn't let up.
He also possesses some sick Jiu-Jitsu skills, right, Leonard Garcia?
Lyoto Machida
Though he's lost to Mauricio "Shogun" Rua, Quinton "Rampage Jackson and Jonny "Bones" Jones, Lyoto Machida is still one of MMA's greatest puzzles.
Machida is worldly renown for his karate skills, but his judo presence and submission skills add another element to his game.
His movement, explosiveness and awkward stances make him a tough riddle for anyone he faces, and he had success early against one of the best fighters in the world today, Jon Jones.
Not to mention the fact that Machida was the first man to successfully use the "crane kick" from The Karate Kid, and quite frankly, that's pretty cool.
Jon Jones
Right now, Jon Jones is untouchable.
His 84" reach keeps his opponents at bay, and as soon as they close the distance, he can throw them any direction he chooses.
But opponents haven't had much luck of closing the distance against Jones. The reason for that is because of his ever improving striking.
Jones has no holes in his game, which makes him near impossible to defeat.
Michael Page
Is Michael Page really the UK version of Anderson Silva?
Well, from the looks of the video embedded in the slide, he certainly can be. To call his standup unorthodox really doesn't do it justice.
Page is a showman in the cage. With his arms moving like the "wacky waving inflatable arm flailing tube man," Page goats his opponent into standing with him.
From there, he beats down his opponents with his versatile striking, which has led to him winning both of his MMA bouts.
Jose Aldo
Jose Aldo is an impenetrable buzzsaw.
Since winning the featherweight championship in the WEC, Aldo hasn't looked back.
With his precise striking and black belt in Brazilian Jiu-Jitsu, Aldo poses problems for every man he steps across the Octagon from.
The speed of his leg kicks are unlike anything any fighter can prepare for, and after taking a few of them, your chances of winning decrease immediately.
Nick Diaz
Nick Diaz is impossible to prepare for because it's unsure he'll show up.
Sorry, I had to go there. Truthfully, Diaz is impossible to prepare for because of his cardio and fearlessness.
Diaz pushes the pace like no other, and he's willing to throw himself into the fire and take hits in order to give some shots.
Because of this, Diaz is respected by nearly all of his peers, and it's why a man that's as undependable as Diaz can still be such a crowd favorite.
Keep Reading