Top 10 Reasons to Visit the Annual Baseball Hall of Fame Induction Weekend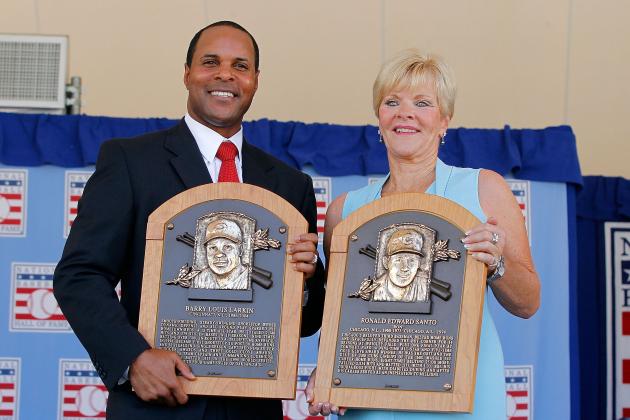 Jim McIsaac/Getty Images
Barry Larkin & Vicki Santo, Class of 2012
Each year, the National Baseball Hall of Fame honors its newest inductees during Hall of Fame Induction Weekend, which takes place in July.
This year's recipients were Barry Larkin and the late Ron Santo, whose award was accepted by his wife, Vicki. Many former teammates of both Larkin and Santo were present, as were 44 of the other living Hall of Fame players.
While the induction ceremony itself is quite special, it certainly is not the only event taking place, nor the only reason for fans to travel there.
There are many other events taking place during that weekend each year, and each event makes the entire experience that much more special.
Here are 10 reasons why fans should attend Hall of Fame Induction Weekend.
Begin Slideshow

»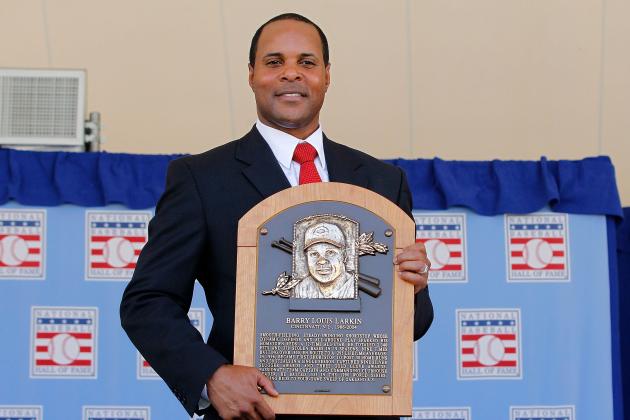 Jim McIsaac/Getty Images
Barry Larkin
The focal point of Hall of Fame Induction Weekend each year is to celebrate and honor the new members of the most exclusive fraternity in baseball. This year's inductees are Barry Larkin and the late Ron Santo, who was represented at the ceremony by his wife, Vicki Santo.
Each year, the Baseball Writer's Association of America (BBWAA) are given a list of retired baseball players that are eligible for induction the following year. Eligible players must have been retired for at least six years to be qualified for the honor.
All the writers then vote on whether a certain player is deemed worthy of being enshrined and players are only elected if over 75% of these voters deem he is deserving.
If a player does not meet that requirement, he has to wait another year and the process continues for 15 years. However, if a player receives less than 5 percent of all votes in any year, they will automatically be removed from the BBWAA ballots.
Players that are not inducted by the BBWAA could later have a chance through the Veterans' Committee. Players elected through the Veterans' Committee have to have played from the 1947-1972 era or have played for over 10 years and were last active in 1989 or earlier, which was the case this year. Managers, executives and umpires are chosen through the Veterans' Committee as well.
Furthermore, the Ford C. Frick Award is given annually to a person that has stood out from the rest in baseball broadcasting, while the J.G. Taylor Spink Award is given to an acclaimed baseball writer. This year's recipients were Tim McCarver and Bob Elliott, respectively.
With just one BBWAA induction and one Veterans' Committee induction this year, the 2013 ballot will certainly be more fascinating. Former 1990s and 2000s All-Stars like Craig Biggio, Barry Bonds, Roger Clemens, Mike Piazza, Curt Schilling and Sammy Sosa will all be eligible on the ballot for the first time, among others.
Despite their amazing career numbers, Bonds, Clemens and Sosa in particular are not expected to get inducted any time soon due to long performance-enhancing drugs rumors, plus the legal battles that Bonds and Clemens have had to face.
Nonetheless, it should be very fascinating to see how the 2013 ballot plays out.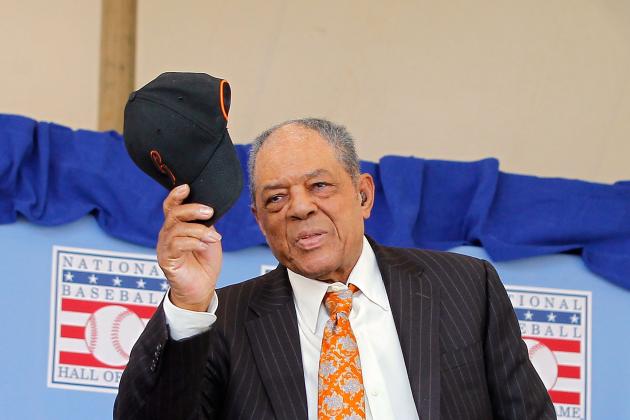 Jim McIsaac/Getty Images
Willie Mays, Class of 1979
Every year, many of the living Hall of Fame players spend the weekend in Cooperstown to help honor the new inductees. Some enjoy being in the streets to sign autographs, pose for pictures and talk to fans, while others may keep to themselves and only appear at the induction itself.
Including Barry Larkin, 45 of the 65 living Hall of Fame players were at Cooperstown this past weekend.
The list of players included Roberto Alomar, Luis Aparicio, Ernie Banks, Johnny Bench, Bert Blyleven, Wade Boggs, George Brett, Lou Brock, Jim Bunning, Steve Carlton, Andre Dawson, Dennis Eckersley, Rollie Fingers, Carlton Fisk, Whitey Ford, Bob Gibson, Tony Gwynn, Rickey Henderson, Fergie Jenkins, Al Kaline, Sandy Koufax, Juan Marichal, Paul Molitor, Joe Morgan, Eddie Murray, Phil Niekro, Jim Palmer, Tony Perez, Gaylord Perry, Jim Rice, Brooks Robinson, Frank Robinson, Ryne Sandberg, Mike Schmidt, Red Schoendienst, Ozzie Smith, Bruce Sutter, Billy Williams, Dave Winfield and Robin Yount. Even Yogi Berra and Willie Mays were able to show up, despite needing the help of others.
Executive Pat Gillick, umpire Doug Harvey and manager Whitey Herzog were present at the induction as well.
Hall of Fame Induction weekend is one of the best chances for fans to meet their favorite players. Some of the autographs and different kinds of items can be pricey, but with memories that can last a lifetime, it is totally worth it to go.
It doesn't happen every day and at just any place that you can walk down the street and see baseball legends signing autographs and chatting with fans.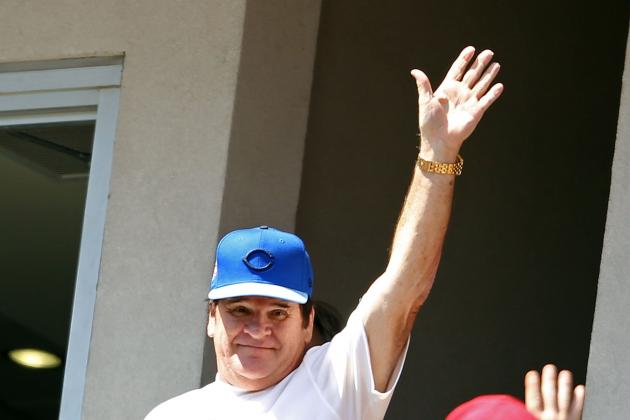 Andy Lyons/Getty Images
Pete Rose
Not only do former Hall of Fame players make appearances, other fan favorites make their way to Cooperstown each year as well. More often than not, though, the other former players tend to be on the same team as the Hall of Fame players that are inducted in the respective year.
This year, a few former Reds players were in Cooperstown to honor Barry Larkin. Among those were Eric Davis, Dave Parker, Pete Rose, and former Reds manager Lou Piniella.
Other former players in town included Ron Blomberg, Cecil Fielder, Dwight Gooden, Howard Johnson, Elliott Maddox, Denny McClain, Art Shamsky, Rusty Staub, Roy White and Todd Zeile. Former Negro Leagues players Bob Griffith and Pedro Sierra were in attendance as well.
In 2013, with players like Craig Biggio, Mike Piazza and Curt Schilling all having great chances of possibly getting inducted on the first ballot, there is a very good chance that some former Astros, Mets, Phillies, Diamondbacks and Red Sox players will be in town that year.
If autographs, pictures and chatting with Hall of Fame players isn't enough, there are plenty of other players that make appearances at Hall of Fame Induction Weekend as well.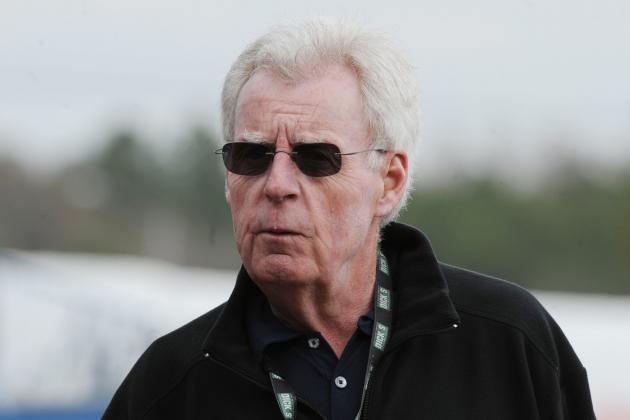 Al Messerschmidt/Getty Images
Peter Gammons, MLB Network
In addition, other famous baseball personalities are in attendance every year in Cooperstown during Hall of Fame Induction Weekend.
During the Hall of Fame Awards Presentation at Doubleday Field, former Cardinals manager Tony La Russa joined Hall of Fame player and manager Red Schoendienst and Hall of Fame manager Whitey Herzog on stage to celebrate three generations of Cardinals' championships.
Orioles' television announcer Gary Thorne was the emcee during both the Hall of Fame parade and the Hall of Fame Induction ceremony. He had previously worked alongside Tim McCarver on the Mets' WOR television station from 1994-1998.
As part of MLB Network's coverage of the event, MLB Network personalities Peter Gammons, Brian Kenny, Harold Reynolds, and Tom Verducci were all at Hall of Fame Induction Weekend as well.
Many of these baseball personalities are friendly and willing to talk to fans. Being that these opportunities don't occur all the time, this is just another reason to attend Hall of Fame Induction Weekend.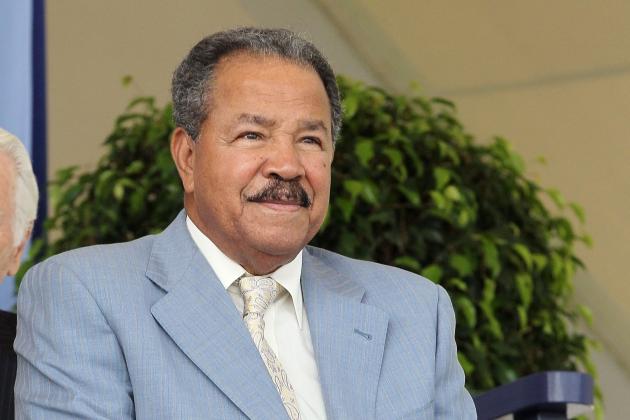 Jim McIsaac/Getty Images
Juan Marichal, Class of 1983
There are plenty of events leading up to the inductions themselves. This is why many fans tend to arrive on the previous Friday or Saturday.
On this past Friday, July 20, Ozzie Smith held a "Play Ball" Museum fundraiser that morning. He was joined by Johnny Bench, Carlton Fisk and Paul Molitor as thy helped fans experience the Hall of Fame Museum before going to a baseball diamond to talk baseball and get playing instruction.
Later that morning, Tony Gwynn participated in the unveiling of the new Baseball Legends Stamps that were first shown at the Museum. The new stamps featured Joe DiMaggio, Larry Doby, Willie Stargell and Ted Williams.
On the early morning of Saturday, July 21, some of the Hall of Fame players participated in a golf tournament at a nearby country club. Among those that participated were Barry Larkin, Bert Blyleven, George Brett, Lou Brock, Rollie Fingers, Carlton Fisk, Al Kaline, Paul Molitor, Phil Niekro, Jim Rice, and Billy Williams.
In the afternoon, while some legends were signing autographs, Blyleven and Niekro hosted a new game show at Doubleday Field, alongside Brian Kenny of MLB Network.
The game was called "Pitch Count" and one of the Hall of Fame pitchers would ask a fan a question and then provide the answer. The winning team was able to play for a chance to win lifetime memberships at the National Baseball Hall of Fame.
Soon afterward, the Hall of Fame Awards ceremony took place at Doubleday Field, where Ford C. Frick Award winner Tim McCarver and J.G. Taylor Spink Award winner Bob Elliott were both honored for their contributions to baseball, which was followed by a special tribute to Red Schoendienst, Whitey Herzog and Tony La Russa all being honored for leading the Cardinals to World Series championships during three different generations.
Immediately after that was the Hall of Fame Parade of Legends, in which each present Hall of Fame player sat in a pickup truck and waved to the crowd on Main Street for an hour.
This all goes to show that Hall of Fame Induction Weekend is about a lot more than just the induction ceremony itself.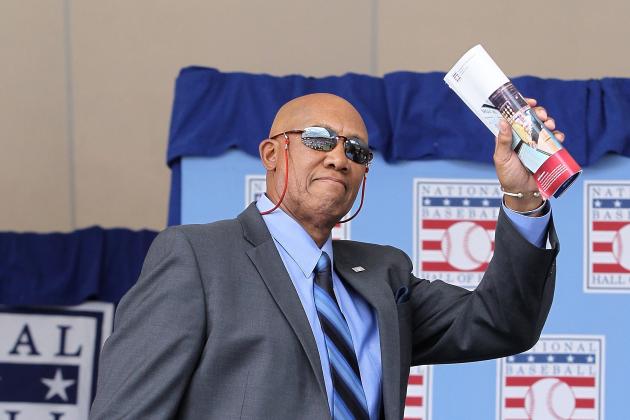 Jim McIsaac/Getty Images
Ferguson Jenkins, Class of 1991
Whether your team is leading its respective division by the middle of July in a given year or in last place, those in attendance can use Hall of Fame Induction Weekend to get away from the current baseball season for just a few days.
There are so many fun events going on for baseball fans each year in Cooperstown that fans may not even think about how their teams are doing because they will be too busy meeting different legends and watching historical ceremonies take place.
This can work for fans of contending teams because they can remember that there is still baseball aside from how their own team is doing. It can remind fans of the teams and players they used to follow when growing up.
It probably works better though for fans of teams that are playing rather poorly. Those fans can forget about the bad season and be able to interact with legendary players, which could certainly become a good temporary distraction.
Furthermore, one of the biggest and most fun aspects about baseball is its rich history that all fans have loved to reflect on for years.
Players who played as far back as the 1940s have been in Cooperstown during Hall of Fame Induction Weekend, and it's simply amazing to see how well they are doing after all those years.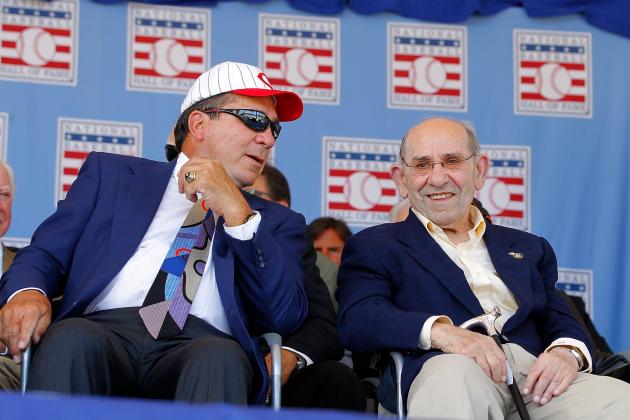 Jim McIsaac/Getty Images
Johnny Bench, Class of 1989 & Yogi Berra, Class of 1972
When fans are not walking down the streets getting autographs, sitting at restaurants to enjoy Cooperstown dining and watching ceremonies, they are likely to be at the National Baseball Hall of Fame to check out the museum and learn more about baseball history.
The National Baseball Hall of Fame's hours are extended during Hall of Fame Induction Weekend and provide a great opportunity for fans to come in at virtually any time in the day to check out the museum, galleries and, of course, the Hall of Fame plaques themselves.
This year, the second floor of the museum features a "Fentennial" tribute to the 100-year anniversary of Fenway Park. The permanent galleries include various artifacts that honor baseball history at each of its different eras, special galleries for Babe Ruth, the Negro Leagues, women in baseball and Latin American baseball.
On the third floor, there is a gallery about past and present ballparks, another gallery devoted entirely to Hank Aaron and his career, plus a gallery on various baseball records. There is also a special World Series gallery that includes items from the previous World Series, items from other World Series' and a ring from every World Series championship team.
After viewing the upstairs galleries, fans then go to the first floor to see items from the respective year's inductees, plus photos from previous inductions.
Then, fans are finally at the Hall of Fame Plaque Gallery and can spend hours reading and viewing every single plaque if they choose to do so. Fans can also keep walking and check out the section on broadcasters and writers that have been inducted for their contributions to their field.
There is also a gallery of baseball movies, an area for young children and the A. Bartlett Giamatti Research Center, which provides a lot of past baseball footage for fans to enjoy.
As fans exit the museum, they can make a stop the official museum store and purchase any meaningful items for their collection.
A trip to the National Baseball Hall of Fame is truly a unique experience for all baseball fans.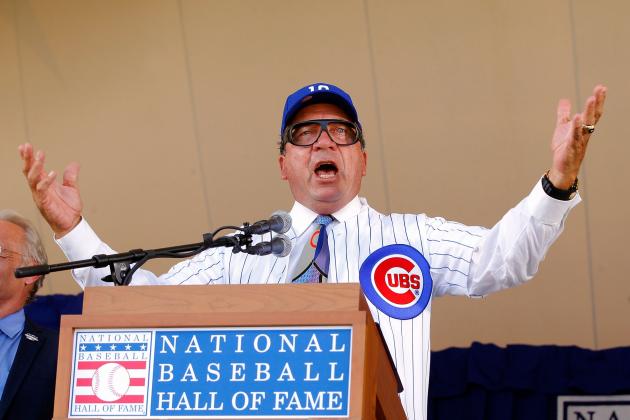 Jim McIsaac/Getty Images
Johnny Bench doing his Harry Caray impersonation
Speaking of the National Baseball Hall of Fame Store, Hall of Fame Induction Weekend gives fans a wonderful chance to purchase artifacts that represent baseball history.
At the store, many items can be found that represent both the past and present of baseball history. Books, clothing and caps are some of the most popular items. Other items for sale include cups, glasses, rugs, key chains, banners, pennants and other collectibles.
Besides the National Baseball Hall of Fame Store, Main Street in Cooperstown is full of stores that feature all kinds of baseball clothing and items. At least a few stores per block sell various clothing and items for sale and are opened for long hours during Hall of Fame Induction Weekend.
Many of these stores also have an extensive collection of baseball cards, including those of players of the past and present, plus many valuable rookie cards.
Fans will not go home empty-handed during a trip to Cooperstown during Hall of Fame Induction Weekend.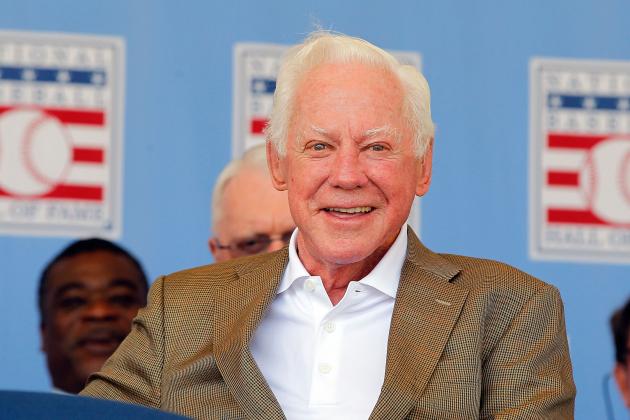 Jim McIsaac/Getty Images
Whitey Ford, Class of 1974
While there are many different items at the various Cooperstown stores on Main Street, the most unique, valuable and expensive items by far are the many different kinds of memorabilia that are displayed.
Many autographed baseballs from baseball legends can be purchased from these stores, as well as many different kinds of autographed pictures.
The majority of those autographed pictures are in relation to baseball memories they were a part of. However, there are other autographed pictures of players simply playing the game, posing with other players or artistic depictions of players.
Many of these autographed pictures are very expensive for most people, but if purchased, they will instantly become valuable pieces of memorabilia for the new owners.
Every piece of memorabilia is unique and it would not be easy to find such a vast collection of memorabilia elsewhere, compared to Cooperstown and during Hall of Fame Induction Weekend.
If baseball fans are really into memorabilia, Cooperstown is the place to go, and particularly during Hall of Fame Induction Weekend.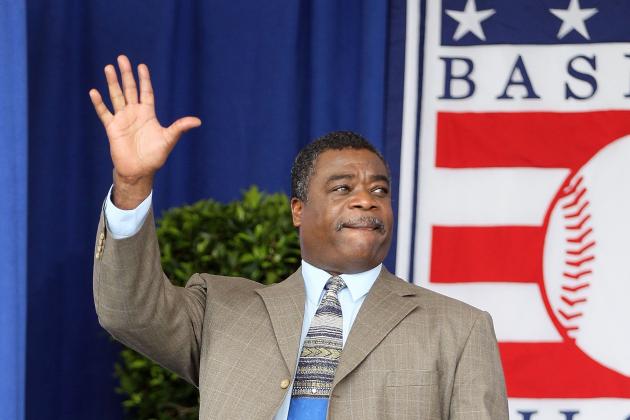 Jim McIsaac/Getty Images
Eddie Murray, Class of 2003
More than anything, the events surrounding the annual National Baseball Hall of Fame inductions are designed mainly for one particular group of people: the fans.
Many legendary Hall of Fame players take time out of their days there to sit at tables on Main Street to sign autographs, pose for pictures, and interact with fans so that they can give back to the fans for the support they received.
Sure, these legends will make some easy cash by doing this, but they know that the fans are willing to pay up in order to make the most of special moments that can last a lifetime.
Many fans have dreamed for years of meeting their favorite legends, and by going to Cooperstown during Hall of Fame Induction Weekend, they can potentially make their dreams come true.
Hall of Fame legends aren't just going to go and knock on anyone's door to make themselves available for autographs, pictures and chatting. However, if fans are willing to travel to Cooperstown, they can see their favorite players and fulfill at least one of their long-term dreams.
After all, the events leading up to the inductions are designed purely for the fans. Being that it's there, fans might as well travel and make the most of the opportunity because it could be the only opportunity they will get to meet certain people.