Oregon Football: What You Need to Know About Ducks WR Josh Huff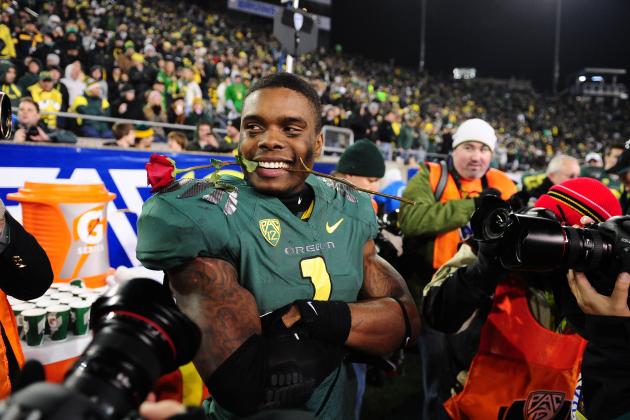 Mark J. Rebilas-US PRESSWIRE

Enigmatic wide receiver Josh Huff could see his college football career go one of several different directions in 2012.
After mostly successful freshman and sophomore campaigns, Huff should live up to his fullest potential in this, his junior season.
However, will a nagging leg injury, a looming court date or the increased competition at wide receiver doom Josh Huff in 2012?
Let's take a look at what we currently know about Josh Huff.
Begin Slideshow

»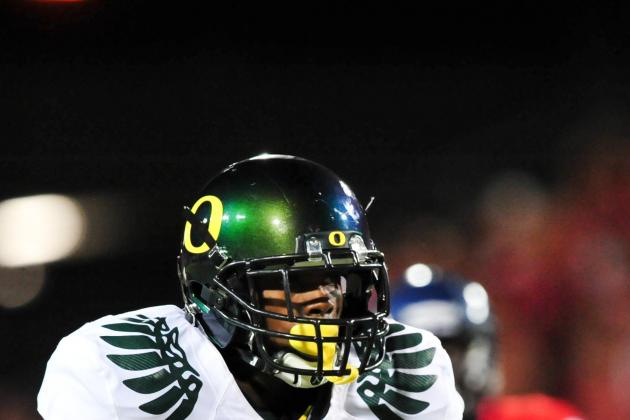 Chris Morrison-US PRESSWIRE

At 5'11", 200 lbs, Josh Huff had a mixed year in 2011. As a sophomore, Huff, from Houston, Texas, started 10 games for the Ducks and appeared in 12 games.
Slowed by a stress fracture in his left leg, Huff missed the first two games of the season and was not 100 percent healthy during the entire year. He says the leg has bothered him since high school. Even with the injury, Huff was the third leading Ducks receiver in catches (31), and the fourth in number of yards (430).
Huff had a great game in the Pac-12 Championship against UCLA, catching four balls for 57 yards and returning three kickoffs for 94 yards, including one beautiful 40-yard return. He also had five receptions in the loss to USC.
My favorite Josh Huff play of last year came on a 59-yard TD reception in the win at Stanford. It was perfect.
In 2010, Huff was the only true freshman to play on offense for the Ducks. He played in all 13 games and started two of them. Huff had good highlights as a freshman, including an 85-yard TD run against Arizona that changed the game.
All stats are from Huff's official bio at GoDucks.com.
Gary A. Vasquez-US PRESSWIRE
Josh Huff and Tacoi Sumler
According to the Ducks' roster for 2012, there are currently 15 players in addition to Huff listed as wide receiver. There is also one player, incoming freshman and 4-star WR, Bralon Addison who is listed as "Player".
And that total does not include Justin Hoffman, who is "retiring" on the advice of medical personnel. So, that leaves 16 or 17 guys who can catch the ball. Most of the wide receivers are not chopped liver, and I expect several to see a great deal of playing time.
I like junior Daryle Hawkins, senior Rahsaan Vaughn, redshirt freshmen Tacoi Sumler and Devon Blackmon, and sophomores Eric Dungy and Blake Stanton.
These wide receivers, along with B.J. Kelley and Will Murphy, all looked good in Oregon's spring game. Huff did not play in the spring game, and we don't know whether it was because of his leg or because of Chip's doghouse.
We know that Josh Huff is a serious threat on the perimeter whenever he's in. I'm not sure we know that about his competitors yet. Maybe one of more of them might be that extra weapon for the Ducks if Huff flames out, but we don't have enough evidence.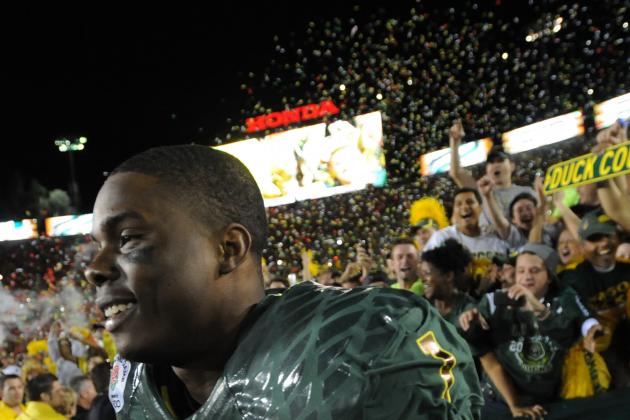 Jayne Kamin-Oncea-US PRESSWIRE

On March 3, 2012, Josh Huff was arrested on suspicion of drunk driving during a traffic stop near the Oregon campus. Other charges included speeding and driving without a license.
Huff pleaded not guilty at an arraignment on March 23, and his trial was scheduled for July 12. It has since been delayed until July 31.
Huff is, of course, innocent until proven guilty. But that's in a court of law; not in the court of Chip Kelly. If Huff is acquitted of all charges—a possibility—one would presume that he will be a starting wide receiver in game one.
However, if he's found guilty of one or more of the charges against him, one would also presume that Kelly will take action. And that could be anything from a one game—or even one half—suspension, to being booted off the team.
I know I'm not alone in hoping it doesn't come to that. Or that Huff's injured leg is not still a factor in his performance in the upcoming season.
While the Ducks appear to be deep at wide receiver, Huff is a proven entity and a playmaker, and I want him back on the field where he belongs.
Stay tuned. Update soon after July 31.