South Carolina Football 2012: The Year of the 1st Gamecock SEC Championship!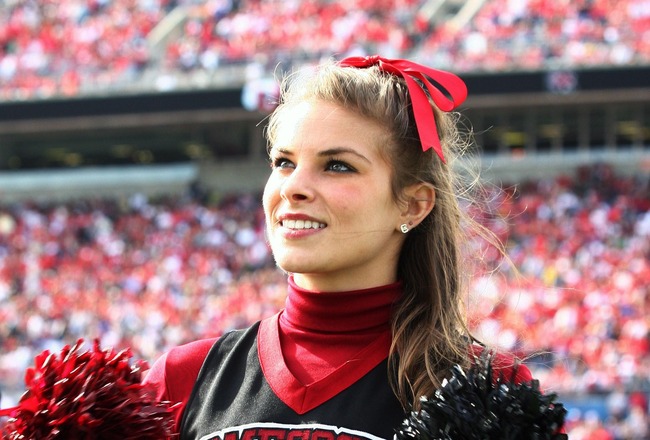 Douglas Jones-US PRESSWIRE
That's right! Why not the Gamecocks in 2012? Just look at how close they came to playing for the SEC championship last year. It boiled down to a couple of plays in that Auburn game—or, a Georgia slip versus Vandy (33-28), Florida (24-20) or even Tennessee (20-12).
Those games are over, and I am surely not whining about what happened in them. I just bring it up to remind all that being in the championship game versus LSU was just a whisker away last year—just that close. Anyone who says they wouldn't have had a chance versus LSU if they had made it has never played, nor even watched, a lot of football. Just get to the game! Then, see what all you can make happen.
There are lots of reasons to argue why South Carolina can't win a SEC championship in 2012, but not nearly as many reasons as there were that Auburn couldn't win it in 2010. In 2001, LSU was a double-digit underdog to Tennessee and won it 31-20.
Throughout the history of the SEC, there have been some preseason favorites who have won throughout the season and then the game. Still, there have been many other schools who were not the preseason favorite who wound up wearing the crown.
The following are eight reasons why South Carolina has what it takes to win the first SEC football championship in school history. Read on! Then decide if the Gamecocks are really a contender for the 2012 SEC football championship.
No. 8: Schedule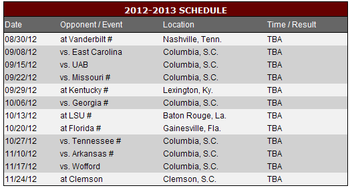 Compliments of: http://upstatetailgate.com/store/content/10/USC/
I am not saying that South Carolina has a super easy SEC schedule. As a matter of fact, it is pretty tough. But, the way it's laid out does present several early-season advantages. In short, this schedule is custom made for a 5-0 start to the season.
They sure don't need to fall asleep at Vanderbilt in Game 1. But hey, it's Vandy! If you can't get by the Commodores, the naysayers are right. You don't deserve to win a SEC championship if you can't beat Vanderbilt.
Missouri is pretty good. But when they come to Columbia, the Gamecocks should have the early-season kinks worked out.
The Gamecocks need to win two out of the first three games in October. If they lose one, hopefully, it would be to LSU and not an Eastern foe. They could lose to both Arkansas and LSU and still make the championship game, provided they didn't lose to an Eastern team.
Finally, you get Tennessee and Arkansas in Columbia. Tennessee will be much improved, so they can't be taken lightly. South Carolina owes Arkansas one. I don't think Arkansas offense will be quite as good as last year.
Still, if Carolina has a defensive weakness, it will be in the secondary. They will have to get after Wilson with the front seven and ruin his night that way.
A 6-2 record may be good enough, but 7-1 in the SEC likely gets South Carolina in the championship game this year. Just get to the game! You have the coach to win one with if you do.
No. 7: Momentum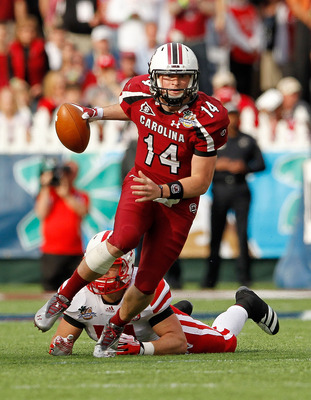 Mike Ehrmann/Getty Images
Everything about the way the 2011 season ended went well for Carolina. Their new starting quarterback got the knack of playing the offense. The running game was serviceable, even without its star. The defense really came alive in both the Clemson game and against Nebraska in their bowl game.
All good news for the Gamecocks. All signs point toward good things for the upcoming season. Believe it or not, ending the year on a high note is worth a great deal more than just the extra practice time for the bowl game. Momentum can carry you forward into the next season or pull you down if you finish poorly.
In the case of the Gamecocks, they have positive momentum.
No. 6: Improvement in the Special Teams
Kevin C. Cox/Getty Images
According to Phil Steele's Preseason Magazine, Carolina finished the 2011 year ranked at No. 94 in his special teams compilation (page 52). I like to use his numbers because he looks at all aspects of kicking, punting and the return game. That No. 94 ranking is particularly high for a Spurrier team.
This year, the Gamecocks lose both the place kicker and punter from last year's squad. Both the starting kicker, Nick St. German, and punter, Patrick Fish are scholarship players. Though they're young, expect more touchbacks in the kickoffs, and hopefully, a little more net distance on punts (last year 35-yard net).
Ace Sanders returned a punt 68 yards for a TD last year in the East Carolina game. It was the first punt return TD in Spurrier's time at Carolina.
Though this unit likely won't be the best-ever fielded by a Spurrier team, it should improve over last year's overall poor numbers.
No. 5: Extremely Talented Defensive Front Seven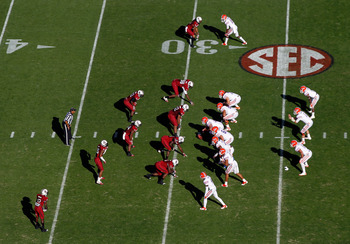 Streeter Lecka/Getty Images
This year, Phil Steele ranks the South Carolina defensive line No. 9 in the country and their linebackers as No. 12 in the nation (Phil Steele Preseason Magazine 2012, page 14).
Lindy's Sports Annual 2012, ranks the Gamecocks defensive line No.2 in the SEC, just behind LSU. They rank the linebackers No. 6 in the SEC and the secondary No. 4 in the SEC.
The combination of the three of these rankings together, puts South Carolina's defense very near the top of the SEC overall (Lindy's Annual 2012, page 83 or lindyssports.com). They rank Carolina No. 11 in the nation overall.
Athlon ranks the Gamecocks defensive line No. 2, their linebackers No. 8 and the defensive backs No. 6 in the SEC. (Athlon College Review 2012, page 68). They rank Carolina No. 10 in the nation overall.
USA Today did not rank individual units but ranked South Carolina No. 6 in the nation overall.
I'm not sure what Athlon is seeing so differently in the Carolina linebackers. They're ranking the unit No. 8 in the SEC versus Phil Steele ranking it No. 9 in the nation. Based on past production and returning players, I lean toward Steele's rankings.
If there's a weakness in this defense, it's in the secondary. The main issue there is uncertainty on how well (and soon) the new guys will mesh. We can argue on exactly where each unit ranks nationally, but there's no argument that this team has a potential to be great this year defensively.
No. 4: Offensive Line May Be Better Than 2011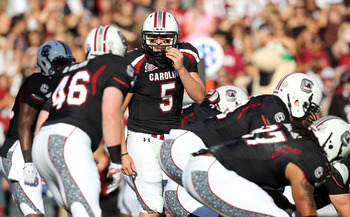 Streeter Lecka/Getty Images
There's no doubt that South Carolina lost some very talented offensive linemen from the 2011 team. Mostly, they were starters who graduated—some to the NFL. Gone this year are first team All-SEC tackle Rokevious Watkins, left tackle Kyle Nunn and right guard Terrence Campbell.
Normally, replacing three starting linemen is a tough thing. And I'm not saying that the Gamecocks are cheerful they have it to do. Still, they're returning third-team, All-SEC center TJ Johnson, a three-year starter, along with three other linemen who all have more than four starts each.
So, I've explained why they may not experience a drop off on the offensive line. Where's the possibility it may be better?
There are two reasons. First, there's left guard AJ Cann who was a freshman SEC All-American last year. And secondly, there's the story behind the left tackle position.
Last season's starter at left tackle was Kyle Nunn. He was doing a great job but got hurt in Game 3. He played through the fourth game but had a season-ending back surgery after that.
The good news for Nunn is the surgery was successful, and he was allowed to start in the bowl game. The bad news was he was a senior, and that was his last Carolina game. Through Nunn's four games, the Gamecocks allowed a total of only four sacks. During his eight-game absence, they allowed 22 more.
South Carolina's starting left tackle this year is redshirt freshman Brandon Shell. He has big-time potential, and Carolina has a softer early schedule to allow him to get through the learning curve.
Carolina's offensive line has 61 career starts between them. They're neither very experienced, nor very inexperienced. With Lattimore back in the lineup, the rushing numbers should be good. Watch for the number of sacks allowed to see how much improvement there is in the line. Last year, the total sacks allowed was 30.
No. 3: Conner Shaw Takes Control at Quarterback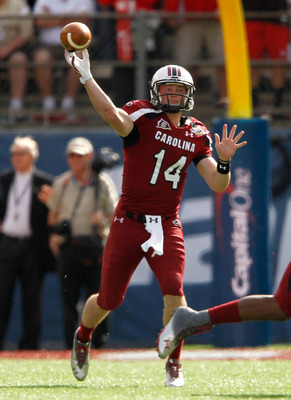 Mike Ehrmann/Getty Images
Conner Shaw is a junior. He spent his first two years behind troubled, but supposedly very talented, Stephen Garcia. I don't guess it's nice of me to use the word "supposedly" when saying that Garcia is a very talented athlete. But, talent alone just gets you a chance (or five), and finally, Garcia had all of his.
Garcia did have a very productive stretch of games during his Carolina career. During the 2010 season, he was in the top five at one point in pass efficiency. He was also the quarterback in the Gamecocks' famous upset of No. 1-ranked Alabama (35-21) in 2010.
During that game, Garcia was 17-of-20 attempts, 201 yards, three touchdowns and one interception. Though he did finish that year ranked outside the top 20 in pass efficiency.
Conner Shaw finally got his chance to be the starting quarterback last year when Garcia was dismissed from the team for rules violations. His early numbers were not great but were solid.
By the final two games (Clemson and Nebraska in the Capitol One Bowl), he was throwing the ball well and was the team's second-highest rusher (525 yards, average 3.9 yards per carry).
Conner Shaw has asserted himself as the No. 1 quarterback. He has a lot of talent, and his confidence grew with every start last year. This team needed a steady hand at quarterback to contend for a SEC title. I believe they have that in Shaw.
No. 2: Depth and Talent in the Run Game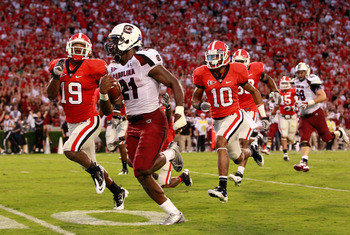 Kevin C. Cox/Getty Images
Marcus Lattimore was on his way to a great season (818 yards, average five) until he got hurt in the Mississippi State game and was lost for the year. After that, true freshman Brandon Wilds ran for 486 yards, and Kenny Miles added another 204 yards.
All three of these players should be healthy now, along with redshirt freshman Shon Carson. These guys have all seen plenty of carries, but with Lattimore healthy, he will likely be the workhorse. Adding to this is the running of quarterback Conner Shaw, who will pull it down and go if needed.
If there can be a bright spot to Lattimore's injury, it's in the extra work he has put in to keep his legs more healthy this year. The South Carolina running game is back and stronger than ever.
They can play ground-and-pound with most any team—or, play a little fun-and-gun when the defense crowds the line to slow down the run.
No. 1: Steve Spurrier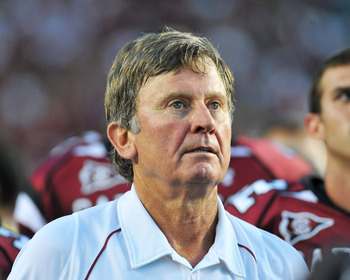 Al Messerschmidt/Getty Images
The head football coach has worked his magic in Columbia. It took a little while longer than it did in Gainesville, but the Gamecocks are a contender. Spurrier knows he has a special group of players, and he knows they have a chance to win a SEC title.
I am not sure how many more years Spurrier plans on coaching. He's above the normal retirement age at age 67. But, as long as he is the coach, Carolina has a winner at the helm. Spurrier doesn't like to lose, and he knows how to get the job done.
A local South Carolina news report (wltx.com), published a Spurrier interview on Nov. 3, 2011. In it, the coach said he doesn't plan on retiring for another three years. He cited exciting players like Marcus Lattimore, Conner Shaw and others as reasons why.
Along with his desire to become the coach with the most wins in South Carolina history. Currently, that honor is held by Rex Enright since 1955, with a total of 64 victories.
Based on that report, you have to think Coach Spurrier plans on three more seasons at the Carolina helm. He has a team that's capable of winning a SEC title this year. It will be interesting to see if they can pull it off for the head football coach.
That would give him two more years to attain another goal that hasn't been talked about much in Columbia.
Keep Reading

South Carolina Football: Like this team?