USA vs. Argentina: Olympics Exhibition Highlights, Twitter Reaction & Analysis
Another exhibition, another easy win for Team USA.
OK, maybe not quite that easy.
World No. 3 Argentina made a few nice runs against the Americans, cutting the lead to single digits multiple times in the second half, but the United States was always in control during its 86-80 victory.
It was just an exhibition game, but this was a hard-fought contest between two of the best teams in the world.
Let's take a closer look at this likely future Olympic matchup.
Must-See Highlights
You really can't start a game better than Team USA did in this one. Led by Kobe Bryant and Kevin Durant, the Americans took a while to miss their first shot, jumping out to a 14-1 lead in what seemed to be a matter of seconds.
Take a look at the opening impressive moments (play starts at 1:43):
I think that's the definition of "en fuego."
So, um, Russell Westbrook, who is an electric scorer, can play a little bit of defense, too:
Twitter Reaction
Team USA came out wearing the same jerseys as the '92 team, but as ESPN's Marc Stein points out, the jersey also had another tribute to that squad:
On left shoulder of Team USA's throwback unis is gold "CD" in honor of late Dream Team coach Chuck Daly. They're wearing their '92 threads

— Marc Stein (@ESPNSteinLine) July 22, 2012
The Americans came out on fire, taking advantage of the international three-point line, which is just a tad closer than the NBA one. The Basketball Post's Rafael Uehara has a solution:
In order for the playing field to be leveled, Team USA's three-pointers shouldn't count three points.

— Rafael Uehara (@rafael_uehara) July 22, 2012
Hardwood Paroxysm, AKA NBA blogger Matt Moore, noticed a weird discrepancy of fouls in the first half:
Again, jsut so we're clear, Andres Nocioni is getting benefit of the doubt calls while KD is no-called. OK. That makes sense.

— Hardwood Paroxysm (@HPbasketball) July 22, 2012
Bleacher Report's Ethan Strauss points out Argentina's, um, propensity to play below the rim:
USA with the throwback Dream Team jerseys. Argentina with the throwback 92' Larry Bird physique

— Ethan Strauss (@SherwoodStrauss) July 22, 2012
Game Story: USA Too Stagnant
When they wanted to, the Americans absolutely dominated Argentina, jumping out to a 20-point lead on several different occasions.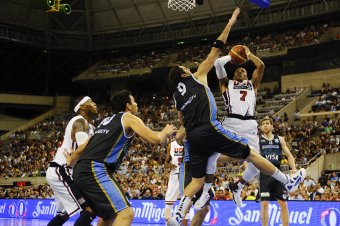 David Ramos/Getty Images
Kobe Bryant and Kevin Durant were unstoppable when the U.S. would run the offense and open up solid looks, but the 2012 version of the Dream Team just continued to get too complacent, settling for three-pointers and bad shots.
This may be the No. 1 team in the world, but it can't continue to let up against solid teams like Argentina and Spain.
The Americans, who settled for 34 three-pointers (and made just 13), got sloppy every time they moved out to a big lead, and Argentina almost made them pay for it in a big way.
Coach Krzyzewski's boys should have probably won this one by about 20 points. They need to learn to step on the throat when they get big leads like they did today.
Game MVP: Kevin Durant
Durant was the most consistent force on offense for Team USA. Whenever the Americans needed a big shot, the reigning NBA scoring champ would step up with a big-time shot.
How will the Americans do against Spain on Tuesday?
That, of course, isn't really anything new when it comes to K.D. He's always been deadly at the right times. It appears that is no different on the international level with the three-point line at an unfair distance.
The Durantula finished with 27 points and six assists.
What's Next?
Team USA takes on Spain on Tuesday, July 24 at 4:30 p.m. ET on ESPN 2.
The Spaniards, led by the Gasol brothers, are ranked No. 2 in the world, and should provide a solid last tuneup for the Americans before the Olympics start.
This article is
What is the duplicate article?
Why is this article offensive?
Where is this article plagiarized from?
Why is this article poorly edited?