WWE Raw 1,000: John Cena vs. CM Punk and the 10 Best Trilogies of 2012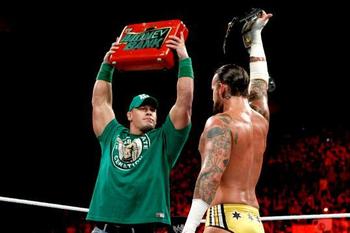 Who is the real best in the world? (Courtesy of WWE.com)
Tonight, WWE will present their historic 1,000th edition of Monday Night Raw, along with a star-studded lineup for viewers to look forward to. Among those appearing include D-Generation X, The Rock, Brock Lesnar and many others, so it looks to be a unmissable episode for sure.
As announced on last week's edition of Raw, WWE Champion CM Punk will defend his prized possession against Mr. Money in the Bank John Cena on tonight's show, presumably in the main event. These two icons are no strangers to each other, as their fantastic feud over the WWE title last year is one not to be forgotten.
That being said, tonight's match between Punk and Cena will mark their third title match against one another, meaning it could very well be the epic conclusion to one of the most highly anticipated rivalries in recent WWE history.
Tonight's potential conclusion to their exciting saga over the last year isn't the only trilogy we've seen culminate this year, as I've accumulated nine other major blockbusters that have occurred throughout the course of 2012. Whether it be inside the squared circle or even on the big screen in a local theater near you, these exhilarating thrill-ogies have made an impact one way or another this year.
Where will tonight's third installment in the scintillating series between Punk and Cena rank amongst these listed tremendous trilogies?
10. Randy Orton vs. Kane

Randy Orton vs. Kane - SmackDown

While on the road to WrestleMania 28, many members of the WWE Universe questioned the move in having Randy Orton engage in a rivalry with Kane, given the fact they had no motive to feud whatsoever. Despite using footage from a match they competed against one another last summer, viewers still weren't convinced that this rivalry made any sense.
Although the hype for their first encounter on the grandest stage of them all was a bit lackluster, they contested a surprisingly good match when it all mattered most. The ending result of Kane going over clean was shocking to say the least, so it allowed the feud to continue another month.
On the subsequent edition of Smackdown, Orton evened the score by defeating Kane in a No Disqualification match, which was also equally entertaining. The furious feud culminated at Extreme Rules a few weeks later, where Orton emerged successful in a brutal Falls Count Anywhere match.
Personally, I found this feud to be somewhat enjoyable, and it was certainly better than some originally expected.
9. Christian vs. Cody Rhodes

Christian vs. Cody Rhodes - Over the Limit

At the Over the Limit pay-per-view, Christian made his shocking return apart of a pre-show battle royal to determine a No. 1 contender to either the United States or Intercontinental Championship. He would go on to defeat Cody Rhodes later in the evening to win the Intercontinental Championship.
Their first bout together was actually pretty well-wrestled, but hardly anyone took note of it due to its lack of build-up. Similar to any other past title-holder, Rhodes chose to cash in his rematch clause for the title at No Way Out, where he once again came up short of reclaiming the gold.
That contest was even more entertaining, but the drained crowd took away from a majority of the match-up. Again, a match featuring two stars of their stature should have been treated as more of a big deal, but it was consistently overlooked to the point where not many viewers cared to see it.
In their final matchup earlier this month, the Intercontinental title was not at stake, but rather, a spot in the Smackdown Money in the Bank Ladder Match for Cody Rhodes. Following a solid bout, Rhodes secured the victory cleanly and advanced to the Money in the Bank event.
Sure, their matches were great and all, but hardly anyone took notice of them. This trilogy is highly underrated in my book and could have been something much greater if given more hype.
8. CM Punk vs. Mark Henry

CM Punk vs. Mark Henry - Raw

On the night following WrestleMania 28, Mark Henry soundly defeated WWE Champion CM Punk in what was a great match, but didn't capture the title due to the ending result being a count-out. The two had yet another encounter the following week on Raw where Henry yet again picked up the victory, but this time by disqualification.
Those matches may not have been anything to write home about, but they booked in such a way that it set up the blow-off bout in the third week so tremendously. Now, in a contest with no count-outs or disqualifications, Punk and Henry battled in a very entertaining contest in front of an extremely electric England crowd.
Following a top rope elbow, Punk secured the win and successfully defended his WWE Championship against the World's Strongest Man. This series of matches between the two former World Champions is very similar to the Lord of the Rings trilogy: The matches themselves were excellent, but there was hardly any time in between each contest to allow the rivalry to expand beyond a few weeks.
While the delivery may have been quick, I enjoyed the feud for what it was worth and have been anticipating a rekindling of this rivalry upon Henry's eventual return to the squared circle.
7. Sheamus vs. Daniel Bryan

Sheamus vs. Daniel Bryan - SmackDown

Sheamus and Daniel Bryan have contested numerous matches against one other in recent years, but a true rivalry between them didn't emerge until earlier this year. Daniel Bryan had been the World Heavyweight Champion going into WrestleMania 28, and Sheamus was his hungry challenger following his Royal Rumble victory in January.
Despite all the hype their Mania match received heading into the event, it was all deemed worthless, as their opening contest lasted a mere 18 seconds. How could WWE officials take something so good and purposely make it so bad?
That was the question many wondered for weeks and still ponder to this day. Thankfully, their deluding feud was salvaged at Extreme Rules, where they contested a very strong two-out-of-three count falls match for golden prize.
In that match, Sheamus retained his title and did so again in their third and final encounter on the subsequent edition of Smackdown. That, too, was equally entertaining and helped me somewhat erase their disappointment of a match at WrestleMania 28.
Who ever said sequels can't be better than the original?
6. Madagascar 3

Madagascar 3 Trailer

WWE wasn't the only entertainment industry that featured a number of terrific trilogies this year, as the movie business also had its fair share of blockbusters release their highly anticipated third installments respectively.
One of which was Madagascar 3, which was released on June 8. Having seen the previous two installments, I can honestly say that the third Madagascar film wasn't as good as the originals.
However, this film wasn't nearly as bad as the revealing of the anonymous Raw general manager, and its comedy was certainly funnier than that of Santino Marella's, so I'd say Madagascar 3 was entertaining for the most part. Similar to The Rock and Stone Cold or Shawn Michaels and Undertaker, sometimes the sequels aren't as great as its predecessor.
5. CM Punk vs. Daniel Bryan

CM Punk vs. Daniel Bryan - Over the Limit

While CM Punk and Daniel Bryan have had nearly a dozen matchups since the start of the year, their three matches together during the course of their WWE Championship feud are the only ones that truly matter.
Once the two former best friends engaged in a rivalry over the prestigious prize in early May, we all know their first title encounter would be a classic, and sure enough, it was. Despite the lackluster hype their premiere match received heading into Over the Limit, Punk and Bryan wrestled for nearly 30 minutes until Punk was crowned the victor.
Being one of the best matches of the year, a sequel was of course set in place. The rematch took place a few weeks later on Raw, where Bryan evened the score and picked up the surprise victory. This contest, however, wasn't nearly as memorable as their first, but many were hoping that their third match together would outshine them both.
With AJ now acting as the special guest referee, their No Disqualification title match at Money in the Bank was extremely enjoyable. However, similar to any movie John Cena has ever been featured in, the ending to Bryan-Punk saga was always the same: the Straightedge Savior successfully defending his WWE Championship.
I know we were all hoping for another chapter in their series of matches at SummerSlam in the form of an Iron Man match, but that looks to be nothing more than wishful thinking by this point.
4. Men in Black 3

Men in Black 3 Trailer

The second 2012 blockbuster release to make the list is Men in Black 3, which was released earlier this year on May 25. With it being 10 years since the first sequel to 1997's Men in Black film, there was a lot of pressure on the third installment and its pending box office success.
Regardless of the franchise's decade-long hiatus, it returned with a bang, as many stated that the third installment was beyond better than the disappointment that was Men in Black 3. Being the huge fan of time travel and Men in Black that I am, I thoroughly enjoyed this film as much as I did 2011's Money in the Bank event, which too was solid all the way though.
Unlike Mr. McMahon's Million Dollar Mania, this saga successfully tied up any loose ends and left me satisfied with the series as a whole. Sure, it was a whole new villain in Men in Black 3 as compared to the previous installments, but this heel was believable in making me terrified of his character, unlike Kane locking lips with AJ.
3. Triple H vs. Undertaker

Triple H vs. Undertaker - WrestleMania 28

Unlike the aforementioned trilogies that have happened inside the ring this year, the HHH-Taker saga was one that's been told over the course of the last decade. Their first major match together occurred at WrestleMania 17, where Undertaker soundly defeated Triple H with a Last Ride to extend his undefeated streak at the show of shows to 9-0.
Similar to the previously listed Men in Black franchise, the second installment of their epic series came a decade later at WrestleMania 27, where the stakes were undoubtedly raised to an all-time high. Despite a strong effort from the Game, he once again fell victim to the Deadman, with Taker's streak extending to an impressive 19-0.
At WrestleMania 28, the third and final chapter between the two legendary icons came about inside the vindictive Hell in a Cell structure, with Shawn Michaels as the acting special guest referee. I hadn't seen this much drama since the final film apart of The Bourne Identity franchise, and every one of these men played their roles to perfection.
Sure enough, Undertaker prevailed yet again, but not unscathed. It was evident that both Taker and Triple H had been through war, thus ending the unforgettable decade-long feud between the two future WWE of Famers.
2. The Dark Knight Rises

The Dark Knight Rises Trailer

Having just seen this marvelous movie only 48 hours ago, I can easily tell you that The Dark Knight Rises is just as good as, if not better than, The Dark Knight from 2008. The Dark Knight Rises was released a mere three days ago and has already received rave reviews from critics.
While The Joker (and no, I'm not talking about Sting with face paint) may not have been featured in the film due to Heath Ledger's death a few years ago, it was still a very suspenseful and fantastic culmination to the Batman trilogy.
Bane, the movie's main villain, showed a handful of similarities to Kane, who also sports an intimidating face mask as well as would do anything to protect his woman. Batman was also equally excellent this time around, who showed signs of hanging it up at some points during the film. If that doesn't give you Undertaker flashbacks, then I don't know what will.
Nonetheless, the film's duration felt almost as long as the Hell in a Cell match from WrestleMania 28 and also included the very same dramatic aspect that fans crave in today's world of entertainment. With The Dark Knight Rises believably being the final film in the Batman saga, this is one summer blockbuster you don't want to miss.
1. John Cena vs. CM Punk

John Cena vs. CM Punk - Money in the Bank

Now, I can't make an accurate analyzation of the CM Punk-John Cena since the third chapter in their WWE Championship feud hasn't happened yet, but I will take a look back at their history over the last year and do the best I possibly can to make a clear-cut prediction for tonight's title contest.
Just as he announced he'd be leaving the company following last year's Money in the Bank pay-per-view, CM Punk was also named the new No. 1 contender to John Cena's WWE Championship. Following weeks of fantastic and suspenseful build-up, the feud reached its climax at the event where Punk walked out of Chicago with the prestigious prize in hand.
Once Punk made his shocking WWE return a mere eight days later on Raw, he challenged newly-crowned WWE Champion John Cena to a title unification match at SummerSlam. With their exciting sequel just as amazing as their previous encounter, the outcome was once again the same: Punk emerging victorious with the WWE title held high above his head.
Nearly a year later, Punk still finds himself atop of the WWE as its champion, while Cena is now holding the opportunistic Money in the Bank following his huge victory at last Sunday's event. Given the fact that every past Mr. Money in the Bank has successfully cashed in their briefcase to win a World Championship, Punk must have his doubts as to whether his eight-month long reign as champion comes to an abrupt end tonight.
This trilogy of amazingly awesome matchups reaches its third and potential final chapter tonight, and its outcome is now more unpredictable than ever. The wait to the third installment of this memorable rivalry has felt longer than the release of Toy Story 3, and I, for one, can't wait to see how Punk and Cena top their previous two title bouts.
With Cena planning on cashing in his championship opportunity tonight on Raw 1,000, will he be able to claim that "The Champ is here" following the epic event?
Thanks for reading, Bleachers, and be sure to drop a comment below with your thoughts on my listed trilogies and where tonight's Punk-Cena WWE title contest will rank amongst them. As always, your criticism and overall feedback on my latest piece is welcomed and greatly appreciated.
GSM out.
Visit my website at Next Era Wrestling, as well as listen to my SAVE US GSM radio show that returns Thursday, July 26th at 10/9c for more of my thoughts and writings, along with WWE/TNA news, reviews, recaps and more.
Listen to internet radio with Spoilerspodcast on Blog Talk Radio
Keep Reading