MLB Hall of Fame Induction 2012: Cooperstown Highlights for Larkin and Santo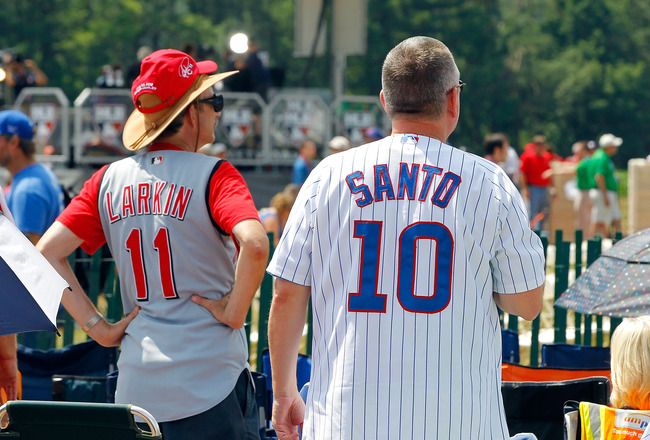 Jim McIsaac/Getty Images
The tiny village of Cooperstown, New York was the scene of celebration and joy on Sunday afternoon, as Barry Larkin and Ron Santo took their rightful place among baseball's all-time greats in the Hall of Fame.
Santo, who passed away in December 2010, was represented by wife Vicki. It was obvious just from her facial expressions that the pride she had in her husband's accomplishments was truly being felt on this special day.
Larkin began taking in the entire experience early in the weekend. This was Larkin's very first trip to Cooperstown, and he made sure to keep every moment locked away in his heart.
"It's everything I expected, and I think it's been a little more," Larkin said. "What adds to it is that this time up here there are actually other Hall of Fame players that I interact with.
"[Tigers great] Al Kaline just walked up to me and told me to 'Go get 'em, buddy.' I saw Bob Gibson the other day and said, "Hello, Mr. Gibson." He said, 'I'm Bob!' I came up here for orientation and it was great. At that time, still it was kind of concept. But it's a little more tangible now. So I think it's more special, for sure."
Here are some of the special highlights from Larkin and Santo's special day as they took their place on the hallowed halls of Cooperstown.
The Introduction of Living Hall of Fame Players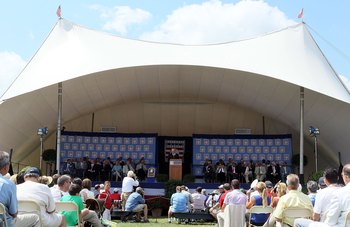 Jim McIsaac/Getty Images
Baltimore Orioles play-by-play man Gary Thorne took his time in introducing many of the living Hall of Fame players before the induction ceremonies of Barry Larkin and Ron Santo.
Watching many of the greatest players who ever graced the diamond as they were introduced is truly a chilling experience, and only in a good way.
What true baseball fan doesn't get emotional when watching the likes of Willie Mays, Yogi Berra, Ernie Banks, Frank Robinson, Brooks Robinson and Johnny Bench as they welcome their new brethren as the newest Hall of Fame members?
Tribute to Gary Carter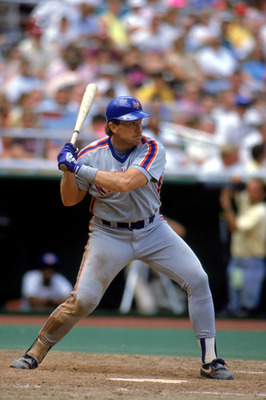 Rick Stewart/Getty Images
Catching great Gary Carter was fondly remembered as well on Sunday afternoon.
Hall of Fame induction ceremony emcee Gary Thorne announced a tribute to Carter, who passed away earlier this year.
Carter's wife, Sandy, was there to represent her late husband, and the crowd in attendance rose and gave a rousing ovation for the man simply called Kid.
Ron Santo Takes His Place at Cooperstown as One of Greatest Third Basemen Ever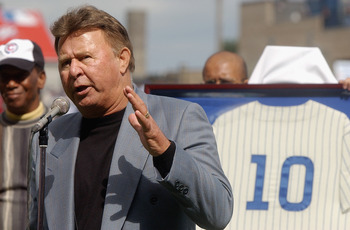 Jonathan Daniel/Getty Images
Sadly, Chicago Cubs third baseman Ron Santo was not at Cooperstown to accept his Hall of Fame plaque.
But Cubs fans came out in droves to support a player whose place among baseball's all-time greats was long overdue.
Vicki, Santo's wife, fondly remembered her husband's teammates who were in attendance. Ernie Banks, Ferguson Jenkins and Billy Williams were all there to welcome their teammate into the hallowed halls along with them.
Santo played throughout his career with a debilitating disease. Santo suffered from diabetes, and Vicki spoke of her husband's fight against the disease and his battle with the daily injections and learning how to regulate his sugar intake while becoming a tremendous player.
Santo's wife spoke of a moment when his blood sugar was particularly low during a day game. Teammates Don Kessinger and Glenn Beckert had already reached base, and while Billy Williams was at the plate, Santo was getting weaker by the moment in the on-deck circle.
Vicki Santo spoke about how all her husband wanted at the time was for Williams to strike out so that Santo could get back to the dugout and quickly eat a candy bar.
Williams instead walked, and Santo, who was suffering from blurry vision because of the low blood sugar, walked to the plate. Santo literally saw three balls coming at him because of his impaired vision.
Santo swung at the middle ball—he smacked it out of the park for a grand-slam home run.
A wonderful story about what Santo had to deal with in playing with a debilitating disease throughout his entire career.
Ron Santo Hall of Fame Induction: Reactions from Twitter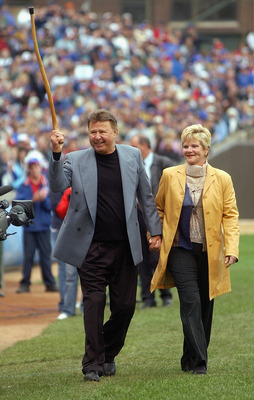 Jonathan Daniel/Getty Images
There is no question that longtime Chicago Cubs third baseman Ron Santo was beloved by his fans, both as a player and broadcaster. Not only were legions of fans on hand to witness his induction ceremony at Cooperstown, but fans proudly tweeted of their pride in seeing Santo finally take his rightful place among the greats of baseball.
Long-time Santo fan Pat Bailey tweeted about Santo's debilitating disease and the classy way he represented himself.
Amazing stories from #HOF inductee Ron Santos's wife about her husband who played and lived through diabetes

— Pat Bailey (@PatBaileyOnAir) July 22, 2012
Another fan tweeted about the fact that Santo is fondly remembered despite not being there for his induction.
Such a shame #RonSanto isn't here to enjoy his #HOF induction. Still happy for him and hope he's celebrating in heaven.

— APT (@Pau_Lina_13) July 22, 2012
Cubs fan Jessica Chavez tweeted about the biggest thought on the minds of most Cubs fans.
Ron is finally home. #HOF #Cubs

— Jessica Chavez (@tyedie19) July 22, 2012
Blake Renfro echoed the sentiments of many Cubs fans regarding Vicki Santo's acceptance speech.
Vicki Santos's speech for the late Ron touched every @Cubs fan across America. You're finally home Ronny! #HOF #RonSanto

— Blake Renfro (@bigdaddyrenfro) July 22, 2012
Karen Peters tweeted that she was moved enough by Vicki Santo's acceptance speech that she was compelled to give to charity.
In honor of #HOF induction of @Cubs Ron #Santo today, I just gave to the @JDRF fund for diabetes research jdrfillinois.org/index.html

— Karen Peters (@kpetersnm) July 22, 2012
Tweeter Rafer Weigel referenced a poignant moment in Vicki Santo's acceptance speech.
Vicki Santo to Cub Fans: "I want you to all know [Ron] loved you so much and he would be so grateful to share this with you." #HOF

— Rafer Weigel (@RaferWeigel) July 22, 2012
And finally, tweeter Melissa Vader echoed the thought of every fan who ever had the pleasure of watching Ron Santo play for the Cubs.
"Heroes get remembered, but legends never die." Thanks for everything, Ron Santo. You're finally where you belong. #HOF

— Melissa Vader (@MelissaVader) July 22, 2012
2012 Hall of Fame Inductee Barry Larkin: A Great Shortstop Remembered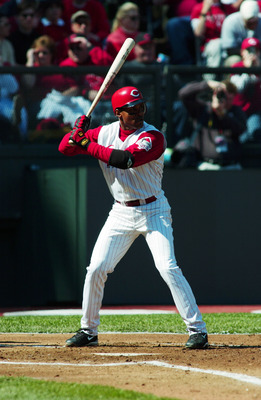 Mark Lyons/Getty Images
For 19 seasons, Barry Larkin represented the Cincinnati Reds in what became a career that brought him to Cooperstown on Sunday afternoon.
Larkin became the first shortstop in MLB history to hit 30 home runs and steal 30 bases in the same season.
Larkin took over from a pretty good shortstop who was a member of the Big Red Machine—Dave Concepcion. Larkin himself carried on a great tradition of defensive shortstops, winning three Gold Glove awards and establishing himself as one of the best in the game.
Larkin was a 12-time All-Star, eight-time Silver Slugger Award and 1995 NL MVP Award winner. His place on the walls of Cooperstown is more than well-deserved.
Highlights of Barry Larkin's Hall of Fame Induction Speech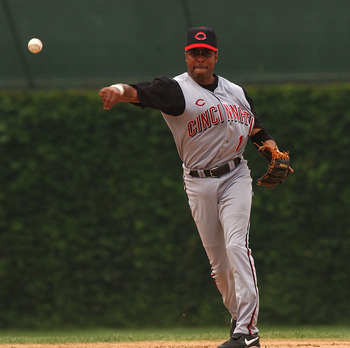 Jonathan Daniel/Getty Images
Un-stinking-believable.
That's how longtime Cincinnati Reds shortstop Barry Larkin described his experience at Cooperstown and his induction into the baseball Hall of Fame.
Larkin was true to form, thanking others before even saying one word about himself. Larkin's career was all about humility, and that was on display on Sunday afternoon as well.
Larkin was born and raised in Cincinnati, starring at Moeller High School before being drafted by his hometown Reds after his collegiate career at the University of Michigan in 1985. He talked about the honor of being able to proudly represent his hometown for the local Reds. His love of the city was apparent throughout his acceptance speech on Sunday.
Larkin also went out of his way to speak to fans in the Latin community, speaking in Spanish for several minutes and acknowledging their support through the years.
To fellow Hall of Fame player Roberto Alomar, Larkin, who always admired Alomar as a player, said to him, "finally, we're a double-play combination."
Larkin fondly brought up memories of his first major league manager, Pete Rose, and how he used Rose's bat and shoes in his first game in 1986.
Do you think the hairs on the back of MLB commissioner Bud Selig's neck were standing up at the time?
Larkin spoke fondly of former teammate Dave Parker, who introduced Larkin to his idol, current shortstop Dave Concepcion, while he was still in college.
Throughout Larkin's speech, his humility was evident. He spoke of the support and encouragement that he received from family and friends and went out of his way to thank all those who crossed his path, including clubhouse guys.
During his speech, Larkin displayed what he always represented during his tremendous career—pride, humility and gratitude.
Barry Larkin Hall of Fame Induction: Reactions from Twitter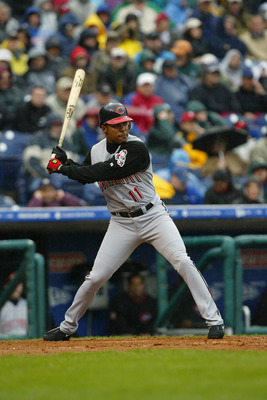 Doug Pensinger/Getty Images
A sea of Reds fans were in attendance at Cooperstown on Sunday afternoon, celebrating the induction into the Hall of Fame of one of their own—Barry Larkin. Reaction on Twitter also showed the love and adulation shared by Larkin's fans as well.
Robert Gover tweeted about the way Larkin represented his hometown with class.
Barry Larkin #HOF induction Ceremony while driving to Cocoa Beach. Great speech.Thanks for the memories and representing Cinci w/ class!

— robertgover (@robertgover) July 22, 2012
Baron Grafft discussed Larkin's humility during his speech.
Newfound respect for Larkin.It takes a great deal of humility to acknowledge shortcomings of character at your #HOF induction ceremony.

— Baron Grafft (@bgrafft) July 22, 2012
David Smith tweeted about his love for Larkin as a child.
@BLarkin_ESPNwas the reason I wore 11 when I was a kid #HOF

— david smith (@dath8807) July 22, 2012
Nothing says more about Barry Larkin as a player and as a man more than this particular tweet.
Larkin's induction speech shows why I wanted to emulate everything Barry did on & off field. 95% of speech was thanking others #Reds #HOF

— Michael Wottreng (@MWottreng) July 22, 2012
Doug Mead is a featured columnist with Bleacher Report. His work has been featured on the Seattle Post-Intelligencer, SF Gate, CBS Sports, the Los Angeles Times and the Houston Chronicle.
Keep Reading