Keith Thurman Makes a Statement at Welterweight, Calls out Floyd Mayweather Jr.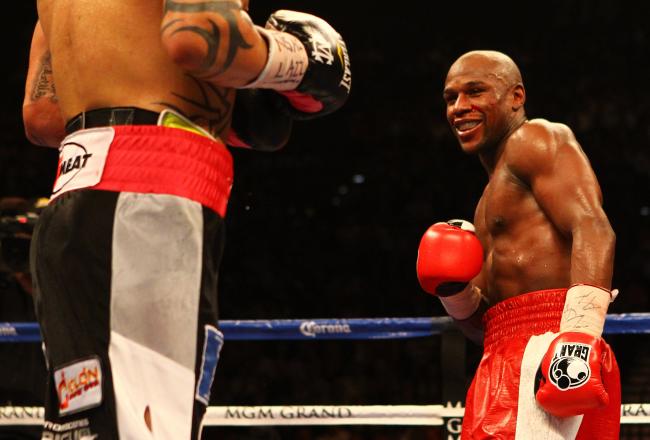 With his Victory Saturday night, undefeated Keith Thurman looked to add his name to the long list of fighters anxious to get a shot at Money
Al Bello/Getty Images
On the undercard of Saturday night's HBO broadcast of Adrien Broner versus Vicente Escobedo, undefeated welterweight prospect Keith "One Time" Thurman improved to 18-0 with 17 KO's when he stopped tough Mexican veteran Orlando Lora, 29(19)-3(2)-2, in the sixth round of their scheduled ten round fight.
The nationally televised victory puts the 23-year-old Thurman on the map in the always talent-laden welterweight division. After sitting out for all of 2011, Thurman has been a very active fighter in 2012. Saturday night's clash with Lora was already his third fight this year.
In the post-fight interview, Thurman called out three of the divisions' four world champions. He started with WBA belt holder Paul Malignaggi and WBO champ Timothy Bradley.
And he was just getting warmed up.
"Floyd Mayweather (current holder of the WBC welterweight and WBA Jr. middleweight belts) is undefeated, but I think I can beat him," Thurman boldly declared.
A certain amount of brash confidence is probably an essential ingredient for a young professional fighter. So, while the thought of a prospect with only 18 professional fights getting a crack at the pound-for-pound king is ludicrous, nobody should be too hard on Thurman for talking this way at the biggest moment of his career to date.
Let's be clear: Lora was no world beater. Last month he fought to a six round draw against 7-2-2 Francisco Rios. He was a last-minute replacement for former 140 pound world champion Marcos Maidana, who would have no doubt provided Thurman with a more meaningful test.
But as a last-minute replacement, Lora was pretty good matchmaking. The skilled and ultra-tough journeyman is a credible opponent for a prospect like Thurman.
Thurman landed hard, flush shots on Lora early, the kind of punches that he has no doubt grown accustomed to ending fights with. Lora reacted to them with displays of old school machismo and by doubling up on his pressure game.
Thurman stuck to a smart, disciplined game plan. He showed veteran judgement by attacking Lora's body instead of continuing to head hunt indiscriminately. He had to have been smelling blood in the water from the first round, but he remained patient and kept his weight back and under him as he viciously counter-punched with his lead hook.
A little over half way through the sixth round, Thurman tagged Lora with a looping left hook that wobbled his legs, then followed it with a straight right that knocked Lora to his seat. Lora was up by the count of six, but he'd taken all he was willing to take for the night. He retreated to his corner and signaled to have his mouth piece removed.
This wasn't really the type of victory that should earn a guy with less than 20 fights a crack at a world title, especially in a talent heavy division like welterweight. But Thurman is a power-punching young fighter who does a very good job giving interviews.
So, it would not be a shock to see him fighting for a world title sooner than later.
There is no way he is going to fight Mayweather or Bradley. He just doesn't have the resume to justify that kind of a high profile fight, and as impressive as he looked against a C-level fighter like Lora, there were still some pretty obvious holes in his defense that a fighter like Mayweather or Bradley would exploit viciously.
But Paul Malignaggi might be a different matter entirely. The Magic Man also fought Orlando Lora, winning by unanimous decision in October 2011. He followed that up last April by taking the WBA welterweight title from Freddie Roach-trained Vyacheslav Senchenko, beating him via ninth round TKO in the Ukraine.
To me, that is an intriguing fight. There's a chance that Paulie Mags might give Thurman a boxing lesson; he'd win rounds for sure. But Malignaggi has just seven stoppages in 35 fights. Thurman would have power and youth on his side, and those are never insignificant advantages in a prize fight.
More likely, Thurman is a good four or five fights away from a shot at a belt. There is just too much talent lined up in front of him.
I would be interested in seeing him matched with Mike Jones, who just suffered his first career loss against Randall Bailey, fighting for the vacant IBF strap. Fellow undefeated prospect Jesse Vargas 19(9)-0, would be another interesting match up of prospects, but I doubt Top Rank would let Vargas risk his "zero" without a belt on the line.
If promoters do feel Thurman is ready for a jump to world championship caliber competition, a match up with a veteran European like Jan Zaveck or Matthew Hatton would be a good trial for him as well.
Nothing in sports is as exciting as a knockout, and this can especially be the case when the knockout is delivered by an up-and-comer. So, fight writers have to continually guard against over-zealous, slap-happy hyperbole. Ultimately, I'm not ready to declare Keith Thurman anything other than a promising contender on the rise.
But he's got power in both fists and genuine boxing intelligence. So, there's no harm in trying to jump on board with him a little early.
Follow Briggs Seekins on twitter at https://twitter.com/Briggsfighttalk
This article is
What is the duplicate article?
Why is this article offensive?
Where is this article plagiarized from?
Why is this article poorly edited?