Updating Miami's Biggest Training Camp Battles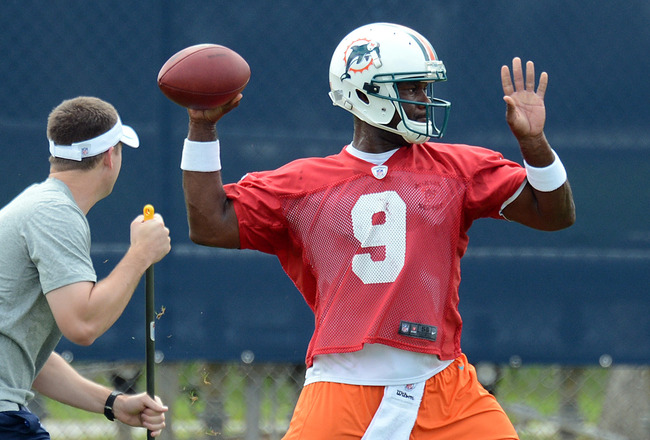 Steve Mitchell-US PRESSWIRE
As Miami Dolphins training camp inches closer to its opening, only a handful of players can rest easily.
A majority of the players on this roster are not guaranteed jobs. There's a new coaching staff in town, and they have no loyalty or allegiance to the carryovers from Tony Sparano's regime.
There are positional battles brewing at nearly every position. Some of these competitions, namely quarterback, wide receiver and right tackle, have made headlines throughout the offseason. Others, such as cornerback and outside linebacker, lay dormant now, but can erupt into positional battles if a starter struggles in camp.
David Garrard vs. Matt Moore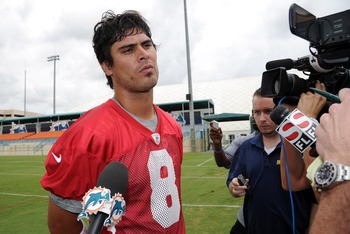 Steve Mitchell-US PRESSWIRE
Miami's most important positional battle is also the toughest to call.
The Miami Herald reports Garrard is the "slight front-runner," and ESPN's Adam Schefter said on SportsCenter on June 29th, "David Garrard has really taken this opportunity to emerge as the favorite to be the starting quarterback down in Miami."
He has also received ringing endorsements from teammates:
Mike Pouncey: "Garrard has been great, has been the main guy running with the first team. He brings leadership. Matt Moore did a good job last year but when Garrard is in, it's a whole different tempo." (via Miami Herald)

Brian Hartline: "[Garrard] gets the ball out of his hands really quickly," Hartline said. "He's very decisive. He knows what he wants from his receivers and communicates it very well. He commands the huddle." (via Sun-Sentinel)
Despite the onslaught of reports favoring Garrard, Matt Moore still has an equal opportunity to seize the starting job. Joe Philbin told the Palm Beach Post the competition has "been close," and it will likely remain so until the team starts practicing at full speed.
Remember, Moore led a lifeless Dolphins team to six wins last season, so he'll definitely have support from a large ration of the locker room. That being said, Garrard is a season veteran with playoff experience under his belt who appears to be a better fit for Philbin's West Coast offense.
Marcus Thigpen vs. Steve Slaton vs. Jerome Messam vs. Jonas Gray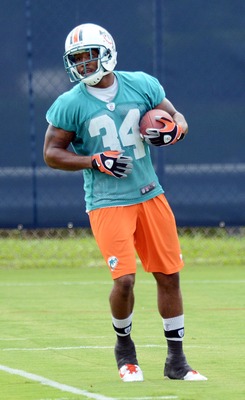 Steve Mitchell-US PRESSWIRE
The Dolphins are stuck between a rock and a hard place with their fourth running back spot. Basically, the team has to decide whether to dedicate that last running back job to a scat-back or a fullback.
Marcus Thigpen and Steve Slaton are the two scat-backs in contention for the job. Thigpen is a 5'9", 193-pound CFL import whose best shot at making the roster through the return game.
Slaton, meanwhile, is a one-cut runner, which makes him a logical fit for Miami's new zone-blocking scheme. The Dolphins handed him a one-year extension in March, so they clearly believe he has some value to offer.
And then, there's Jerome Messam and Jonas Gray, two big-bodied, bruising backs who can serve as fullbacks. Neither are traditional fullbacks, however. Messam is one of the most prolific rushers in CFL history, and Gray boasts impressive speed for a player his size.
Given the Dolphins' short-yardage struggles last season, they may feel inclined to keep one of these two around rather than Thigpen or Slaton. Unfortunately, both are recovering from injuries, and there's a chance neither will be able to fully participate in training camp.
Chad Ochocinco vs. Brian Hartline vs. Legedu Naanee vs. Roberto Wallace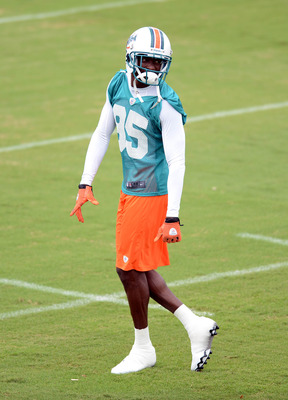 Steve Mitchell-US PRESSWIRE
Davone Bess is the only Dolphins wide receiver locked in to a starting role, but who will start alongside him? Chad Ochocinco, Brian Hartline, Legedu Naanee and Roberto Wallace are the candidates, but nobody separated themselves from the pack in minicamp.
Ochocinco's outlook: One longtime NFL general manager told the MIami Herald that he doesn't believe Chad Ochocinco will have a renaissance season: "You want a disciplined receiver to be in the right spots, and that's not what this guy is. I would not have touched him. His personality issues are not going to change. I don't know if he's ever going to get it."
Reggie Bush countered the GM's comments."He's still got it; he looks like a young kid out there."
Hartline's outlook: Hartline's crisp route running and speed makes him a great fit for the WCO. However, he missed all of minicamp while recovering from an appendectomy. He's primed for a breakout season, and missing OTAs shouldn't hinder him much. But, a caveat: Hartline is still inexperienced and unproven. He has lofty expectations to fulfill in 2012, but there's no guarantee he will.
Naanee's outlook: Naanee has outstanding physical tools (6'2", 225 pounds, sub-4.5 speed), but he hasn't been able to put it all together in five NFL seasons. One AFC executive told the Miami Herald, ""To me, [Naanee is] a fourth receiver...A solid blocker, good hands, but he's not going to stretch the field a lot."
Personally, I'm excited to track Naanee in camp. He played well in minicamp, has shown extraordinary—albeit few—flashes in the past, and he's under palpable pressure now that he's on his third team in as many years.
Wallace's outlook: Wallace still isn't a lock to make the team, but it'd be very surprising if he did not. At 6'4", he's the tallest wideout on the roster (except for UDFA Jeff Fuller; longshot to make the 53-man), and that should grant him an extended role, especially in the redzone.
David Garrard told the Miami Herald that he believes Wallace has big-time potential: "Roberto is going to be a pretty good receiver in this league...He's that guy I've really been looking at and trying to work with. When he puts it all together, he can be a big talent."


Moore vs. Gates vs. Pruitt vs. Cunningham vs. Matthews vs. Fuller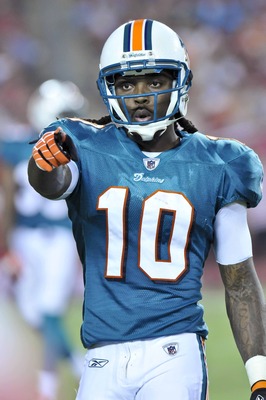 Fernando Medina-US PRESSWIRE
Barring any surprises, Davone Bess, Chad Ochocinco, Brian Hartline, Legedu Naanee and Roberto Wallace will make the team (though some might not believe Wallace is such a lock). This leaves six wide receivers to vie for one spot—assuming, of course, the Dolphins decide to keep six wide receivers.
Moore's outlook: Moore has been with the Dolphins for two seasons, appearing sporadically on the active roster. He has deadly speed—which he's displayed before—but still has to answer questions about his hands and durability. Joe Philbin told the Miami Herald, "We like his size [6-2] and his ability...He can attack the middle of the field."
He should be considered one of the two favorites.
Gates' outlook: The other favorite is 2011 fourth-round pick Clyde Gates. He was a non-factor last season, and he hasn't made a good impression on this new coaching staff. Joe Philbin told the Miami Herald in June that Gates needed to be smarter on the field, and Brian Biggane of the Palm Beach Post believes he's in serious danger of losing his roster spot.
Gates has deadly speed. If he can harness it, he could be an unstoppable deep threat. However, speed alone won't get any player far.
Pruitt's outlook: Julius Pruitt is the dark horse for this sixth wide receiver spot. He made his first appearance on the active roster last season due to his special teams prowess. However, he turned heads at minicamp, reeling in three touchdown passes in one practice.
Ben Volin of the Palm Beach Post believes that, even if Miami only keeps five wideouts, it'll keep Pruitt onboard. Brian Hartline told Volin, "One player I think people really is sleeping on is Julius Pruitt...He's doing a great job."
Cunningham / Matthews / Fuller outlook: These three rookies are longshots to make the 53-man roster. Instead, they'll be fighting for practice squad spots. It's impossible to say how many wideouts the Dolphins are willing to stash away on the practice squad, but at least two of these three should earn spots.
At minicamp, Cunningham struggled with drops, but, according to the Sporting News, "performed at a high level the rest of the way."
Matthews has been quiet, but he'll get a chance to prove himself as a returner.
Finally, Fuller, the most notable Dolphins UDFA, should land on the practice squad. From Barry Jackson of the Miami Herald:
"Fuller shows flashes – "long, lanky, really gets out of his breaks," Garrard said, though he couldn't recall his name, oddly enough. But Fuller also has some drops (a problem for him at Texas A&M) and it's difficult to envision him making the 53-man roster."
Fuller and Cunningham should be on the practice squad in 2012. Matthews needs to have a great training camp to make the team.
Jonathan Martin vs. Lydon Murtha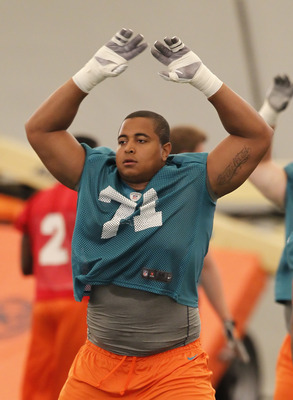 Joel Auerbach/Getty Images
There's no doubt the Dolphins want second-round pick Jonathan Martin to win the starting right tackle job. But is he prepared to fend off NFL veteran Lydon Murtha?
Izzy Gould of the Sun Sentinel pondered this question:
Martin has more status than Murtha, which should give him the edge for the starting right tackle spot. But considering Martin played left tackle his entire college career at Stanford the transition to the right side has been rough on the rookie, especially when the coaches unleashed Cameron Wake on him during minicamp.

Martin will likely be given the entire exhibition season to gain footing at the right tackle spot. It is possible Murtha, who fits the desired athletic mold, might get tried at guard if he doesn't win a tackle spot.
Martin is a collegiate star with a high draft billing. Subsequently, he has big expectations to fulfill in 2012. It's impossible to get an accurate gauge on this positional battle until the Dolphins start practicing in pads, but it should be an intense one nonetheless.
Koa Misi vs. Gary Guyton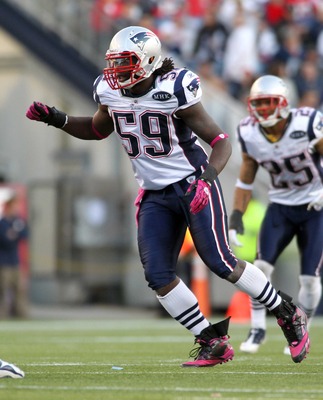 Stew Milne-US PRESSWIRE
Maybe it's unfair to call this a position battle. After all, there hasn't been any news or suggestions that Guyton could usurp Misi for a starting outside linebacker job. However, this could escalate into a heated battle during training camp.
Misi regressed from 2010 to 2011. Although he might've been a bad fit for the 3-4, his struggles are very concerning. The Dolphins are hopeful Misi can get back on track in the 4-3, but there's just no guarantee schemes have anything to do with his poor play.
Maybe he's a bust.
If this is the case, then Gary Guyton could very feasibly dethrone Misi for a starting role. Guyton started 32 games for the New England Patriots over the last four years. He's known for his athleticism and versatility, which allows him to play both strong-side and weak-side linebacker. Up until last season, he also excelled in pass coverage, but inexplicably struggled with it last season.
Nolan Carroll vs. Jonathan Wade vs. Quinten Lawrence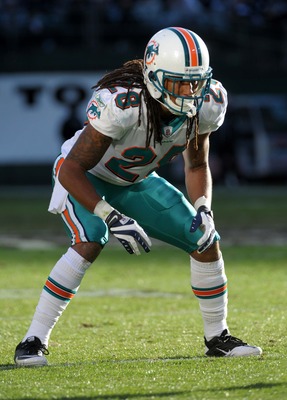 US PRESSWIRE
Vontae Davis, Sean Smith and Richard Marshall are guaranteed roster spots. This leaves third-year corner Nolan Carroll, veteran journeyman Jonathan Wade and converted wide receiver Quinten Lawrence to fight for the fourth cornerback spot.
Carroll, a 2010 fifth-round draft pick, has the early edge. He showed flashes of brilliance during training camp two years ago, and despite two sub-par regular seasons, might have the potential to become a reliable defensive back. Carroll attributes his sophomore slump to the lockout, and he's under pressure to prove he's beyond it in training camp.
Wade played four games for the Bengals under defensive coordinator Kevin Coyle in 2010, but he's never amounted to anything more than marginal. Meanwhile, Lawrence is a 27-year-old converted wide receiver whose only NFL experience is a six-game stint with the Chiefs in 2009.
Despite their unimpressive resumes, the Omar Kelly of the Sun Sentinel reports Lawrence and Wade can both contend for roster spots: "A strong camp from Wade, who has played for defensive coordinator Kevin Coyle during his Bengals days, and Lawrence, a converted NFL receiver, could put them on solid footing."
Keep Reading

Miami Dolphins: Like this team?