NBA Rumors: Should L.A. Lakers Extend Bynum or Gamble on Howard?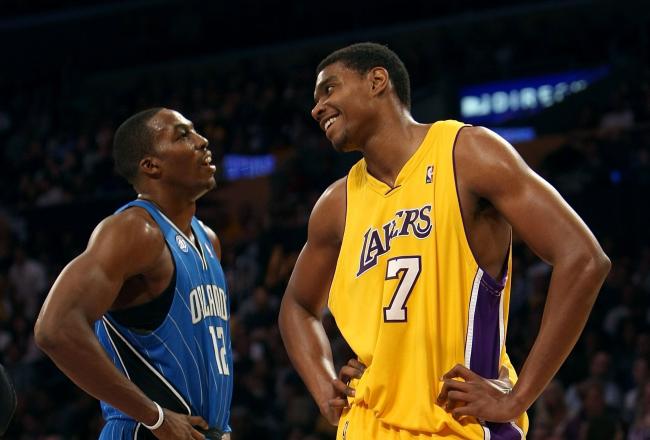 Stephen Dunn/Getty Images
As the Dwight Howard saga continues in the NBA well past the point of normal fans caring, this past week centered upon the Los Angeles Lakers' push to acquire the All-Star center.
Every day, it seems a different team is trying to facilitate a deal with GM Rob Hennigan and the Orlando Magic, and this week, the Lakers were close to getting Howard several times (if you follow Twitter and the numerous media outlets that were cited as "close to the situation").
Any deal involving Howard coming to L.A. would send Andrew Bynum out of town, and if you believe Kobe Bryant's aggressive answer about Pau Gasol during a recent interview, it's likely that Bynum will be the only All-Star heading out should the Lakers acquire Howard.
However, if you examine the pros and cons to bringing the disgruntled Magic star to Hollywood, the main holdup in many of the trade talks—stemming back to last season—is Howard's resistance to signing a long-term contract extension with the Lakers when he joins Kobe and Co.
For starters, as recently as yesterday, Howard's agent, Dan Fegan, reiterated that the official position of his client is to test free agency in the summer of 2013.
From a fiscal standpoint, why not test the waters? According to Larry Coon, who is considered an NBA CBA expert, the longest Howard could sign an extension in L.A. is two years if he were to do so while still in Orlando, and three years if he were to wait until being traded.
If Howard waited until the summer, he could potentially max out at a five-year, $116 million deal. It's hard to imagine him passing that kind of money up, especially in the age of the "one-and-done injury."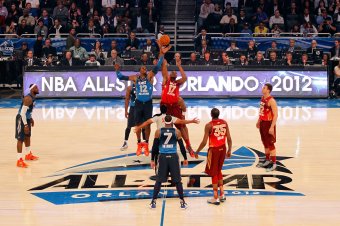 Bynum and Howard have dueled in both the All-Star game and NBA Finals, but which one is a better centerpiece for L.A.?
Mike Ehrmann/Getty Images
So Lakers fans, the choice is clear, right? Avoid Howard, stick to your guns after adding Steve Nash, and try to squeeze every productive play you can out of the man formerly known as Ron Artest?
Well, it's not that simple. Howard isn't the only mid-20s, All-Star center waiting to test free agency in the summer of 2013. Bynum is also looking to cash in, and after what will be seven seasons full of interesting, sometimes questionable behavior, maybe, in his eyes, it's time for a fresh start.
In one of the recent deals discussed that centers around Howard and Bynum, L.A. would get D12, the Cleveland Cavaliers would receive Bynum, and Orlando would acquire the draft picks and young talent Hennigan requires, in the mold of his mentors in San Antonio and Oklahoma City.
However, it was Bynum—not Howard—who had been reported as unwilling to sign an extension in Cleveland, or anywhere else for that matter. The framework of a similar deal with the Rockets had been reported as well, with the same inclusion of Bynum's desire to stay flexible next summer.
So when push comes to shove, neither of these two centers are ready to commit to L.A. That being said, who helps Kobe win NBA title No. 6 and Steve Nash No. 1 in 2013?
The easy answer is Howard. He's a dominant defender with a charismatic personality, and he commands the game inside simply because he is bigger and stronger than anyone trying to defend him. He forces other big men into foul trouble, wreaking havoc if he himself can avoid the same fate.
When and where will Dwight Howard land?
The conservative approach seems to be Bynum. You've already won two titles with him in the middle, and at the ripe age of 25 for the entire 2012-13 season, it seems he's only getting better.
From the perspective of Lakers management, the end game seems to be figuring out which of the two will be easier to re-sign next summer. After looking at all the angles, I think that man is Dwight Howard, and I think the Lakers will continue to push hard to acquire him before the season starts.
All reports indicate Howard wants to be the star in a big city. He'll have two former MVPs with him in L.A., forming a big three that doesn't even include Pau Gasol. It surely won't hurt that he'll be next in line to take over in a matter of two-to-three seasons.
From Bynum's standpoint, he stands to make a lot more money and be a big-time starter and star if he bolts for a new city in 2013. When you watch him play, whether it be on the court or on the bench, you always get the feeling he wants more from this offense—whatever team courts him would be wise to use that in a recruiting pitch.
No matter who is manning the middle for L.A. when the season opens in late October, this team has a chance to be pretty good. At first glance, keeping Bynum would seem to be more of a sure thing—but after a closer look, it's Howard who would be more likely to stick around in purple and gold next summer, even if a dozen teams come knocking down his door.
This article is
What is the duplicate article?
Why is this article offensive?
Where is this article plagiarized from?
Why is this article poorly edited?