UFC 149: What's Next for the Winners?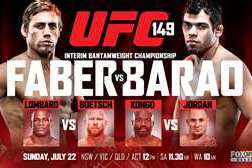 Photo by Yahoo Images
It may not have been the prettiest event in the world. It may not have lived up to expectations. In fact, at the post-fight press conference, UFC President Dana White said it was one of the few cards that, in his opinion, "sucked."
That's a harsh criticism from the man in charge. But with four out of five fights going to decision, and three of those decisions lacking any semblance of action, White's candid summary was not without some merit.
But that critique was reserved for the main card. The undercard provided three spectacular finishes and lots of action.
Still, even though the event as a whole may not have been a huge winner, there were 11 individual winners on that card who deserve some accolades.
Renan Barao is the interim UFC bantamweight champion after picking Urijah Faber apart over five rounds.
Tim Boetsch is now 4-0 at 185 after derailing the Hector Lombard hype train.
Let's examine what's next for all of those who emerged victorious at UFC 149.
Begin Slideshow

»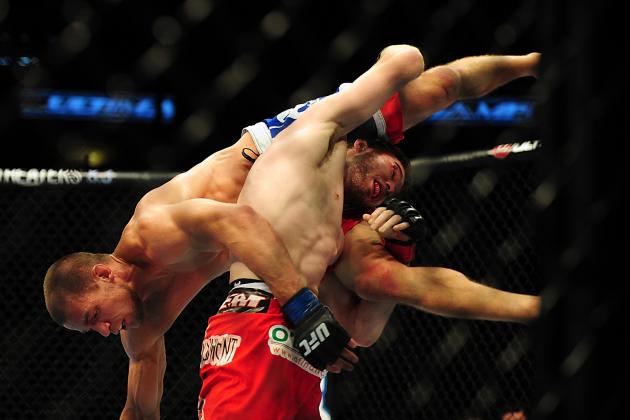 Anne-Marie Sorvin-US PRESSWIRE

Anton Kuivanen and Mitch Clarke kicked off the night on Facebook with a very good scrap. It was a hard-fought decision by Kuivanen, which brings him to 1-1 in the Octagon.
There's some potential here, but it needs cultivation. Kuivanen divides his training between his homeland of Finland and American Top Team in Florida.
To compete in the UFC, a fighter needs to be training with the best day in and day out. Look for Kuivanen to eventually make the jump to ATT on a full-time basis. There just aren't enough high-level training partners in Finland at this point.
And since he's fighting in the 155-pound shark tank, he especially needs all the top flight training he can get.
Next up for Kuivanen should be another up-and-comer. Fights with both C.J. Keith and T.J. O'Brien would be entertaining affairs that would provide decent tests for the 28-year-old Finnish fighter.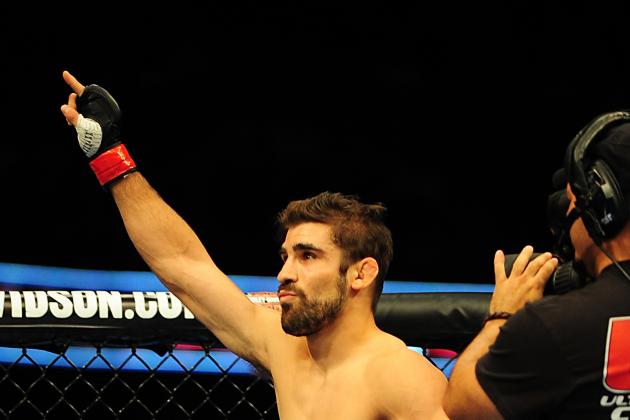 Anne-Marie Sorvin-US PRESSWIRE

Antonio Carvalho needed just over a minute to knockout Daniel Pineda. It was a thrilling performance that, if not for an even shorter knockout later in the evening, would have certainly won Carvalho Knockout of the Night honors.
This not only evens out his UFC record at 1-1, but it ups his stock significantly.
Holding black belts in both Karate and Brazilian Jiu Jitsu, Carvalho is a dark horse worth keeping an eye on. However, he's no newcomer, having been a professional MMA fighter for the past decade. At 33 years old, it's unclear how his UFC run will turn out, but his next fight should be a good indicator.
I'd like to see Carvalho take a step up and face either Dennis Bermudez or Diego Brandao.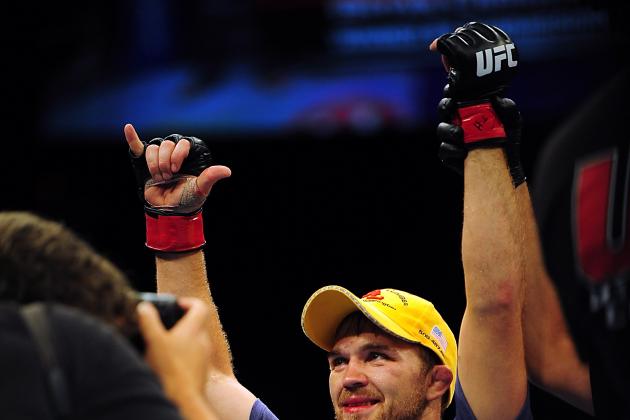 Anne-Marie Sorvin-US PRESSWIRE

Bryan Caraway survived a rough first-round attack by Mitch Gagnon to go on and win by rear naked choke in the final frame.
He showed good resilience throughout. Gagnon was taking it to him hard to start off, wobbling Caraway a couple times. But he showed his toughness and experience by fighting through it to get the win.
The victory brings Caraway to 2-0 in the Octagon, with both wins coming via rear naked choke. Not a bad way to start off a UFC run.
However, in both fights, Caraway has shown to be slow out of the gate. As the competition gets more fierce, he's going to have to change that.
With 22 fights to his credit, Caraway isn't short on experience. And with stints in the WEC, Strikeforce and now the UFC, he has earned a step up in competition.
Fights against Charles Oliveria or John Grispi would show where Caraway is really at.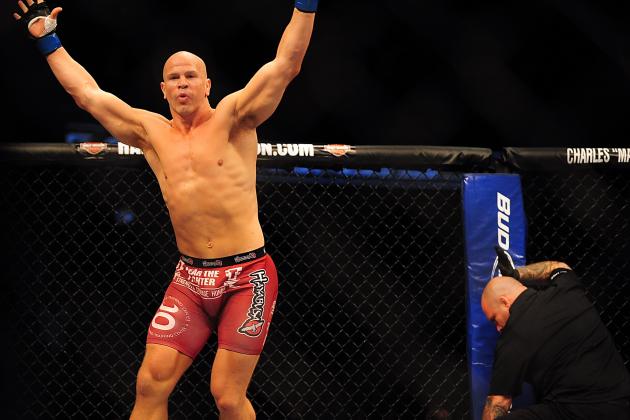 Anne-Marie Sorvin-US PRESSWIRE

Ryan Jimmo unleashed a perfect right hand to end Anthony Perosh's night only seven seconds into the fight. He then proceeded to do "The Robot" in celebration.
For his impressive Octagon debut, Jimmo was awarded a Knockout of the Night bonus of $65,000.
Jimmo has quietly amassed a 17-fight win streak, and with the quick knockout, he announced loud and clear that he is for real.
We shouldn't get too ahead of ourselves, though. It's impossible to gauge where a fighter stands with a super quick knockout, other than the fact that he can hit hard.
We need to see Jimmo go a couple rounds. Fights against Chad Griggs or Fabio Maldonado would provide more of a test in the striking department.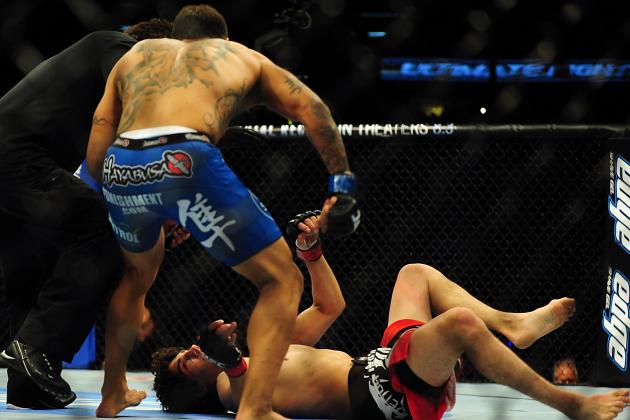 Anne-Marie Sorvin-US PRESSWIRE

Francisco Rivera showed off some excellent Muay Thai in his victory over Roland Delorme, bringing his UFC record to 2-0.
He was about as crisp as a fighter can be, utilizing solid footwork and head movement and attacking with accuracy and power. He never forced it. He just let his technique do its thing, and the KO came. It was really a super impressive performance.
The bantamweight division isn't that deep, so with another impressive win or two, Rivera can place himself at the top of the food chain.
Rivera needs a skilled gatekeeper to test himself against to see if he's ready for that next level. Ivan Menjavar should be that guy.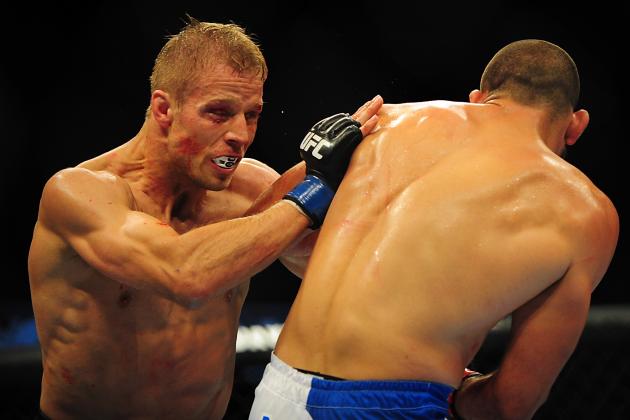 Anne-Marie Sorvin-US PRESSWIRE

It wasn't the most impressive win we've ever seen. It may have even been a bad decision. But Nick Ring took the unanimous decision, and now he's a pretty good 3-1 in the UFC.
Normally, that's a very respectable record. But the thing clouding Ring's UFC accomplishments is that two of those wins, to McGee and Riki Fukida, have been controversial decisions. Ring needs to come out in his next fight and put an exclamation point on his performance.
That's easier said than done, of course, but he has the talent. He just seems to lack the aggression. Middleweight is turning into a very crowded field, and subpar showings aren't going to set a fighter apart.
Ronny Markes and Brad Tavares would be good opponents for Ring to face.
Hey, I said he needs to shine next time out. I never said it would be easy.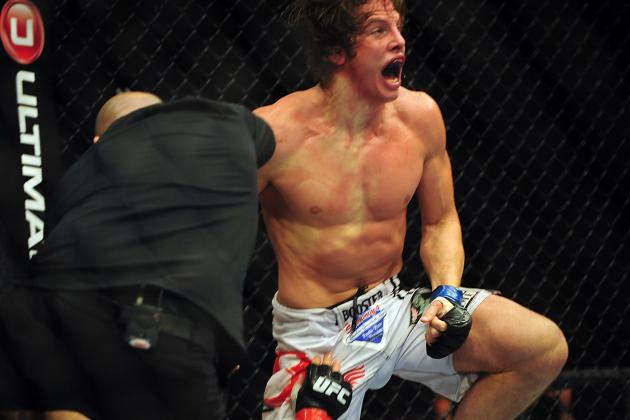 Anne-Marie Sorvin-US PRESSWIRE

Matt Riddle is one of these fighters who desperately wants to please the crowd as a striker, but he just isn't there yet. The thing he needs to realize is that ground fighting can be exciting too, especially with his skill set.
He showed it off last night with a beautiful arm-triangle win over Chris Clements.
For most of the fight, Riddle was able to easily land takedowns, but he would let Clements off the hook to resume the striking. In the third, he ducked under a punch and immediately secured a tight standing head and arm choke, then executed a beautiful trip and finished it.
Riddle is a very rare case of a fighter who began his professional career with the UFC. All 10 of his fights have been under the UFC banner, and he's posted a 7-3 record. That's no joke. The guy is a very skilled grappler.
Because he never had a chance to hone his skills before reaching the big stage, he's been brought along slowly, And at only 26 years old, there's no rush to jump in with a top-10 fighter just yet.
But he does need a test. We know he can hang with and win against low- to mid-level competition, but it's time for a step up against someone like Paulo Thiago.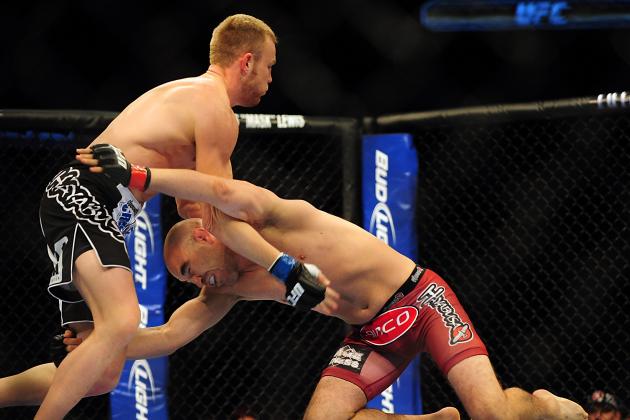 Anne-Marie Sorvin-US PRESSWIRE

The story of this fight was that James Head was able to stuff all of Brian Ebersole's horrifically set up takedown attempts.
It was ugly throughout, but Head must be given credit for being successful where 50 others have failed.
Still, though, it was an aesthetically agonizing fight to which the fans were not shy about voicing their displeasure. As such, even though it's a decent notch on Head's belt, it won't do much to advance him in a the crowded welterweight division.
At 2-0 since moving down to his more natural fighting weight of 170, Head needs another mid-level opponent, perhaps a tough test like Charlie Brenneman.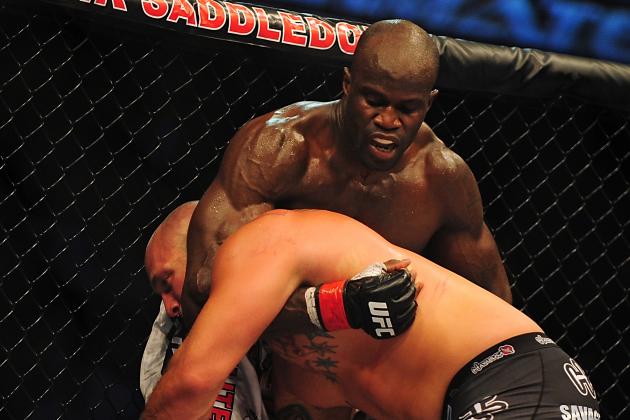 Anne-Marie Sorvin-US PRESSWIRE

The story of this fight was clinching—15 brutal minutes of it.
Kongo displayed some very solid takedown defense, but that's about it. He wasn't what he needed to be against a much less experienced opponent.
Kongo seemed fine with letting Jordan dictate the pace of the fight. Sure, he clearly won, but he did it without making any sort of a statement.
At 37 years old and desperately trying to fend off the dreaded "gatekeeper" label, Kongo didn't do much to advance his cause.
A UFC staple since 2006, Kongo has an Octagon record of 11-5-1. That's a fine way to earn a living, but it isn't going very far in the way of advancement.
It's safe to say at his age, with 27 fights and over a decade of experience, that Kongo isn't going to ever be a different fighter than he is right now. And that's fine. He's a solid heavyweight in a sport the pays big dollars for big fighters.
But there's no efficacy here other than him being a gatekeeper, a main-card filler. So title aspirations out the door, the UFC needs to match him up with opponents who will provide thrilling battles.
Lavar Johnson would be perfect, a guy who has an aversion to grappling and will stand center cage and bang it out with anyone.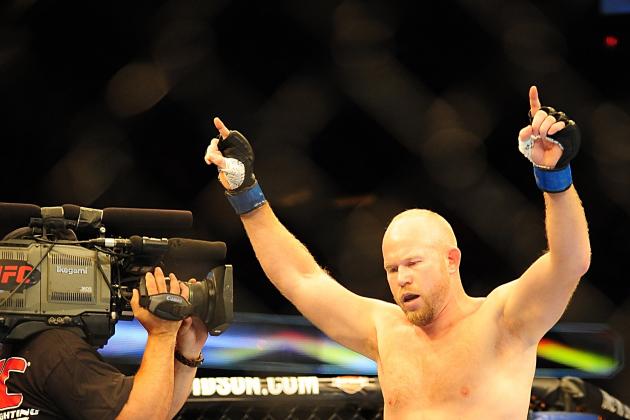 Anne-Marie Sorvin-US PRESSWIRE

Look, Tim Boetsch is what he is. He's not a finesse fighter. He's not going to knock out guys with spinning kicks, and he's not going to pull flying armbars out of thin air. He's a blue-collar fighter, a workhorse who just gets the job done.
The jury is still out on his win over Hector Lombard. Yes, it was a horrible fight, but that's because expectations were so high. Under normal circumstances it would have just been a typical bad fight.
All that taken into account, though, Boetsch is now 4-0 as a UFC middleweight, with wins over former top contender, Yushin Okami and now Lombard. The problem for Boetsch is that he had nothing to gain from the Lombard fight.
If he lost, oh well. Lombard was the Second Coming, and he was supposed to lose. Well, he won, and now the general feeling is that Lombard was just another overrated fighter who made his reputation fighting substandard competition outside for the UFC.
Setting unrealistic expectations for Lombard aside for a moment, he's still a decent win. And Boetsch deserves credit for it. Is he going to earn himself a title shot? No way. But is he still where he was before, a tough middleweight who with his win over Okami earned a huge fight? Definitely.
That being said, Boetsch should he given consideration against any one of the top-five middleweight contenders vying for the next shot at Anderson Silva.
Because he was put into a lose/lose situation, he should be given a fight with Chris Weidman, with the victor to face the winner of Bisping versus Stann to determine the true number one contender.
Anderson Silva is getting up there in age and can use the time off. Or, if he chooses to fight in the meanwhile, he can always just move up to 205 and destroy a hand-picked opponent.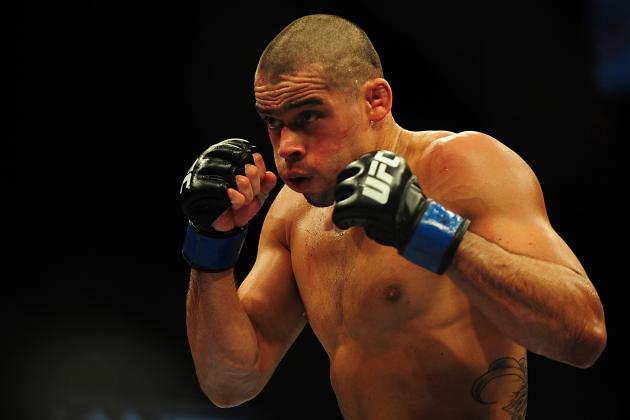 Anne-Marie Sorvin-US PRESSWIRE

Leading into this fight, some of the questions about Renan Barao were similar to the questions about Hector Lombard. He had a ton of wins, but he was up against unheralded opposition.
Well, the answers couldn't have been any more different.
Unlike Lombard, Barao proved he could not only hang with top competition, but dominate in the process.
He couldn't finish Faber, but neither could Jose Aldo. Barao did win a clear-cut decision against a top-three bantamweight, though, and that means something. That means he earned his interim belt and the right to face Dominick Cruz at a later date.
However, the problem is that Cruz may be out for a while. So, the question is: Should Barao sit around and wait, or should he fight again?
There's an argument to be made about waiting. It's the same argument Carlos Condit is using to wait for GSP. But it's flawed, and it puts way too much stock into what an interim title actually is.
The interim title is just that, interim. It's not a real belt, nor does it guarantee a shot at the real champion. It was simply created in the interim to keep the division running smoothly while the champion recovers.
The problem with an interim belts is that it's seen as the opposite, as an actual title—to be "unified" with the real title at some point. That is what diminishes the very idea of the interim title.
There is no unification. This isn't like when the UFC purchased PRIDE and held fights to unify the titles at 185 and 205. Those were actual title unification fights.
This "belt" exists solely because the real champion, Dominick Cruz, got hurt. That is all.
Renan Barao, as well as any interim champion, needs to defend his belt as if it were the real thing, and that means taking on any and all legitimate challengers until the real champion returns.
By dominating Urijah Faber, Barao proved what most of us already knew: He's top of the food chain. But he's not the champion, regardless of what that worthless piece of gold around his waist says.
Dominick Cruz is, and Barao has no right to hold up the division any more than it already is with delusions of championship entitlement.