Golden State Warriors: Looking for the Promised All-Star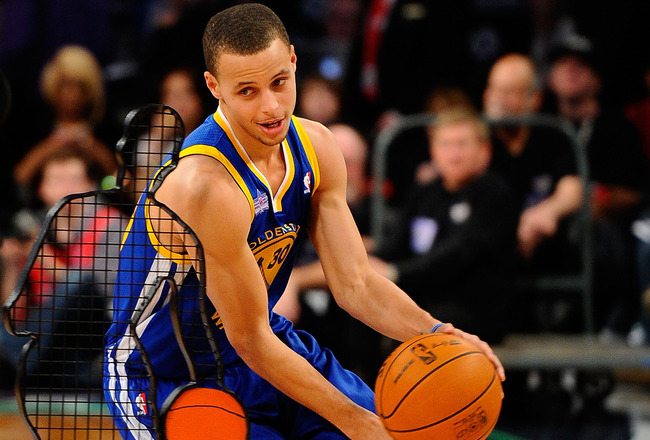 Kevork Djansezian/Getty Images
The season was 1997 when the Warriors last enjoyed having a representative play in the NBA All-Star Game, and Latrell Sprewell earned the honor. Fifteen years later, and not one Warrior has played in the Sunday game.
Joe Lacob made a promise last year that the Warriors would have a winning record and have the team's first All-Star under his ownership. Neither of those happened, but in a year's time, the team is well equipped to have one of its developing stars get the elusive nod.
This year there are no promises, only that the Warriors are looking like a team that can contend for a playoff spot. Let's go a little deeper here. I know it's the offseason, but does any Warrior have a realistic shot?
Players who play on the bench won't factor into this report and the only rookie with much of a shot is Harrison Barnes. Since the last "true" rookie to make the All-Star Game was Tim Duncan in 1998 and Barnes is a Warrior, I don't give him much of a chance.
So that narrows down the Warriors hopes to Andrew Bogut, Stephen Curry, Klay Thompson and David Lee. I will look at each player's chances by their ability and by who represented the Western Conference last year at that position.
Follow me @ScottInTheBay
C Andrew Bogut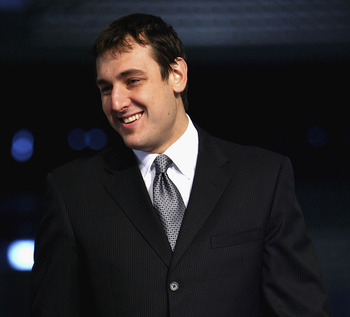 Andrew Bogut will be looking to return to all-star form.
Robert Prezioso/Getty Images
Bogut makes the transition from the East to the West this season and is ready to show Warriors fans how he can score from the post, shoot mid-range, run the floor and pass like he is John Stockton.
Since Bogut plays a position where there is very little depth, he has the best chance to break the spell.
Last year's center representatives were the Lakers' Andrew Bynum and the Grizzlies' Marc Gasol. Bogut has the talent, and it shouldn't take a difficult effort to outwork Gasol, the Jazz' Al Jefferson or the Kings' DeMarcus Cousins and make the team as the backup center.
PG Stephen Curry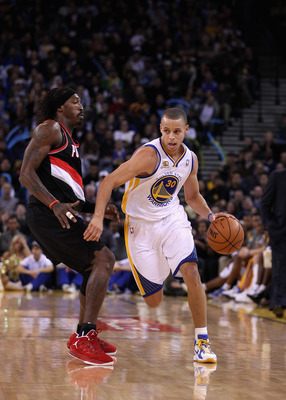 Curry will be looking to put injury problems behind him.
Ezra Shaw/Getty Images
Stephen Curry will have a difficult challenge in making his first All-Star appearance. Yes, he has won the skill challenge before, but he will be going up against a pretty skillful set. The main benefit for Curry is that he is younger in age and a lot of the All-Stars are growing old.
Last year's point guard was the Clippers' Chris Paul, who was backed up by Steve Nash, Tony Parker and Russell Westbrook. Only the starting role is point guard specific, so Curry will have to beat out other guards. He will have to also factor in Ricky Rubio of the Timberwolves, who is very talented and young.
The Warriors will also be very cautious with his playing time because they don't want Curry to re-injure himself and they have Jarrett Jack, who can easily run the point.
SG Klay Thompson
Klay Thompson will be looking to dominate in his second year.
Ezra Shaw/Getty Images
Thompson is an up-and-comer going into his second professional season. As shown by the recent summer league, Klay can shoot. This will be the year where he figures it out and really starts growing. He needs to put in the time and effort so that he doesn't run into the dreaded sophomore slump.
Thompson runs into the same players as Curry with Paul, Nash, Parker and Westbrook in the mix. Thompson will have to come out of the gates on fire and remain that way in order to earn a slot on the team.
If he can't make it this year, he should be in the running for years to come.
PF David Lee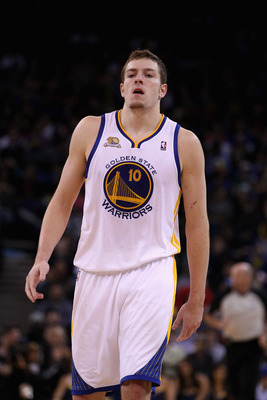 David Lee is hoping Bogut will open his game up.
Ezra Shaw/Getty Images
David Lee is a sound power forward, a legitimate scorer and a player who can step back to make a clutch shot. He should be excited as he finally will have a solid center to rely upon to further develop his game.
However, Lee runs into a buzz saw with the talent that represented the conference last year. His only benefit is that has been an All-Star before, but in the East with the Knicks.
The starting forwards were OKC's Kevin Durant and the Clippers' Blake Griffin. Kevin Love, LaMarcus Aldridge and Dirk Nowitzki rounded out the rest of the forwards.
Lee will need to impress early and often at the start of the season to show that he can hang with the bigger name players if he wants to even be considered for a shot. Lee and Bogut should be clicking by the second week of the season to show how strong of a presence the frontcourt will be.
Prediction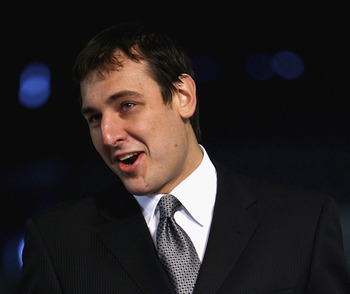 Andrew Bogut will be the next Warriors all-star.
Robert Prezioso/Getty Images
Bogut has the best chance because he is one of the most skilled centers and he is going up against the least amount of competition.
If Bogut can stay healthy, there should be no excuse for the Warriors not to have their first All-Star this century.
Keep Reading

Golden State Warriors: Like this team?