Is Jeremy Lin Under More or Less Pressure Now That He's a Houston Rocket?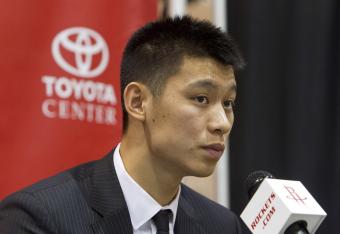 Bob Levey/Getty Images
This offseason, the New York Knicks proved that they aren't men of their words when they failed to match the Houston Rockets' three-year, $25.1 million contract for Jeremy Lin.
The Knicks apparently felt that Raymond Felton was a better option at the point than Lin, and for Lin's massive price, who can blame them?
Well, actually I can blame them, because they made a decision that will not only hold them back this upcoming season, but also impact their franchise, in terms of mainstream revenue, for the next few years to come.
With that being said, being able to take his talents to Houston was exactly what Lin needed, because now the pressure is off him to be the player who he was last season. The player who inspired the entire world with his utter Linsanity.
In New York, the entire Knicks franchise would have expected Lin to be the "missing piece" to not only a successful regular season, but also a legitimate playoff run in the Eastern Conference.
With guys like J.R. Smith, Carmelo Anthony and Amar'e Stoudemire, that wasn't something that Lin actually could've brought to the Knicks. Lin isn't the kind of player who would've thrived alongside superstar players like 'Melo and Amar'e because he's an offensively-minded point guard.
Sure, Lin averaged 6.2 assists per game, but facilitating offense to his teammates isn't something that makes Lin such a special player.
What makes Lin such a talented player is his ability to aggressively initiate offense for himself, and then rely on finding teammates when he's not able to create high-percentage shots for himself.
Is Jeremy Lin under more or less pressure now that he's in Houston?
That's the kind of player the Rockets need him to be, after losing Luis Scola, Courtney Lee, Samuel Dalembert and Chase Budinger this offseason.
Lin fits much better into the Rockets' rotation than he would have with the Knicks. While that's a key reason why the pressure is off him in Houston, it's not the only reason.
Lin won't be feeling the heat in Houston like he would have in New York because his contract doesn't mean nearly as much to the Rockets as it would have to the Knicks.
The Knicks didn't re-sign Lin because they just couldn't wrap their heads around his massive contract. The only reason why they couldn't do that was because they already have so much money tied up in guys like 'Melo, Amar'e and Tyson Chandler.
The Rockets certainly expect Lin to be worth the money they've invested in him, but they won't expect him to bring their team together and add chemistry to their roster like the Knicks would've expected Lin to do.
Playing in Houston will give Lin time to adjust his style of game to what the Rockets need. That's perfect for a player that's not only recovering from a knee injury, but also coming off of one of the more exciting seasons in recent memory.
While Lin truly wanted to return to the Knicks—as reported by Sports Illustrated's Pablo Torres—it's clear that taking his talents to Houston is a move that takes the pressure off him, and it's a move that will only help his NBA career along.
If the Rockets were ever concerned about finding a way to motivate Lin away from the bright lights of Broadway, they need not look any further than the comments of the man who replaced him in New York—Raymond Felton.
In an interview with the MSG Network, Felton talked about how he's a better player than Lin. While Lin most likely won't need motivation to succeed in Houston, he should have plenty of reason to take his game to the next level, including making the Knicks regret their decision to not match the Rockets' offer.
Now that the pressure is off Lin, it's time to see the kind of player he can truly be in Houston.
This article is
What is the duplicate article?
Why is this article offensive?
Where is this article plagiarized from?
Why is this article poorly edited?

Houston Rockets: Like this team?