UFC 149 Results: Renan Barao vs. Dominick Cruz Head-to-Toe Breakdown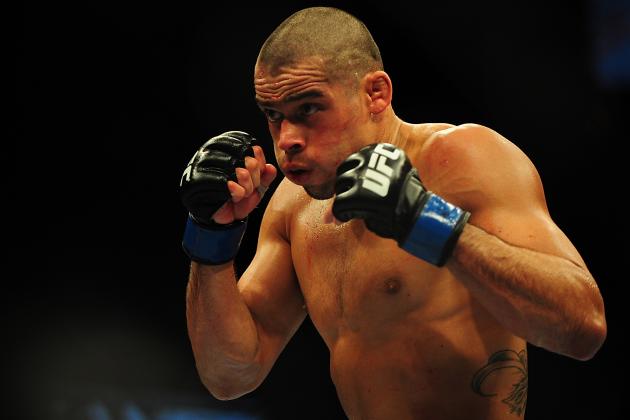 Anne-Marie Sorvin-US PRESSWIRE

Prior to UFC 149, some considered Renan Barao the best fighter without a title. After the event, Barao now has gold around his waist and could be waiting for a title-merging fight with bantamweight champion Dominick Cruz.
In his interim title fight against Urijah Faber, Barao shut down six takedown attempts and dominated the striking game to prevent "The California Kid" from capturing a UFC belt for the first time in his illustrious career. It could even be said that Barao looked more dominant against Faber than Cruz did in his July 2011 rematch with the former WEC featherweight titleholder.
Barao is a serious threat to end Cruz's long reign over the 135-pound division and would potentially even be a favorite to win that matchup. If Cruz's recover from knee injury doesn't suffer any setbacks, it seems likely Barao would simply wait for his fellow bantamweight champion to return instead of defending his interim belt in the meantime.
Since that is a real possibility, let's take a look at whether Cruz or Barao would have the edge in what would be one of the most highly-anticipated fights in bantamweight history.
Begin Slideshow

»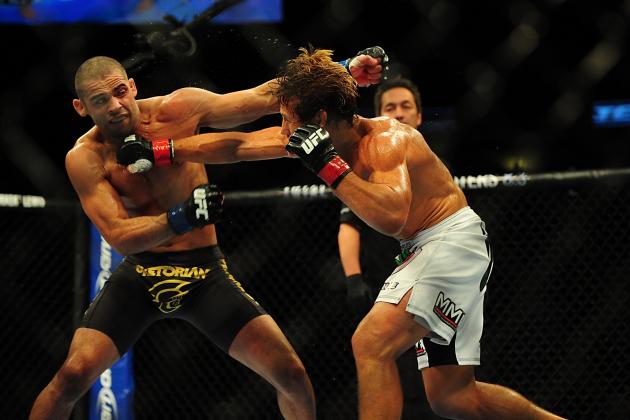 Anne-Marie Sorvin-US PRESSWIRE

Like Dominick Cruz, Renan Barao was too quick and dynamic on his feet for the 33-year-old Urijah Faber to deal with. Barao may have landed a few less strikes than Cruz did in his most recent meeting with Faber, but the Brazilian was also never knocked to the canvas by "The California Kid" as Cruz was.
Much quicker than Faber and many of Cruz's past opponents, Barao will not be thrown off as much by the former WEC champion's unorthodox footwork. Against faster challengers like Demetrious Johnson and Joseph Benavidez, Cruz has been forced to use his wrestling more frequently to retain his title.
A training partner of featherweight champion Jose Aldo, Barao's striking will probably compel Cruz to turn this bout into a grappling match, which may not be as easy to do against the Brazilian as it was against the aforementioned Johnson and Benavidez.
Edge: Push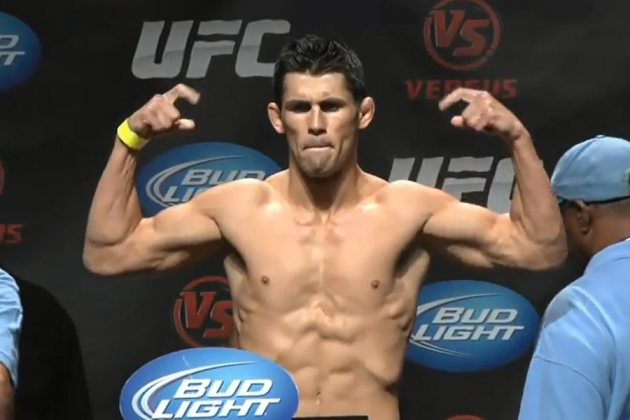 UFC.com
With a background in wrestling, common logic would lead one to believe Dominick Cruz would have an edge over Renan Barao in the wrestling department. However, Barao's performances inside the Octagon have shown that may not be the case.
The Brazilian has not been taken down once in his four UFC bouts and defended a combined 13 takedown attempts against excellent wrestlers in Scott Jorgensen and Urijah Faber. In his most recent fights against those same two opponents, Cruz surrendered three takedowns on a collective 10 attempts.
Even is Cruz does become the first UFC fighter to take the interim champion to the ground, Barao is a skilled jiu-jitsu black belt and would not be a pleasure to grapple with throughout a five-round fight.
Edge: Barao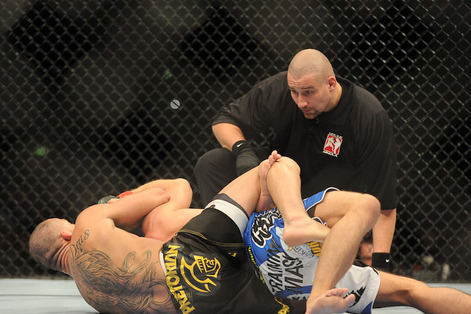 Sherdog.com
Dominick Cruz has not been submitted since a March 2007 title fight against Urijah Faber. Though if he goes to the ground with Renan Barao to try to take an edge on the scorecards in a bout that would probably be closely contested in the stand-up department, Cruz could be forced to tap for the second time in his career.
Nearly half of Barao's wins throughout his time in the sport have come via submission. To date, Brad Pickett is the most notable opponent Barao has been able to submit, but that is due in part to Barao's ability to keep fights standing with more skilled opponents.
Training with Lloyd Irvin at Alliance MMA, Cruz's submission defense has come a long way since his first meeting with Faber, so he won't be easy to put away on the ground. However, Barao might be more capable of doing so than any past bantamweight title contenders.
Edge: Barao
With a bout against an MMA great like Urijah Faber and a UFC title around his waist, none can question the experience of Renan Barao any longer. Barao has been competing for over seven years and has shown he won't waver under the bright lights.
For Dominick Cruz, it has already been nearly 10 months since he last stepped into the cage against Demetrious Johnson. By the time he returns to action for a potential fight with Barao, it will have been quite awhile since he has tested his skills against an opponent of that caliber.
Inactivity isn't always a problem for every fighter, but it's hard to imagine Cruz will be at his best after such a long layoff. Unfortunately, against a fighter like Barao, Cruz will need to be at his finest to pick up a fifth straight 135-pound title defense.
Edge: Barao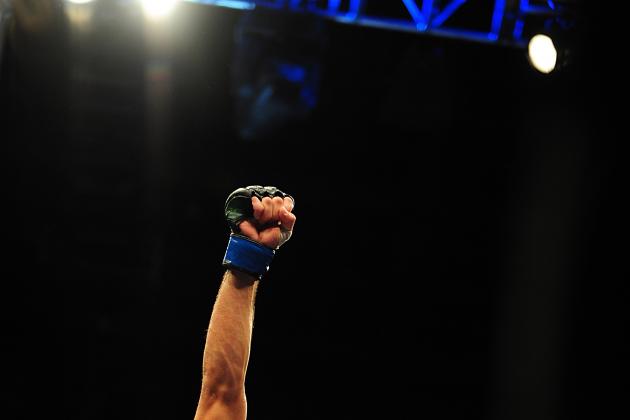 Anne-Marie Sorvin-US PRESSWIRE

The margin will be narrow, but Renan Barao will best Dominick Cruz in the striking realm when they inevitably meet. Unlike Urijah Faber and others who had trouble standing with Cruz, Barao will be able to match the champion's speed and utilize leg kicks more effectively to take away his opponent's wild footwork.
Cruz has scored takedowns in every single title fight he's been in, so he'll find a way to take Barao to the ground. Ultimately, though, Barao's ground game will prevent Cruz from getting much of anything done from the top position.
Barao will take advantage of a rusty Cruz en route to becoming undisputed bantamweight champion. However, because of his extended absence, Cruz could very easily earn an immediate rematch by keeping this fight even somewhat close.
Prediction
Barao defeats Cruz by unanimous decision (49-46, 49-46, 48-47).