MLB Trade Rumors: Updates and Reactions on the Latest New York Mets Buzz
Brad White/Getty Images
The MLB trade deadline is rolling around, and the New York Mets need to make a major move.
Even though the Mets are just 8.5 games back of the first-place Nationals, they have lots of holes. For starters, the team has the worst bullpen ERA (4.97) in the major leagues.
And, they have two injured starting pitchers. That would doom just about every other team in baseball, but thanks to some clutch performances by some key players, the Mets are still succeeding.
But can they keep up their success without making a major move? Probably not. Here are the latest updates on New York Mets trade rumors.
Jonathan Broxton or Grant Balfour to the Mets?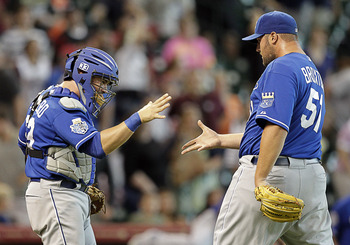 Bob Levey/Getty Images
I mentioned in the introductory slide that the Mets need bullpen help. Luckily, there are a lot of relievers on the trade market.
Jonathan Broxton, Huston Street, Francisco Rodriguez and Grant Balfour headline a nice class of relievers that will be available at the trade deadline. Brett Myers was dealt to the White Sox and Brandon Lyon was dealt to the Blue Jays already, but there are still other arms available.
According to SBNation, the Mets are interested and could trade for Balfour or Broxton. Street will come at a high price, since he has converted all 15 of his save opportunities, has a 0.99 ERA and an 0.66 WHIP. Therefore, the Mets probably won't trade for him unless the Padres lower the price.
However, Broxton has always been inconsistent, and he won't come at a ridiculously high price. Broxton has converted 22 of his 26 save opportunities this year, and he has a 2.34 ERA. Balfour is 2-2 with a 3.00 ERA, and he hasn't allowed a run in his last seven appearances.
New York likes the asking price for Broxton, and it looks like they may put together an offer for him. The Mets have a few untouchable prospects (see the next slide), but they probably could part with some lower-level prospects to pick up Broxton.
As long as the asking price isn't too high, expect New York to try to make a deal for Broxton. If that deal doesn't work out, they could go after Balfour.
Zack Wheeler, Matt Harvey or Other Top Prospects to Another Team?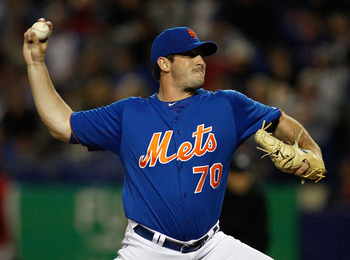 Sarah Glenn/Getty Images
If the Mets are going to land a great pitcher or outfielder, they're going to have to give up Matt Harvey or Zack Wheeler.
Wheeler was the main prospect the Mets acquired in the deal that sent slugger Carlos Beltran to the San Francisco Giants. He is 9-5 with a 2.99 ERA at Double-A Binghamton, and scouts are raving about how he has the potential to be the future ace of the Mets.
However, if that doesn't pan out, the Mets have another option.
Matt Harvey is 7-5 with a 3.68 ERA at Triple-A Buffalo, and he has been called up to make his first start on Thursday against the Diamondbacks. Scouts are talking about Harvey, who gets tons of strikeouts, as potentially being an ace as well.
Mets fans are very excited for Harvey's debut, and they are confident that they have a bright future with their great farm system. Harvey and Wheeler anchor the decent farm system, and the Mets don't want to change that.
New York has a bright future, and since they'll probably keep David Wright, the team will be a contender for years to come. The Mets could trade for a long-term solution in the outfield, but according to Matthew Cerrone of metsblog.com, Wheeler and Harvey are untouchable.
Wilmer Flores and Jeurys Familla are also probably untouchable. Familla will provide long-term help in the bullpen, and Flores could play second base if the Mets trade Daniel Murphy to land a reliever. However, Wheeler and Harvey are untouchable (and I say that only to assure Mets fans that they won't be traded).
A Big Bat to the Mets?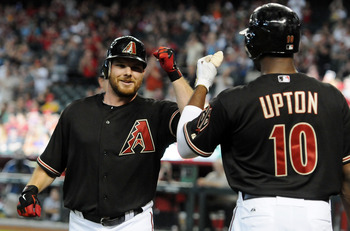 Norm Hall/Getty Images
The Mets don't seem to have a deep lineup, but they are scoring runs.
David Wright is hitting .349 with 14 homers and 65 RBI, and he has an unreal .440 OBP. Ruben Tejada and Daniel Murphy are hitting above .300, and some other players have come up with some big hits. The Mets lead the league in two-out RBI.
Even though Tejada and Murphy will probably slow down, Ike Davis and Jason Bay will hit better. Both have had problems with striking out, but they are starting to put the ball in play more. With Wright and those two in the lineup, the Mets will have a good offense.
But could it get better? Yes.
Justin Upton and Josh Willingham are among the big bats on the trade market. New York could trade for them, but they would have to give up a lot. As I mentioned in slide two, they do have some untouchable prospects, who obviously won't be traded. So, the Mets probably won't land Upton or Willingham.
Willingham probably won't come at a ridiculous price, but he may command someone like Familla, Wheeler or Harvey. Minnesota is looking for a pitching prospect (or multiple pitching prospects), and they are unlikely to part with them. The Mets will probably have to trade Wheeler or Harvey to land Willingham, and they don't want to do that.
Upton will command an even higher price, and the Mets will probably have to give up some top prospects for Upton. They could trade the strikeout-prone Lucas Duda, and they could also trade the young Kirk Nieuwenhuis to sweeten the deal.
If the Mets decide that Upton and Willingham are too pricey, they could go after catcher Ramon Hernandez. Zach Links of MLBTradeRumors.com reported two weeks ago that the Mets could trade for Hernandez, who has always hit well and could provide depth at catcher. However, he also reported that the Mets won't give up much and that a deal isn't likely to get done.
New York probably won't want to do that, and they also probably won't get traded. If they do trade for a bat, expect it to be a utility player or an underpriced outfielder.
Keep Reading

New York Mets: Like this team?