Fantasy Baseball: 10 Tips for Preparing for the Playoff Run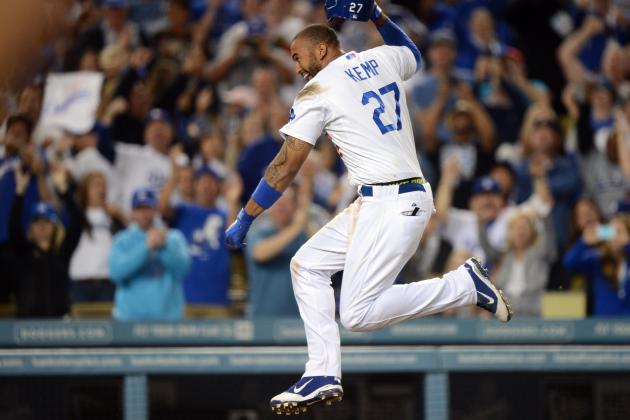 Harry How/Getty Images
Matt Kemp owners can jump for joy now that their star has returned from the disabled list.
With the weeks leading up to the fantasy baseball postseason dwindling, now is the time for managers to kick it into gear.
While someone may be running away with first place in many rotisserie leagues, head-to-head owners need to play until the end regardless of the standings. The leading person in a head-to-league could have secured every single category during every week's competition, and that will, at best, result in a first-round bye.
Depending on the league, there are around seven weeks remaining before the playoffs begin. Over the next two months, owners must step up their game in order to secure a postseason bid.
The baseball season is long, enduring and has likely led to extensive hair-pulling and wall-punching. Take a deep breath and regroup since more than one-third of the season remains. There's not much you can do when Matt Kemp injures and re-aggravates him hamstring, but now he is back and brighter days loom ahead.
Follow these tips to propel your fantasy baseball team to a deep playoff run.
Begin Slideshow

»
Dustin Bradford/Getty Images

Edinson Volquez just threw a one-hit shutout. You couldn't be happier, until you check your league's website and realize that you forgot to insert him in your lineup.
In leagues that permit daily changes, it can be difficult to keep up and avoid missing a day, especially if you're a freak like me with seven different fantasy teams.
Missing out on that tremendous start could inflict a lot more damage in a head-to-head league. Instead of just losing the win, you can lose the wins categories for the week, which could cause a ripple effect that leads to you missing out on a title.
Keep close tabs on your lineup from this point forward. Make sure you start every pitcher you want in the lineup, and occupy the spots with relievers when the starters are not on the mound.
Utilize your bench when your starters don't play. If you play in a deeper league and are really serious about winning, pick up a hitter who crushes lefties such as Scott Hairston to platoon with your big left-handed batter.
Don't just cruise through the season and expect to dominate your league. Every detail matters.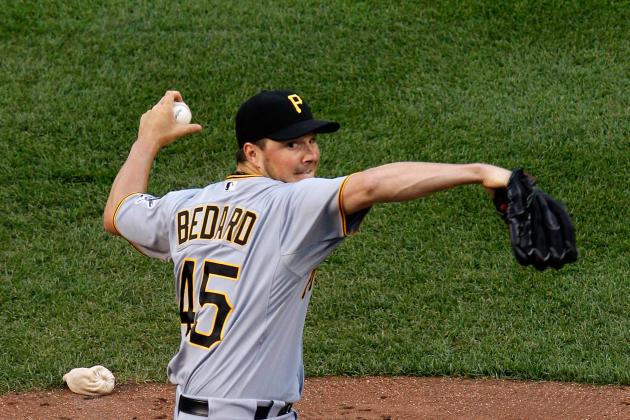 Rob Carr/Getty Images

The streamer often gets a bad rep in fantasy leagues. League-mates perceive the streamer as a weasel gaming the system to pile up wins and strikeouts.
When executed properly, picking up starting pitchers during weeks where he starts twice or has one favorable matchup is a sound strategy. So why look down on people who are trying to win?
While the technique risks harming your ERA and WHIP, picking your spot-starters carefully should ensure success, or at least limit the level of damage.
This week, Erik Bedard—who faces two lukewarm offenses in the Chicago Cubs and Houston Astros—serves as an intriguing streaming option in the 74 percent of Yahoo! leagues where he is available.
Don't go overboard though. Just because Kevin Milwood will start twice does not mean he is a better play than one start from Jake Peavy.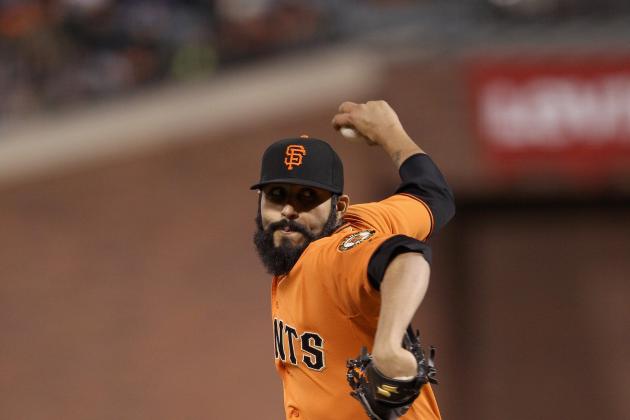 Ezra Shaw/Getty Images
There's a new beard to fear in San Francisco's bullpen.
The season may be winding down, but there is still enough time left to make moves that tailor to the future.
If an impatient owner dumped Jayson Werth after breaking his left wrist, grab him now before he returns from the disabled list. Brandon Morrow could could pay dividends for fantasy teams if he returns around mid-to-late August.
Closer situations can also fluctuate at a higher rate during this time of the year. Snatch a middle reliever who could exact some carnage on the opposition if given a chance.
Sergio Romo, who sports a dominant 0.62 ERA and 0.72 WHIP, is a guy to look for right now. The best reliever in San Francisco's bullpen could take the closer's job from Santiago Casilla. He should be owned in essentially every league regardless of what inning he enters the mound.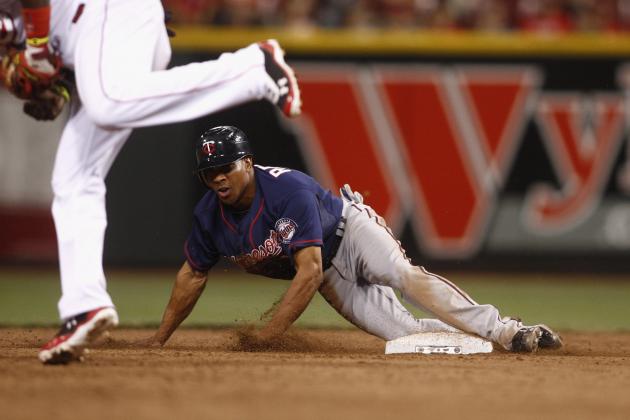 John Grieshop/Getty Images

Too obvious?
Free agency is great and all, but no available players are likely to make a significant, long-term impact in a decently sized league. A trade could be your last chance to bolster your club and mold it into a contender.
At this point of the year, you better know your team's strengths and weaknesses. While it's also fine just to seek out the best overall value on some occasions, now is the time to fill your team's holes.
Are you winning by seven stolen bases every week? Maybe it's time to trade Ben Revere for a power bat. Constantly lagging behind in ERA and WHIP? Upgrade your pitching staff before it's too late.
Trades are more about addressing a need than winning the deal at this juncture of the season. Explore the trading market before your league's deadline hits.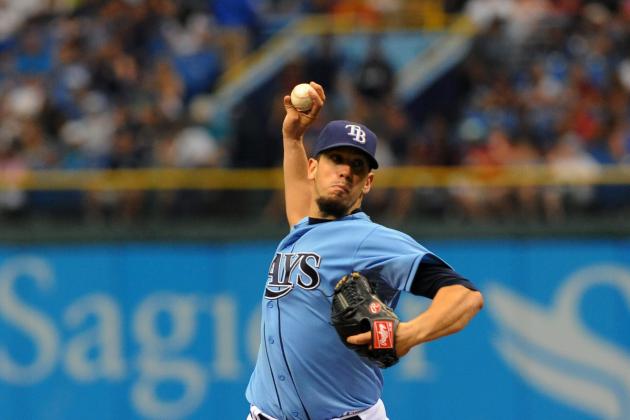 Al Messerschmidt/Getty Images

You and your fantasy cohorts are not the only general managers working the trading block to attend to some areas of concern. MLB's July 31 trade deadline is quickly approaching and can alter key players' fantasy value.
Some big names are being shopped this summer. Ryan Dempster, who has been a pleasant surprise with a 2.11 ERA and 1.05 WHIP, could be shipped out of Chicago before the deadline. While his hot start makes him a player his fantasy owners should consider trading as well, a trade to a National League contender could help offset some concerns of a second-half decline.
If Dempster gets dealt to the Atlanta Braves, Washington Nationals or St. Louis Cardinals—the leading landing spots according to Jon Heyman—he would at least receive some run support while remaining in the pitcher-friendly NL.
James Shields is already an intriguing buy low candidate, but a move out of the American League East—especially to an NL club—could spark a monstrous second half. Shields has already faced the treacherous New York Yankees lineup four times and has struggled mightily, allowing 18 earned runs in 23 innings pitched.
If the Rays trade him, fantasy participants should try trading for him. A bold owner might even consider making the move now since he can already be obtained at a bargain due to his ugly 4.39 ERA and 1.44 WHIP.
Stay peeled to trade rumors, as potential deals could hold major relevance to the fantasy landscape.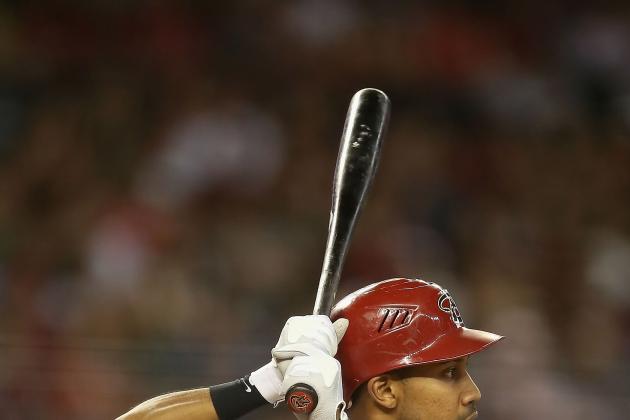 Christian Petersen/Getty Images
Chris Young is hard to trust in head-to-head leagues.
In roto leagues, it doesn't matter how your players accumulate the stats as long as they get them. Just remain patient with streaky players and they will reward you with a solid final product.
In head-to-head leagues, inconsistent players can make or break your chances of winning a league. Maybe they heat up at the right time and lead you to a title, but a horrific September would deliver a major blow to your squad.
If you play in a roto league, Arizona's Chris Young is a solid 20-20 bet who could be a big acquisition down the stretch. Head-to-head participants, on the other hand, can't toy around with Young since he will produce four frustrating weeks for every prolific one.
Look for even-keeled, disciplined hitters who are more likely to deliver on a weekly basis during the final two months. Andre Ethier and Nick Markakis are not the most exciting roto names, but they can help out in head-to-head formats.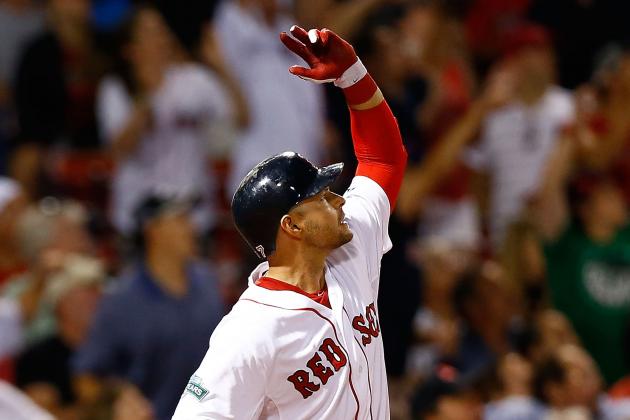 Jared Wickerham/Getty Images

Sometimes you have to throw caution to the wind, ignore all the research you have conducted throughout the year and roll the dice on someone playing well.
This is not to say that you should dump a slumping Eric Hosmer or Michael Young, but it might be time to bench them for a lesser-known name putting up better numbers.
Is Cody Ross, who drove in nine runs in two games last week, going to stay this hot? Probably not, but he's worth using for now while he is swinging a sizzling bat. There's no way to explain how the 150-pound Alexi Amarista is slugging .469 , but for now, enjoy the ride for a week until he shows signs of regressing.
Stay busy on the waiver wire during the last months of the season to make sure your lineup does not get cold at the same time.
Just don't stick with them for too long. In the end, you want to roll with your studs with past success.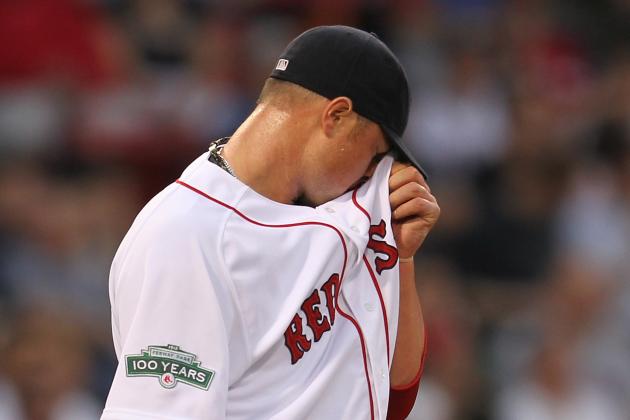 Jim Rogash/Getty Images
Gamble on Jon Lester heating up if his owner is pressing the panic button.
A bold move could be necessary to catapult your team to victory.
Instead of growing attached to your current roster, don't be afraid to shake things up. Give up on Ubaldo Jimenez ever fixing his current woes and pick up a soaring pitcher from the waiver wire. Take a chance on Tim Lincecum or Jon Lester re-discovering his form.
Standing pat may pay off sometimes, but then what's the point of playing if your roster configuration stops after draft day? Push the envelope by adjusting your squad.
Sure, a move can fall flat on your face, but it can also pan out in remarkable fashion. That's life for you.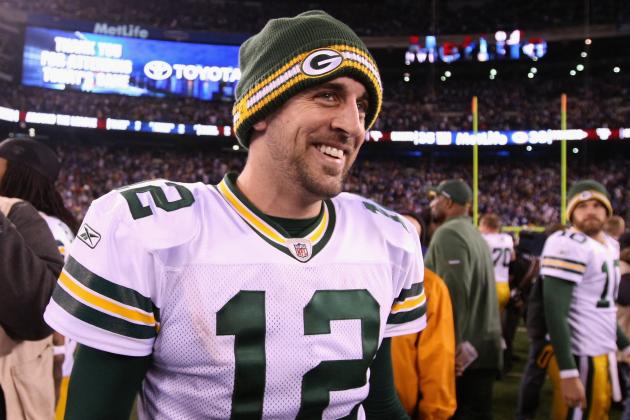 Al Bello/Getty Images
Go away Aaron Rodgers! It's still baseball season.
It's easy to devote attention to your fantasy baseball squad in July, when no other sports are fighting for your time.
Football season is lurking, waiting to kick off during the waning weeks of the MLB season. Basketball and hockey will also be right around the corner. Don't let the other sports distract you from your fantasy baseball managerial duties.
Ignore your countless friends who continually insist that baseball is boring. Fight the urge to grow complacent as the grueling 162-game season reaches its end. Get your weekly fantasy football lineup out of the way and allocate the rest of your spare time to maximizing your baseball team's capability.
You worked so hard over the last several months to earn a coveted playoff spot; don't let it go to waste by limping to the finish line.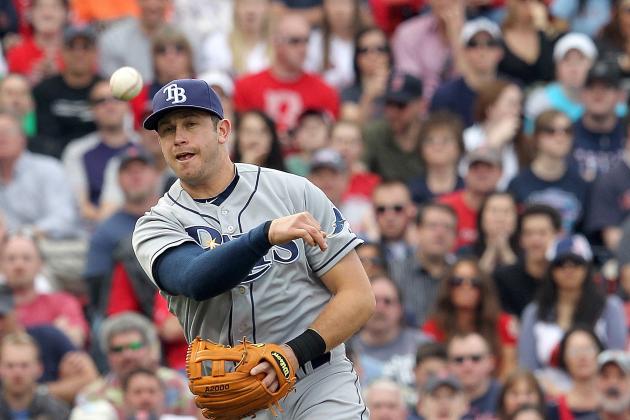 Jim Rogash/Getty Images

Let's now take a stroll down Cliché Avenue before returning to the fantasy baseball battlefield.
Remember, it's just a game, so have fun with it.
I know what you're thinking; winning is fun. True, but don't get too wrapped up in your quest for fantasy glory.
As someone who has checked the box scores about seven times while writing this article, I know the feeling of caring too deeply about fantasy baseball. I also know that it is incredibly unhealthy to allow this innocent little game of statistics to dictate my current level of happiness.
Yes, Evan Longoria is going to be out a while longer with his injured hamstring, but that's no reason to toss your laptop out the window. Seriously, put it down, not that you're able to read this sentence with the computer dangling over your head in your overstretched arms.
Winning is a lot more fun, so do everything in your power to bring home the grand prize. Just remember that plenty of facets controlling the outcome are completely out of control (How am I last in wins despite having the best WHIP?), so don't get too upset if you fall short.