Harrison Barnes and 8 Rookies Who Will Start from Day One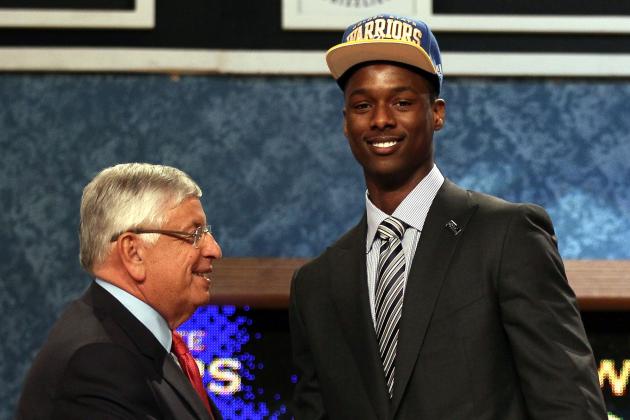 Elsa/Getty Images

Good things may come to those who wait, but only the things left by those who hustle.

Abraham Lincoln uttered those words on a day that you nor I was around for. What we will be alive for, however, is the maturation and development of 60 NBA draftees who have found their new homes in 2012, nine of whom will find opportunity knocking quicker than others.
There are two philosophies on the development of rookies in the NBA. On one hand, you could force your young star to earn his place amongst the elite. On the other, you could throw him to the wolves and see how strong his fight truly is.
In other words, you could bench them in favor of a veteran or start them from day one. In the case of the following nine players, the future is now.
Opportunity awaits and results will be strongly analyzed. Each and every player on this list will be under a close lens as they will be the starters of today with nothing yet proven.
So who are the lucky nine with such a grand situation for success or failure?
Begin Slideshow

»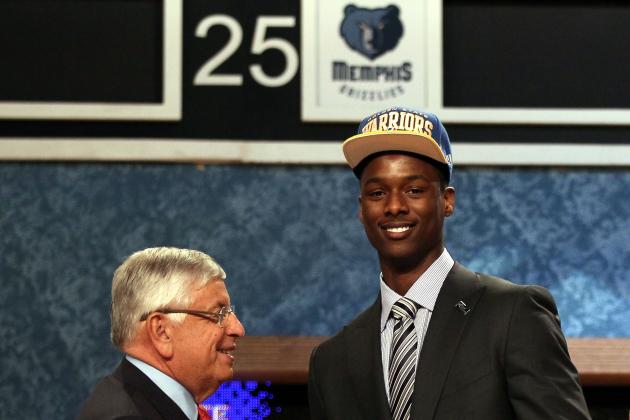 Elsa/Getty Images

Position: Small Forward
Age: 20
Draft Position: First Round, Pick 7
Why He'll Start
The Golden State Warriors all but guaranteed Harrison Barnes a spot in the starting lineup when they traded the incumbent Dorell Wright. The fact that Barnes is torching Summer League play and displaying levels of poise that few rookies display only further solidifies that status.
Barnes is an outstanding on-ball defender with a beautiful mid-range jump shot. He's also a very smooth player who glides across the floor with absolute ease. While one could debate his upside, there's no denying how ready he is for the NBA game.
This was one of the safest picks of the draft, as Barnes is all but guaranteed a spot in a starting lineup for years to come.
Barnes will be something special from the day he begins.
Projected Season Averages
15.4 PPG, 5.1 RPG, 2.7 APG, 1.1 SPG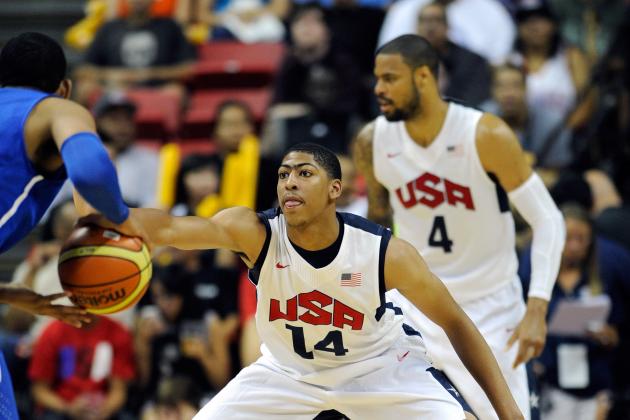 David Becker/Getty Images

Position: Power Forward
Age: 19
Draft Position: First Round, Pick 1
Why He'll Start
When you're the first overall draft choice, it's very rare that you miss out on the starting lineup. When you're a rookie on the Olympic basketball team, the chances you come off of the bench in the NBA hit zero.
Anthony Davis is as close to elite as you'll find as an interior defender. He has unbelievable length to go with adequate height at his position. He's also an explosive leaper whose athletic ability is often masked by his sound fundamentals on the defensive end.
While reigning Most Improved Player of the Year Ryan Anderson could offer Davis a run for his money, comparing the two is flat-out foolish. Anthony Davis will start his path to the Rookie of the Year award during the first game of the New Orleans Hornets' 2013 season.
Projected Season Averages
10.3 PPG, 9.1 RPG, 2.1 APG, 1.9 BPG, 0.7 SPG
Elsa/Getty Images

Position: Power Forward/Center
Age: 18
Pick Position: First Round, Pick 9
Why He'll Start
While Anthony Davis is the best defensive rookie, Andre Drummond has the best chance to lead rookies in blocks per game. After all, he is the help-side defender to the defensive-inept Greg Monroe.
Andre Drummond is one of the more intelligent players at his position. He's solid with his footwork and always seems to put himself in the right position on the offensive glass. While it wouldn't be shocking to see him start the season with the second unit, developing a chemistry between him and Greg Monroe should be a top priority in Detroit.
Monroe is weak on defense, while Drummond is an excellent shot-blocker and interior presence. Drummond is weak fundamentally on offense, while Monroe is as talented a scorer as any player at his position.
The only question at this point is what position Andre Drummond will play.
Projected Season Averages
7.7 PPG, 8.0 RPG, 1.5 BPG, 0.6 SPG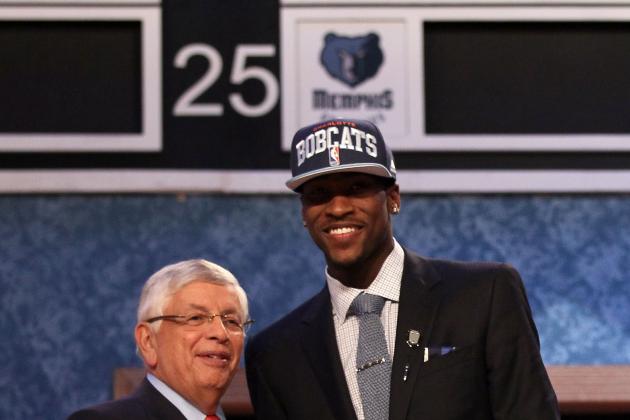 Elsa/Getty Images

Position: Small Forward
Age: 18
Draft Position: First Round, Pick 2
Why He'll Start
Michael Kidd-Gilchrist enters the league as an elite perimeter defender with an infectiously outstanding motor. He's one of the best players in his draft class at penetrating off of the dribble as well.
This makes him a two-way threat who can dominate on D and respectably contribute on offense. (Something that's very limited, if present at all, on the Bobcats roster.)
From day one, Michael Kidd-Gilchrist will start and contribute in a major way. He's the perfect fit to play on the perimeter alongside Gerald Henderson, who had a breakout year of his own in 2012. Both will give their all on defense, and each will be a threat to score in transition as point guards Kemba Walker and Ramon Sessions push the pace.
No matter where you look, Kidd-Gilchrist can contribute. As his shooting improves, he'll even become a Rookie of the Year candidate.
Projected Season Averages
13.1 PPG, 6.3 RPG, 2.2 APG, 1.4 SPG, 0.7 BPG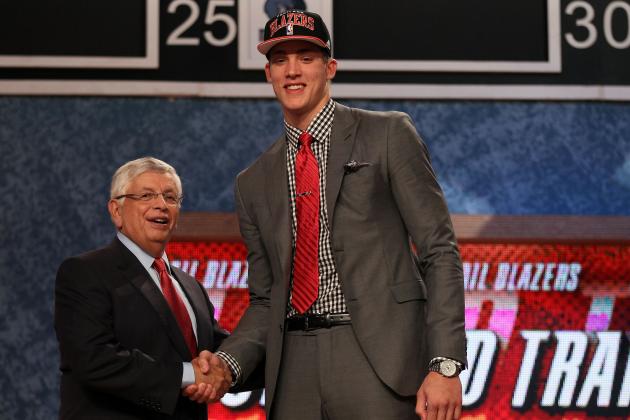 Elsa/Getty Images

Position: Center
Age: 20
Draft Position: First Round, Pick 11
Why He'll Start
At this point, it's either Meyers Leonard or Dan Gadzuric. I think it's safe to say that the rookie will win this early battle.
Meyers Leonard has been outstanding during the Summer League games, playing physical ball and attacking the basket with consistent force. This is an encouraging sign, as most rookie big men are erratic with their approach around the rim, which leads to less "clear-out" baskets and more contested shots.
This should make LaMarcus Aldridge breathe a huge sigh of relief, as he finally has a threat to score the ball alongside him.
What's truly been impressive about Leonard's play has been how quickly he's developed a chemistry with point guard Damian Lillard. He's taken the difficult feeds in stride and made the right decisions on when to lend help-side D.
Seeing as those two players as are the key to the Portland Trail Blazers' future, this development bodes well for the team in 2012 and beyond.
Projected Season Averages
6.7 PPG, 7.4 RPG, 1.1 BPG, 0.4 SPG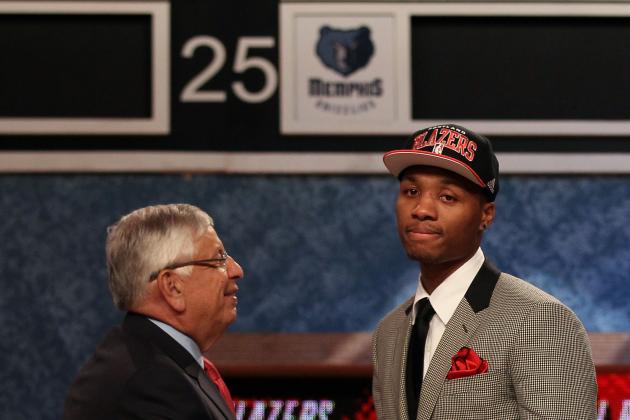 Elsa/Getty Images

Position: Point Guard
Age: 22
Draft Position: First Round, Pick 6
Why He'll Start
Damian Lillard has been the MVP of these Summer League games. He's also coming to a team whose best point guard option behind him is Nolan Smith, who remains without a defined position.
It's safe to say that he's going to start from the opening bell.
Lillard is an elite scoring guard whose ability to both penetrate off of the dribble and spot up for a jump shot should offer even the craftiest of veterans fits. While his court vision must improve, he should become a fan favorite early and often with his highlight-reel ability.
Chances are, Lillard will be the Portland Trail Blazers' second-leading scorer behind LaMarcus Aldridge and could help push the team into playoff contention. If nothing else, he'll offer a whole lot of entertainment.
Projected Season Averages
16.5 PPG, 5.0 APG, 2.2 RPG, 1.0 SPG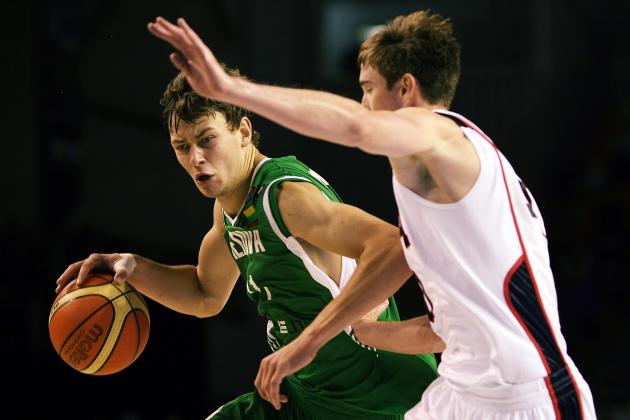 Hannah Johnston/Getty Images

Position: Power Forward/Center
Age: 21
Draft Position: First Round, Pick 20 (2009)
Why He'll Start
By virtue of personal preference, I would love to see Terrence Jones' name here. With Patrick Patterson available at the 4, however, Jones is pushed out of the starting lineup, and the Rockets' greatest needs presents itself.
A center to clog the lane.
Rookie Donatas Motiejunas may or may not be able to provide that help. Through all of this indecision, however, one thing is certain: He will be the top contender to start at the position. A contender who will emerge victorious.
Motiejunas is the only player on the team who is taller than 6'10". Twenty-one-year-old Greg Smith, meanwhile, is the only true center on the team. While he might be playing out of position, Motiejunas is a 7'0" weapon who would still offer an upgrade over any of the other options on the roster.
He could find himself out of position, and he could struggle. As the big Lithuanian himself says (via Jason Friedman on Rockets.com), however, if you're scared of the wolves, don't go in the woods.
Projected Season Averages
12.4 PPG, 8.1 RPG, 1.0 BPG, 36% 3PT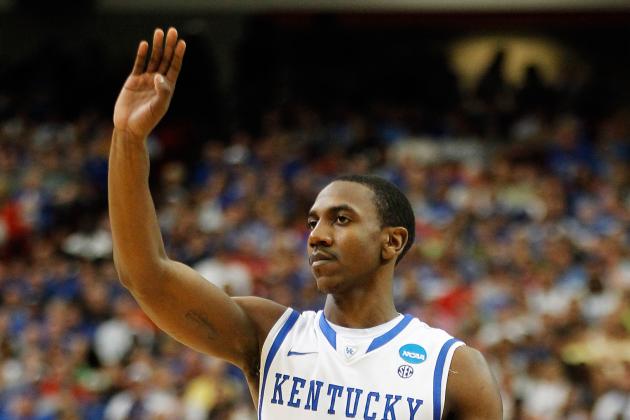 Streeter Lecka/Getty Images

Position: Point Guard
Age: 19
Draft Position: First Round, Pick 29
Why He'll Start
Marquis Teague finds himself in this position by virtue of an injury to Derrick Rose and a roster cleansing by the Chicago Bulls. As of this moment, he is the only rational option on the Bulls roster to start at this position.
As the asterisk would suggest, of course, he will lose the job at some point during the season. Even if he's torching the league, Derrick Rose has won rights to this position.
Nevertheless, Teague will start from day one and could impress many in the process. As a rookie being delegated to the second unit, that could be huge for his confidence and overall stock as he one day exits his rookie contract.
Projected Season Averages
9.8 PPG, 3.5 APG, 2.6 RPG, 0.9 SPG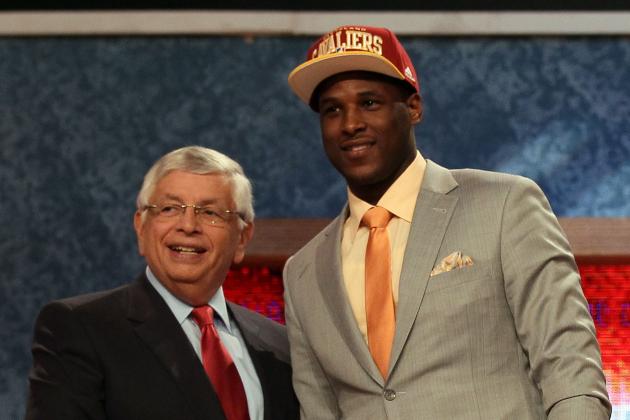 Elsa/Getty Images

Position: Shooting Guard
Age: 20
Draft Position: First Round, Pick 4
Why He'll Start
Dion Waiters was drafted by the Cleveland Cavaliers to build a star-studded backcourt that could one day lead them to an NBA championship. He was also selected by the Cavaliers because their next best option at the shooting guard position was either Anthony Parker or Daniel Gibson.
If you believe there is a chance that there will be a grace period in which Dion Waiters is eased into the starting role, you clearly forget how close the Cavaliers were to the postseason on March 19, 2012.
The Cavaliers are a team who can legitimately compete for the postseason as they are. Reigning Rookie of the Year Kyrie Irving could reach his first All-Star Game in 2013, and Anderson Varejao is more than respectable at the 5.
Throw in the young and rapidly improving Tristan Thompson, and you've got a legitimate contender for the eighth seed in a top-heavy Eastern Conference.
Whether or not the Cleveland Cavaliers can reach the playoffs is an entirely different question. Just don't think that Byron Scott will hesitate to demand the most out of Waiters as he enters the starting lineup with no pause at all.
Projected Season Averages
16.1 PPG, 4.1 RPG, 3.8 APG, 1.4 SPG