NBA 2012-13: Teams on the Bubble in the Western Conference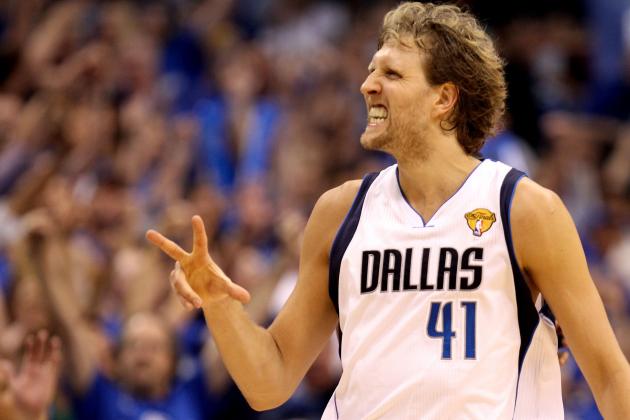 Ronald Martinez/Getty Images

The NBA, for the most part, is very cut and dry. Though every fan would like to think that their team has a shot at winning it all, there are only a handful of teams every year who have a legitimate shot at capturing the title. This holds true even more in the era of Big Threes and Superteams.
The Western Conference is an absolute bear, in that teams have to dig deep and fight to earn their spot in the postseason. Every year, there are a number of "bubble teams" that are not necessarily in the top tier, but they're certainly formidable opponents. That leaves the middle of the pack crowded with several teams competing for just a few spots.
Five teams in the Western Conference, because of their wealth of talent, appear to have playoff positions locked up for next year: the San Antonio Spurs, Oklahoma City Thunder, Los Angeles Lakers, Memphis Grizzlies and Los Angeles Clippers.
The Sacramento Kings and New Orleans Hornets have some young talent to work with, but they're still a few seasons away from competing for playoff spots.
I'll break down the other eight teams in the Western Conference and their chances of snatching one of the remaining three playoff spots.
Begin Slideshow

»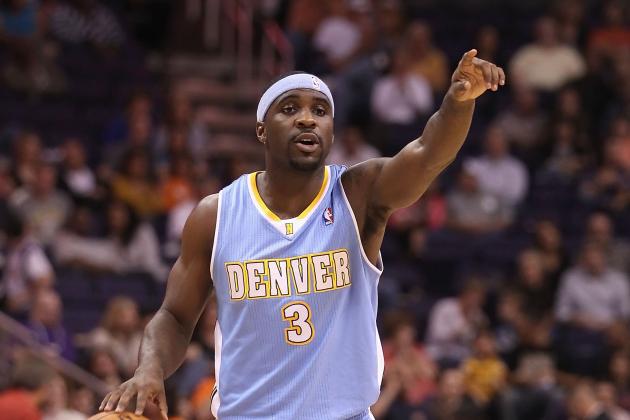 Christian Petersen/Getty Images

PG: Ty Lawson, Andre Miller
SG: Aaron Afflalo, Evan Fournier
SF: Wilson Chandler, Danilo Gallinari, Corey Brewer
PF: Al Harrington, Kenneth Faried
C: JaVale McGee, Timofey Mozgov
The Nuggets appear to be the most playoff-ready of the teams on this list. Ty Lawson had a breakout season last year, so he's a stud point guard to say the least.
Young upstart Kenneth Faried provided energy and power during his minutes on the floor. He opened a lot of eyes last year, and he figures to only get better.
At small forward, Danilo Gallinari is a talented player who knows how to score and handle the ball. He can stroke it from deep too, as can fellow small forward Wilson Chandler.
And say what you will about JaVale McGee, he put up solid numbers in 2011-12 with 11.3 points, 7.8 rebounds and 2.2 blocks per game. He's still only 24 years old, so there is time for improvement.
This team is well-rounded and it has some premier talent that other teams desire. The Nuggets can put up points in a hurry, and they will score plenty on a nightly basis.
My prediction
They're going to be in it come playoff time.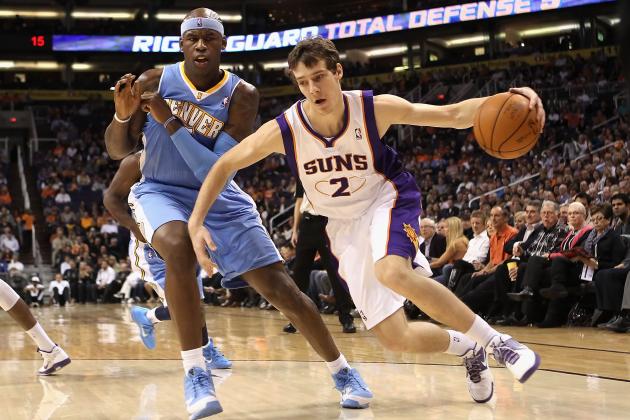 Christian Petersen/Getty Images

PG: Goran Dragic, Kendall Marshall
SG: Shannon Brown, Wes Johnson
SF: Jared Dudley, Michael Beasley
PF: Luis Scola, Channing Frye
C: Marcin Gortat
Phoenix is an interesting case. Just a few months ago, with the Suns barely missing the playoffs the for another season and the beloved Steve Nash prepared to leave the desert, it seemed that owner Robert Sarver was content to run that franchise into the ground. But as the offseason progressed, the Suns roster took shape—and it's decent.
Some key offseason moves landed the Suns some solid pieces to work with.
Goran Dragic returns to Phoenix with some big shoes to fill. He proved he was for real when he took over for the injured Kyle Lowry in Houston last year. He looked good as a starter, and ended up averaging more than 16 points per game and seven assists per game in February and March.
Kendall Marshall oozes potential. He should be good for years to come. With the recent re-signing of Shannon Brown, the Suns have shored up the shooting guard position.
Jared Dudley is versatile enough to play both the 2 and the 3. And we'll see if the Suns can get the best out of small forward Michael Beasley, who'll be making a nice chunk of change in a three-year, $18 million deal.
The frontcourt is also looking good with Luis Scola at power forward (14.5 PPG and 7.7 RPG for his career) and Marcin Gortat holding down the fort as the starting center.
My prediction
The Suns will be an interesting team to monitor this season. On paper, they look like a decent team. Every player seems to be pretty good. But that could also be their downfall.
There isn't one player on the team that's a bona fide stud. The Suns are missing that spark, that X-factor in the lineup. They'll flirt with going .500 and win a few games that they shouldn't. But I don't think they have enough firepower to make the playoffs.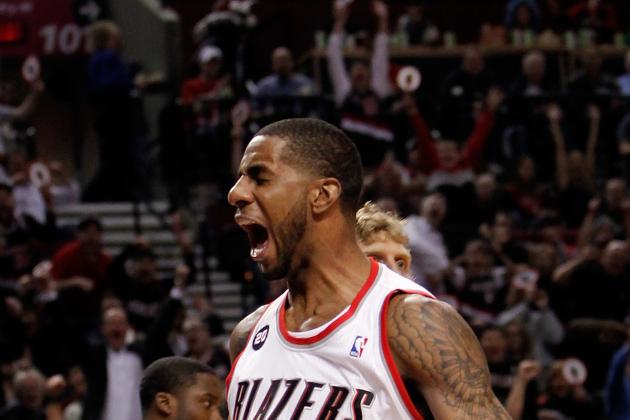 Jonathan Ferrey/Getty Images

PG: Damian Lillard
SG: Wesley Matthews
G: Nolan Smith, Elliot Williams
SF: Nicolas Batum, Luke Babbitt
PF: LaMarcus Aldridge, J.J. Hickson, Jared Jeffries
C: Meyers Leonard
The Portland Trailblazers became a young team overnight by overhauling their roster after last season's debacle.
Highly touted prospect Damian Lillard will get his first crack at point guard in the NBA. He could be one of the league's best a few years down the road. He has that potential. But for now, along with praised young center Meyers Leonard, they will spend at least a year getting up to speed with the professional game.
Portland will rack up wins with Wesley Matthews sharpshooting from three-point land, a lethal tandem of top talent LaMarcus Aldridge and J.J. Hickson at power forward, and the re-signing of Nicolas Batum at the 3.
My prediction
This will be a team to watch in the coming years. If Lillard and Leonard are the players everyone thinks they are and if the front office manages to keep this core of players together for a few seasons, they'll be contenders down the road...but not this year.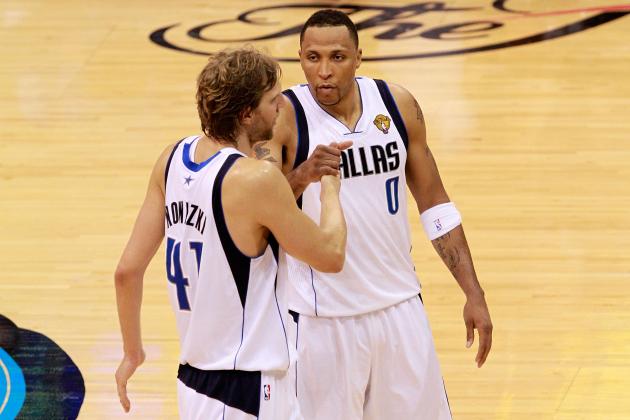 Tom Pennington/Getty Images

PG: Darren Collison, Rodrigue Beaubois
SG: O.J. Mayo, Vince Carter
SF: Shawn Marion, Jae Crowder
PF: Dirk Nowitzki, Elton Brand, Brandan Wright
C: Chris Kaman, Bernard James
On the surface, the Dallas Mavericks had a tumultuous offseason with the key losses of veteran leaders Jason Terry and Jason Kidd. They lost some size with Brendan Haywood leaving. They accepted the bust that was the acquisition of Lamar Odom, and they traded him.
And it didn't help that they were ever so close, but ultimately failed to reel in star point guard (and Texas native) Deron Williams.
But the Mavericks did well to patch up some holes. And in some regards, they improved.
Darren Collison will be a solid point guard who can distribute to his teammates. He's not elite by any means, but he'll do just fine for the Mavs. O.J. Mayo did well as the sixth man for the Grizzlies. He'll step into a bigger role with the Mavericks. If he steps up and embraces that role as their best shooting guard, Dallas will could contend for a top-five seed.
Maybe the most likeable part about Dallas' lineup is its size in the frontcourt. With perennial MVP candidate Dirk Nowitzki and the new acquisitions of Chris Kaman and Elton Brand, the Mavericks can create a number of matchup nightmares for teams.
My prediction
This team may have somehow managed to get better, amidst what started out to be a miserable offseason. Dallas is in.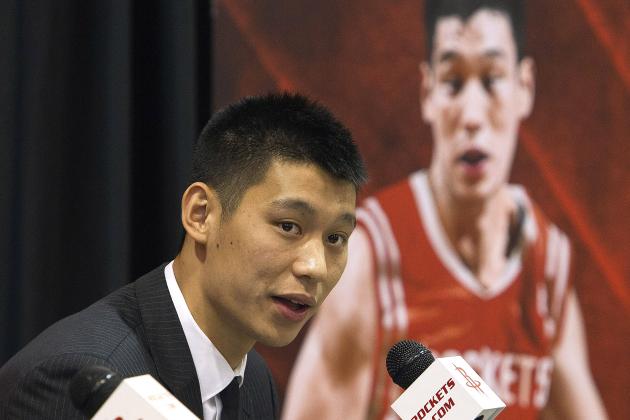 Bob Levey/Getty Images

PG: Jeremy Lin, Toney Douglas, Shaun Livingston
SG: Kevin Martin, Jeremy Lamb
SF: Chandler Parsons, Royce White
PF: Marcus Morris, Terrence Jones, Gary Forbes, Josh Harrellson, Patrick Patterson
C: Greg Smith, Donatas Motiejunas
The Rockets found themselves on the outside looking in at the end of last season. The Rockets are a prime example of a team "on the bubble" because lately, they're always hovering around .500 and around the final playoff spot.
Houston made a big play this offseason by snatching Jeremy Lin away from the Knicks by signing him to a huge, back-loaded contract. Before Lin went down with the knee injury, he showed that he can be a premier point guard in this league. It will be a big question if Linsanity can continue in Houston.
The Rockets have nice backcourt depth with Kevin Martin still being their best player. At 17.1 PPG last year, Martin is still one of the league's better scorers. With Toney Douglas backing up Lin and young draft pick Jeremy Lamb backing up Martin, Houston doesn't have much to worry about in the way of guards.
Chandler Parsons was pleasantly surprising for them at small forward, and Marcus Morris should improve with a year of experience under his belt.
The biggest questions for the Rockets lie in the frontcourt. The team no longer has Luis Scola at power forward. By freeing up some cap space, drafting Lamb, Royce White and Terrence Jones in the first round, and by stockpiling future picks, the Rockets' best bet at the playoffs this season is making a play for Dwight Howard.
That would change the complexion of their lineup by adding an elite NBA star with size, strength and fitness. But without changing the landscape of the NBA with such a trade, the frontcourt uncertainty for the Rockets could be their demise.
My prediction
Dwight Howard spurns the Rockets to go elsewhere, leaving them with a young, unproven frontcourt. They'll win a fair amount of games. But they're out come playoff time.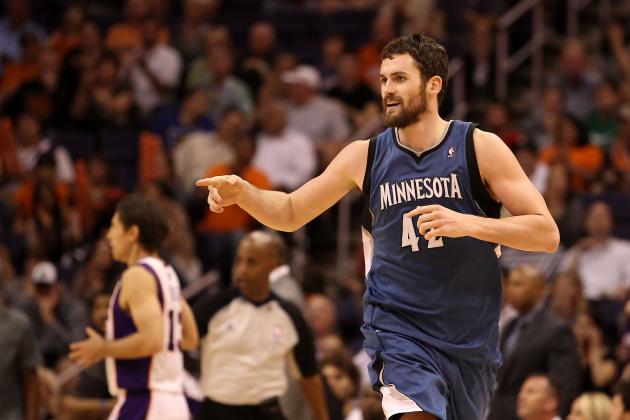 Christian Petersen/Getty Images

PG: Ricky Rubio, J.J. Barea, Luke Ridnour
SG: Wesley Johnson, Brandon Roy, Wayne Ellington
SF: Martell Webster, Chase Budinger
PF: Kevin Love, Derrick Williams
C: Nikola Pekovic
The Timberwolves are a team that everyone will love to watch, if they don't already. Spaniard Ricky Rubio impressed during his rookie campaign last year. The ultra-smooth assist man will continue to dish out to his teammates and get better at leading the team over the course of a game. It also doesn't hurt that Minnesota has some nice point guard depth with wily veteran Luke Ridnour and the hard-nosed J.J. Barea.
Wesley Johnson may have some friendly competition at the shooting guard spot, as the Wolves try to catch lightning in a bottle with dynamic scorer Brandon Roy, who's coming out of retirement.
Martell Webster will have to step up his game if he wants to get more minutes than pure shooter Chase Budinger, who was recently picked up from the Rockets.
All-Star power forward Kevin Love is the anchor of this squad. He's practically an automatic double-double, and he's one of the most complete players in the game at his position. If he continues to score, shoot and rebound like has done over the last few seasons, the T-Wolves will be good to go.
And after a decent, but not too impressive rookie season, former No. 2 pick Derrick Williams will be looking to be a game-breaker for his team.
Even though Nikola Pekovic had some nagging injuries late in the season, he was a force at center when he was on the floor. He'll be a tough matchup for opponents this year.
My prediction
The Timberwolves are doing all the right things to put together a well-balanced team that performs at a high level. I just think there are other teams out there that are more talented right now, and will deny the Wolves a playoff berth.
The team needs more time to develop team chemistry and just get some more experience. Minnesota could be prime-time players in a year or so.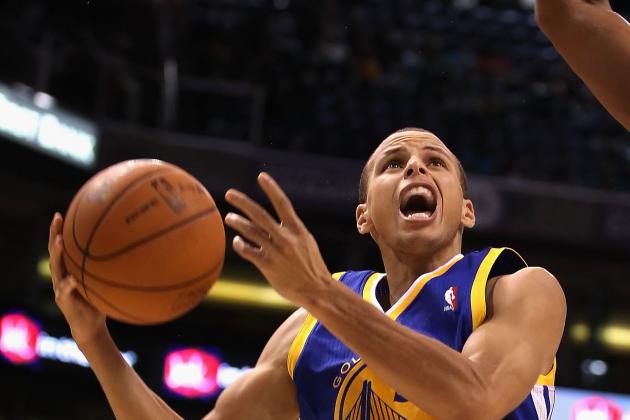 Christian Petersen/Getty Images

PG: Stephen Curry, Jarrett Jack, Charles Jenkins
SG: Klay Thompson
SF: Harrison Barnes, Richard Jefferson, Draymond Green, Brandon Rush?
PF: David Lee, Jeremy Tyler
C: Andrew Bogut, Festus Ezeli, Andris Biedrins
The fans in the Bay Area may finally be in for a treat after only making the playoffs once since the 1994-95 season. New ownership in the form of Joe Lacob and Peter Guber has started the difficult task of changing the culture in the Bay Area into a winning one.
Golden State had a rough go last year, with new coach Mark Jackson dubbing the Warriors as a playoff team at the beginning of the season. Instead, the Warriors limped to a 23-43 record and the faithful were hit hard when fan favorite Monta Ellis was dealt to the Milwaukee Bucks.
But the tank job at the end of the season landed them a starter and potential star in the seventh overall draft pick, Harrison Barnes. The Monta Ellis trade landed the Warriors a proven center—the missing piece of the puzzle for years in Oakland—in Andrew Bogut. Shooting guard Klay Thomspon developed into a strong guard as well.
David Lee is arguably the Warriors' most consistent player, usually good for a double-double a game.
The biggest question mark for the Warriors is health. Not just for Bogut, who has freak injuries, but especially for sweet-shooting point guard Stephen Curry, whose ankle seems to be made of glass. Curry played in just 26 games in the lockout-shortened season after dealing with ankle issues the previous year.
My prediction
Golden State could surprise a lot of people this year. This is a balanced team with solid depth. But there are too many other talented teams in the Western Conference, and Golden State will have to be at the top of its game in order to compete.
The instant that either Curry or Bogut goes down, the Warriors are in trouble. It'll be tough enough for them to make it with those two healthy anyway. Too much has to go right for them to make it. They're going in the right direction. But the playoffs is not in the cards for the Warriors this year.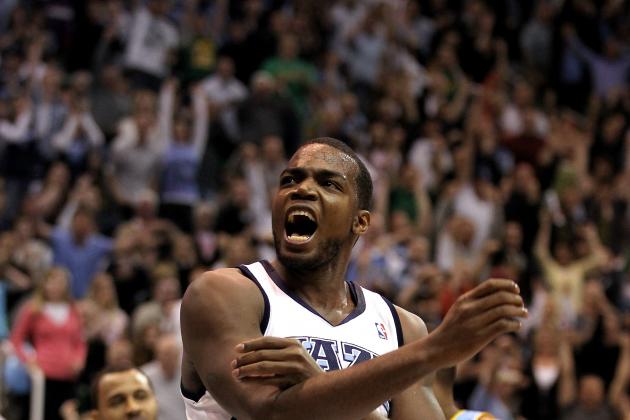 Ezra Shaw/Getty Images

PG: Mo Williams, Earl Watson
SG: Gordon Hayward, Alec Burks
SF: Marvin Williams, DeMarre Carroll
PF: Paul Millsap, Derrick Favors
C: Al Jefferson, Enes Kanter
The Utah Jazz had a nice season last year, closing out the year strong and capturing the eighth and final playoff spot.
The Jazz did a nice job this offseason of replacing Devin Harris with a capable point guard in Mo Williams. Williams is happy to leave to the Clippers and should be a nice field general for the Jazz when he gets heavy minutes at the starting point guard position.
Gordon Hayward flew under the radar last season, but he's a solid player with a unique skill set in that he's a guy with good size who can play like he's small.
The Jazz also made a welcome addition by sliding Marvin Williams into the small forward spot.
The Jazz's bread and butter is their post game. They will power through teams this year with their bigs. The size and physicality of Paul Millsap, Derrick Favors, Al Jefferson and Enes Kanter will dictate play for the Jazz and win a lot of battles on the boards as well.
If the Jazz continue to dominate inside, while establishing a decent outside threat with Mo Williams, Hayward and Marvin Williams, they'll be set.
My prediction
The Jazz captured a playoff spot last year by dominating in the paint. They did so without much of an outside game. The addition of Mo Williams should give them that extra spark needed to maintain their spot in the standings.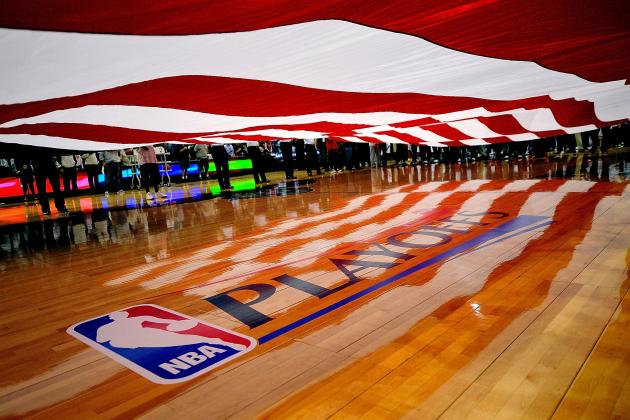 Grant Halverson/Getty Images

It's going to be a battle all the way to the end for the final three playoff spots in the Western Conference.
I think the Mavericks and the Nuggets are talented enough to make the cut and possibly go deep into the playoffs. The Utah Jazz have a nice acquisition in Mo Williams to run the point and they've kept most of the roster intact from last season. For that reason, the Jazz should have enough to take the last spot.
If Houston can complete a Dwight Howard trade, they'll be in the mix to make a good playoff run. Golden State has a solid all-around roster, but health issues and tough competition will be too much to overcome.
Here's my early top eight for the Western Conference in the coming season:
1. Oklahoma City Thunder
2. Los Angeles Lakers
3. San Antonio Spurs
4. L.A. Clippers
5. Memphis Grizzlies
6. Denver Nuggets
7. Dallas Mavericks
8. Utah Jazz
Be sure to leave comments and let your voice be heard!
Do you agree with my assessment? If you got something, tell me what you liked or what I missed.