UFC 149 Results: Breaking Down the Fight Night Bonuses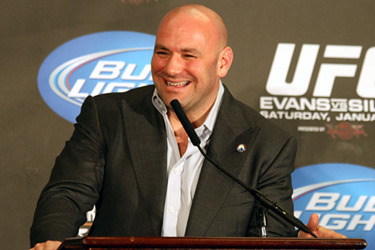 Courtesy of MMAjunkie.com
UFC 149 has come and gone, and once again, Dana White has rewarded the night's top accomplishments with a big-time payday.
Fighters lucky enough to receive the awards took home $65,000 each. This time around, the standard awards were given out for Fight of the Night, Submission of the Night and Knockout of the Night.
Here is a look at the UFC 149 fight night bonuses.
Begin Slideshow

»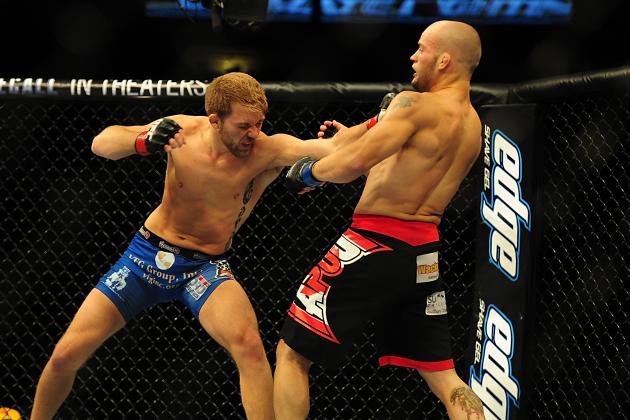 Anne-Marie Sorvin-US PRESSWIRE

There were some stinkers on the main card of UFC 149 tonight. The most notable of which was Cheick Kongo vs Shawn Jordan's battle of who could hold each other against the cage longest.
Thankfully, the undercard delivered some excellent action, with a fun contest between bantamweights Brian Caraway and Mitch Gagnon taking home the night's award.
The fight kicked off the UFC on FX preliminary show in style with a fight that saw Gagnon's six-fight winning streak snapped. Late in the third round, Caraway was finally able to secure a rear-naked choke that had eluded him for much of the contest.
The bantamweight collision beat out an entertaining battle between Matt Riddle and Chris Clements for the top honors.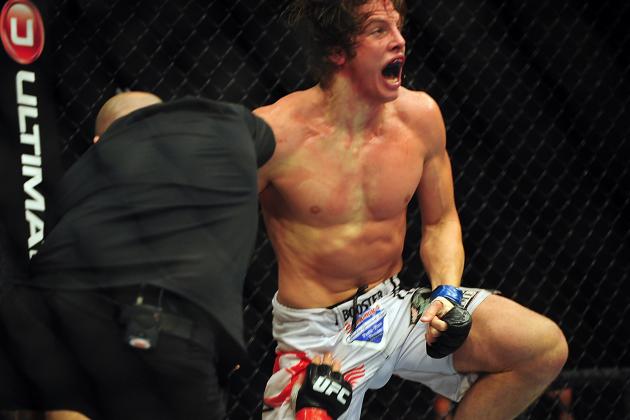 Anne-Marie Sorvin-US PRESSWIRE

In the first fight on the main card, Ultimate Fighter contestant Matt Riddle ducked a spinning back fist from Chris Clements that left him in position to grab a standing arm triangle. With the choke already in, Riddle tripped his opponent to the mat and secured the choke in the third round.
That choke topped Brian Caraway's rear-naked choke over Mitch Gagnon from the prelims to win the the night's top prize, as the only submissions of the night.
Anne-Marie Sorvin-US PRESSWIRE

The Facebook preliminaries hosted an exciting bout in the featherweight division between Antonio Carvalho and Daniel Pineda. After a head kick hurt Pineda early, it was impossible to keep your eyes off of the screen.
Carvalho caught Pineda with a right hand as his opponent was moving forward, and it rocked his opponent badly. Following it up with two more bombs, the fight was stopped only 71 seconds into the very first round.
Additionally, Francisco Rivera knocked out Roland Delorme with perfect technique. The stellar knockout saw Rivera step out of the way of a right hook and connect with a short left. After his opponent was buckled, another two right hands ended the fight.
Ultimately, Ryan Jimmo's seven second knockout over Anthony Perosh would get the $65,000 bonus. Jimmo overwhelmed Perosh with a big hook that sent the Aussie to the canvas. One punch on the ground (which was completely unnecessary) was enough to get Josh Rosenthal to stop the fight.
The UFC incorrectly listed as tying the record for fastest knockout in UFC history. The fastest in history sits at 6 seconds and is held by Duane "Bang" Ludwig.