Aston Villa vs. Chicago Fire: Live Score, Analysis, Recap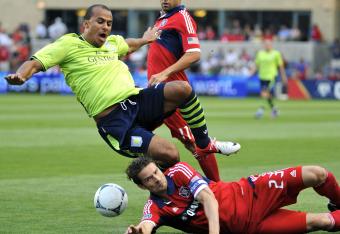 The Chicago Fire face off tonight against Aston Villa in an international friendly here at Toyota Park in Chicago.
The Fire are looking to build on the success of last year's international matchup against Manchester United. Chicago lost the game 3-1 but held a 1-0 lead on the Red Devils for the majority of the game and frankly should have scored at least three more times for the upset win.
Speaking of international players/teams that typically dwarf the Fire in terms of excitement, Chicago is coming off a heartbreaking 1-0 loss to the New York Red Bulls on Wednesday. Thierry Henry scored what is surely the goal of the season in the MLS and what might be the goal of the year in World Football.
No blame can be laid on the Fire for the loss as Henry connected on an extremely low-percentage shot. The hot New York weather slowed down the Fire and after two days' rest they look to surge back against an Aston Villa club that is coming off a dismal EPL season in which they finished 16th.
We're coming to you live from the stadium and we'll keep you updated on all the latest action in tonight's showdown.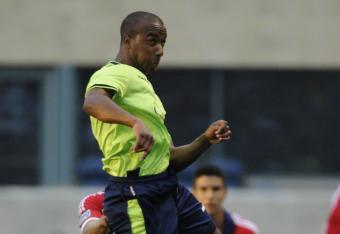 90'+
The game ends after Samir Carruthers and Nathan Delfouneso receive errant yellow cards in the final minute.
The Fire got what turned out to be one of their best opportunities at the goal when a reflection left Jalil Anibaba with a bad-angle shot on goal. He did the best he could with hit, nailing a low-liner right at the keeper. Had the Fire given themselves several of those opportunities during the game, one of them would have found the back of the net.
Game over, Aston Villa beats the Chicago Fire here at Toyota Park in Chicago.
Thanks for joining us folks! I'll be publishing a follow-up with some in-depth analysis of the differences between American and English football as they currently stand.
3 minutes of stoppage time added here. In what has been a very uneventful match, the Fire will look to create some excitement in the final minutes.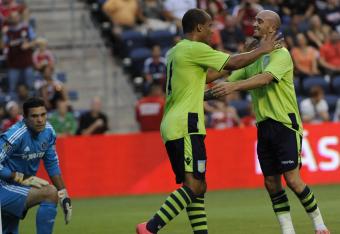 88'
With time running out, it seems like every time the Fire have a decent shot at getting a look at the goal, they either give it away or Aston Villa dominates them defensively.
Corner kick for Chicago. This is crucial for the Fire as Anibaba and the back line come racing into the penalty box.
No good. The Fire get a throw in on the opposite side of the field but spoil that opportunity as well.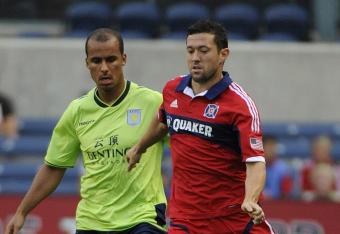 81'
Michael Videira has played a wonderful second half for Chicago. He has been all over the field, controlled the ball and helped give Chicago plenty of opportunities. He just sent a ball sailing past the far post but his shot was nearly on frame. That's a start.
Aston Villa is for the most part playing suffocating defense against the Fire. their offensive players simply can't cut it against the speed and agility of these EPL cream puffs (to borrow an American college football term).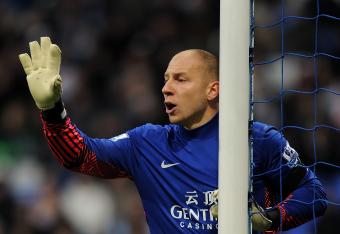 79'
Brad Guzan finally enters the match at GK for Shay Given. The crowd gives Guzan a big applause as he also used to play for the Chicago DPL team.
Meanwhile, the Fire squander another opportunity at a free kick from 40 yards out.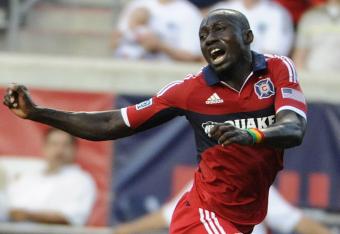 72'
Oduro and Nyarko have had little chance to make a difference up top since Chicago's midfield continues to struggle against El Ahmadi and the Villa midfield. They're stringing passes together very well once they get a chance, however.
Section 8 is going mental (no pun intended) right now. They've been dancing, playing their drums and partying to the hilarious trumpet that they have back there for a solid 20 minutes now. Gotta love Chicago and their sports fans.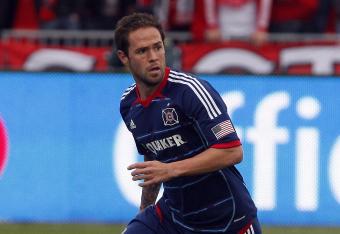 68'
Paladini leaves for Gonzalo Segares for Chicago. They've made several subs, as have Aston Villa.
Stephan Ireland also comes off for Aston Villa. The rest of the way should be a much more even match.
The announced attendance at tonight's game? 16, 388. There are many, many MLB and NBA teams that don't get that many fans. More on that later.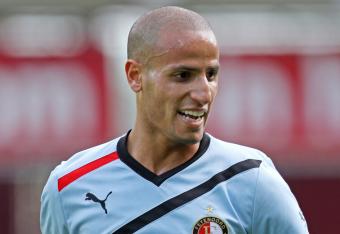 66'
As I'm making fun of Aston Villa for not putting their best lineup on the field, an Aston Villa player (identity concealed from my view) gets taken off on a stretcher. Ireland are standing at midfield, shaking their heads. I look like an idiot. Hopefully he's ok.
Agbonlahor comes off for El Ahmadi, which should spruce up their midfield considerably.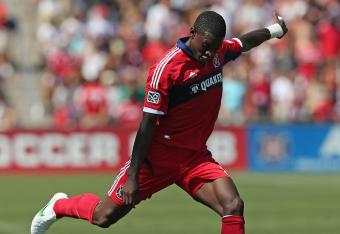 59'
Jalil Anibaba gets a decent chance for a header off a corner but it sails wide and off the pitch after an Aston Villa deflection. Aston Villa doesn't seem fazed as the Fire prepare for another corner.
62'
Patrick Nyarko comes in for Marco Pappa. Dominic Oduro has come in for Orr Barouch. Nyarko and Oduro are both extremely fast and have the opportunity to make some noise up top. The field is starting to look a little more like the standard Fire team that we've seen all season.
Still in offseason mode (but controlling the heck out of the ball). Aston Villa keeps many of their starters on the bench.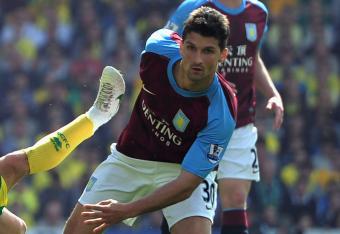 56'
Sub for Aston Villa: Eric Lichaj (used to play for Fire DPL) comes off in favor of Stephen Warnock.
Ciaran Clark replaces in for Nathan Baker in the back as well.
Looks like Aston Villa is going super lax on defense as they haven't been tested in the least by the Fire as of yet.
50'
Despite a dangerous pass in the front of their own goal, the Fire survive an Aston Villa attack. Their subs have helped in controlling the ball and Robayo is taking charge more than anyon on the pitch thus far. Despite his yellow, Paladini is doing the same.
Another near opportunity for Aston Villa as Ireland's cross goes to the wrong post and Chicago escapes once again.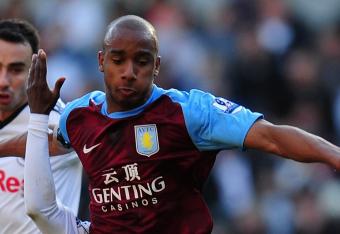 48'
Aston Villa sub: Matthew Lowton enters as well as James Collins on defense.
Fire: GK Paolo Tornahgi comes in for Jay Nolly and defender Jalil Anibaba replaces Austin Berry.
Almost immediately, Aston Villa MF Fabian Delph gets a yellow card.
A minute later, Daniel Paladini joins the action for Chicago and gets a yellow card of his own. He tried to walk away from the ref and the official had to summon him like an angry Mother screaming at her child. That's kind of what this game feels like anyways!
Halftime stats
Shots: Fire 2, Aston Villa 10 (Yes, that is a great disparity even for B teams)
Shots on goal: Fire 0, Aston Villa 3
Saves: Fire 2, Aston Villa 0 (See? Given is ridiculously bored!)
Corner Kicks: Fire 1, Aston Villa 3
Fouls: Fire 6, Aston Villa 7 (no cards given)
Offsides: Fire 2, Aston Villa 0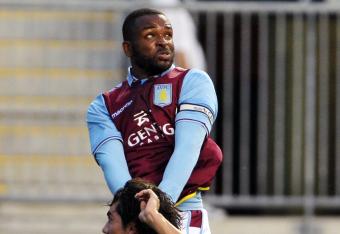 Halftime
As we look back at the first half, Aston Villa controlled the ball in dominant fashion and took the Fire second line for a thrill ride all over the field.
Unfortunately for both teams, it's difficult to tell how seriously either team is taking this contest.
Aston Villa is trying desperately to come back from a terrible season last year in the EPL in which they finished 16th. New manager Paul Lambert has come into Aston Villa in whirlwind fashion and re-signed GK Brad Guzan and added MF Karim El Ahmadi. They hope to capitalize on these signings and continue their run in the states before returning to England to compete against some of the best in the world.
Chicago is clearly taking a conservative approach when it comes to sitting their best players in favor of their upcoming match next weekend against the Earthquakes out in California.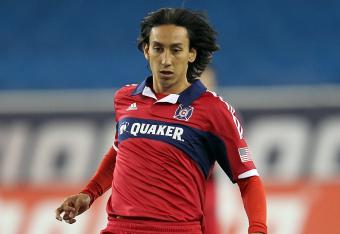 41'
We're inching towards the end of the first half and the Fire have been nothing short of anemic on offense. Aston Villa is taking advantage of their opportunities in the midfield and picking apart the Fire's defense.
Rafael Robayo does his best Roberto Baggio impression and clears a shot over the goal from 20 yards out. Sadly, that has been Chicago's best opportunity so far.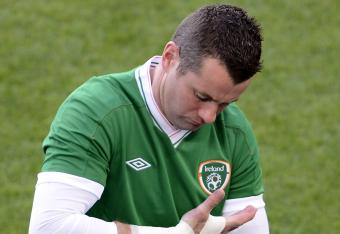 35'
I just realized that Aston Villa GK Shay Given has been playing 25 yards off the goal line for the better part of 15 minutes. Ireland's national goalie messed around with Italy's Mario Balotelli before their huge matchup in the Eurocup recently. He must be bored out of mind after that excitement.
The Fire have absolutely no offensive presence, which is much the way they've played the last two seasons.
On a corner kick from Gary Gardner, Villa gets another great header that sails over the goal. Defender Richard Dunne flew down the field and had a good chance.
Still 1-0 Aston Villa here in Chicago.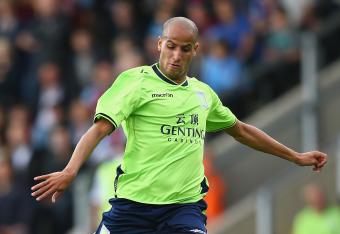 32'
The Fire have battled marking problems all season and they were just exposed once again. Their marking system seems to be off and they'll need to clean up their act as they look forward during the season.
It's important again to remark that the Fire has just three regular starters on the field. Then again, Aston Villa is without Paul Lambert's newest signee, Karim El Ahmadi in the midfield. "The Moroccan Magician" would likely be terrorizing this depleted defense.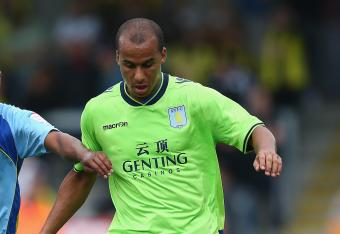 28'
GOAL!! Agbonlahor converts on Chris Herd's gorgeous cross. Herd came all the way down the field and ate up two Chicago midfielders to pull off the Beckham-like cross. Agbonlahor's header went straight past Nolly. He basically had no chance.
Just like that, Aston Villa leads one nil.
The Fire get a decent header opportunity on a can't smell the net.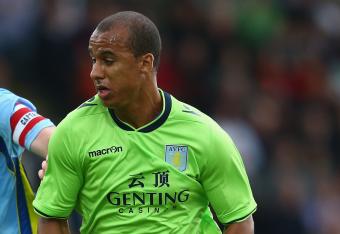 25'
Aston Villa with another solid opportunity in the front. Striker Gabriel Agbonlahor dribbles two Fire defenders and gets a clean look at the goal.
Backup Fire keeper Jay Nolly makes a great diving save to his right and punches it out. Aston Villa fails to convert on the ensuing corner kick.
The Fire are playing on their toes and are largely failing to gain possession in the midfield. For Fire fans, Nolly has been far too active in the first quarter of the game.
Aston Villa continues to relish their opportunities and will keep getting good looks if the Fire can't control the ball in the middle.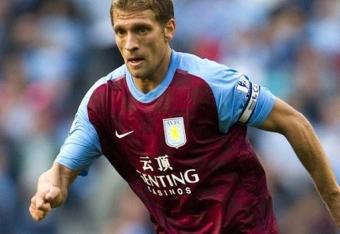 19'
Chicago fans stand in solidarity behind Aston Villa skipper Stiliyan Petrov, who is currently battling leukemia. Emotional moment for No. 19, even across the pond in America.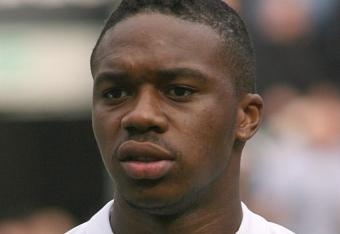 The Villans are energized after Ireland's chance across the middle and they get yet another opportunity in the front from N'Zogbia. They're knocking on the door and the Fire are playing their typical brand of football: ground and pound while keeping the other team away from the back of the net.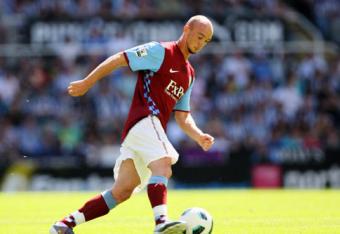 10'
Fire MF Alex and Aston Villa MF Stephan Ireland are battling it out in the middle of the field for complete control of this contest.
Both teams are fielding squads that consist of less than half of their starters. Marco Pappa, Arne Friedrich and Austin Berry are Chicago's only regular starters that are on the pitch as of now.
And Stephan Ireland with a lovely chance in the middle! He misses wide on a great cross.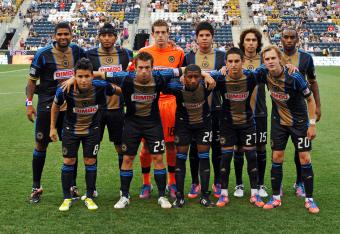 3'
Fire MF Arne Friedrich commits a foul right outside the 18-yard-box and AV gets a nice shot at the goal for a free kick. Charles N'Zogbia takes the kick and can't get through what looked to be a porous Fire defense.
Only a few minutes into the game and the stereotype of the EPL vs. MLS playing styles seems to be holding relatively true. Aston Villa is controlling the ball and take charge of the game while the Fire are putting through balls to their forwards unsuccessfully.
Fire fans undoubtedly would like to see Chicago string together a few more passes before playing bang ball.
Advantage Villans early.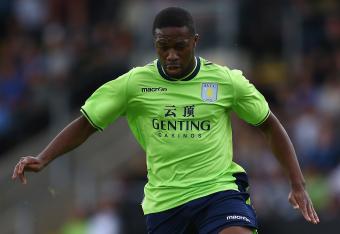 Section 8, the Fire's loud cheering section on the North end (named after mentally unfit military members originating from the team's original home field at Solider Field) has emerged and is making more noise than anyone. They even cut into the National Anthem a little bit. They're no Timbers Army but this place is FULL of energy as both teams take the field.
Fire in home red, Aston Villa wearing a neon green international kit.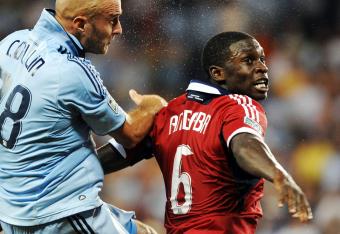 Ten minutes to game time and I'm sweating bullets. It's 81 degrees Farenheit (27 C for those of you who don't have the pleasure of the Metric system) AND it's 61% humid. The Fire surely appreciate this as it was over 100 degrees in New York on Wednesday.
This article is
What is the duplicate article?
Why is this article offensive?
Where is this article plagiarized from?
Why is this article poorly edited?