Faber vs Barao: Each Fighter's Defining MMA Moment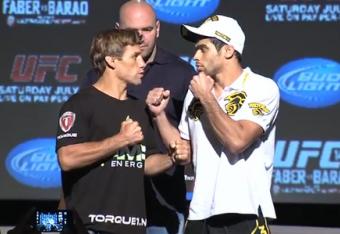 Photo by mmamania.com

The main event of UFC 149 will be contested by Renan Barao and Urijah Faber to determine the promotion's new interim bantamweight champion.
Barao enters the bout on the strength of 28 consecutive wins, a feat so uncommon even MMA's elite rarely make it half way there. Faber has won three of his last four fights, most recently submitting Brian Bowles back at UFC 139.
To honor the contestants that will strive for UFC gold Saturday, July 21, we take a look back at the defining moment of each fighter's MMA career.
Urijah Faber's defining MMA moment - Urijah Faber defeats Dominick Cruz at WEC 26 to retain his WEC featherweight championship title
If we take a retrospective approach to defining Faber's career by a singular moment, that moment has to be his first round submission victory over current UFC bantamweight champion Dominick Cruz.
The victory came March 24, 2007, and was Faber's second title defense. It stands as the defining moment of his career for several reasons.
First, to this day Cruz has become the most accomplished mixed martial artist Faber holds a win over. Arguments could be made for Jens Pulver, but a stronger case can be made for Cruz.
Secondly, out of that fight grew the biggest rivalry Faber has been a part of in his career. He and Cruz have traded verbal jabs, coached opposite one another on The Ultimate Fighter and have shared in a UFC title fight since. And chances are, the rivalry will eventually produce a third contest.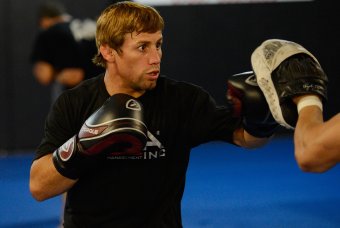 Faber prepares for his upcoming match against Barao
Thearon W. Henderson/Getty Images
Third, that fight was about the time Faber started gaining status as an MMA icon. The WEC was getting on the map, and Faber was its poster boy. Though it's difficult to pinpoint the exact moment Faber's star ascended, it was certainly near that time, and the dominant win can be said to have played a role.
Fourth, the win came during the peak of Faber's dominance. It was his 10th win in a row, second title defense and the precursor to three more.
While Faber's career is not lacking for highlight wins, important fights and iconic moments, his victory over Dominick Cruz at WEC 26 stands out from all the rest.
Renan Barao's defining MMA moment - Renan Barao defeats Brad Pickett at UFC 138
Defining Barao's career with a single moment is even trickier than doing so with Faber's, because Barao has not held the limelight quite so long.
But even so, Barao's submission win over Brad Pickett at UFC 138 stands as the most important and influential moment of his time as a mixed martial artist.
First, it was the 27th consecutive time that Barao had his hand raised. No small accomplishment. After that win he defeated Scott Jorgensen to run the total to 28.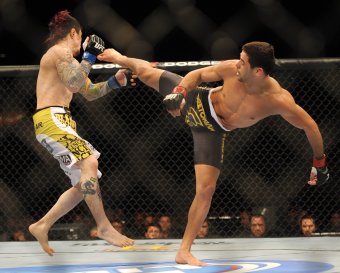 After defeating Brad Pickett, Barao parlayed a win over Scott Jorgensen into a title shot
Kelvin Kuo-US PRESSWIRE
Secondly, the win signified Barao's first stoppage in the UFC.
Third, though he won by rear-naked choke, Barao dominated Pickett on the feet. In fact, the choke was set up by a right hand that dropped Pickett—who was unable to recover—and wearily conceded to the submission.
At that time, Barao had just one UFC fight under his hat and was being billed as a submission specialist. That he outstruck Pickett—widely regarded as a strong standup fighter—changed people's perception of the Brazilian from submission ace to all-out destroyer.
Fourth, The performance really put Barao on the map as a legitimate threat in the 135 pound division. He was given a fight against former top contender Scott Jorgensen for his win over Pickett and used that contest to propel himself into a title fight. Namely the one against Urijah Faber at UFC 149.
Barao's defeat of Brad Pickett is the defining moment of his career to this point.
Of course, all that changes if he is able to best Faber in tonight's main event.
This article is
What is the duplicate article?
Why is this article offensive?
Where is this article plagiarized from?
Why is this article poorly edited?