Michael Phelps 2012 Olympics: Event Schedule, Results, Highlights & More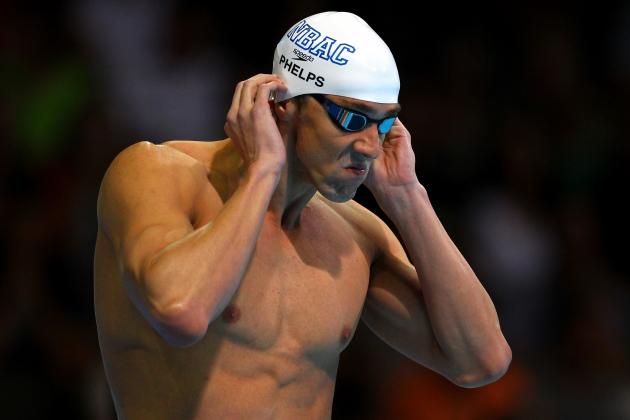 Al Bello/Getty Images

Michael Phelps would break his neck if he tried to wear all of his Olympic medals at once.
He earned eight (six gold, two bronze) at the 2004 Athens Games and then eight golds in Beijing four years later.
Now, the greatest swimmer and Olympian of all time is in the pool and hunting for a mere seven medals in these London
Olympics
.
"The Baltimore Bullet" has made headlines both in and out of the pool during his time in the spotlight, and his rivalry with fellow American Ryan Lochte is a must-see attraction as the two swimming superstars battle it out in British waters.
Bookmark this page right now, as it will serve as a Phelps hub that you can refer to continually as his London journey progresses. Background information, important links, results and analysis are available right here.
Begin Slideshow

»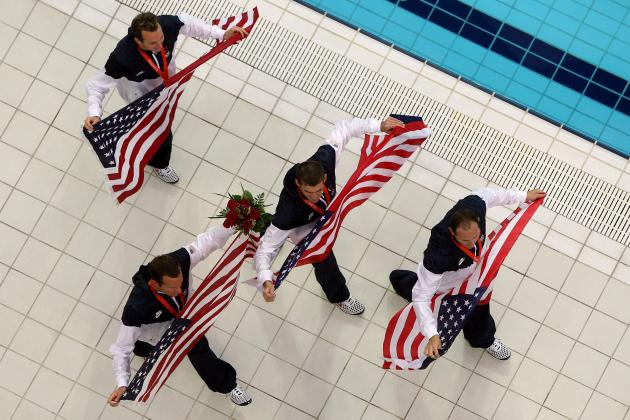 Ezra Shaw/Getty Images

Michael Phelps' final Olympic race was pure gold.
He and his team pulled off a magnificent finale, beating Japan by almost two seconds.
It didn't look to be going well, though, after two legs. Brendan Hansen gave up the lead and the team trailed as Phelps entered the water for his butterfly portion of the medley.
Then, Phelps did what he has been doing his entire career and pulled away from the pack on the back stretch of his swim, giving his team the lead for good.
Nathan Adrian's freestyle was the icing on the cake, and Phelps earned his 18th career gold medal. He's now won twice as many gold medals as any Olympian in modern history, and he'll live on forever as the greatest Olympian of all time.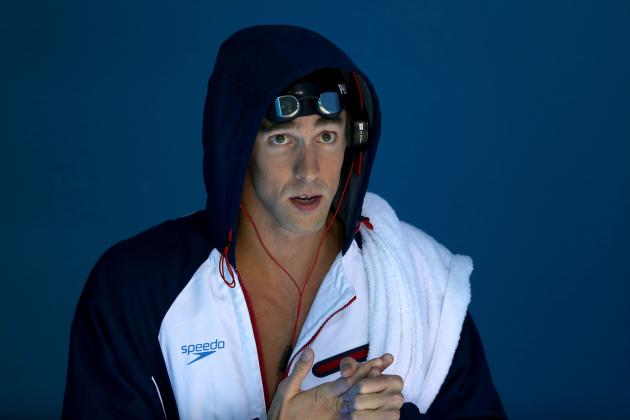 Clive Rose/Getty Images

Michael Phelps is the greatest Olympian ever, but his individual events at the 2012 London Summer Olympics are done.
He does have one race left in him, though.
Saturday, Aug. 4 at 3:27 p.m. ET (4x100-Meter Medley Relay Final)
In what's expected to be his final race, Phelps will be the butterfly leg of the men's 4x100 medley relay.
And according to Julian linden of Reuters:
In addition to the incomparable Phelps, who will swim the butterfly leg, the U.S. team for the final will include Matt Grevers, who won gold in the 100 backstroke, Nathan Adrian, who won gold in the 100 freestyle and Brendan Hansen, bronze medalist in the 100 breaststroke.
What a team the U.S. has set up for this relay and tell the world record to watch out.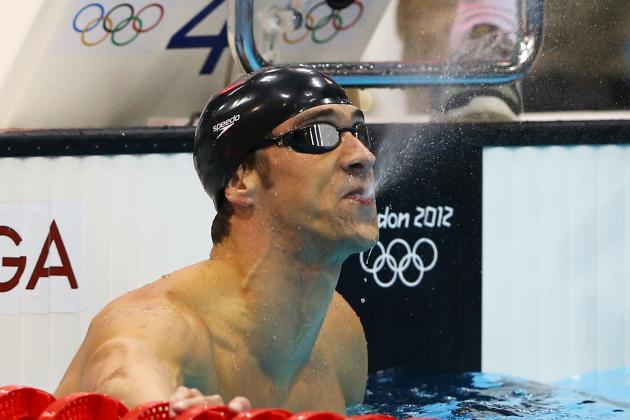 Al Bello/Getty Images

Michael Phelps raced what he claims will be the final individual swim of his career. The 100-meter butterfly gave him another chance at South Africa's Chad le Clos.
Phelps may hang up the goggles for good, but the pull of winning the same individual event for the fourth time could get him to train for an event or three in Rio.
Phelps was behind the leaders at the 75-meter mark and was in jeopardy to not medal after a rough start. He made an amazing surge over the final 20 meters, though,
He took the gold medal, and in convincing fashion.
This is the second three-peat for Phelps, a mark no other male swimmer has achieved in individual races.
The race for gold ended up not nearly as close as the 200 fly...at least not for gold.
Le Clos wasn't able to repeat his gold-medal-winning form and ended up 0.23 seconds behind Phelps. He was tied with Evgeny Korotyshkin of Russia.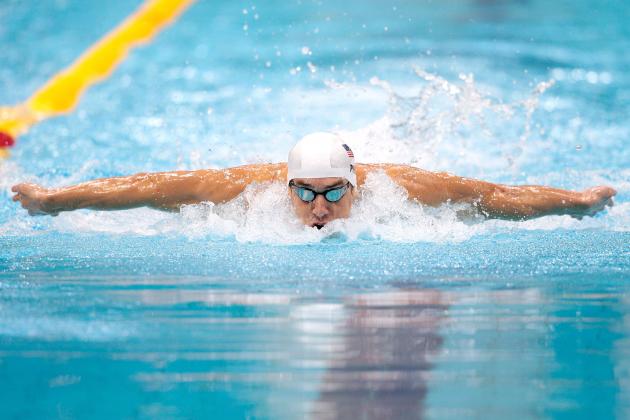 Adam Pretty/Getty Images

As expected, Michael Phelps won his heat of the men's 100-meter butterfly semifinals with a time of 50.86 seconds.
Only 0.02 seconds off the Olympic record, Phelps has set himself up emphatically well to contend his world record of 49.82. Additionally, his time held up and he leads going into final.
With 20 Olympic medals to his credit, Phelps goes for 21 in the 21st century and a 17th gold. No matter what the result, though, Phelps has nothing to prove (thus, no pressure) and another medal would only display how completely dominant his entire career has been.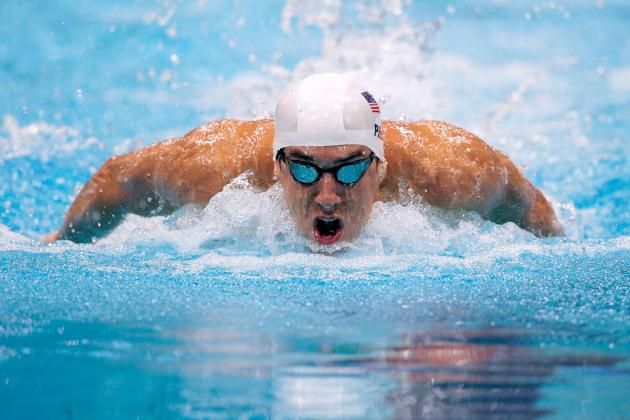 Adam Pretty/Getty Images

Not far off the 200-meter individual medley world record was Michael Phelps with a time of 1 minute and 54.27 seconds.
The man won the event over rival teammate Ryan Lochte (who took silver) and now has a 20th Olympic medal. Even more impressively this was Phelps' 16th gold.
From a closure perspective, the 200 medley gold was the most important race for Phelps in London. He had not won an individual event until this one, so taking first simply gives his fourth Olympics a stronger feeling of satisfaction.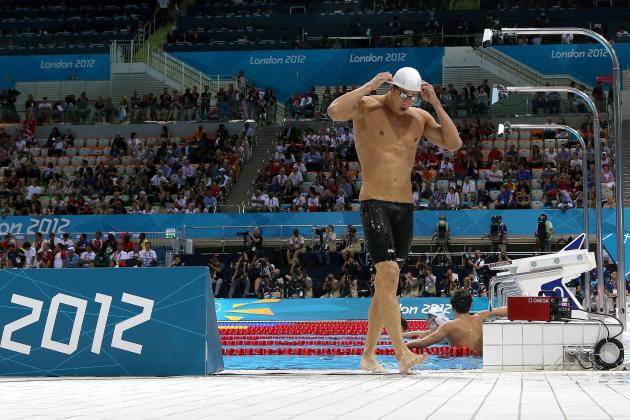 Clive Rose/Getty Images

In his last heat race ever, Michael Phelps made things a little interesting.
In the opening race for the 100-meter butterfly, Phelps went from last to first to win his heat. Phelps hit the wall in eighth place only to track down Serbia's Milorad Cavic and beat him by .18.
The finish was a little bit reminiscent of the Beijing 200 fly final where Phelps famously out-touched Cavic to steal gold at the last millisecond.
The best time of the morning, though, belonged to the man who turned the tables on Phelps to win gold in the 200 fly just the other day, South Africa's Chad le Clos. He clocked in at 51.54 while Phelps (51.72) finished second.
The semifinals take place today at 3:56pm ET.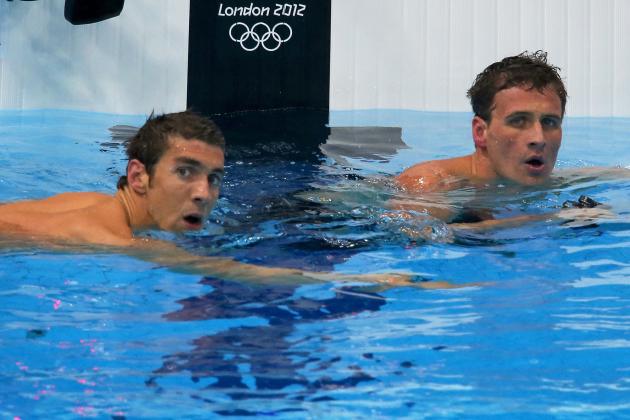 Alexander Hassenstein/Getty Images

Michael Phelps and Ryan Lochte were given another opportunity to go head-to-head in the water today. They competed in Heat 1 of the semifinals of the 200-meter individual medley.
Lochte won going away in the final leg, beating Phelps by almost a full second.
There was no reason for either swimmer to give a hard push, as they both were well ahead of the field. The goal is to qualify for the finals, preferably in a middle lane, while conserving a bit of energy for tomorrow's finals.
Phlps did just that and will swim next to Lochte in the finals.
Laszlo Cseh will also challenge them for a medal.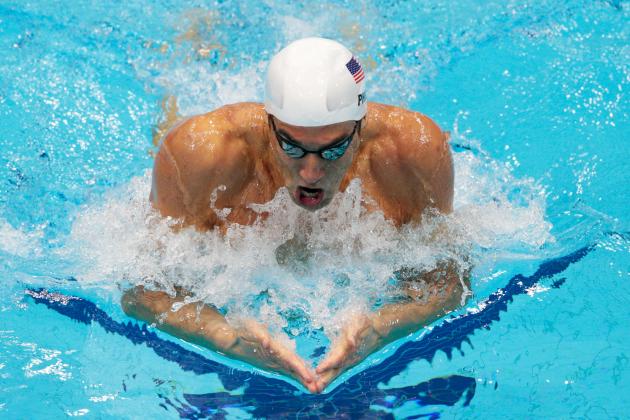 Adam Pretty/Getty Images

Thursday morning's swim session saw Michael Phelps qualify for the 200-meter individual medley semi-finals in a time of 1:58.24.
Although it's not one of his best efforts, he still easily qualified and will only get better as the competition goes on.
The semi-final field includes men like Chad le Clos, Laszlo Cseh and, of course, Ryan Lochte.
Although I think Phelps will add another medal to his record-setting haul, I don't think he'll be adding gold.
Saying that, I'd love to be wrong!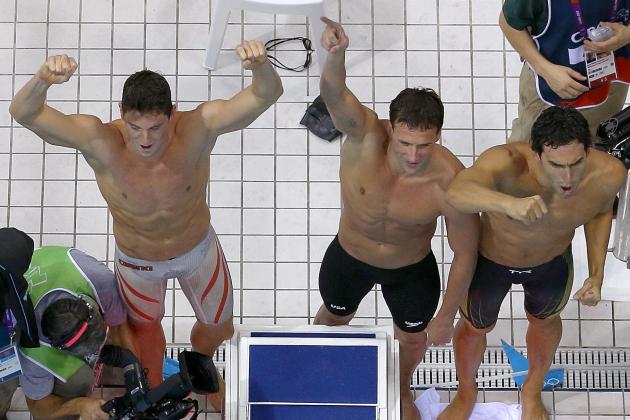 Richard Heathcote/Getty Images

After a disappointing showing in the 200-meter butterfly finals, Michael Phelps was not to be denied a gold medal in the 4x200 free relay.
It ended up being a historic win, his 19th medal ever, making him the all-time winningest Olympian in history. After winning what was also the 15th gold medal of his career, he hung onto the rope between lanes for just a second, as if he was contemplating what he just did and reflecting.
By the time Phelps got into the pool for the anchor leg of the relay, the race was already won. The United States had a massive lead on France, but Phelps jumped into the pool with vigor nonetheless.
He was angry after the 200 fly final; he still had something to prove.
Whatever that might have been, Phelps proved it. He swam his country's fastest split—1:44.05—on the way to a win by almost three seconds.
The United States won gold in 6 minutes, 59.7 seconds; France won silver in 7:02.77.
--Liviu Bird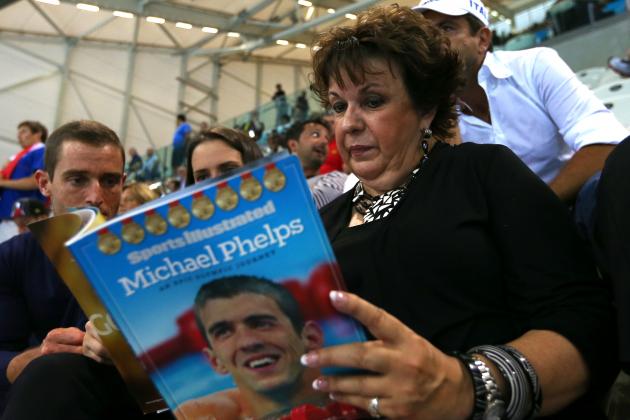 Ezra Shaw/Getty Images

Only a vital mistake at the wall kept Michael Phelps from winning his third gold medal in a row in the 200-meter butterfly on Tuesday at the 2012 Summer Olympics. He was strong throughout the race, leading at every turn, until the disastrous finish.
Phelps went out fast, but waited until the third 50 meters to really kick into gear. It was a classic Phelps race, the second half faster than the first.
He had a great underwater at the last turn, leading Chad Le Clos by a narrow margin all the way in the final length. It looked like this wouldn't just be his 18th Olympic medal ever—tying the record—but it would also be gold.
But at the wall, Phelps mistimed his touch, leaving just enough time and room for Le Clos to duck in and touch the wall first. It was an exciting end to a thrilling race, but Phelps would have that all back for a gold medal.
Phelps threw his cap in frustration after the race. He was out of the pool quickly, headed into the back area without a word to prepare for the 4x200 free relay.
--Liviu Bird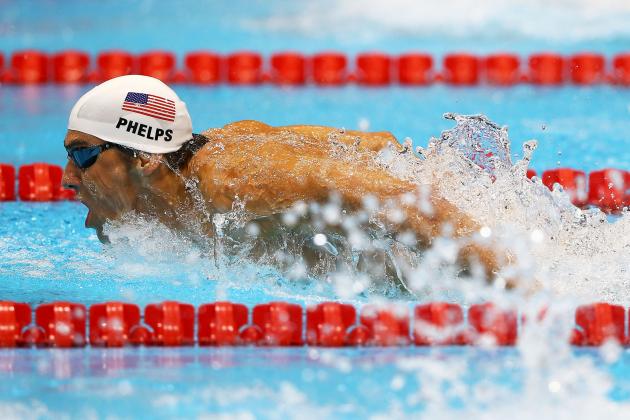 Al Bello/Getty Images

Phelps looked human over the first 350 meters of this event on Monday. He advanced out of the preliminaries with a decent swim, but appeared to struggle over the first 150 meters of his semifinal heat. There was no hard push in his fly, no firing out of the water, and he turned for the last 50 meters with three swimmers ahead of him.
Then he started to look like Michael Phelps again. While he still wasn't flying out of the water, he didn't need to. He swam hard enough to overtake the field and qualify for the finals with a first-place finish in his heat.
His time was good enough to earn the fourth-place spot in the finals, with teammate Tyler Clary just behind him.
In what appears to be his last Olympic Games, look for Phelps to climb out of the pool with a bit more pep that after the 400 IM, ready to be weighed down with another gold medal.
Phelps is the world-record holder and a two-time gold medallist in this event, and his experience will propel him over the youth he's competing against and put him in a tie for the most Olympic medals.
While Phelps has implied this will be his final Games, the opportunity to win the same event for the fourth-straight Olympics could be too much to ignore.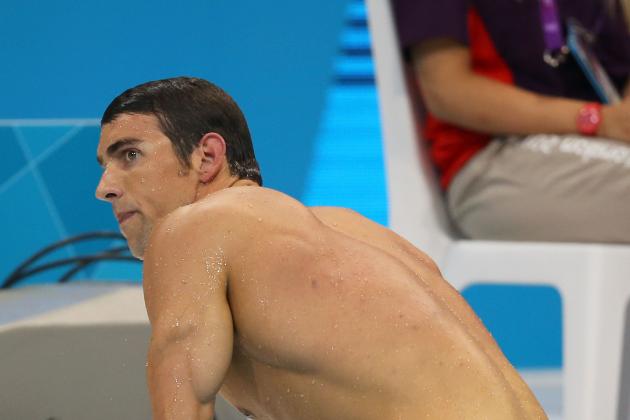 Clive Rose/Getty Images

Saturday was not a good start to Michael Phelps' Olympic swan song. After struggling to qualify for the 400m IM final, he failed to medal in an event he has dominated for nearly a decade.
Phelps, who owns the Olympic record in the race (4:03.84) settled for fourth place in a final owned by American rival Ryan Lochte.
Lochte blew away the competition with a finishing time of 4:05.18 to take gold. Phelps followed more than four seconds behind at 4:09.25.
It's the fifth consecutive Olympics in which an American has won the 400 IM event. For the first time since the 2000 Sydney games, Phelps wasn't the one standing on top of the podium.
Phelps was nearly left on the doorstep of the finals but managed to secure the eighth fastest time in the qualifying round, becoming the last swimmer to punch their ticket for the eight-man medal race.
Phelps needs to win three medals in London to become the most decorated Olympian in history. He missed one opportunity on Saturday and may need to rely on his American teammates to help his quest in relay competition.
Adam Pretty/Getty Images

Michael Phelps is back at it and came away with a victory in the fourth heat of the men's 400-meter individual medley.
Finishing with a time of 4:13.33, Phelps out done by rival Ryan Lochte but managed to qualify for the next round by swimming the eighth fastest time.
It was a rocky start, however, Phelps will only improve as the competition heats up.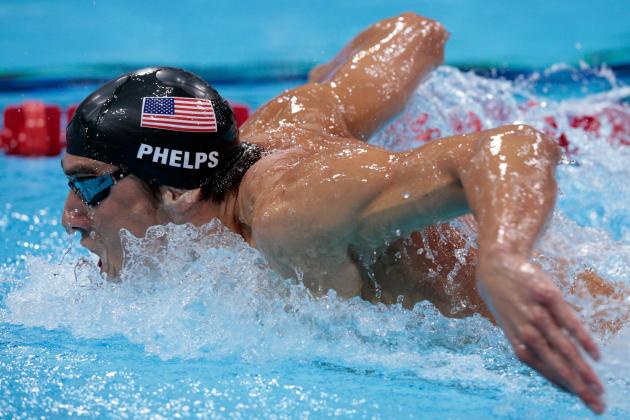 Adam Pretty/Getty Images

Wednesday, August 1
200-meter Individual Medley (Preliminary Heat and Semifinal—6:14 a.m. and 2:36 p.m.)
After he seemed to lack the conditioning to make a run at the podium in the 400 IM, Phelps has shown signs of being the swimmer to beat. He will breeze through the preliminaries and look for redemption in the shorter IM.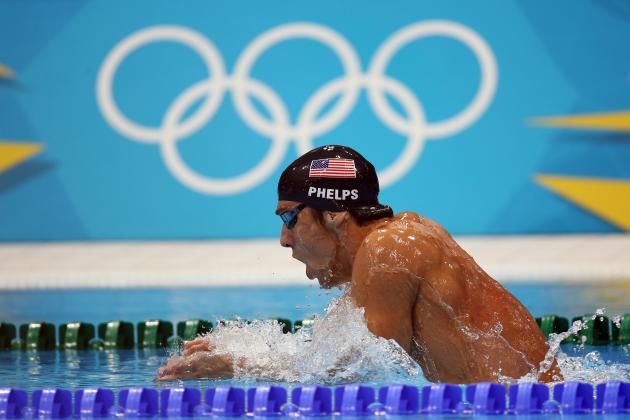 Clive Rose/Getty Images

Although the race was not nearly as thrilling as the 2008 4x100-freestyle relay, it still came down to a tight finish between France and America.
Phelps kept the American lead in his leg, which eased any concerns that he shouldn't compete after his demise in the 400 IM.
The second place finish marked Phelps first-ever silver medal. He now has 17 total medals. He's one away from tying Russia's Larissa Latynina for the all time record.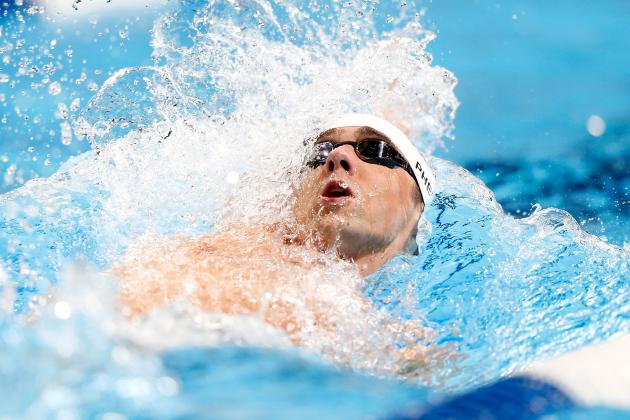 Jamie Squire/Getty Images

* All times EDT
Saturday, July 28
400-meter Individual Medley (Preliminary Heat and Event Final—5:00 a.m. and 2:30 p.m.)
Sunday, July 29
4 x 100-meter Freestyle Relay (Event Final—3:54 p.m.)
Monday, July 30
200-meter Butterfly (Preliminary Heat and Semifinal—5:25 a.m. and 3:30 p.m.)
Tuesday, July 31
200-meter Butterfly (Event Final—2:47 p.m.)
4 x 200-meter Freestyle Relay (Event Final—3:47 p.m.)
Wednesday, August 1
200-meter Individual Medley (Preliminary Heat and Semifinal—6:14 a.m. and 2:36 p.m.)
Thursday, August 2
200-meter Individual Medley (Event Final—3:16 p.m.)
100-meter Butterfly (Preliminary Heat and Semifinal—(6:21 a.m. and 3:51 p.m.)
Friday, August 3
100-meter Butterfly (Event Final—2:38 p.m.)
Saturday, August 4
4 x 100-meter Medley Relay (Event Final—3:27 p.m.)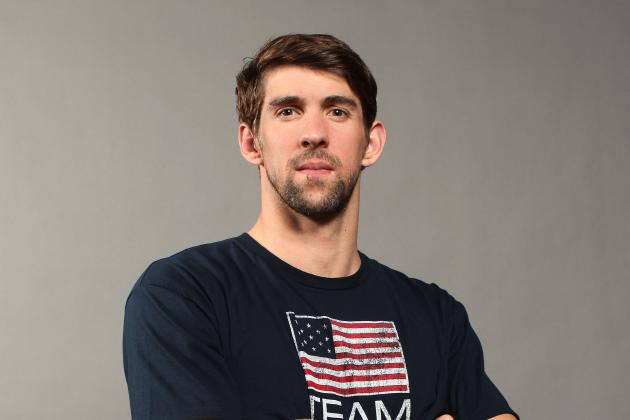 Nick Laham/Getty Images

Born: June 30, 1985 (Baltimore, MD)
Currently resides in: Baltimore, MD
Twitter: @MichaelPhelps (Fairly active)
- 6 x World Swimmer of the Year
- Named 2008 Sports Illustrated Sportsman of the Year after winning eight gold medals in Beijing Olympics
- Attended University of Michigan
- Diagnosed with ADHD in 6th grade
- Broke his first world record at age 15
- Enetered London Olympics with 16 career Olympic medals — six gold and two bronze in Athens 2004, eight gold in Beijing 2008
- Won four golds, three silver and one bronze medal at 2001 Shanghai World Championships
- World Records entering 2012 Olympics: 400 IM (4:04.84). 4x100 freestyle relay (3:08.24), 200-meter butterfly (1:51.51), 4x200 freestyle relay (6:58.55), 100-meter butterfly (0:49.82), 4x100 medley relay (3:27.28), 4x100 freestyle relay short course (3:03.30)
Links to learn more:
- Day-by-Day Schedule and Predictions for London 2012