NBA Free Agency 2012: Predicting Landing Spots for Top 6 Remaining FAs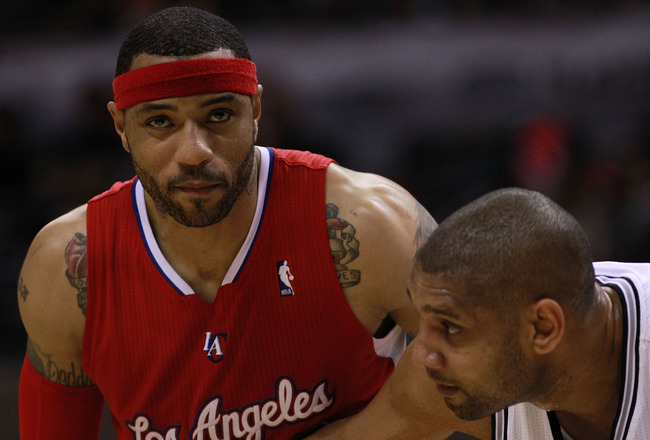 Ronald Martinez/Getty Images
While the elite players in this year's free-agent class have already signed with various teams across the league, many solid rotation players remain unsigned.
Players that come off the bench are often overlooked, but that is a mistake. A solid contributor who can help their team maintain an efficient level of play when the starters rest should not be dismissed as unimportant.
It is often on a team's substitutes to maintain the momentum given to them by the starters over the course of game.
When the going gets tough, the deeper team tends to emerge from the scrum with the victory. Look at the San Antonio Spurs for example, as they had 10 players average at least nine points per game last season.
Although the Spurs didn't win the NBA title, they appeared to be the best team in the league entering their series with the Oklahoma City Thunder partially because of their depth.
Simply put, squads that get consistent production from their bench tend to make the playoffs far more than teams that do not.
Leandro Barbosa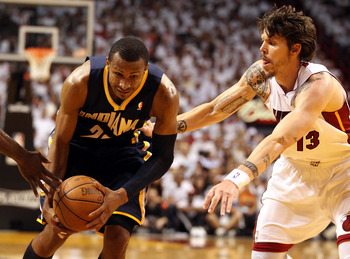 Marc Serota/Getty Images
Leandro Barbosa is the most explosive offensive player still on the market. Although he won't start for the team that he eventually signs with, Barbosa will be a spark plug off the bench.
He employs a solid mid-range game and has the quickness that it takes to get the ball to the basket. Barbosa is a perfect fit for a team that lacks offensive firepower off the bench and needs a player who can keep their team in games when their starters are resting.
Prior to being traded to the Indiana Pacers in the middle of last season, Barbosa averaged 12.2 points on 43.6 percent shooting in just 22.5 minutes per game off the bench.
For everything that Barbosa brings on offense, it can be argued that he takes away just as much on the defensive end. Barbosa's size is a liability there, as he is just 6'3" and 194 pounds and has a hard time defending players that are stronger than him.
According to Hoopshype, the Portland Trail Blazers do not have interest in bringing in Barbosa to replace Jamal Crawford, who left for the Los Angeles Clippers earlier this offseason. If that is true, one of Barbosa's likely landing spots will have to be crossed off the board.
Another potential destination went up in smoke when the Dallas Mavericks signed O.J. Mayo. It is also unlikely that the Philadelphia 76ers have much interest due to their signing of Nick Young to a one-year, $6 million contract.
Projected Landing Spot: Chicago Bulls
The Bulls are a potential fit for Barbosa, who is far younger and has more in the tank than Richard Hamilton.
With Derrick Rose expected to miss at least a significant portion of next season, the Bulls could use a player who can create his own shot and get into the lane. Barbosa's defensive woes are certainly a concern in this scenario, but perhaps head coach Tom Thibodeau could help him improve on that end of the floor.
The Bulls need offense, and that is exactly what Barbosa provides.
Other potential landing spots include the Washington Wizards and Indiana Pacers.
Kenyon Martin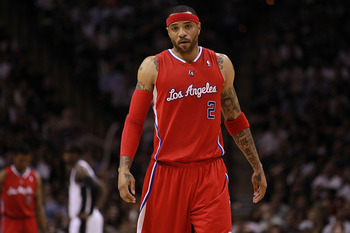 Ronald Martinez/Getty Images
Kenyon Martin has been one of the toughest players in the NBA since he debuted for the New Jersey Nets in 2000.
Throughout his career, Martin has been known an a fiery competitor who plays hard on the defensive end and runs the floor well.
Although he is a bit undersized to be a power forward at 6'9", his intensity and toughness inside has allowed him to have a successful career in the NBA.
K-Mart's true value will come in adding a dimension of toughness to the team that he joins.
Last season, Martin didn't have the impact that most expected him to have for the Los Angeles Clippers. He averaged a career-worst 5.2 points and 4.3 rebounds on just 44.1 percent shooting from the field. Perhaps Martin had a hard time readjusting to the NBA game after his stint in China, but last season was his worst statistically.
According to Matt Steinmetz of csnbayarea.com, Martin is on the Golden State Warriors' radar. This makes a lot of sense for the Warriors, as they desperately need a grinder inside.
Projected Landing Spot: Golden State Warriors
The Golden State Warriors are likely to make the biggest push to sign Martin.
The Warriors are depending on Stephen Curry, Andrew Bogut and Harrison Barnes to make them a playoff team, but none of those players is known as tough, edgy competitor that is willing to do the dirty work. That is exactly what Martin will do for Golden State. If everything clicks, they could very well sneak into the playoffs next season.
A lot will depend on where Carl Landry ends up, as he is the premier remaining free-agent power forward.
Other potential landing spots include the Charlotte Bobcats and Dallas Mavericks.
Nate Robinson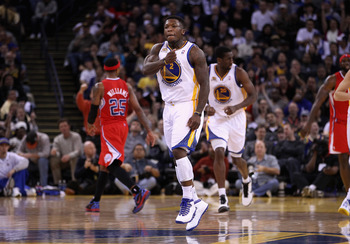 Ezra Shaw/Getty Images
Nate Robinson is definitely the best 5'9" player in the league today. In fact, his strong play throughout his career despite his size is heroic.
In a game dominated by size, the diminutive Robinson has managed to craft a game that makes up for his stature.
Robinson's explosion and aggressiveness have been enough to carve a niche for him in the NBA, as he will be entering his eighth season this fall. On some nights, Robinson is one of the most difficult players in the NBA to slow down because he is one of the quickest players in the league.
Last season, Robinson proved that he is still one of the better second-string point guards in the NBA. He averaged 11.2 points, 4.5 assists and 42.4 percent shooting while playing 23.4 minutes per game.
If he can maintain that level of production, he will make a team very happy next season.
The question is, where will Robinson end up playing next season?
According to a rumor circulating on Hoopshype.com, the Golden State Warriors are interested in bringing Robinson back, but the price has to be right. However, the team recently acquired Jarrett Jack to back up Stephen Curry, so it appears to be very unlikely that Robinson returns there.
Up to this point, nobody has offered Robinson the type of money he thinks that he deserves, or else he would have already signed.
Projected Landing Spot: Houston Rockets
I am going to go out on a limb and say that Robinson will end up in Houston playing for the Rockets.
The Rockets are one of the few teams that has the cap room to offer Robinson anything resembling the deal he would have liked to receive earlier in the offseason.
If the Rockets are unable to land a superstar this summer—something that is looking more and more likely—they will need to use the players they have to compete next season.
Jeremy Lin figures to be their starting point guard, but Robinson would be a productive backup.
Whether Robinson signs with Houston remains to be seen, but at this point, it seems as likely as any other possibility.
Other potential landing spots include the Phoenix Suns and Portland Trail Blazers.
Carl Landry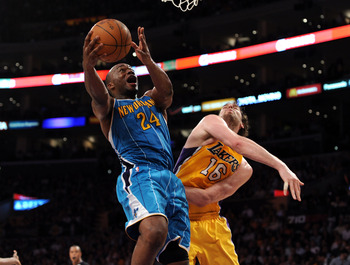 Harry How/Getty Images
Carl Landry is the best post player that remains unsigned, and he is respectable on the glass as well.
Landry may be slightly undersized (6'9") to play power forward, but he is an efficient scorer in the paint and would be a lot to handle coming off the bench.
Last season, Landry averaged 12.5 points, 5.2 rebounds and 50.3 percent shooting while playing an average of 24.4 minutes per game. The last time that Landry averaged less time was his second season in the league, so a change of scenery is needed.
When the New Orleans Hornets completed a sign-and-trade for Ryan Anderson of the Orlando Magic, it marked the end of Landry's career with the Hornets.
Landry spoke to Alex Kennedy of Hoopsworld.com and said the following about his future: "I'm still just trying to find the right fit for me. It's still up in the air. Every day it's something new. I'm just trying to take my time and make the best decision for me and my family."
Based upon that statement, there are a few teams interested in Landry and that should surprise no one.
In another report by Kennedy of Hoopsworld.com, he listed the Charlotte Bobcats and Golden State Warriors as potential landing spots for Landry.
Projected Landing Spot: Golden State Warriors
I see Landry finding his way to the Warriors, because between them and the Bobcats, Golden State is far closer to winning.
Landry said the following to Hoopsworld.com's Kennedy about how playing for a winner factors into his decision:
I definitely want to win. I want to play for a team that wants to go to the playoffs. That's my goal when I'm on a team: to go to the playoffs, try to go as far as I can and hopefully win a championship."
Ultimately, Landry has the freedom to sign wherever he wants. If he serious about having a chance at the playoffs in the near future, then the Warriors are a much better pick than the lowly Bobcats.
The Warriors won't end up with both Landry and Kenyon Martin, but they should land at least one of them before next season tips off.
Other potential landing spots include the Philadelphia 76ers and Charlotte Bobcats.
Matt Barnes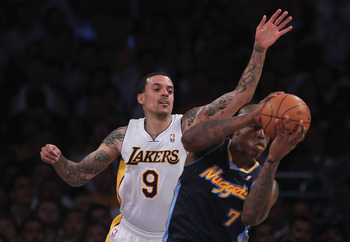 Jeff Gross/Getty Images
Matt Barnes has played on eight different teams over the span of his nine-year NBA career. Soon he may be making it nine.
Whoever signs Barnes will get a player that will not back down to anyone, and that kind of attitude is necessary for lock-down defenders in the NBA.
One area of his game that still needs tinkering is his jump shot, as he is just 32.9 percent from behind the arc in his career. If he were better at shooting the three, it would help his team space the floor and force the defense to pay more attention to him.
So far, the market for Barnes has been quiet, and there doesn't appear to be a predictable destination for him.
Barnes is a solid option off the bench, as he promises to bring energy on the defensive end of the court.
It would be a bit of a surprise to see Barnes back in the purple and gold next season, but crazier things have happened and will continue to happen in the NBA.
Projected Landing Spot: New Orleans Hornets
I could see Barnes finding his way onto the New Orleans Hornets, as they are thin at the small forward position.
While it wouldn't be a slam dunk for either side, Barnes could be a good fit for a year or two, and the Hornets will be fun to watch over the next few years.
Other potential landing spots include the Dallas Mavericks, Los Angeles Lakers and Cleveland Cavaliers.
Delonte West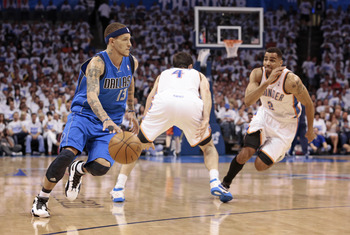 Brett Deering/Getty Images
Delonte West is one of the most interesting players in the league for a handful of reasons. Most of those tend to be his off-the-court issues.
What often gets overlooked is that West can do just about everything on the basketball court and has very few weaknesses.
West's old team, the Dallas Mavericks, have four combo guards on their roster in O.J. Mayo, Dominique Jones, Jared Cunningham and Rodrigue Beaubois so there doesn't appear to be a spot on their roster for him.
However, Mavs President Donnie Nelson said the following on ESPN Dallas' Ben & Skin Show: "We'd love to have Delonte back. Look, we're not done. We're continuing to kind of build the roster and put ourselves in position to contend next year."
Nelson may just be blowing smoke, because minutes are already going to be hard to come by at the shooting guard position in Dallas.
Although it may not be in Dallas, West will find a team that will be happy to have him coming off their bench next season. West's combination of jump shooting, defensive tenacity and handles are rare in today's specialized game.
West has struggled with injuries and off-the-court issues over the course of his career, which has undeniably hurt the demand for his services.
Projected Landing Spot: Chicago Bulls
I see West signing with the Bulls, who still have have a portion of their mid-level exception available.
Although the Bulls have agreed to terms with Kirk Hinrich, that doesn't necessarily mean that they aren't taking a look at West.
Derrick Rose will miss a good portion of next season, so the Bulls will turn to a committee approach at point guard. West's diverse skill set would be welcomed in Chicago, as he could be an important contributor for them next season.
Other potential landing spots include the Los Angeles Lakers and Dallas Mavericks.
Keep Reading