WWE Raw 1000: Five Ways the AJ and Daniel Bryan Wedding Could End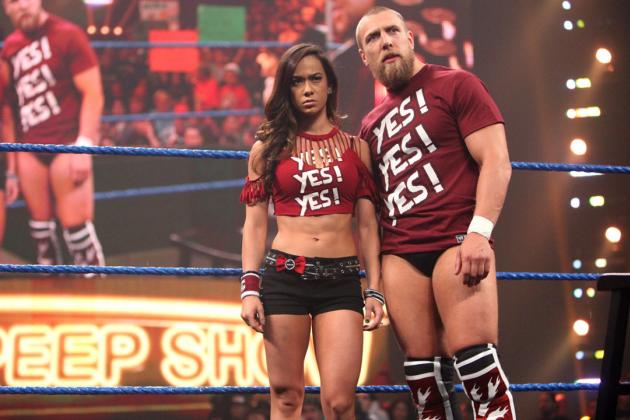 Photo: WWE
WWE's favorite dysfunctional couple is about to tie the knot on Monday, and with the history WWE has with weddings there is sure to be some kind of mishap or mayhem.
Other than the emotional ceremony between Randy Savage and Elizabeth, we have not seen a wedding in WWE ever go off without a hitch.
With the insanity surrounding AJ's character and the selfish tendencies of Daniel Bryan, it already makes for an unpredictable combination. Add in Kane, and you have the making of an explosive ceremony for sure.
In this slideshow we will examine five possible ways the wedding between AJ and Daniel Bryan could end.
Begin Slideshow

»
If WWE is planning on extending this angle past the wedding, then there is a chance, albeit a very small one, that we could see the ceremony actually end with a kiss and applause.
The odds of this happening are about as good as betting on Heath Slater beating John Cena cleanly.
However, the swerve could be a normal ending. Everyone expects something insane to happen, because this is WWE and no one gets married without a swift kick in the family jewels—metaphorically speaking of course.
We do not yet know at what point during the three hour Raw they will actually tie the knot, but it is a likely bet that they will not come away unscathed.
The real-life girlfriend and former WWE Diva, Brie Bella, is probably not going to make an appearance, but given that WWE is specifically bringing in people for one-off appearances we could see them use her.
Brie and Nikki were once affiliated with Bryan on-screen, and Brie continued the relationship off-screen. They are still together and it could make for a great angle.
Having the woman who Bryan is on the road with be confronted by the woman he is at home with could make for some funny moments.
Again, this is one of the least likely scenarios, but WWE is known for occasionally doing the least likely thing and having it work out well.
Kane has always been at the center of wedding controversy in WWE, and with what we saw on SmackDown, he could be involved in this one as well.
We saw AJ at one point in the exact same position as when she had first kissed Kane, although this time she did not lock lips with the Big Red Monster.
Kane still looked confused following the incident, and if WWE is looking to keep with tradition then he could make his presence felt come Raw 1000.
If Kane were to either attack Bryan or just declare his love for AJ, I do not think anyone would be surprised.
Remember when Bryan was still verbally attacking AJ? Remember when he said he would "move on to Kaitlyn?"
What if he did and we just never knew about it? It is possible that WWE could have Kaitlyn declare her love for Bryan and reveal that the two have been engaged in a secret relationship.
Kaitlyn and AJ were once close on-screen, and this could be the thing that Kaitlyn needs to get herself noticed.
If she comes out and reveals a secret love affair with Bryan, it would no doubt send AJ into a rage that would cause cake and flowers to go flying.
This is an idea that has not been addressed yet, which is why it would make a good swerve to the fans.
CM Punk rejected AJ's proposal in a move which could have potentially cost him the WWE Championship in his match with Daniel Bryan.
Luckily for Punk, AJ was not on either man's side that night, but following the events at Money in the Bank we have not seen AJ and Punk have any interaction at all.
WWE could always decide to extend the love triangle storyline by having Punk come out during the wedding and either attack Daniel Bryan or accept AJ's proposal, causing her to have to rethink who she really wants to marry.
Thanks for reading, and please feel free to leave your thoughts below. As a little bonus, I have included a video showing WWE's first on-screen wedding between Paul Vachon and Ophelia.
For part two please visit this link.