UFC 149 Results: Burning Questions Heading into UFC on FOX 4, Shogun vs. Vera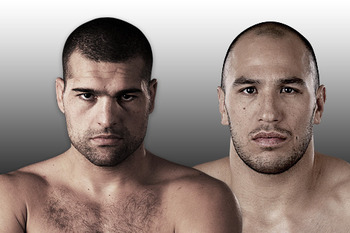 UFC 149 has gone final, and we can now tip our hats to the newly crowned interim UFC bantamweight champion, Renan Barao.
The question of if and when Barao will defend the interim title will surely be a hot-button subject, but that's something we can worry about at another time—right now we are concerned about what's going to happen when the UFC presents their next fight card.
That card, the fourth event on FOX, will take place on August 4 from the Staples Center in Los Angeles, CA and will feature a main-event bout between former UFC light heavyweight champion Mauricio "Shogun" Rua and Brandon Vera. Rua will not be the only former UFC champion on the card, as Lyoto Machida will meet Ryan Bader in the evening's co-main event.
Before we get into the questions heading into UFC on FOX 4, let's take a look at the full results from UFC 149:
Renan Barao defeats Urijah Faber via unanimous decision (49-46, 50-45, 49-46)
Tim Boetsch defeats Hector Lombard via split decision (29-28, 28-29, 29-28)
Cheick Kongo defeats Shawn Jordan via unanimous decision (30-28, 30-27, 30-27)
James Head defeats Brian Ebersole via split decision (29-28, 28-29, 29-28)
Matt Riddle defeats Chris Clements via submission at 2:02 of Round 3
Nick Ring defeats Court McGee via unanimous decision (29-28 x 3)
Francisco Rivera defeats Roland Delorme via knockout at 4:19 of Round 1
Ryan Jimmo defeats Anthony Perosh via knockout at 0:07 of Round 1
Bryan Caraway defeats Mitch Gagnon via submission at 1:39 of Round 3
Antonio Carvalho defeats Daniel Pineda via knockout at 1:11 of Round 1
Anton Kuivanen defeats Mitch Clarke via split decision (29-28, 28-29, 29-28)
Will the Injury Bug Strike?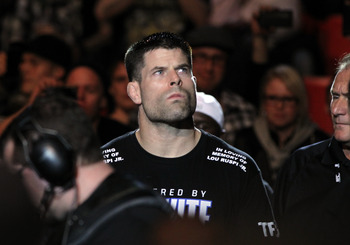 Brian Stann was originally booked for the FOX card, but injured. Josh Hedges/Zuffa LLC UFC via Getty Images
We are closing in on the upcoming UFC on FOX 4 card and, sadly, the injury bug has struck again. The victim this time is Ian McCall. McCall was added to the card earlier this week, but according to the fighter, he has been forced to withdraw from his fight with UFC newcomer John Moraga.
With that in mind, one has to wonder if we will see any additional changes before August 4 rolls around. I don't want to sound like a downer but, honestly, these days UFC fans have come to expect the dreaded tweet or news piece announcing that a fighter has been forced from an upcoming card due to injury.
We all hope that announcement doesn't come, but like an unexpected bill or a notice to serve jury duty, the bad news always seems to arrive.
Let's hope that the fighters involved on the FOX card are dialing down their training schedules, and we can cruise into August 4 without any further changes.
Plus, I'm sure matchmakers Joe Silva and Sean Shelby would welcome the break.
Are UFC Careers on the Line for Gamburyan and Omigawa?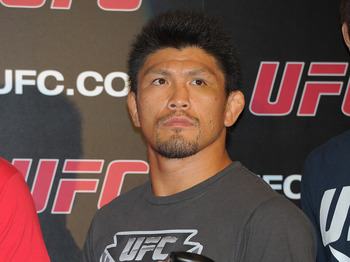 Koki Nagahama/Getty Images
Mixed martial arts can be an unforgiving career choice. In some ways MMA is the ultimate "what have you done for me lately" sport—win and everyone is happy, lose and fans start to wonder if the end of the road is near.
Two fighters who have come under that type of scrutiny, Manny Gamburyan and Michihiro Omigawa, will face each other on the UFC on FOX 4 card, and both have to be wondering: Could this be the end of the road for them in the UFC?
Gamburyan has been fighting for the UFC/WEC since 2007, running up a record of 5-6. Of his six losses, three have come in his last three bouts. Yes, one of those losses was to Jose Aldo in a WEC title bout, but remember what I said about MMA being the ultimate "what have you done for me lately" sport?
As for Omigawa, he has four fights in the UFC in his most recent stint with the promotion, losing three of those bouts.
A UFC career could hang in the balance in this fight. With that in mind, expect both fighters to be highly motivated when they face off inside the Octagon.
Who's Under More Pressure, Josh Grispi or Rani Yahya?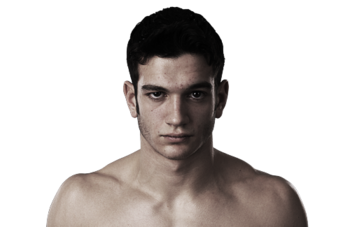 It wasn't too long ago that Josh Grispi was booked to face Jose Aldo in Aldo's first defense of the UFC featherweight title. A neck injury suffered by Aldo forced that fight to be scrapped, and instead Grispi faced a youngster named Dustin Poirier on New Year's Day 2011. Poirier ran through Grispi that night in Las Vegas and launched himself on an impressive run up the division rankings.
Not only did Grispi lose to Poirier, but he suffered an injury that kept him on the shelf for several months. When he did return, he was stopped by George Roop via a punch to the body in the third round of their June 2011 bout.
Grispi has not fought since that loss. When he does step into the Octagon, he will be looking directly at Rani Yahya; a fighter much like himself, badly in need of a victory.
Yahya has gone 1-3 in his last four fights, so he's in a bad spot heading into the UFC on FOX 4 fight card. Much like the Gamburyan versus Omigawa bout, the loser of this one may very well see their days with the UFC at an end.
Will Phil Davis Show That He Is "For Real?"
Mark J. Rebilas-US PRESSWIRE
The last time we saw Phil Davis fight in the UFC he was competing in the main event of the UFC on FOX 2 card, dropping a one-sided unanimous decision to Rashad Evans. On August 4, we will see him on the FX portion of the UFC on FOX 4 card, facing UFC newcomer Wagner Prado, who was moved in to replace an injured Chad Griggs.
Some will see this as a step down for the now 9-1 Davis, but the reality is the fight is more of a reset for "Mr. Wonderful." The loss to Evans showed that maybe Davis wasn't ready for top level competition at this point in his career, something he acknowledged after the fight, telling MMAFighting.com:
I'm glad he (Evans) poked holes in my game, because now I can fix some of those holes and know where the No. 2 guy in the world is going to beat me. Now I have a benchmark. Losing is not the worst thing in the world. The worst thing in the world is not getting better. I'm glad I got that fight. I'm glad I got it twice, and I'm just real excited about where I'm at in my career.
Davis' attitude toward the loss is admirable—he didn't sulk, he didn't blame anyone or anything. He treated the defeat as a learning experience, and on August 4 we will see what he gained from losing.
We wonder if Davis' performance will live up to another statement he made to MMAFighting.com, saying, "My next performance I want everyone to go, 'Wow, yes, this guy is for real.'"
Can Nam Phan Get Back in the Win Column?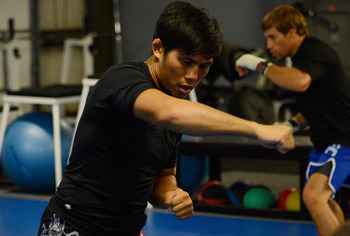 Thearon W. Henderson/Getty Images
If you say the name Nam Phan, what will pop into the heads of most MMA fans is that he was on the losing end one of the worst decisions in UFC history, dropping a split decision to Leonard Garcia in December 2010.
Phan, a veteran of the sport, has not had the easiest go in the UFC, as his record is 1-3 with the only official win on his record being a unanimous decision rematch victory over Garcia at UFC 136. I say official win, because in the controversial loss to Garcia, UFC president Dana White paid Phan his win bonus, telling the fighter, "You're getting your win bonus because you won that fight."
While the bonus was a nice gesture and having the boss acknowledge that he thought that Phan was the winner was appreciated by the fighter, that doesn't lessen the pressure that sits on the shoulders of Phan when he faces Cole Miller on August 4.
If you've read this far, you know that there are a number of fighters on the upcoming FOX card that need a win—you can count Phan among that group.
Who Moves Up the Lightweight Rankings, Lauzon or Varner?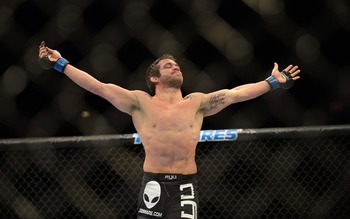 Ron Chenoy-US PRESSWIRE
The lightweight bout between Joe Lauzon and Jamie Varner is a very intriguing fight, as Lauzon was originally booked to face Terry Etim on this card, but an injury forced Etim from the event.
Varner, a former WEC champion, had been away from the Zuffa family for quite some time, but he caught a break when Evan Dunham was forced from his UFC 146 bout against Edson Barboza. Varner got the call to replace Dunham and made the most of it, earning a first-round TKO win and handing Barboza the first defeat of his professional career.
While Varner will look to show the UFC brass that he intends to stay on the roster for quite some time, Lauzon will look to keep his name fresh in the minds of those same individuals.
Lauzon, a "Fight Night" bonus machine (earning seven bonus awards in his last nine UFC fights), was on a two-fight winning streak before falling to Anthony Pettis at UFC 144. Lauzon needs this win to avoid being permanently tagged with the dreaded gatekeeper status in what is currently the most competitive division in the UFC.
I know I've been saying this a great deal here but, honestly, this is another bout that could have some serious repercussions for the fighters and the lightweight division.
Will Travis Browne Remain Unbeaten?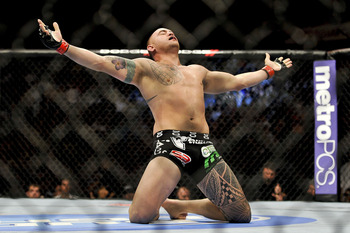 Paul Abell-US PRESSWIRE
Travis Browne made his professional MMA debut in February 2009. Since that time he has never tasted defeat, compiling a 13-0-1 record while earning two "Fight Night" bonuses. One of those bonuses was the impressive superman-punch knockout of Stefan Struve at UFC 130, a knockout that left the 6'11" Struve practically folded in half as he fell to the mat.
Browne's opponent on August 4 will be Ben Rothwell, a veteran of 40 professional bouts.
Neither fighter is going to earn a title shot with a win here, but both fighters are top-20 heavyweights, so a win should propel the victor up the rankings at least a little bit. The question is, will Browne be able to remain undefeated or will the veteran Rothwell show that he is not quite ready to let someone take his place in the heavyweight pecking order?
Who Makes a Move in the Light Heavyweight Division, Bader or Machida?
Jon Kopaloff/Getty Images
We are not that far removed from UFC 98, the fight that Joe Rogan declared as the beginning of the Machida era, when Machida tore the UFC light heavyweight title from the grasp of Rashad Evans.
Well, we know that the Machida era was short lived, as Mauricio Rua took the title from Machida with a knockout victory at UFC 113. That loss was the first defeat of Machida's career, giving him a record of 16-1. Since that defeat he has gone 1-2, losing to Quinton Jackson and Jon Jones, while defeating Randy Couture in what was the last fight of Couture's storied MMA career.
Machida's opponent on the FOX card also started his MMA career with an impressive winning streak. Ryan Bader was 12-0 before running into the buzz saw that is Jon Jones at UFC 126. After tapping out in the second round to Jones, Bader tasted defeat in his next fight as well, submitting to a guillotine choke, this one at the hands of Tito Ortiz.
Bader has rebounded from those losses, defeating Jason Brilz and Quinton Jackson in his last two fights.
The question in this fight is, who steps up and reclaims their spot as one of the top-ranked light heavyweights in the UFC?
Can Brandon Vera Capitalize on This Opportunity?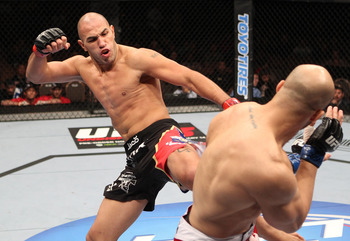 Jed Jacobsohn/Zuffa LLC UFC via Getty Images
A few years ago Brandon Vera was being touted as the next big thing in the UFC's heavyweight division. He was a feared striker with a record of 8-0 and had disposed of former UFC champion Frank Mir in 69 seconds at UFC 65.
A contract dispute kept him from the Octagon until UFC 77, and when he returned on that card, he tasted defeat for the first time, dropping a unanimous decision to Tim Sylvia. Vera would fare even worse in his next bout, losing by first-round TKO to Fabricio Werdum at UFC 85.
Vera then dropped to light heavyweight, but he hasn't tasted much success in the lower weight division, compiling a record of 4-3-0-1 since the loss to Werdum.
He now finds himself in the main event of a UFC on FOX card, facing a former UFC and Pride Grand Prix champion in Mauricio Rua. This fight is a huge opportunity for Vera, a fighter who was released from the UFC after a loss to Thiago Silva at UFC 125.
Granted, he was brought back after the loss was changed to a no-contest (after it was revealed that Silva had provided a false urine sample), but he was that close to the end of his UFC career.
If ever Vera wanted to show that the hype that surrounded him earlier in his career was justified, it would be during this upcoming fight against Rua—but, you know, no pressure.
Keep Reading