WWE/TNA/ROH: My Top 15 Moments of the Week (July 15-20)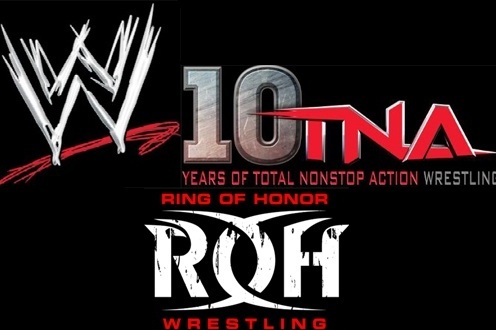 wwe.com, impactwrestling.com, rohwrestling.com
Another week of professional wrestling has come to an end, and it was an overall good week.
WWE Money in the Bank was presented last Sunday and I felt that it delivered. The four main matches were good, while the random matches thrown onto the card were fine.
WWE Monday Night Raw was a decent show. None of the matches were anything special, but there was one thing that really stood out.
WWE NXT delivered once again with a number of good matches, while WWE Superstars did the same.
TNA Impact Wrestling presented Open Fight Night this week and it was an overall good show. While there were a number of cons, the pros more than made up for it.
The July 14 episode of ROH Wrestling was a recap show featuring matches from the Best in the World Internet pay-per-view. Since the episode didn't feature any original material, ROH has been left off the list this week.
WWE Friday Night SmackDown was a good show. It featured a number of good matches and everything else kept the current storylines pushing forward.
As for "Show of the Week," I want the readers to choose once again! The results of last week's poll will be revealed at the end, but you can vote for this week right here.
Here are my top 15 moments of the week!
Begin Slideshow

»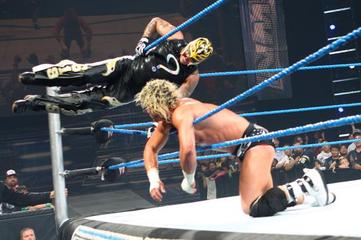 wwe.com
The main event of this past Friday's episode of SmackDown was this tag team match featuring World heavyweight champion Sheamus and the returning Rey Mysterio taking on Mr. Money in the Bank Dolph Ziggler and Alberto Del Rio.
With the recent performances of the champion, Del Rio and Ziggler, I had no doubts that they would deliver in this match. They indeed did deliver, but my worry was Rey Mysterio.
It has been almost a year since he's been in the ring, so I was worried that possible ring rust would hinder his performance and thus slow down the contest.
Thankfully, Mysterio showed zero ring rust and was the same old Rey Mysterio that the WWE Universe has come to love. Despite being away for so long, it seemed like the master of the 619 had never actually left.
Tag team matches are plentiful in WWE these days, but that is by no means a complaint. The tag matches tend to be good and the main event of SmackDown continued that trend.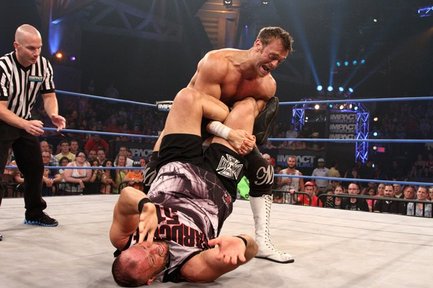 facebook.com/ImpactWrestling
In this Bound for Glory Series match, Bully Ray and Magnus delivered a good, hard-hitting match. With these two the only wrestlers not challenged, I knew that they be facing each other in the BFGS.
I also knew that the match was going to be more of a fight than a wrestling match, and that's exactly what it was. Bully Ray and Magnus really went at each other here and had a good fight.
While Magnus locked in a Texas Cloverleaf, a move I haven't seen in years, the match was more of a fight than anything else.
The back-and-forth punches to the face were an especially nice touch from these two. Bully Ray finally got on the board here with seven points and it was good to see him have a match without having to deal with Joseph Park and Abyss.
I doubt he'll make it to the final four like he did last year, but he shouldn't be dead last. The bully has worked way too hard over the past year or so perfecting his character to be seen as the worst of 12 wrestlers.
Since his days with the British Invasion, Magnus has been pretty good in his own right. He really came out into his own when he teamed up with Samoa Joe earlier this year. While he was a part of a team, his singles matches during the storyline were very good.
Magnus can wrestle and he can brawl, which is a good combination to have. I don't see him as a main-event star, but he could make a solid midcard wrestler and a great Television champion.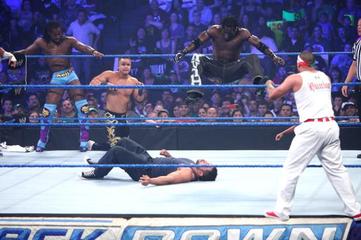 wwe.com
When it comes to multi-man matches like this, they rarely turn out too well. These kinds of matches are either too chaotic or are way too short. This match featuring the tag team champions, Primo and Epico, the Prime Time Players and Hunico and Camacho turned out to be a good match.
All four teams delivered here as they showed the WWE Universe that the tag team division was finally something to pay attention to.
Kofi Kingston and R-Truth have proven to be a cohesive unit and good champions. Despite Truth having to sit out during part of the reign, they have carried the division very well so far.
Primo and Epico were the stars here as they quickened the pace, hit a lot of excellent moves and worked well together as a team. The Colons are probably the best team in the division right now.
I'm happy to see that Hunico and Camacho have been teaming up more. Hunico is a great talent, but there unfortunately isn't a place for a cruiserweight in WWE anymore.
He and Camacho have shown to work well with one another as Hunico is the speed and Camacho is the power. If built up right, they would make great champions.
The Primetime Players were probably the least impressive of the four, but that was because they were barely in the ring. They have impressed before, so this was a rare occurrence.
With the exception of the Big Show all but killing three of the four teams afterwards, the tag team division in WWE seems to be getting back on track.
wwe.com
Daniel Bryan and Kane have faced off on many occasions due to the battle over the WWE Championship last month. They delivered before, so I had no doubts that they'd do it again.
Despite the disqualification finish, I was not disappointed. Bryan and Kane had a good back-and-forth match here as they battled over what may have been A.J.'s heart.
The DQ was caused by A.J. jumping on Kane's back, and after she ended up in front of him, they gave each other an odd stare. This match may have been an indicator of what may happen during the Bryan/A.J. wedding on Raw next week.
Weddings in the WWE rarely end well. Either someone interferes, or the bride or groom has ulterior motives that are found out just before they say "I do." With the look Kane and A.J. gave each other, I think this match may have setup Kane's interference in the ceremony.
What he'll do, if he does anything, remains to be seen, but I feel the Big Red Monster will be stopping the wedding. If that does happen, a one-on-one feud between them should ensue.
That's something I wouldn't mind seeing, as I know both of them can deliver in the ring with one another.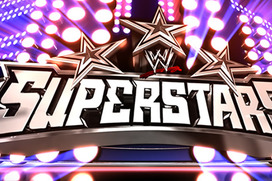 gamingring.com
WWE Superstars delivered once again with the four matches that were featured this week.
United States champion Santino Marella defeated Jinder Mahal in the opening contest and they had a good match. Mahal continues to impress on WWE's secondary shows while Santino performed quite well here.
With the exception of the Cobra, the comedy was put away for this match. Santino is a very talented wrestler and he proves that when his comedy gimmick is put to the side. This is the Santino I want to see every week!
It's a shame that he's allowed to wrestle on Superstars, but has to be a comedy act on the main shows.
Cody Rhodes made a surprise appearance on Superstars as he defeated Alex Riley. This was a very good back-and-forth match as both wrestlers performed quite well. I think this match should have been the main event.
A-Ry is always impressive when he's on Superstars or working dark matches, but he doesn't really get the chance to shine on the main shows. If given the opportunity, Riley could be a huge star.
Why was Rhodes on Superstars? I really hope it's not going to become a regular thing.
Tag team action was up next as the Usos defeated the random team of Johnny Curtis and Derrick Bateman. This was an overall good match, though it was mainly thanks to the Usos. Jimmy and Jey are a great team and are very much over with the fans.
I don't get why WWE won't push them. As over as they are, they could carry the tag team division as it's being rebuilt.
Curtis and Bateman are good singles wrestlers, but they don't really make a good team. Perhaps with time they could develop into a cohesive unit, but I'd rather see them as singles wrestlers.
The main event saw Sin Cara defeat Drew McIntyre in another good match. Sin Cara was much better here than he was at Money in the Bank. I think that stupid light actually helps him in the ring. At the PPV, his light wasn't used and he botched a number of moves.
When it's on, he's fine in the ring, so I'm starting to think he's better with it on.
McIntyre was very good here, but he's another superstar that doesn't get pushed like he should be. At the very least, I'd like to see him pushed on this show and NXT to build him up for a spot on Raw or SmackDown.
I am starting to really like Superstars. At this rate, Superstars and NXT will end up as my favorite WWE shows.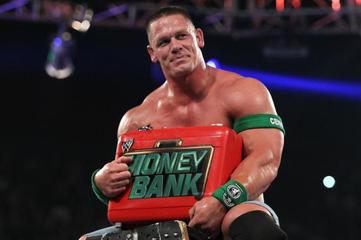 wwe.com
While I thought the SmackDown match was better, I did enjoy this match. Even though it had a predictable ending, the five superstars involved delivered a good match.
I especially liked that right in the beginning, John Cena hit the Attitude Adjustment on Big Show through the announce table and the other three threw ladders on top of him to keep him down. Being the monster that he is, doing that to the Big Show was a good idea and it came across very well.
Even when the Big Show was up and in action, he played to his strengths in the match. He's a giant and he used that to his advantage throughout the match. The overly huge ladder was a bit ridiculous, but it made sense due to his size.
Kane is a big guy, too, and like the Big Show, he used his size to his advantage. It was great to see the Miz return and enter into the match. Despite being away for a few months filming a movie, the Miz hadn't lost a step and really added to the match.
Chris Jericho was great as well as he showed the fans why he's considered one of the masters of the ladder match. John Cena surprised me in his performance here. While Cena is always a hard worker and strong performer, a ladder match is something that's quite different from what he's used to competing in.
He treated it like any other match, gave it his all and certainly delivered. Cena's winning of the match was very predictable, but the match as a whole delivered some good action, which made for an enjoyable match.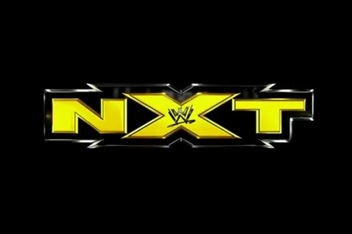 wrestlingupdateonline.com
This past Wednesday's WWE NXT was another good show. It opened with Tamina Snuka taking on Kaitlyn in what was a better-than-usual Divas match. It's good to see the division getting attention outside of A.J.; I just wish that it was on Raw or SmackDown.
Tamina is good in the ring, and has been since her debut, while Kaitlyn has certainly improved a lot since the third season of NXT. She's by no means a master of the ring, but she's able to perform at a good enough level right now.
A promo video for Big E Langston was then shown. The video was well put together and the guy looks impressive. Once he debuts, Langston could be a force to be reckoned with.
Jinder Mahal defeated Percy Watson next is what was another good match. I wish that Mahal got this kind of attention on the main shows, as he does know his way around the ring. I'm starting to become of fan of his now.
Watson was impressive as well, and I liked the way he presented himself in the ring.
Richie Steamboat took a loss to Leo Kruger next in what was another good showing between talented wrestlers. The son of Ricky Steamboat certainly has big shoes to fill, but he seems very skilled in the ring. He may never have a Hall of Fame career like his father, but I think he could have a good one.
I liked Kruger quite a bit, especially his cocky attitude. WWE is really missing a cocky heel and Kruger could fit the void very well if they build him up right. With the last name of Kruger, I'm thankful that WWE isn't pulling something lame and calling him the son of Freddy Kruger.
The same video for Raquel Diaz that appeared last week was shown again. Since it was the same one, there's not much I can say about it that I haven't already said.
Raquel then made her NXT debut against Paige in a winning effort. This match was the only downside of the whole show. Raquel is great on the mic and looks like she'd make a solid heel once called to the main roster, but her wrestling skills leave a lot to be desired.
With a little work, though, she could tap into that Guerrero blood and shine big time when the time comes.
I was impressed with Paige, as it seemed like she knew her way around the ring quite well. I'm not really sure what her character is, though. Then again, not many of the Divas have characters anyway.
A backstage segment between Alex Riley, Aksana and Antonio Cesaro then went down. Aksana was hitting on A-Ry, but quickly said he was hitting on her when Antonio showed up. After arguing about women, a match for next week was made.
So Aksana is the new Eve Torres? WWE needs to make up their minds on what they want to do with her. A match between Riley and Antonio should be quite good, so I'm excited for that!
The main event saw Justin Gabriel take on his former partner Heath Slater in a winning effort. I thought this was a great match that showcased the skills of both wrestlers.
I've been a fan of Gabriel since the first season of NXT and I'm glad to see him getting some kind of push. It's not much of one, but you got to start somewhere.
Slater was someone that I didn't like at first, but I'm starting to become a fan. This match proved to me that he can deliver in the ring and his mic work is quite entertaining. While he may be getting squashed by older wrestlers as of late, he is getting a push.
I think his storyline on Raw will be leading to something big for him.
WWE NXT has impressed me once again. I love the wrestling, the hype for newer superstars and the mic work when wrestlers are given the chance to talk. I'm glad I began to watch this show, it's very good.
Now if only WWE would put it back on their YouTube page so it's easier to find!
I thought that this segment was the highlight of Monday Night Raw. Ziggler came out to brag about winning the World Heavyweight Championship Money in the Bank match and he was eventually interrupted by Chris Jericho.
Jericho didn't say a word as Ziggler just laid into him and everything ended with a Codebreaker.
Ziggler delivered one of the best promos I've ever seen him do here. He was solid on the mic and showed passion and intensity with every word that came out of his mouth.
The Showoff has proven himself in the ring time and time again, but now he is beginning to prove himself on the mic. Ziggler is the true future of the WWE.
Keeping Jericho silent was the perfect thing to do. Everyone knows that Y2J can deliver on the mic, so he didn't need to speak here as this was Ziggler's time to shine. Jericho's facial expressions did more than speaking could have done anyway.
As he stared blankly at Ziggler and gave simple smirks, Jericho's face said everything that needed to be said. This will surely lead to a feud between the two and a match at SummerSlam.
When Jericho does speak up, the segments these two could have should be fantastic. The matches they will have should be top notch as well.
A Jericho/Ziggler feud is something I've been hoping to see since Y2J returned in January, and if this segment was any indication, I'll get to see this feud come to fruition!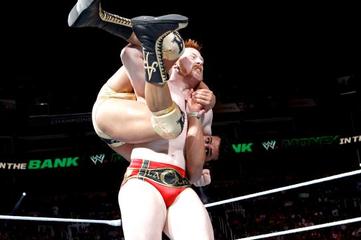 wwe.com
Sheamus and Alberto Del Rio delivered a good match here for the World Heavyweight Championship at the Money in the Bank pay-per-view.
The Celtic Warrior has been a strong performer since being drafted to SmackDown last year and he has really stepped up his game since winning the World title at WrestleMania XXVIII.
I had no doubts in my mind that he would once again perform well here, and he did. My worry when this feud started was Del Rio. He has a history of being boring on the mic and not being too impressive in the ring. Lately, though, everything has changed.
Since adopting a more aggressive attitude, his mic work has been strong and compelling, and his in-ring work has been solid. I'm finally on board with Alberto Del Rio. With his new aggressive attitude, I had faith that Del Rio was going to deliver alongside Sheamus.
Deliver is exactly what they did, which gives me hope that future matches will be the same if not better.
A part of me was actually hoping for a Del Rio win here. Winning the World Heavyweight Championship was his original destiny, and after the improvements he has made recently, I think that he would make a great heel champion.
It may not be time to end the Great White Sheamus' reign, though. He's looking incredibly strong right now and knocking him off of the top of the mountain could kill his momentum if his opponent isn't built up enough.
If WWE continues to build Del Rio like they are, he'll look strong in defeating Sheamus and the Celtic Warrior would look strong in defeat as he was taken down by a believable foe. I think that by the fall, Alberto Del Rio will be the World heavyweight champion.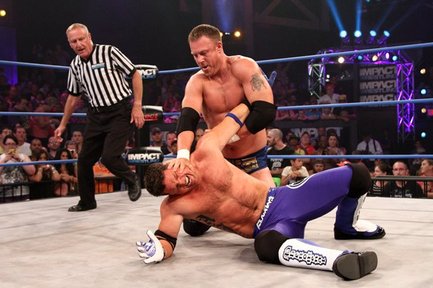 facebook.com/ImpactWrestling
Open Fight Night featured six Bound for Glory Series matches and I felt that this was the best of the six. A.J. Styles and Mr. Anderson delivered a good back-and-forth match that almost went the whole 15-minute time limit.
I thought that the match was actually going to reach the time limit, which would have been an overall good move. While they both would have gotten two points, the match was incredibly even throughout.
Watching the match, neither wrestler had the clear cut advantage at any point, so a draw would have shown that they are equally as good.
Anderson's victory makes sense, though, as Styles in entangled in his long storyline with Christopher Daniels that now includes an apparent love child between Styles and Claire Lynch.
This storyline is going to hold Styles down during the series, though I can't say I'm surprised. As soon as the affair storyline began, which evolved into the love-child storyline, I knew that the feud was destined to end at Bound for Glory.
Much like Daniels screwed Styles out of the BFGS last year, he's going to do it again this year. Daniels is in the series this year, though, so I think Styles will ultimately be screwing Daniels out of it as well.
Styles is too talented to be stuck in the same storyline for over a year. The storyline is interesting, but it's like an episode of Jerry Springer. When this does end, I hope to see him back in the title hunt.
As for Anderson, he's been at the top of his game lately. He's always been a solid performer, but 2012 has been his year.
I really hope to see these two face off at least one more time before the series ends, or perhaps a feud over the world title sometime next year. These two work very well together and should be able to deliver again.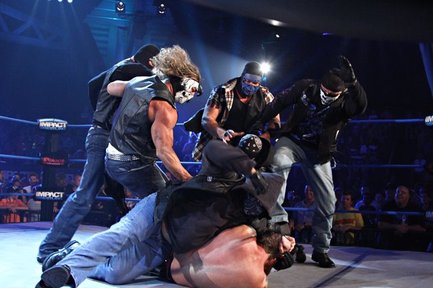 facebook.com/ImpactWrestling
The Aces and Eights, or Deadman's Hand to those they have attacked, are on a rampage. They started with Sting and stayed on him as they also targeted Hulk Hogan. Hogan and Sting are two of the biggest names the business has seen, so are they going after legends?
That theory could hold water as they also went after Kurt Angle this past Thursday on Impact Wrestling. While Angle isn't a legend, he's a veteran of the wrestling world. That theory was then thrown away when the group of six men attacked Sam Shaw, Open Fight Night's Gut Check contestant.
What threat could he have presented to them?
They weren't finished yet, though. They sent Austin Aries their calling card, or calling hand I suppose, and ultimately attacked him towards the end of the main event. They only targeted Aries and left Roode to watch the assault.
Earlier in the night, Roode dodged questions having to do with the group, so the former world champion as leader wouldn't be farfetched. Both Hogan and Sting had him in their sights while Angle is a threat to the world title and Aries defeated him for the belt.
Shaw could have been an attack to throw people off as the other four are connected to Roode in one way, shape or form. That theory was also thrown out as well, though.
As Roode loved every second of the heel stable attacking his main foe, he got quite the surprise when the Aces and Eights attacked him as well.
I don't know what to make of the attacks as the attack on Roode throws everything off. Sting, Hogan, Angle, Shaw and Aries are all faces, but Roode is a heel. The former champion is the first heel they have attacked, showing that it doesn't matter what your allegiance is, everybody is unsafe.
This storyline is getting more exciting as the weeks go by. Who are these six men? Do they have a specific list of targets or are the attacks random? Who is leading this group?
While I stand by my theory of Jeff Jarrett as leader, I'm starting to think that it's someone from inside the company that is leading this group. Jarrett no longer has the power he once had, so he's not exactly on the inside anymore.
If it was someone on the inside, that would explain why a group of thugs spent two hours backstage without getting arrested. Then again, this is professional wrestling, so things like that are always overlooked.
No matter the answer to those questions, I can't wait to see what happens next!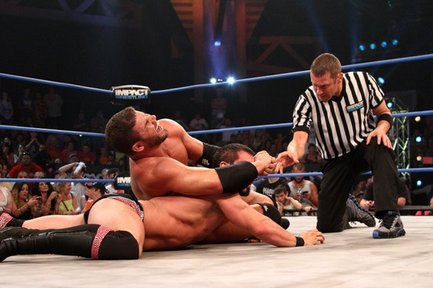 facebook.com/ImpactWrestling
While this wasn't as good as their match at Destination X, Austin Aries and Bobby Roode still delivered a very good match here. With some great back-and-forth action, Aries and Roode continued to prove why they are two of the very best in TNA right now.
Both wrestlers are incredibly skilled inside the ring and their mic work is untouchable in terms of the TNA roster. To me, this match showed that their title match at Destination X wasn't a fluke and that they really do work this well together.
The ending of the match intrigues me quite a bit. Aries and Roode are very much enemies, but they were both attacked by the Aces and Eights. Since that makes them both targets of the group, it puts them on the same side in the fight against these masked men.
While they may hate each other, a common enemy could bring them together. I doubt Roode would ever see it that way, though, so he and Aries will most likely remain as rivals despite what happened.
If that is what happens, there will be no complaints from me. As long as they are given the time, Austin Aries and Bobby Roode will continue to deliver in the main event!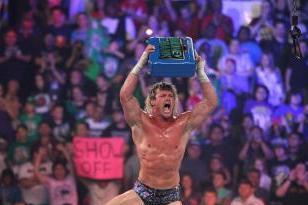 wwe.com
The Money in the Bank PPV opened with this match and I think that it set the bar pretty high. The eight superstars involved in the match delivered in a big way here.
I thought that Tensai would really drag parts of the match down, but it worked to his strengths. He was a big man in a ladder match and he performed as such. Everyone performed great in this match, even Santino Marella.
He is a very good wrestler, but his comedy gimmick hinders his talent at times. While he did perform a bit of comedy during the match with him being afraid of heights and the Cobra "forcing" him up the ladder, he took the match seriously for the majority of it.
I want to see that Santino every week!
I feel Tyson Kidd was the star in this match. He gave the fans nonstop action throughout the contest and he had me rooting for him to win.
Ladder match veteran Christian was good as well. He's almost 40 years old, but he is at the top of his game right now. Damien Sandow really stepped up here and was impressive in his own right as well.
Then there is Sin Cara, who went back to his old ways and botched a number of moves.
My overall pick was Cody Rhodes, but I was just as happy to see Dolph Ziggler grab the briefcase. Both of them were the most deserving of it after the year they've had, so a win by Ziggler was a good move.
The match overall featured some insane maneuvers off of and onto the ladders, and the use of the ladder as a weapon was very well done. I felt that for the second year in a row, SmackDown's Money in the Bank match was better and more exciting than Raw's.
I think that Ziggler's win here will have a bigger impact in the long run than John Cena's win for Raw.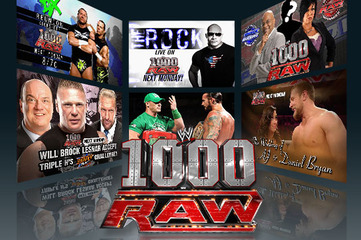 wwe.com
Unless you've been living under a rock, then you should know that the 1,000th episode of Monday Night Raw is tomorrow. Even if you have been living under one, the hype for this show has been so huge that you probably would have heard about it anyway.
For the first time in a long time, I'm actually excited for an episode of Raw. WWE's flagship show has been subpar as of late, but with it going three hours starting with the big episode, WWE will certainly be stepping up their game.
The 1,000th episode alone is going to be huge. WWE has been hyping the returns of many legends as well as the returns of the Rock, Brock Lesnar and the reunion of D-Generation X will kick off the show at 8 ET.
Not only are many returning, but two titles will be on the line as Christian defends his Intercontinental Championship against an unnamed opponent and John Cena cashes in his Money in the Bank contract for a shot at CM Punk's WWE Championship.
Also being hyped for the big event will the announcement of a permanent general manager and the wedding ceremony of Daniel Bryan and A.J.
The build for this event is humongous and it's impossible not to be excited for Monday!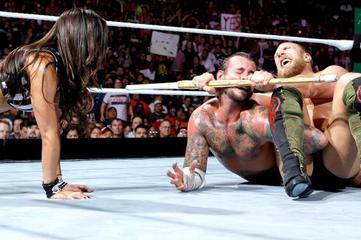 wwe.com
What can I say about this match that would truly do it justice? CM Punk and Daniel Bryan delivered great wrestling and some intense action throughout the whole match.
The use of kendo sticks and chairs were sometimes disturbing to watch as they hit one another over and over again with the weapons. By the end of the match, the chair was horribly bent and the kendo stick was just unusable. The table spot was a nice touch as well.
The way they were using the weapons and the amount of times they hit each other showed just how personal the feud had gotten. I knew going into the match that it would be another great match in terms of wrestling, but I didn't expect the amount of intensity that they presented.
These two continue to deliver and I want the feud to continue. Unfortunately, it seems like it's finished for now, so hopefully it'll be picked back up sometime in the winter or possibly WrestleMania season.
I wasn't sure what to make of A.J.'s involvement when she became the referee for the match. Would she screw Punk out of the title, or would she favor him? I was surprised to see her favor both wrestlers.
She brought a chair into the ring and dropped it in the middle of them and she stopped both of them from doing certain things to the other. Much to my delight, she called the match right down the middle.
She did get directly involved at times, but the match was even. This match was a fitting end to the storyline.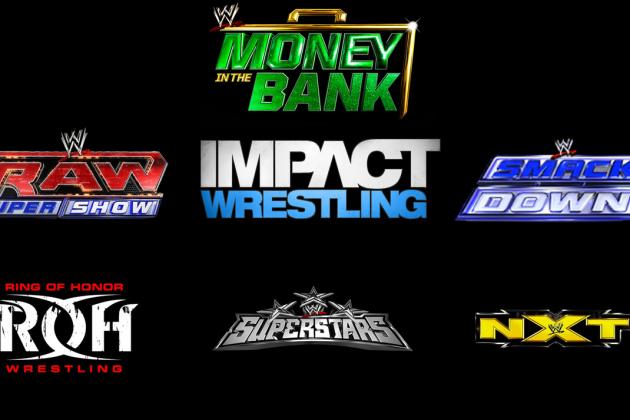 Logos from Wikipedia.org, but copyright to WWE, TNA and ROH
The results from last week are in! Here is what the voters saw as "Show of the Week!"
TNA Destination X: 57.6%
TNA Impact Wrestling: 12.9%
WWE SmackDown: 12.9%
WWE Raw: 10.6%
WWE NXT: 2.4%
ROH Wrestling: 2.4%
WWE Superstars: 1.2%
By a landslide, the voters saw TNA Destination X as the best show last week. In terms of the weekly television shows, it was a tie between TNA Impact Wrestling and WWE SmackDown.
Now that that's over, don't forget to vote for what you thought was the best show this week, and the results will be revealed on next week's list!
Thanks for reading!