Robert Griffin III Will Have a Better Rookie Year Than Andrew Luck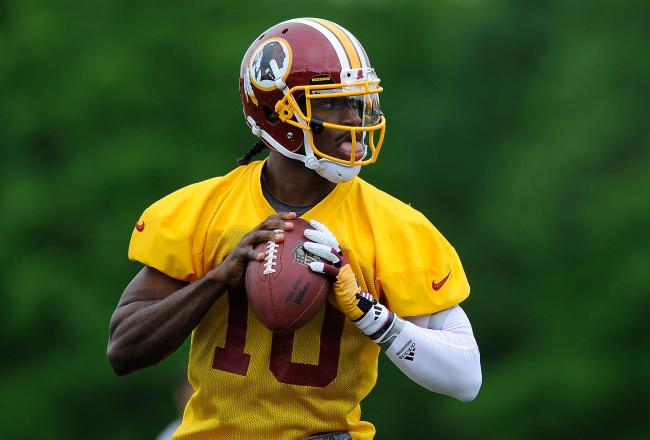 Patrick McDermott/Getty Images
Andrew Luck and Robert Griffin, III will forever be compared by virtue of being selected first and second overall in the draft, finishing first and second in Heisman voting and being considered the saviors of their respective franchises.
Regardless of career projections and trajectory, Griffin is in a better position to succeed from day one than Luck because of the environment he is stepping into.
Statistics at the college level mean nothing at the professional level. They merely show the capacity for success, they do not promise it. Both Luck and Griffin shown a great capacity for success at the next level.
However, the Colts and Redskins are two teams at very different junctures, with the former starting over and the latter just getting started.
Simply put, the Redskins are not starting from scratch with their franchise quarterback. This is the third season under Mike Shanahan, his coaches and staff and their respective systems. Shanahan's offense thrives on quarterbacks who can complete passes on the move or breaking the pocket altogether.
The Colts will have a rookie quarterback on top of a new head coach, new staff and new system.
In terms of talent, the Redskins don't look special on paper. They have a slew of unproven wide receivers, an elite tight end who is one drug violation away from a season-long ban, an offensive line that impresses no one and a backfield of versatile, but not elite, running backs.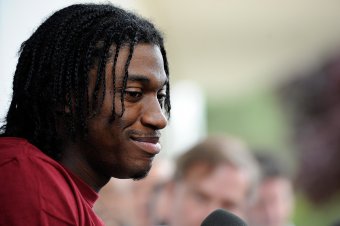 Patrick McDermott/Getty Images
Aside from Reggie Wayne, who will be 34 in November, the Colts don't have any real talent to speak of on offense.
The likes of Donald Brown, Quan Cosby and Austin Collie do not provide Luck or the Colts with legitimate threats at skill positions.
Experience goes a long way in the NFL, and it is much easier for a rookie quarterback to transition if everyone around him can guide him and mentor him a bit. The Colts have an entire offense learning a new system all at once, which makes for great bonding but doesn't lead to any early success.
Both quarterbacks will struggle, but the experience the returning players have for the Redskins means Griffin will have a nice safety net to fall back on.
Griffin also has the advantage of a defense that has the makings of a top 10 unit after finishing 13th in the league last season. The Colts' defense finished 25th in the NFL, which means Luck won't have a lot of extra opportunities or short fields to work with during his rookie year.
The Redskins have one of the most promising pass-rushing duos in the NFL in Brian Orakpo and Ryan Kerrigan, while the Colts hope Dwight Freeney can make the transition from defensive end to outside linebacker at the ripe old age of 32.
In essence, Griffin will succeed because the Redskins are transitioning from rebuild to competition, while the Colts are starting over with Luck. They have not had three offseasons to mold the roster and plug in their franchise quarterback.
There is no predicting how well either Griffin or Luck will perform at the next level. There is far too much still to be determined, and far too much time between now and the start of the regular season for untimely injuries to befall either quarterback or an important piece around them.
Barring the unforeseen playing any part in either Luck or Griffin's rookie year, the Redskins have put their quarterback in a better position to succeed from day one.
This article is
What is the duplicate article?
Why is this article offensive?
Where is this article plagiarized from?
Why is this article poorly edited?

Washington Redskins: Like this team?