London 2012: LeBron James, Kobe Bryant and Team USA's 5 Best Lineups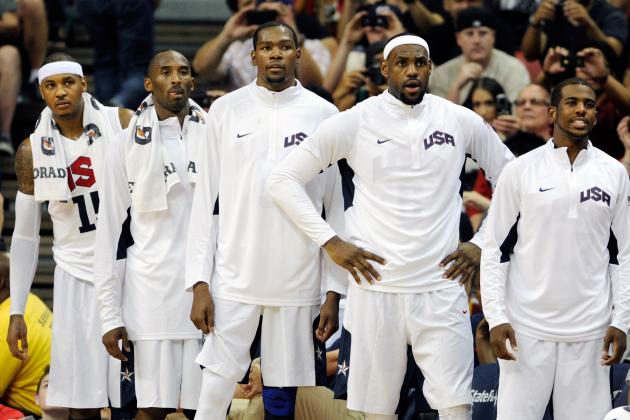 David Becker/Getty Images

With the Olympics right around the corner and warm up games coming to a close, things are starting to get serious for the United States men's basketball team.
With the final twelve-man roster decided, Coach Mike Krzyzewski will have the best players in the world at his disposal. Everyone from reigning NBA MVP LeBron James, to NBA scoring champ Kevin Durant and 2012 number one overall draft selection Anthony Davis will be available to Coach K and Team USA.
How Coach K configures the starting lineups, crunch-time lineups and other lineups will be heavily scrutinized. With an embarrassment of riches, Coach K really can't go wrong as most lineups will feature multiple NBA All-Stars and MVPs.
Here are five lineups I would like to see and ones which I believe will greatly succeed in London.
Begin Slideshow

»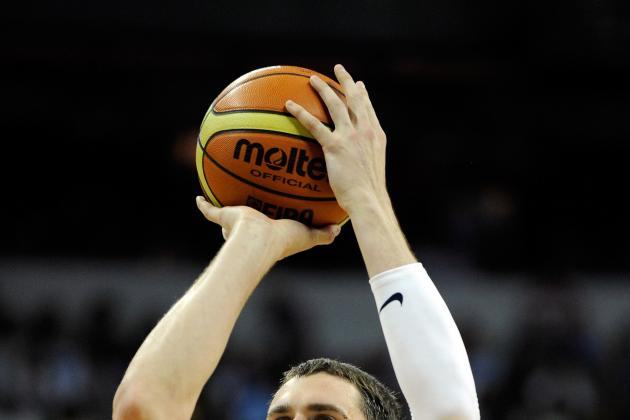 David Becker/Getty Images
Kevin Love's ability the stretch the floor from the center position is a great weapon to have.
C—Kevin Love
PF—Carmelo Anthony
SF—Kevin Durant
SG—James Harden
PG—Deron Williams
If Coach K needs to space the floor and wants Team USA to shoot the lights out of the building, then he should turn to this lineup.
With dead-eye shooters in Durant and Harden on the wings and Deron Williams running the point, opponents will simply run out of gas trying to defend the three-point line.
The key here is Kevin Love. The big man, who is a beast on the glass, is arguably the best shooting big man in basketball outside of Dirk Nowitzki.
Defending five players who can drill threes from all over the court will be impossible for most teams.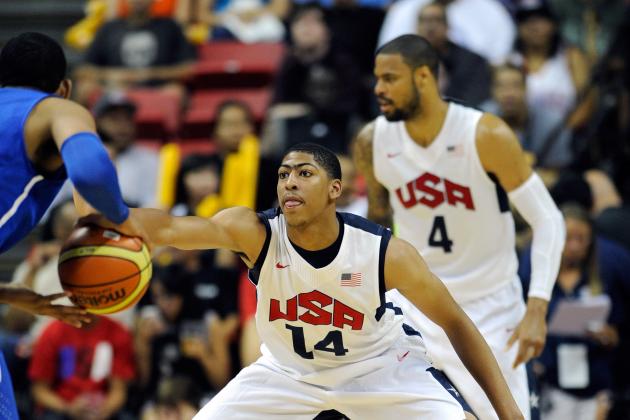 David Becker/Getty Images

C—Anthony Davis
PF—LeBron James
SF—Kevin Durant
SG—Andre Iguodala
PG—Russell Westbrook
Perhaps the lineup I would like to see most would be the all-world athletic lineup these five players would create.
This lineup would simply be a joy to watch—whether it's LeBron skying for an alley-oop, Anthony Davis coming out of nowhere for a block or Russell Westbrook doing his all-action routine, pure entertainment would be the result of this lineup.
But that's not to say this team couldn't win games for you. As embodied by defensive standouts such as James and Iguodala, the length and athleticism of these five guys would be hard to penetrate.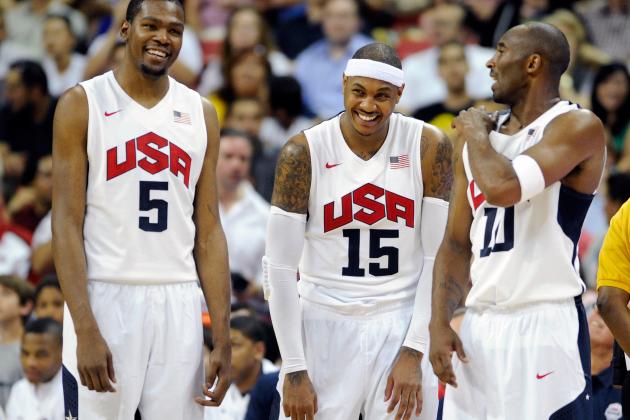 David Becker/Getty Images
Who's the best scorer?
C—LeBron James
PF—Carmelo Anthony
SF—Kevin Durant
SG—Kobe Bryant
PG—Russell Westbrook
The ultimate scoring lineup in the world, combining five of the top six scorers from the 2011-12 NBA season.
This lineup can beat you from the post with LeBron and Melo, outside with Durant or Kobe and by using the speed of a Russell Westbrook.
A true opponent's nightmare, each player must be double-teamed or they will score.
Whether it's from the three-point line, on dunks, post-ups, layups, mid-range jumpers or drives...this lineup will score almost every time it touches the ball.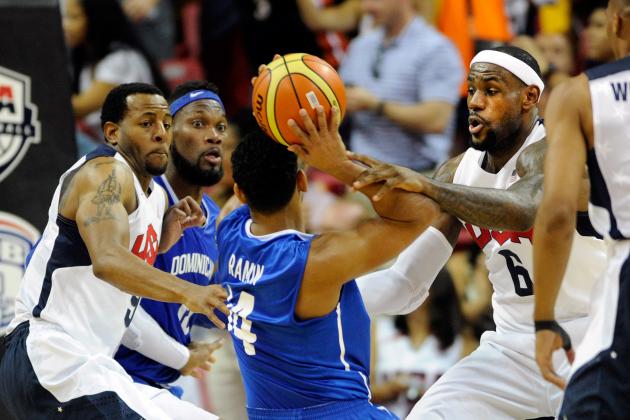 David Becker/Getty Images
LeBron and Iguodala would make it hard on perimeter players around the world.
C—Tyson Chandler
PF—Anthony Davis
SF—LeBron James
SG—Andre Iguodala
PG—Russell Westbrook
Should a situation arise when Team USA desperately needs a stop, this is the lineup that Coach K should deploy.
Combining these five super-long, super-athletic players would result in countless missed shots and turnovers from opponents.
With reigning Defensive Player of the Year Tyson Chandler patrolling the paint and rookie sensation Anthony Davis flying around swatting shots, opponents would find it exceptionally hard to get a good lock near the basket.
But where this lineup truly succeeds would be on the perimeter.
LeBron James is arguably the best defensive player in the NBA, and pairing him up with a similarly great defensive player in Andre Iguodala would bring back shades of Michael Jordan and Scottie Pippen in their heydays.
Add in the feisty play of Russell Westbrook and opposing sides might find it a mission to get the ball past half court.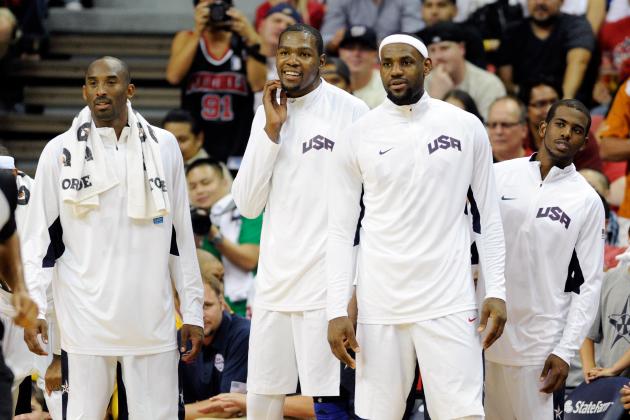 David Becker/Getty Images
When winning time starts, these guys will step up.
C—Tyson Chandler
PF—LeBron James
SF—Kevin Durant
SG—Kobe Bryant
PG—Chris Paul
If the game is close with less than five minutes to go, Coach K should go with his starting lineup.
A lineup suited for any situation, these five players mesh together better than any other five-player combination for Team USA.
With Tyson Chandler guarding the paint, Kevin Durant and Kobe Bryant taking on the scoring load, Chris Paul orchestrating the show and LeBron James performing his all-around game, this lineup will get Team USA the gold.
Perfectly balanced both offensively and defensively, this five-man lineup would beat any other five players in basketball...any day.
Comments?
Better lineups?
Thanks for reading