British Open 2012: Latest Odds for the Leaders at Royal Lytham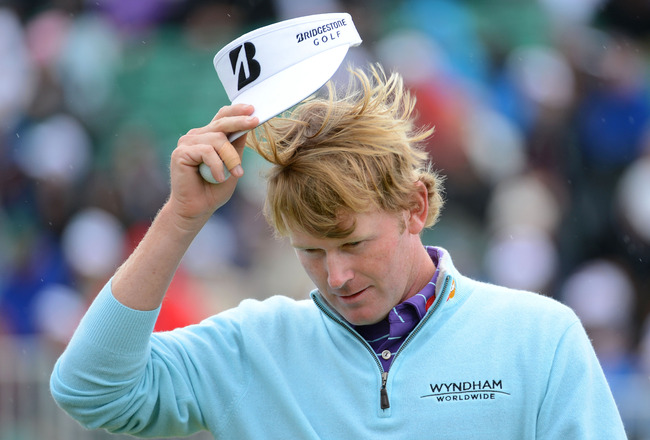 Brandt Snedeker has the 36 hole lead but what are his odds of winning?
Harry How/Getty Images
Brandt Snedeker holds the 36-hole lead at Royal Lytham. He tied Sir Nick Faldo for the lowest score after the second round in an Open Championship.
Low wind, no rain and gentle conditions have made the course slightly easier for the players. Nasty weather on the weekend will sort the wheat from the chaff.
If you're looking to put down the odd quid for the winner come Sunday, here is an update of the latest odds among the leaders.
How have the odds changed for the leader after two rounds?
Ernie Els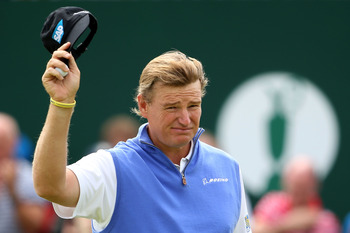 Ernie Els has played well and is in 10th place after 36 holes
Ross Kinnaird/Getty Images
Ernie Els has played very well indeed through the first two rounds at Royal Lytham.
He has only hit 18 of 28 fairways thus far. That is not going to get it done over the weekend.
Ernie was rated at 40/1 heading into the week, but with his two-day score of 3-under par, good for 10th place, his odds have improved to 33/1.
The bettors obviously like Ernie, but don't think he putts well enough to contend late on Sunday.
Thomas Aiken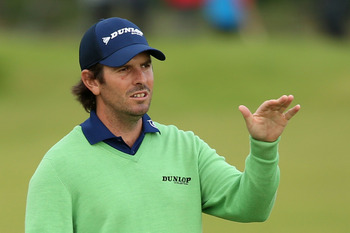 Thomas Aiken is -4 and T-5 at the Open
Andrew Redington/Getty Images
Thomas Aiken has been a European Tour member since 2002, and has one European Tour win.
He has seven wins on the Sunshine Tour, but this is pretty heady stuff for a relatively unknown golfer from South Africa.
He was more than a 100/1 shot to win the Open on Wednesday.
With his 4-under par total through two rounds, he is T-5, and his odds for the win have dropped to 40/1.
Jason Dufner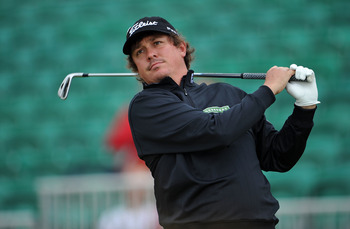 Jason Dufner is T-5 at the Open
Stuart Franklin/Getty Images
Jason Dufner has continued his outstanding play this week at Royal Lytham.
He has two wins on the PGA Tour in 2012, plus a runner-up finish.
Jason's demeanor is perfect for tough golf courses and pressure-packed situations.
He is part of the group at 4-under par and within striking distance of the leaders.
After beginning the week at 40/1 odds, his chances of taking the Claret Jug home on Sunday have now dropped to 16/1.
Graeme McDowell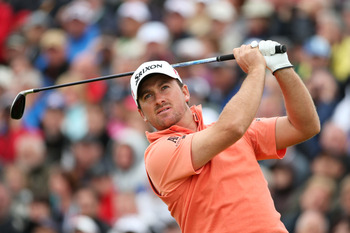 Graeme McDowell is now 16/1 odds to win the Open
Andrew Redington/Getty Images
Graeme McDowell is out to prove that he is a big-game hunter and a force to be reckoned with.
He won the U. S. Open at Pebble Beach in 2010 and just had a runner-up finish at Olympic in the 2012 U. S. Open.
Graeme has made a ton of putts in the first two rounds that have kept him in the ball game.
He is 4-under par and T-5 through 36 holes.
He was rated at 33/1 heading into the Open. The bettors like him a lot better now, and he is at 16/1 for the win.
Matt Kuchar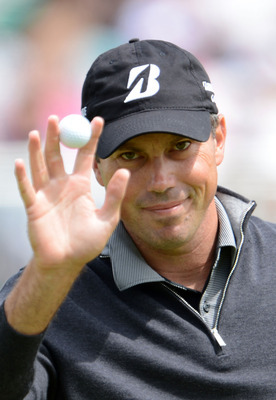 Matt Kuchar is T-5 after 36 holes
Stuart Franklin/Getty Images
Mr. Consistent, Matt Kuchar is at it again, hitting fairways and greens and posting solid scores.
He shot 69-67 in the first two rounds for 4-under par and is in the thick of things heading into the weekend.
He was rated at 40/1 before the tournament began and has now dropped to 20/1.
The benign conditions of the first two days at Royal Lytham likely worked in Kuchar's favor. If the weather turns nasty on the weekend, he may not be so lucky.
Paul Lawrie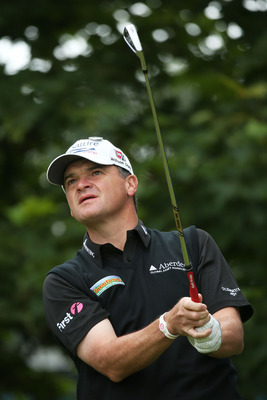 Paul Lawrie won the 1999 Open at Carnoustie
Andrew Redington/Getty Images
Paul Lawrie won the 1999 Open Championship at Carnoustie when Jean Van de Velde decided to throw away a three-shot lead on the 72nd hole of the tournament.
After his major win, he struggled for several years and has just recently found the form that made him a major champion.
Lawrie was a 50/1 favorite at the beginning of the week; he is now at 25/1.
He is straight off the tee and has a quality short game. He could be a factor on Sunday, but there are some big horses ahead of him.
I don't look for Woods, Scott or McDowell to pull another Van de Velde.
Thorbjorn Olesen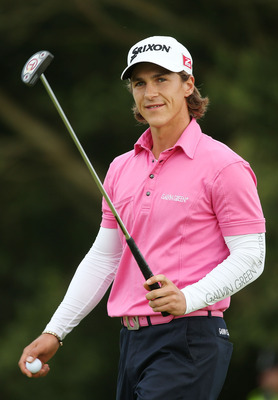 Thorbjorn Olesen is only 22 years old
Andrew Redington/Getty Images
Thorbjorn Olesen is only 22 years old, turned professional in 2008 and has one win on the European Tour.
On Saturday, he will be paired with Tiger Woods.
That should be a wake-up call, and a story for his grandchildren someday.
He is in fourth place alone at 5-under par. Olesen was a 100/1 long shot on Wednesday. The young Dane is now 33/1.
Tiger Woods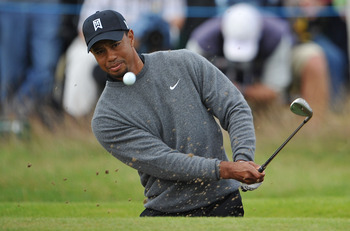 Tiger Woods is in position to win his 15th Major.
Stuart Franklin/Getty Images
Tiger Woods has played the first 36 holes at Royal Lytham with surgical precision. He has hit fairway woods and irons from the tees, only selecting the driver three times.
His main focus is finding fairways and letting his irons do the talking—a strategy that is clearly working.
He was the prohibitive favorite at the start of the week at 6/1. With his steady plodding play, he is now 3/1.
Adam Scott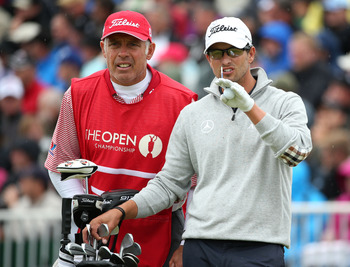 Adam Scott has super caddy Stevie Williams on his bag.
Andrew Redington/Getty Images
Adam Scott held the first-round lead with a superb 6-under-par 64.
He turned in another solid round on Friday and posted a 3-under 67 for a two-round total of 9-under.
Scott appears very comfortable playing Royal Lytham. He is controlling his golf ball and staying away from trouble.
He also has super caddy Stevie Williams at his side. That may be worth a shot in itself. Stevie has been here before.
Adam was rated at 40/1 heading into the Open, but he is now at 3/1, just like Tiger.
The bettors think it will be Tiger and Adam on Sunday for the Claret Jug.
Wouldn't it be fun to see Tiger and Joey and Adam and Stevie all together in the final group on Sunday?
Brandt Snedeker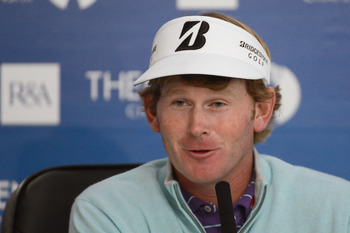 Brandt Snedeker holds the 36 hole lead at the Open
Harry How/Getty Images
Tom Watson won five Open Championships. Brandt Snedeker grew up idolizing Tom Watson.
Can Brandt channel some of Tom's magic and collect a major title?
Brandt's 6-under par 64 on Friday featured some great putting. He is making long putts, which always helps your score.
He has moved from 100/1 odds to 4/1, just slightly behind Adam Scott and Tiger Woods.
Brandt will need to keep the putter working to stay atop the leaderboard.
Keep Reading