The Rock, John Cena and Undertaker: The Top 30 Stars in RAW History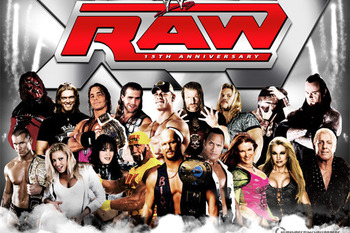 photo from wordinfo.6.blogspot.com
One thousand episodes. Hundreds of wrestlers. One show.
WWE Monday Night Raw has been on TV since 1993. During that time, countless men and women have graced the screen to entertain millions of fans.
Out of every superstar who has been on Raw during this time, who was the most popular? Who made the company the most money? And who got viewers across the world to change the channel and watch them?
This list covers the top 30 acts in Raw history.
Some of the biggest names in wrestling over the last 20 years don't make this list due to the short time they spent on the Raw program. Hulk Hogan, Brock Lesnar and Goldberg didn't make the cut, as they appeared on only a handful of episodes and achieved their glory elsewhere.
Even though Smackdown falls under the WWE umbrella, this list is to celebrate the 1,000 Raw episodes and the accomplishments achieved by wrestlers on the program.
Now, here's the Top 30 men and women in the show's history.
Let's kick it!
#30: Shane McMahon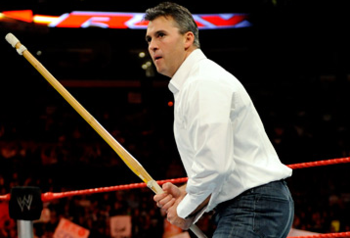 Photo from ringofextreme.com
Here comes the money!
Usually nepotism in wrestling is a horrible idea (just watch Garrett Bischoff on Impact and you'll get an idea why), but Shane O Mac was actually talented.
He could antagonize and gloat with the best of them. He could also go in the ring. While not a great technical wrestler, he took crazy bumps that were often the highlights of a show.
Shane had some memorable moments on Raw during the Attitude Era. He was a member of the Corporate Ministry, as well as those evil hoodlums The Mean Street Posse.
He was a constant thorn in the side of Steve Austin and The Rock, often involved in some of the biggest feuds of the era. He also tried to stick up for the honor of his sister in an entertaining feud with Test.
While he always came up on the losing side of feuds with guys like Kurt Angle and Steve Blackman, he tried his hardest to get his opponent over.
He later came back on Raw to get revenge on Kane, to help his dad fight DX and to try and take down Orton and Legacy.
While never a five star wrestler, Shane was a part of the hottest run the company ever had, and took place in enough high profile angles and matches to help him make the list.
Now only if he'd stop by to say hello, and take an insane bump or two now and again.
#29: Christian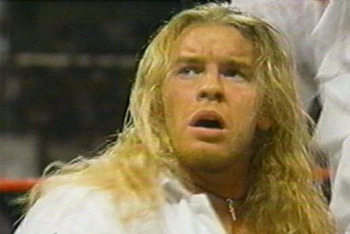 Photo from theman-cave.com
Christian hasn't been a Raw wrestler since 2005, but he came a long way on the program from his time in the Brood to a near main eventer.
You can't talk about Christian's time on Raw without mentioning Edge. The two teamed up to win the Tag Team Championships seven times, fighting in classic matches with the Hardy Boyz and the Dudleys.
After his tag team with Edge ended, it took Christian some time to get over on his own, but his alliance with Trish and Tomko was the start of some entertaining stories.
Christian continued to move up the card with his Captain Charisma character, which looked like he may have finally been headed for the big time.
Unfortunately, he was drafted to Smackdown where he was jobbed out. He jumped to TNA never to return full time to the flagship show.
While Christian hasn't done much on Raw lately, he was one of the most dependable and entertaining mid-carders for years.
#28: Booker T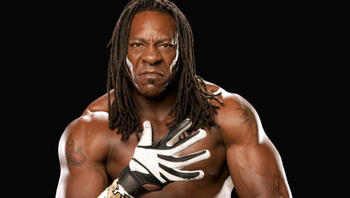 Photo from Gerweck.net
Booker T had most of his WWE success on Smackdown, where he won the Heavyweight Title.
Still, he had a solid run on Raw.
Booker invaded WWF with the rest of WCW (well, their B-team at least) during the Invasion angle. He was spotlighted as the best wrestler on the WCW brand while feuding with the top WWE wrestlers.
After that storyline ended, and the first draft took place, he stayed on Raw teaming up with Test in mid-card tag matches. A baby face turn had the crowd slowly latching onto him as a favorite.
The highlight of his time on Raw was his feud with Triple H, which led to a match at WrestleMania 19 where he came up short at his chance for the title.
A trip to Smackdown and back saw him very briefly join the NWO, and form a popular odd-ball tag team with Goldust.
Booker T has been a big part of many wrestling shows, and his time on Raw was no exception.
#27: Jeff Jarrett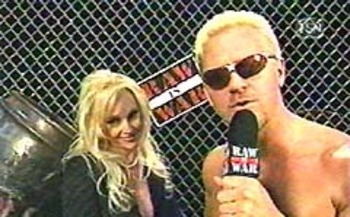 Photo from slam.canoe.ca
Jarrett just couldn't make up his mind of where he wanted to go. He seemed to keep going back to WWF and WCW at the drop of his hat.
Jarrett was a member of the Raw roster during the early years of the show, highlighted by competing at WrestleMania and winning the Intercontinental title. After a contract dispute, he jumped over to WCW for a run.
But it was his last run on Raw in the late 90s that saw him arguably achieve his most success as a heel.
Teaming up with Debra McMichaels, the two were a perfect pair; he drew the ire from fans across the country when he wouldn't let them see her puppies.
Jarrett liked to hit people with guitars and put them in figure-four leg locks: Cindy Margolis, The Fabulous Moolah and even Ben Stiller felt the wrath of Jarrett during this time.
Not just an entertaining solo act, his tag team with Owen Hart was also often one of the highlights of the show.
Jarrett never quite made it to the main event on Raw, and he was "pissed off" in real life when Steve Austin vetoed a main event feud with him. Still, Jarrett was a great mid-card act and had incredible heat from the fans before he jumped to WCW once again.
#26: CM Punk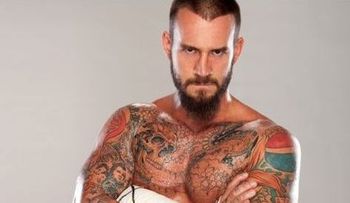 Photo from fanpop.com
Punk has only been a top star on Raw for a year, but he's sure to rise up this list as time goes on.
Punk spent a good portion of his early WWE career on ECW and then onto Smackdown.
In the 2008 draft he joined Raw. He immediately made an impact, when he won the World heavyweight championship after he cashed in his Money in the Bank contract on a downed Edge.
His first title run was uneventful, and he found himself back in the mid-card after he lost the title by forfeit. It was Punk's next run on Raw that saw him catch fire.
He took over the New Nexus and kicked Wade Barrett out of the group. A feud with Randy Orton saw him on the losing side, but his next big feud with Jon Cena made him a star.
In an infamous Raw moment, Punk did a worked/shoot promo on the company and became so popular that WWE turned him face.
Holding the title for over eight months, Punk has been one of Raw's biggest stars and should be one for years to come.
#25: Batista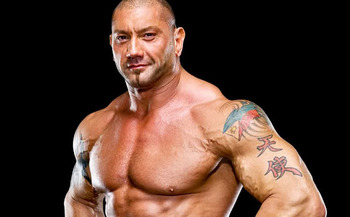 Photo from justbatista.com
Lucky for Dave Batista, he jumped to Raw and no longer had to portray a Deacon.
Upon the move, he joined up with Evolution and the group began to dominate Raw.
However, just like what happened to Orton, Triple H and Ric Flair conspired against him. Unlike Orton, Batista saw it coming, and literally turned the tables on Triple H when he powerbombed him through one.
Batista defeated Triple H for the Heavyweight Title at the main event of WrestleMania 21 and in subsequent rematches.
He then switched with John Cena, and became the face of Smackdown after the draft. He didn't come back until a couple years later in 2008 where he had a run fighting Legacy along side his old nemesis Triple H.
He jumped to Smackdown again, but came back to have another short run as a heel on Raw, where he had an entertaining feud with Cena before leaving to pursue an interest in acting and MMA.
#24: The Big Show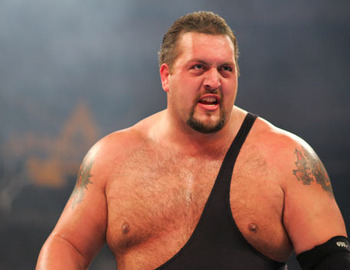 Photo from allwrestlingsuperstars.com
Much of The Big Show's success has been on the blue brand, but he's done just enough on Raw to make the list.
Debuting shortly before WrestleMania 15, The Big Show (then known as Paul Wight) was thrust into the main event scene taking on Steve Austin and Mankind.
He later became the World Heavyweight Champion, and had a short run facing off against the dastardly Big Boss Man. McMahon seemed to sour on The Big Show, and he became more of a mid-carder and a comedy act for a few years before jumping to Smackdown.
He didn't return to Raw until 2009, where he feuded with John Cena (sound familiar?), and then teamed up with Chris Jericho in the successful Jeri-Show tag team.
He currently seems to be a member of Raw and Smackdown, (like most of the roster does) and is again a top act.
Even if he decides to hang up the singlet soon, he'll have a spot as one of the best Raw big men ever.
#23: Ric Flair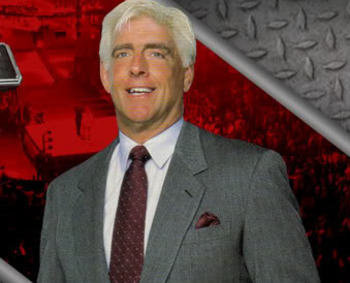 Ric was around from when Raw began, until he lost a loser leaves town match to Mr. Perfect. He went to back to WCW for the next nine years, but again returned to WWE to portray the owner of Raw.
While Ric was on Raw, the brand split actually made sense. Two different people owned the shows and they competed for talent.
Apparently that made too much sense and Ric went back to being a wrestler, albeit still a very good one.
He showed guys like The Undertaker that he still had it, and could take bumps like nobody's business.
As his in-ring career started to slowly wind down, Ric took on the role of the manager for Evolution, and helped Randy Orton and Batista become main eventers.
Flair's post-Evolution time on Raw was pretty awkward. He feuded with Edge, and later had a short lived tag team with Carlito of all people.
A run on Smackdown didn't last long, and Flair emerged for his last Raw run.
Vince announced that next time Flair lost would be his last, and he successfully kept his career going for months until a run-in with Shawn Michaels at WrestleMania ended his career.
Ric missed out on being on Monday Night Raw for nearly a decade, but the time he put in was enough to still be considered one of the greatest wrestlers in the show's history.
#22: Chris Benoit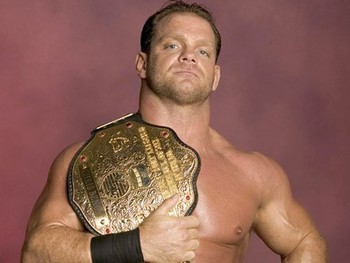 Photo from allwrestlingsuperstars.com
It's almost impossible to forget how Chris Benoit's life ended, but before the tragedy happened, he was at one time a great hero of Monday Night Raw.
Benoit had a classic entrance onto WWF television, where along with the Radicalz, he jumped the New Age Outlaws from the front row seats, after being employed by WCW just the night before.
He went on to have tremendous in-ring feuds with Kurt Angle and Chris Jericho before he found himself in the title hunt. He won the 2004 Royal Rumble, and set his sights on Triple H's gold on the Raw brand.
A three-way match at WrestleMania 20 saw Benoit come out on top, and culminated his lifetime of hard work and dedication to the business.
Benoit's run on the top of the card was fairly short, but he could still be counted on to provide one of the best matches on the show.
While his legacy is forever tarnished, he should not be written out of wrestling history, nor should his time on WWE Raw be forgotten.
#21: Trish Stratus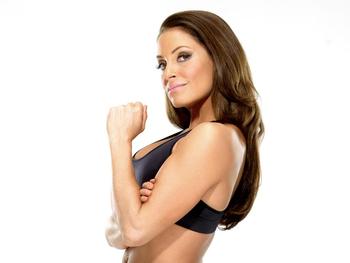 Photo from poptower.com
It's hard to imagine that Trish was one of the greatest divas of all time after watching her horrendously embarrassing debut with the tag team T&A.
She started off as a heel manager, but rose above it and became featured more prominently on Raw. After a babyface turn, she became the face of the women's division.
Not just a pretty face, Trish could actually go in the ring and won the Women's championship seven times. She had some good matches with Victoria, Jazz and her arch-nemesis Lita.
Trish had a lot of acting range, as she was also a great heel. Her time with Christian was a lot of fun, and she later made life a living hell for divas search contest winner Christy Hemme.
Trish called it a career far too soon, but still had one heck of a run while she was on Raw, and is one of the most popular divas of all time.
#20: Randy Orton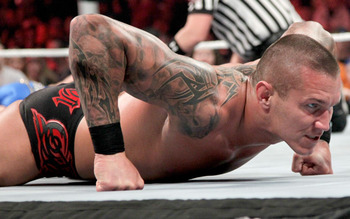 Photo from wrestlingvalley.org
Orton is often identified with Smackdown, but it was on Raw where he rose to prominence.
After a mediocre run on Smackdown, he jumped to WWE's flagship show and quickly joined Evolution. Under the guidance of Triple H and Ric Flair, Orton slowly started to come into his own and became "The Legend Killer."
After a great feud with Mick Foley, Orton was ready for the main event. He took out Chris Benoit at Summerslam to become the youngest World Heavyweight Championship ever.
Triple H wasn't too keen on Orton being the champion instead of him, and had Evolution give him a thumbs down beating in a classic Raw moment.
He went to feud on with his former group for awhile, and then jumped to Smackdown so he could take on the Undertaker.
Orton came back a couple years later to form Legacy and feud with guys like Jeff Hardy, CM Punk and a seemingly never ending feud with John Cena.
While he's had a bit of controversy during his time on the roster, he'll probably have quite a few great Raw moments ahead of him.
#19: Lita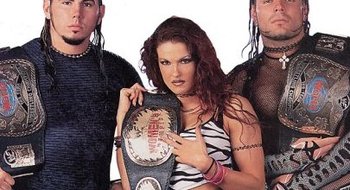 Photo from allwwedivas.com
Lita didn't have to talk much, she could just stand there and look cool.
Her teaming with the Hardy Boyz brought in a lot of young female fans during the Attitude Era, and she was one of the few female wrestlers they could look up to.
Originally debuting with Essa Rios as a heel, she switched to a face, and gained a lot of popularity when she joined up with the high flying tag team brothers.
On Raw, she had big feuds with Trish Stratus and Stephanie McMahon. She could also execute a nice looking hurricanrana in nearly every Hardy Boyz match, and would often take off her shirt to the delight of the male audience.
Lita was also a solid heel.
After joining up with Edge to feud with Matt Hardy, the duo became main eventers and were the hottest act in wrestling. It was a great pairing until Lita decided she'd had enough of the business and left to pursue other interests.
She randomly pops up from time to time, but it would be great to see her in the ring a few more times. She could teach a thing or two to the current crop of divas.
#18: Sable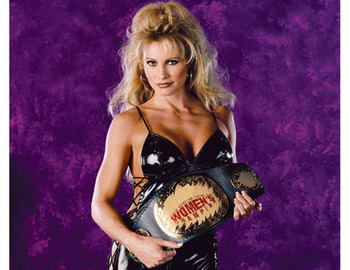 Photo from thewrestlingdivas.org
It's arguable that no female wrestler ever has been as over as Sable was.
Trish Stratus and Lita may have been better wrestlers, and had lengthier careers, but neither got the crowd pops that Sable did.
WWE had a bunch of tough talking, ass kicking guys in the Attitude Era, but Sable was their top female act who could also get down to business. She personified the sexiness that WWE was going for to bring in young male viewers.
Starting out as a manager for Marc Mero, she quickly eclipsed him in popularity and became one of the top draws in the company. Sable left the company at an early age and sued WWE. It looked like we'd never see her again.
She returned to Smackdown a few years later, but it wasn't the same. Still her time on Raw was one of the highlights of the late 90s.
#17: Jeff Hardy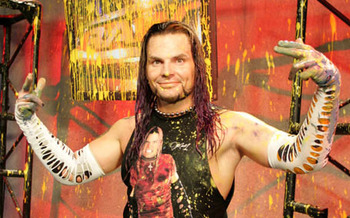 Photos from wwephotos.org
Whether as a tag team wrestler, or a main event face, Jeff Hardy had an intangible "it" factor.
His tag team run with his brother Matt would make him a fan favorite, but it wasn't until he broke off on his own that Jeff showed his true potential.
Jeff was a rising star on Raw, but he didn't have his personal life in order and was released in 2003. He returned a couple years later, and after a short Hardy Boyz reunion, he went off on his own and carved out his own path to the top.
For a short time, Jeff Hardy was arguable the No. 2 babyface in the company, next to John Cena. While his world title reigns occurred on the Smackdown brand, Hardy put in enough time on Raw to have been one of their biggest stars.
It's too bad that Jeff didn't stick around longer. He was really starting to come into his own as a singles act, and still isn't anywhere near the star he should have been during his recent run in TNA.
#16: Chyna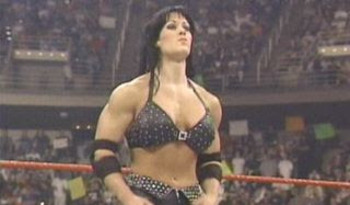 Photo from wwextreme.com
While Chyna is usually a punchline to a joke these days, there was a time when she was the most popular women's wrestler on the planet, by far.
Chyna was a member of the fan favorite D-Generation X group where she accompanied Triple H to ringside, and did his dirty work when the ref wasn't looking. After DX, she followed Hunter into the Corporate Ministry as he began his rise to the main events.
She was the first woman to qualify for the King of the Ring tournament, the first female entrant in the Royal Rumble and the first to hold the Intercontinental title.
During her time on Raw, she also wrote a book and landed the cover of an hugely successful selling issue of Playboy. Chyna proved that she was a star.
Whether it was as a member of DX, or her relationship with Eddie Guerrero, Chyna was in many big and entertaining story lines during Raw's history.
It's too bad that she has such heat with company, and personal issues to work through, as she's one of the few big stars never to return a single time once she left.
#15: Kurt Angle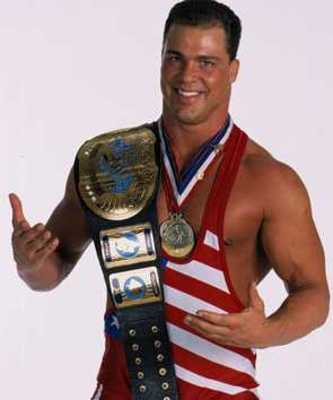 Photo from wrestling-match.com
Your Olympic gold medalist was one of Raw's greatest superstars.
Angle jumped on the scene in a gimmick where he was supposed to play a "boring" wrestler. It didn't last long. He immediately proved he was way too entertaining for that.
Kurt introduced a generation of wrestling fans to his Three I's (integrity, intensity and intelligence). While these ways to live by didn't change any lives, they were funny.
He had one of the fastest rises in WWE history, when he skyrocketed up the card and began main-eventing within a year. Kurt was a natural and took to the sport faster than nearly anyone else ever had.
Many fans still look back fondly on many of his great Raw moments: moonsaulting off the cage onto Benoit, the milk truck attack on WCW and his love affair with Stephanie McMahon.
Angle's time on Raw was relatively short as he jumped to Smackdown, to ECW and then to TNA, but he made the most of his time there and is still one of the biggest stars the show ever had.
#14: Owen Hart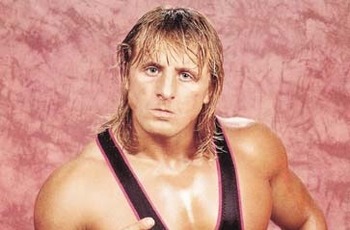 Photo from notinhalloffame.com
Owen was a mainstay on RAW from the show's beginning until his tragic death.
The "King of Harts" won the King of the Ring and began to feud with his brother Bret. After the end of their feud, he was more often than not a tag team wrestler teaming up with Yokozuna, The British Bulldog and later Jeff Jarrett.
Owen was rarely in the main event, but he always had something entertaining going on. He was a key member of the Hart Foundation where he helped his family battle Stone Cold and broke his neck during a match.
After the infamous night at Survivor Series 97, he joined on with The Nation as a co-leader along with The Rock. He later broke away to team with Jarret and also donned a mask and portrayed The Blue Blazer.
Sadly, it didn't last long as Owen died during a horrific accident at a pay-per-view.
Owen is remembered as one of the hardest working, nicest and most entertaining wrestlers in the history of Raw. If only he were still around today, to see how successful the show has become.
#13: Edge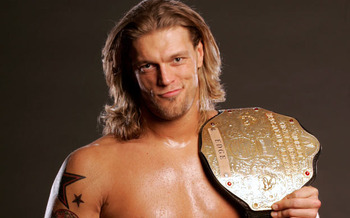 photo from thecoolkidztable.blogspot.com
You think you know him?
Edge was introduced to Raw viewers during a series of vignettes that took place in the New York subways. After he debuted, he shortly joined up with Gangrel and brought in his storyline brother Christian to form The Brood.
The group was a solid mid-card act, but it was clear from early on that Edge was the one destined to be a star.
His tag team with Christian turned out to be one of the greatest in WWE history, as the two could go in the ring and be incredibly funny in backstage sketches.
After breaking out on his own, it took Edge a while to reach the main event; after his reality- based feud with Matt Hardy on Raw, he was ready for it.
His pairing with Lita was brilliant and helped propel the two into the big time. The "Ultimate Opportunist" took the title from John Cena while cashing in his Money in the Bank contract.
The two then went on to feud for months in one of the era's best rivalries.
This was probably the highlight of Edge's career on Raw. When he came back from Smackdown a couple years later, he seemed lost in the shuffle.
Fans were deprived of many more great Raw moments from The Rated R Superstar when he was forced into early retirement due to a neck injury.
#12: Chris Jericho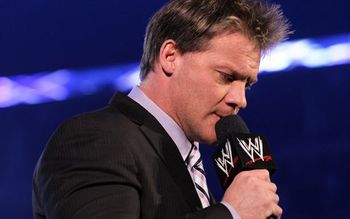 Photo from wwehub.com
Chris Jericho's WWE debut is often considered one of the best Raw moments of all time.
The "Ayatollah of Rock and Rolla" jumped ship from WCW to the hottest wrestling show on the planet where he confronted The Rock.
Very few people on the planet can hold their own against Rock in a verbal battle, but that night Jericho did.
Jericho struggled for his first couple years on Raw, being pushed into the mid-card where he feuded with X-Pac and Chyna. He had some highlights during this time in matches against Chris Benoit and Eddie Guerrero, but Jericho wasn't main eventing like most fans thought he should.
During the Invasion angle, it seemed WWE was getting more serious about getting behind him. He was getting more screen time, and later turned back to a heel.
He became the first Undisputed Heavyweight Champion, and while not featured as much as Triple H and Austin, he was still a focal point of the show.
Jericho left TV for awhile, but came back to Raw in an incredible feud with Shawn Michaels. He spent a short time on Smackdown, but most of his later runs have been on the Raw brand.
He's had an interesting career teaming up with many different wrestlers, and feuding with nearly every top face. While he seems to come and go whenever he pleases these days, Raw wouldn't have been the same without Chris Jericho.
#11: Mick Foley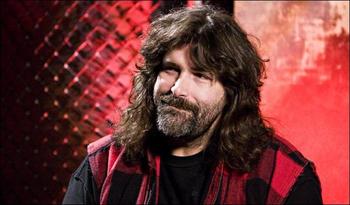 Photo from cagesideseats.com
A lifetime of heavy bumps kept Foley out of the ring years before it should have, but not off of this list.
Whether he was Mankind, Cactus Jack or Dude Love, Foley was always a fan favorite.
His WWF debut saw him as a heel under the tutelage of Paul Bearer. He went to war with the Undertaker, and while he ended up on the losing side of the battle, he became a star.
Foley was a big part of the success and popularity of the Attitude Era. He won the Heavyweight Championship multiple times, and his tag team with The Rock was one for the ages.
He was a part of the highest rated segment in Raw's history with the "Rock, This is Your Life" skit, and had many other classic Raw moments. Not only could he show off his comedy skills, but he had an unbelievable hardcore style in the ring that will never be duplicated in WWE.
Post retirement, he had a fun run as the Commissioner and great feuds with Randy Orton and Edge (as well as some time in TNA).
He's currently taking it easy, and settling into a Legends role, making sporadic appearances for the company these days.
#10: Kane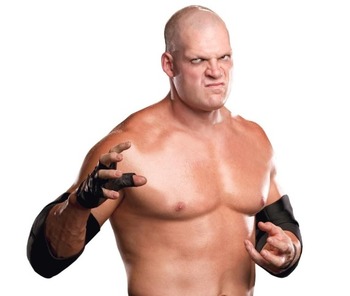 Photo from wwesuperb.blogspot.com
Kane's character rose to prominence on the Raw program, and was reinvented years later there when he was unmasked.
Sure, he had a few clunky story lines on the show like Katie Vick, but he's spent years as one of the show's top stars.
On Raw, Kane first debuted as the forgettable Isaac Yankem DDS, and then as the baffling Fake Diesel. To the surprise of no one, these acts didn't get over. But once he disappeared and slapped on a red and black mask, he became an instant star.
Kane was a big part of the Attitude era. During this time, he engaged in an epic feud with his storyline brother The Undertaker. The two then teamed up, and set their sights on "The Texas Rattlesnake" Steve Austin in the show's top angle.
Kane even had a one day title reign before Austin took it back on Raw the next night, but it was clear that Kane was still a force to be reckoned with.
He's had other classic stories on Raw like his marriage to Lita and tomb-stoning Linda McMahon.
While he's not pushed like he was in his debut, Kane still strikes fears in the hearts of his opponents, as well as supplying the occasional laugh.
Since 1997, Kane has been one of the most dominant forces on Raw and in all of wrestling.
#9: Jerry Lawler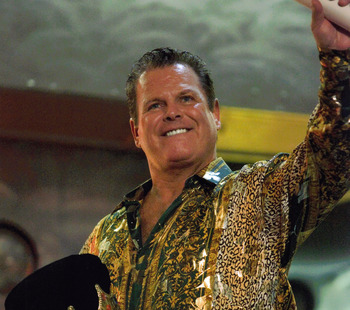 Photo from imageevent.com
Whether he was fighting Bret Hart, cracking jokes about puppies or fighting The Miz for the WWE title, Jerry Lawler has been a Raw legend.
In fact, we've probably heard Lawler's voice more than any other during Raw's history.
He'll forever be linked with Jim Ross on the show, but unlike Ross he hasn't been subjected to a series of humiliating story lines over the years.
Most of his time has been spent as a heel announcer, but he has stepped out from behind the desk on occasion to take on guys like Muhammad Hassan, Dean Malenko, Ric Flair and The Miz.
There's no sign of Lawler slowing down, as he still looks like he's in good shape in his early 60s. Expect to see and hear Lawler as one of the voices of Raw for years to come.
#8: Bret Hart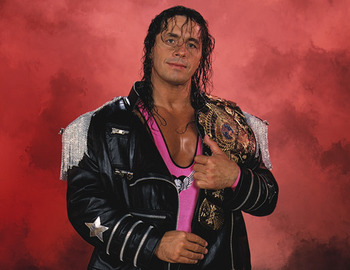 Photos from prowrestling.wikia.com
From Raw's humble beginning in 1993 to the crazy incident at Survivor Series 97, Bret Hart was usually the top star on the show.
Raw wasn't especially hot for those first few years, as the better produced Nitro came on the air and began raiding WWF's talent.
Bret held on though and stayed loyal to WWF to help fight off the oncoming threat.
During his time on Raw, Bret was a great hero that you could look up to, and later played a heel you loved to hate.
His time in the company ended too soon though as he was caught up in one of the most infamous wrestling scandals of all time: the Montreal Screwjob.
After the incident, Bret didn't appear on WWE television for nearly 15 years.
He made a shocking return, and had a short run as the GM of Raw, but he'll still be remembered as one of the program's top heroes.
#7: Undertaker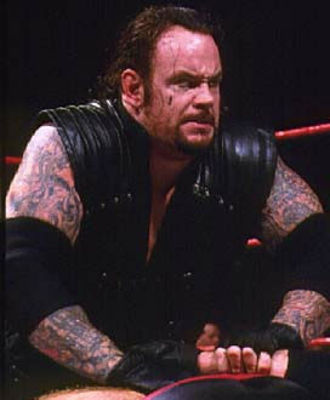 Photo from vanishingtattoo.com
Undertaker is one of the true living legends of professional wrestling.
Even though he spent a few years as a Smackdown exclusive, he still easily makes this list.
Undertaker was on the very first Raw way back in 1993. It's amazing to think he's been around so long, and is still so popular whenever he shows up.
Incredibly, Undertaker was able to transition from his cartoonish gimmick in the early Raw years to a bad ass gothic gimmick during the Attitude Era.
Somehow, he also seemed to get better in the ring every year.
After a lengthy hiatus from an injury, he dropped the Dead Man gimmick, and re-appeared as "The American Bad Ass" as a main event face. This run lasted for a few years, before being drafted to Smackdown.
Recently he spends most of his time on WWE's flagship show only showing up around WrestleMania season where he's had classic feuds with HBK and HHH.
Undertaker is also one of the very few top wrestlers not to jump to WCW during the Monday Night War, and helped keep WWF alive during that trying period.
He's been loyal to the company, and they've been loyal to him. Together they've helped create many classic Raw moments.
#6: Triple H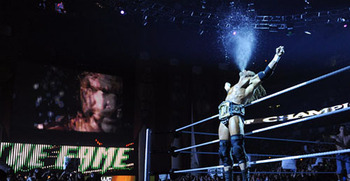 Photo from http://s1.e-monsite.com
Triple H seemingly carried Raw on his back for a few years.
Whether that was because of his backstage political maneuvering or not isn't for debate here, but for awhile, Hunter was the centerpiece of the show before a guy named Cena took over.
Hunter spent his first few years on Raw as a snobby elitist known as the "Connecticut Blueblood." Luckily, he changed his act and joined DX where he was on the way to becoming a star.
After Shawn Michaels retired, many wondered about the future of the group, but Hunter took the ball and ran with it as the new leader.
Once Rock and Austin left the company, it was all up to Hunter to carry the load. He feuded with every top act on the roster: RVD, Booker T, Kevin Nash, Goldberg, Kane and more. Much like Cena now, the main storyline in WWE was whoever Hunter was feuding with.
After a lengthy heel run, he remained a top act when he teamed up with Shawn Michaels to reform DX.
Hunter is a very limited part time wrestler these days, but whenever he shows up the crowd's treat him as one of the legends of Raw.
#5: Shawn Michaels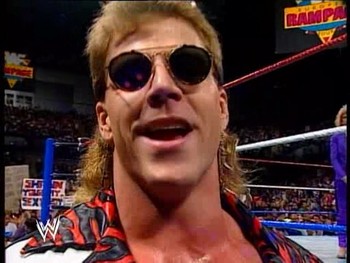 Photo from wrestlingrush.com
As amazing as Shawn Michael's career has been, it's hard not to wonder how his career would have been had he been active for the Attitude Era.
Along with Bret Hart and Undertaker, Shawn was one of the top wrestlers when Raw debuted. He helped carry the show during the early years of the program before suffering a horrible back injury.
Stepping away from in ring action for over five years, Shawn would make sporadic appearances as the commissioner, but it was believed his wrestling days were over.
Michaels surprisingly came back to Raw and joined the NWO. He then moved into a feud with HHH where he got back into the ring. A whole new generation of fans were able to see the master at work, and amazingly he hadn't lost a step.
For the next few years, Shawn was on TV more often than not, putting on great matches almost every time.
One of the few stars to have never been a Smackdown draftee, Michaels was one of the top guys on Raw for a combined total of close to 15 years.
#4: John Cena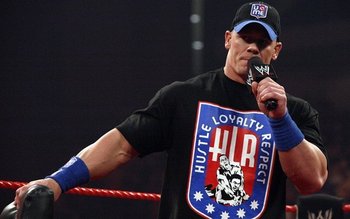 Photo from fanpop.com
Love him or hate him, John Cena is one of the biggest stars in Raw history.
After spending some time on Smackdown finding his footing, Cena quickly became the face of the company when he was drafted to Raw in 2006.
Since then, no one has come even close to the amount of TV time, pay-per-view main events and merchandise sold. Everywhere he goes, he remains the most polarizing act to appear on Raw in the show's history. Large "Let's go Cena!", "Cena Sucks!" chants break out in nearly every city he appears.
Seemingly every top feud on Raw over the past six years has revolved around Cena. He's taken on the Nexus, he's risen above the hate and gone toe-to-toe with The Rock.
While his time at the top was never as hot as the Rock or Austin, his run has already been longer.
Expect him to be the face of the company for some time, whether you like it or not.
#3: Mr. McMahon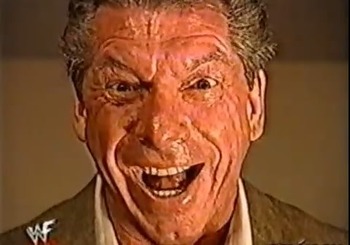 Photo from officialfan.proboards.com
WWE's most diabolical, maniacal villain to ever appear on Raw is also the company's owner.
Vince made life a living hell for his roster, and especially seemed to have his sights on taking out his top star: Steve Austin.
The Austin/McMahon feud is one of the greatest, money making feuds in wrestling history. Without the evil boss character that Vince portrayed, Raw wouldn't have been as hot as it was.
McMahon tried to get Steve Austin to do things "the easy way," but Stone Cold liked to do things his own way. The two feuded for years, and audiences ate it up. During this time, Mr. McMahon became a classic television character and was one of the best talkers in the business.
The amazing part is that Vince could barely wrestle. He didn't step into the ring until his early 50s. While his physique was incredible, his athleticism was questionable.
After Vince feuded with Stone Cold, Mick Foley and The Rock, he began to appear on TV less frequently. He'd have an occasional run where he'd come back to fight DX, but his appearances were usually reserved for big announcements.
He rarely shows up these days, but when the "No Chance in Hell" music plays, you know something big is about to go down.
#2: The Rock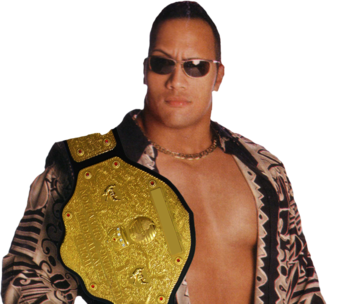 Photo from wweofficials.com
While Smackdown may be named after one of The Rock's catchphrases, it was during his time on Raw that you most often see WWE's most classic moments.
The Rock probably has more natural charisma than any wrestler ever. That's why he still comes in at number two on this list, even though he put in less years than most of the other wrestlers.
It's almost unfortunate that Rock and Austin came along at the same time. Had they come one after the other, the wrestling boom period might have been extended even longer.
It wasn't a bad problem for a company to have, as two once in a lifetime superstars emerged at the same time. Their feuds against each other were one of the highlights of the era as well.
Rock could do it all. He was a heel that fans loved to hate, and he could later rally those same fans behind him like no other wrestler.
Whether he was dropping the People's Elbow, raising his eyebrow or leading the crowd in a sing-along, he was bringing in the viewers, and could entertain people that didn't even like wrestling.
His promos were electrifying, the crowds exploded whenever he came out and he was good in the ring. He was the perfect combination of what a wrestler should be.
The problem is, The Rock was too talented, and Hollywood came calling, taking away the company's top star. The Rock took a long break from wrestling, but his recent returns have sparked high ratings and high WrestleMania buy rates.
Hopefully he makes sure to come back home and visit us for years to come.
#1: Steve Austin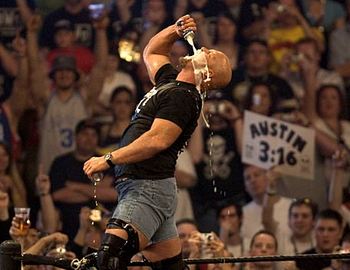 Austin was a full time wrestler for only about five years of Raw's run, but if you don't think he deserves the No.1 spot, go back and watch a clip of the pops he used to get.
No one has had a hotter time on top than Austin did during the late 90s. His feuds on Raw with Undertaker, The Rock and Vince McMahon have become legendary.
Wrestling became cool in the late 90s largely because of Stone Cold. You couldn't go anywhere without seeing Austin 3:16 shirts. Raw became the show you had to see if you wanted to keep up with pop culture.
During the Attitude Era, Austin was Raw.
Every week would revolve around what he was doing, who was going to get a Stunner and the giant destructive spectacles he would help create. He rode zambonis, monster trucks, cement mixers and a beer truck to raise some hell.
He also lived out the American dream by beating up his boss, and the crowd had his back the entire way.
Austin's heel turn as the leader of the Invasion, and portraying the "Sheriff of Raw," left a lot to be desired, but in the end he gets a free pass due to the overwhelming popularity as the top guy on the longest running wrestling show in history.
Keep Reading