Why the Mets Owe It to Their Fans to Make a Big Trade Deadline Splash
Use your ← → (arrow) keys to browse more stories
Mike Stobe/Getty Images
Does David Wright hope that Mets ownership brings in outside help?
The New York Mets are walking a tightrope in the NL East race going into the weekend.
Entering Friday's schedule, the Mets are seven games behind the first-place Washington Nationals with a 47-45 record. Salvaging one win from the Nats in their three-game series this week was crucial. Getting swept by the Braves and Nationals in back-to-back series would have been a significant blow.
Yet the Mets are 3.5 games behind in the wild card race with three teams ahead of them in the standings. Though a division title seems to be slipping away, a spot in the postseason is still very much within their grasp.
However, the Mets' precarious status in the playoff race has the front office and reporters who cover the team wondering just how much of a push should be made at the trade deadline.
As the Star-Ledger's Andy McCullough writes, the Mets need bullpen help. It's not a secret. But would getting a reliever really make the difference between contending or not?
Maybe that's asking the wrong question.
Yes, the Mets have the worst bullpen ERA in baseball at 5.03. Opposing lineups are batting .269 against Mets relievers. Only three teams are worse. Bringing in a quality reliever would undoubtedly help this team.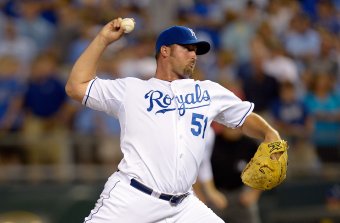 Jamie Squire/Getty Images
Plenty of good arms are available too. ESPN New York reports that the Mets are keeping an eye on the Royals' Jonathan Broxton. Huston Street is presumably available, though CBS Sports' Jon Heyman reports that the Padres want to sign him to a contract extension.
The Astros' Brett Myers also seems like a good fit for the Mets, but according to the New York Post's Joel Sherman, they're not interested.
Other relievers that warrant a look include Oakland's Grant Balfour and the Mariners' Brandon League. And how about Francisco Rodriguez? Would the Mets be interested in bringing him back?
The point is that the Mets can get a reliever. General manager Sandy Alderson doesn't want to give up a top prospect in such a trade, but that's to be expected.
A top prospect shouldn't be traded for a reliever, unless it's believed that a such a player is the final piece necessary for a championship run. But how often is that the case? Otherwise, you're looking at Jeff Bagwell for Larry Andersen. No team is ever making that trade again.
Yet the Mets can get a reliever, which means they should. The front office owes it to the players who have played above their heads all season, contending for first place and a playoff spot when the Mets were expected to finish in last place. Not getting help sends a message that the front office doesn't think its team is really a contender.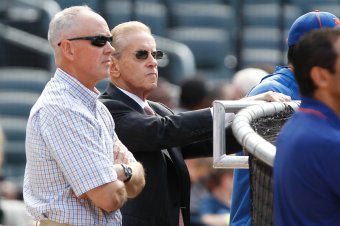 Debby Wong-US PRESSWIRE
The team also owes it to their fans to make an honest effort at improving its chances at making the playoffs this year.
A dark cloud hung over the Mets before the season as ownership tried to untangle itself from a lawsuit related to Fred Wilpon's association with Bernie Madoff that would have bankrupted the team. Alderson cut the team's payroll by $52 million, virtually ensuring that top free agent talent would no longer be pursued.
The Mets lost Jose Reyes to free agency. There were rumors that David Wright might be traded before the team faced offering him a contract extension. Johan Santana was still recovering from shoulder surgery and may never have been the same pitcher again.
Yet Mets fans stuck with their guys. They believed the Mets could be somehow be competitive in the NL East, despite every other team making improvements to their rosters while Alderson largely stood pat. Mets fans came out to support their team, and their attendance ranks 16th in baseball. That's pretty impressive, considering there wasn't much to be optimistic about going into the season.
Fans of every other playoff contender are excited as the trade deadline approaches. It's one of the best parts of being a fan of a winning team. What additions might be made? How will the team try to improve?
Brad Mills-US PRESSWIRE
The Mets shouldn't take that away from their fans. Give the people who have supported you all season further reason to be excited. Don't let the air out of their balloons.
If the Mets fall further out of contention over the next 10 days, then the white flag can be raised. Shrug your shoulders and said you gave it a try. Fans would understand. But remind them that future still looks bright for the team with pitching prospects Matt Harvey and Zack Wheeler looking like contributors in 2013. Maybe sign Wright to that contract extension he deserves.
Until then, however, the Mets should keep hope, fun and happiness alive for their fans. It's really the least the team could do after all those fans have been through.
Follow @iancass on Twitter