Miami Hurricanes Staff Allegedly Used Booster to Bypass Recruiting Restrictions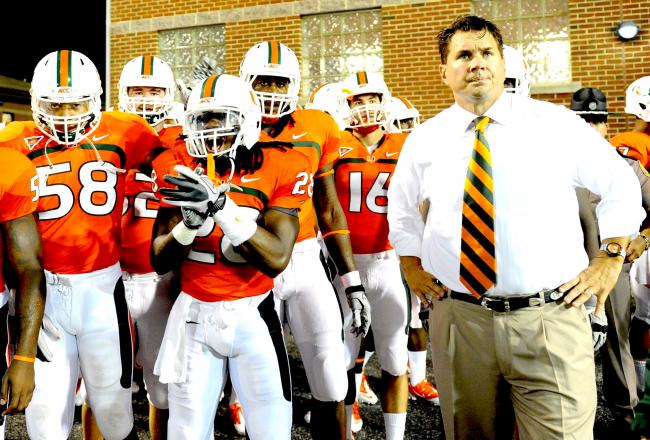 More troubling news has emerged regarding the Miami Hurricanes football program.
According to Charles Robinson of Yahoo! Sports, members of coach Al Golden's coaching staff used an equipment manager to bypass NCAA rules in recruiting players that were based in Miami.
The equipment manager, Sean "Pee Wee" Allen, was extremely close to Nevin Shapiro, who is known for his involvement in rampant violations of NCAA rules by providing gifts and favors to Hurricane football players from 2002-2010.
UPDATE: Friday, July 20, 10:05 p.m. ET
It didn't take long for Golden to respond to the allegations. He made a statement through a Miami official to directly address the Yahoo! report (via Sun Sentinel):
I have been a college football coach for more than 18 years and I am proud of--and I stand by--my record of compliance over that span. As my colleagues and players on all of my teams can attest, I believe strongly in doing things the right way with the best of intentions. The inferences and suggestions in the Yahoo! Sports story that my conduct was anything but ethical are simply false. I, like all of us at UM, have cooperated fully with the joint NCAA-UM inquiry and will continue to do so, so that our program and our University can move forward.

Because the process is on-going, I am unable to address any specifics or answer questions on the matter.
This is a fluid story with details just beginning to surface. Expect more information regarding the allegations to be released in the coming days.
----------End of Update----------
What exactly was Allen's involvement in everything?
According to the Yahoo! report, Allen was a recruiter who was "off the books," which led to a plethora of NCAA violations, according to a Hurricane employee who spoke with Robinson:
As part of those duties, the staffer said Allen kept tabs on Miami-area kids, including making calls about their recruitment, and on some occasions, supplying improper transportation to and from campus that aided Miami in its efforts to gain a commitment from some prospects.

Allen "was directed to call those kids and would have never done it without the coaches pushing it," the former Hurricanes staffer said.
The final statement is what really hurts Golden and his staff.
If they were fully aware of what was going on, the punishment from the NCAA is going to be extremely harsh. Golden has been the head coach since mid-December 2010, well within the time frame of when these allegations occurred.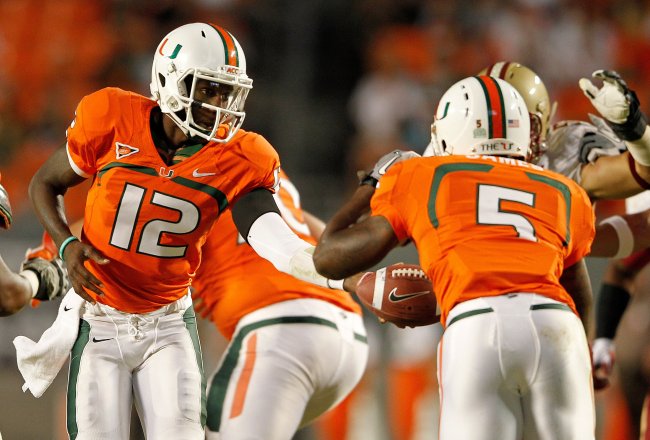 Mike Ehrmann/Getty Images
What makes matters worse for Golden is that a former employee of the Hurricanes athletic department and Allen both gave a federal testimony that the head coach knew what was going on the whole time, according to the report.
Current assistant coach Michael Barrow has been accused of asking Allen to show former recruit Elston Lane around the Hurricane facilities.
Lane spoke with Robinson, and his comments certainly don't help Miami's case (via Yahoo! Sports):
I didn't think he was a recruiter. He was just like, a UM fan. He would just be like, 'This is the best place for you.' He was egging on for UM. I had a couple of schools recruiting me, and he was like, 'Yeah, I like this school for you, or that school for you, but the best for you I think is UM.' He was a fan. Of course he was going to say UM was the best place.
The report states that Allen was already under investigation for introducing recruits to Shapiro, while also giving benefits to players and recruits. He testified in the bankruptcy case of Shapiro and admitted to being involved in allowing scores of Miami players to receive improper benefits.
Golden and the Miami program have yet to release a statement, but it's hard to imagine them providing much of a defense.
Friday's news appears to be yet another black eye on the Miami program, and college football in general.
This article is
What is the duplicate article?
Why is this article offensive?
Where is this article plagiarized from?
Why is this article poorly edited?