Chelsea vs. Paris Saint-Germain: Predicting Blues' Starting Lineup for Friendly
Ian Walton/Getty Images
After an entertaining victory over the Seattle Sounders, Chelsea will focus on a slightly bigger opponent: Paris Saint-Germain.
The French side has had a legendary spending spree this summer, and they look to be a force in Europe. Considering they will be matching up against the European champions, you can be sure they will not take this game as a simple exhibition.
Chelsea don't have their entire roster available, but they have plenty of talented players ready to take the pitch at Yankee Stadium. It's the first game of the World Football Challenge, and Chelsea will want to get off to a good start. Furthermore, they want field a strong lineup against a potential Champions League foe.
Using the 4-2-3-1 formation that Roberto Di Matteo used against Seattle, I have done my best to predict Chelsea's lineup for Sunday night's clash.
GK: Hilario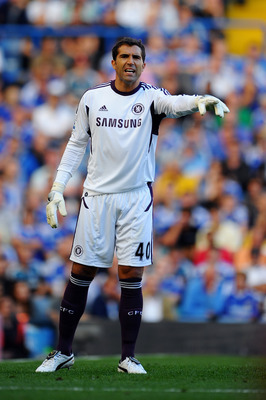 Laurence Griffiths/Getty Images
Things are always interesting when Hilario is in goal.
He conceded two cheap goals to Freddy Montero in the match against Seattle so it's tough to take much away from his performance. While he made some good saves and can't be blamed for the giveaways, Hilario definitely should've saved Montero's second goal.
He's a solid option, and he's earned the right to start Chelsea's friendlies as long as Petr Cech isn't there.
LB: Paulo Ferreira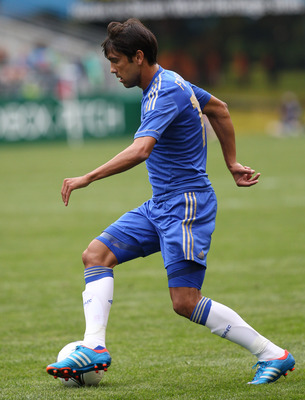 Otto Greule Jr/Getty Images
With Ashley Cole taking some time off and Ryan Bertrand making the Olympics roster, Paulo Ferreira is really all Roberto Di Matteo has remaining at left-back.
He doesn't do much exceptionally, but he does play hard and offers support on the left side.
Ferreira is a decent player, and he will surely start against PSG.
CB: David Luiz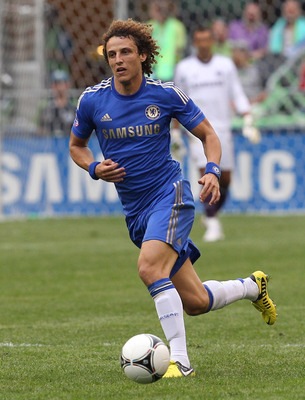 Otto Greule Jr/Getty Images
David Luiz still has a lot of development before he becomes the player he is capable of becoming.
He still makes you hold your breath on every tackle near the penalty area, but I like it that way. Luiz makes friendlies a little more exciting even if he doesn't mean to do it.
He didn't seem to push forward much against Seattle which was odd to see during a friendly. Let's hope Luiz plays a little more of an attacking threat against PSG, even if it's only to entertain the fans.
CB: Gary Cahill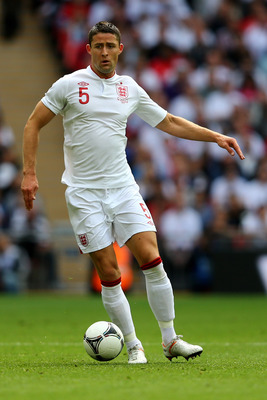 Clive Mason/Getty Images
Branislav Ivanovic was just sloppy against the Seattle Sounders.
He seemed slow in the back, and he didn't seem to have any interest in the match at all. He had a few poor giveaways, and he was poor rotating from one side of the pitch to the other.
Don't be surprised if Roberto Di Matteo makes a change. Obviously, these games aren't serious, but the players need to be sharper. Gary Cahill deserves a chance to play and he will most likely get the start. He could fill in for David Luiz, but it would make more sense for him to come in for Ivanovic.
RB: Sam Hutchinson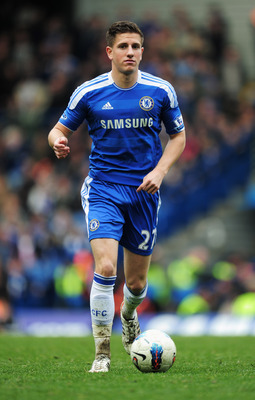 Jamie McDonald/Getty Images
Sam Hutchinson came off the bench in the last match so he will probably rotate into the starting XI.
He's a solid young player that seems to have overcome his degenerate knee problem. I don't want to jinx it, but Hutchinson is promising enough to get Chelsea fans excited about the right-back position.
Considering how atrocious the Blues were at right-back last year (see: Bosingwa, Jose), it's nice to know the future is bright. Let's hope the kid plays well and starts to get looked at for the first team.
CDM: John Obi Mikel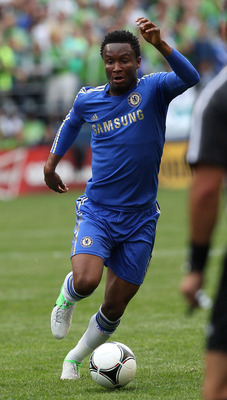 Otto Greule Jr/Getty Images
John Obi Mikel is another player that looked a little sloppy against Seattle.
He had a few unnecessary giveaways in the middle of the park which simply can't happen as he's holding down the midfield. Moreover, his on-ball defending was atrocious on Freddy Montero's second goal.
It's still the preseason, but Mikel needs to be sharper. A start against PSG will be a great opportunity for him to clean up his game.
CDM: Frank Lampard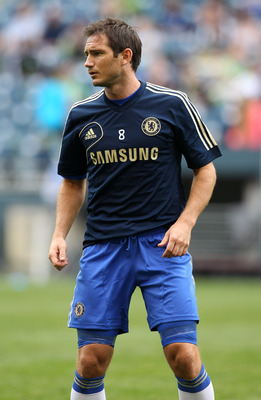 Otto Greule Jr/Getty Images
Josh McEachran could get the start in the holding midfield like he did in the first game, but Roberto Di Matteo will probably try to start a stronger lineup against PSG.
Frank Lampard can wear the armband for Chelsea, and he compliments John Obi Mikel very well. While Mikel hangs back, Lampard loves to push forward. If he gets a chance in front of the net, you can be sure "Super Frank" will bury it.
He probably won't play more than 45 minutes, but Lampard will most likely get some first half time in this match.
LAM: Marko Marin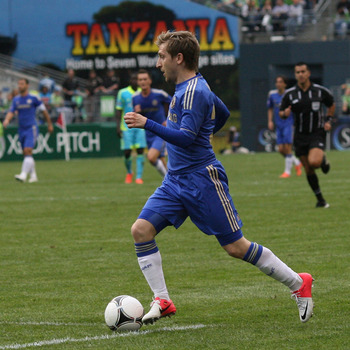 Otto Greule Jr/Getty Images
Marko Marin impressed in his Chelsea debut.
The German winger was quick, and he caused some problems early and often for the Seattle defense. He's very quick and he loves to push forward. Chelsea fans have to love watching this guy play.
Roberto Di Matteo could choose Kevin De Bruyne or Gael Kakuta, but Marin is the newest kid on the block which means Chelsea have to show him off. Regardless, the starter won't make it past the 55 minute mark.
CAM: Eden Hazard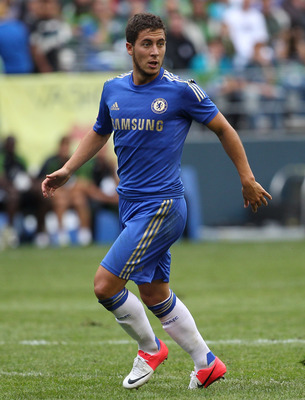 Otto Greule Jr/Getty Images
Eden Hazard is very good.
He switches the field effortlessly. He dribbles around defenders while looking for the next pass. He isn't afraid to shoot (and score). He's willing to take on any defender.
Essentially, Hazard can do it all.
Granted, the Seattle Sounders defense isn't quite on par with either club from Manchester, but Hazard was very good in his first match. He looked dangerous and Chelsea need that from the middle of the attack. He should start there once again on Sunday.
RAM: Ramires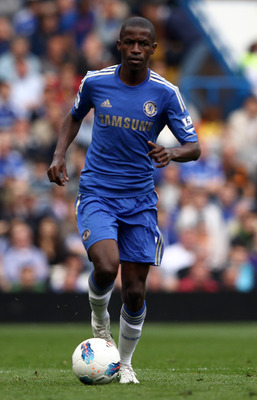 Ian Walton/Getty Images
Ramires yielded his starting spot to Yossi Benayoun on Wednesday, but don't expect that to happen again.
Ramires isn't as clever on the ball but he has much better pace and is better around the net. He's a workhorse and has a chance to outrun everyone in the friendly.
Roberto Di Matteo wanted to get a better look at Benayoun, but I think he will rotate Ramires into the starting role. The Brazilian brings more speed and a quicker counter attack to the pitch, which is exactly what Chelsea want.
ST: Romelu Lukaku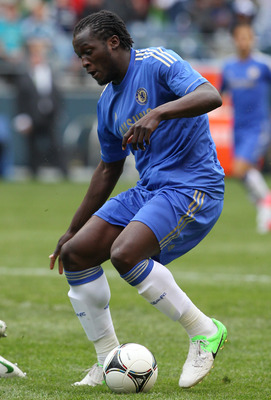 Otto Greule Jr/Getty Images
Romelu Lukaku was very impressive in the first preseason game.
He was strong on the ball, quick moving forward and patient in the box. On both of his goals, he could've shot sooner, though it would've been a lower-percentage shot. However, he trusted his skills and got to point-blank range before finding the back of the net.
Right now, Fernando Torres and Daniel Sturridge seem to be the top two strikers on Chelsea's roster. If Lukaku keeps up this form, though, he could have the starting spot by the beginning of the season.
Keep Reading

Chelsea: Like this team?