5 Fighters Who Disappointed Once They Hit the UFC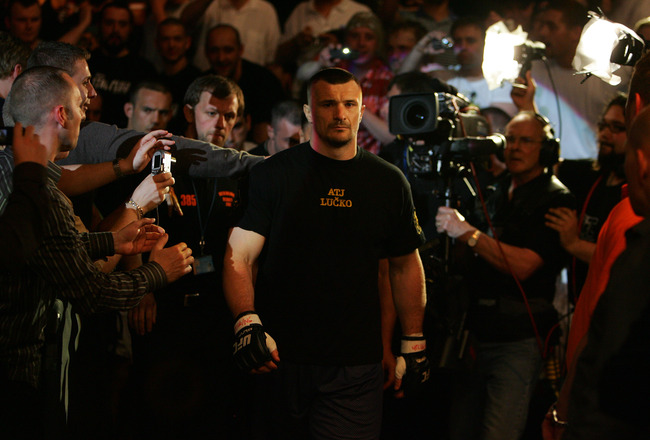 Gary M. Prior/Getty Images
Another fighter is set to make their Octagon debut when Hector Lombard takes on Tim Boetsch at UFC 149. Lombard has been the only Bellator Middleweight champion in the promotion's history and was unquestionably the promotion's biggest draw.
Thus, Lombard enters the UFC with not only quite a bit of hype but also with high expectations as well. Lombard can share that feeling with the handful of fighters on this list.
They all entered the Octagon with momentum on their side but saw their careers stagger once they debuted in the UFC. Not all of the guys on this list lost or looked terrible in their UFC debuts, but the fallout from their Octagon performance has without a doubt crippled their careers.
Alistair Overeem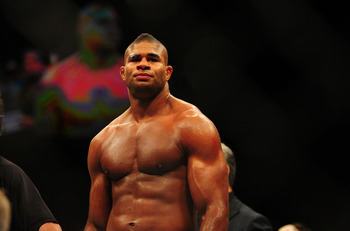 Mark J. Rebilas-US PRESSWIRE
Yes, Alistair Overeem defeated a former champion in his UFC debut, but given the media circus that followed his failed drug test, it's hard to call Overeem's initial run in the UFC a success.
Overeem defeated Lesnar in the first round, but taking into account his accomplishments and Lesnar's inability to handle a punch, that should come as no surprise. The real disappointment occurred in the weeks leading up to his expected showdown with UFC champion Junior dos Santos.
Overeem failed a drug test with elevated testosterone levels and was consequently dropped from the main event at UFC 145. Not only was Overeem denied his title opportunity, but the K-1 champion was also suspended for nine months by the Nevada State Athletic Commission.
Besides the suspension, it also seemed Overeem damaged his relationship with Dana White, to the point where White was unsure of what the future held for Overeem. The two have seemingly reconciled following the drug test and suspension, which will likely lead to Overeem finally getting his title shot either in December or early in 2013.
Wanderlei Silva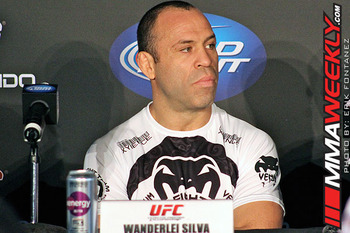 mmaweekly.com
Wanderlei Silva may have entered the UFC following two losses, but Silva was still considered "The Axe Murderer." That aura of unstoppable violence was soon put to rest after his stint in the UFC began.
For years, fans had wondered who the top light heavyweight in the world was. The arguments usually began and ended with either Silva or his UFC counterpart, Chuck Liddell. The dream fight between the two finally happened at UFC 79 and saw Liddell edge Silva via unanimous decision. The fight was action packed and became an instant classic for UFC and MMA fans alike.
Silva would eventually put together some victories and drop to 185 pounds, but he would never reign over a division like he did in Japan. "The Axe Murderer" will always be considered a fan favourite and it's hard for anyone to call Silva a disappointment, but it's even harder for anyone to say Silva met expectations when coming to the UFC.
Ben Rothwell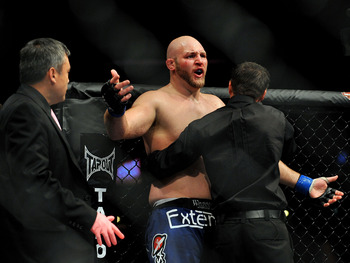 Jon Kopaloff/Getty Images
Ben Rothwell didn't have an easy debut for his first Octagon appearance. The former IFL star drew Cain Velasquez in his first UFC bout and the fight wasn't even close.
Rothwell actually entered the UFC with a bit of momentum and hype surrounding him, as the Wisconsin-native had gone 14-1 in his past 15 fights. The lone loss came to former UFC champion Andrei Arlovski in July of 2008.
Some of the traits that were expected to be put on display by Rothwell were his unbelievable agility for a man his size along with his strength and size. None of that seemed to matter when he faced Velasquez, as the future UFC champion took Rothwell down at will and pounded Rothwell for the majority of the contest until the referee stepped in.
Rothwell recently seemed to rejuvenate his MMA career with a win over Brendan Schaub and looked like a completely different fighter from the one who debuted at UFC 104.
Mauricio Rua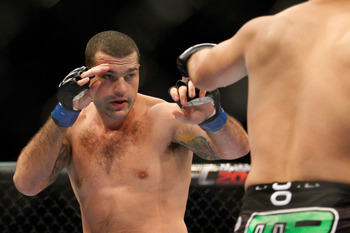 Richard Wolowicz/Getty Images
Mauricio "Shogun" Rua's overall UFC career will likely be viewed as a success, but it wasn't smooth sailing when Rua hit the UFC.
Following the acquisition of Pride, Rua was believed to be one of the true gems that would be competing in the UFC. He'd made a name for himself as one of the best Muay Thai practitioners in the world and had won four straight bouts following his injury to Mark Coleman.
Forrest Griffin, meanwhile, was 2-2 in his last four bouts, with his losses to Tito Ortiz and Keith Jardine far overshadowing his victories over Stephan Bonnar and Hector Ramirez. For all intents and purposes, Griffin was supposed to be nothing more than a sacrificial lamb for Rua to announce his arrival to American fans.
In one of the biggest upsets in MMA history, Griffin controlled much of the action and submitted Rua via rear-naked choke in the third round. The loss was an eye-opener for MMA fans, as Rua was expected to walk into the shark tank of UFC light heavyweights and dominate.
Mirko "Cro Cop"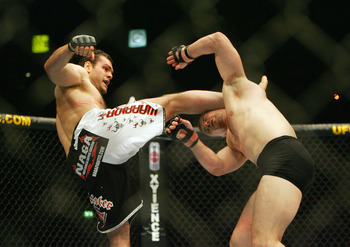 Gary M. Prior/Getty Images
Mirko "Cro Cop" Filipovic made a successful UFC debut by defeating Eddie Sanchez, but it would be his second UFC appearance where the wheels of his career seemed to come off.
Facing a BJJ black belt in Gabriel Gonzaga, many fans anticipated a series of takedown attempts coming from the Brazilian to test the legendary takedown defense of Filipovic. In one of the most stunning moments in MMA history, it would be "Cro Cop" who fell after Gonzaga delivered a left high kick (the signature move of "Cro Cop").
The loss seemed to change Filipovic's MMA career for the worse, as he never seemed to be the same fighter after his bout with Gonzaga. He looked less than impressive with his next fight against Cheick Kongo and despite delusions of Pride FC fans, he made a fairly bad return to the Octagon in 2009.
There were moments where fans caught glimpses of the old "Cro Cop," but it was clear his days of being a dominant figure in the heavyweight division were done.
Keep Reading