Miami Dolphins: 5 Players Who Need to Step Up This Season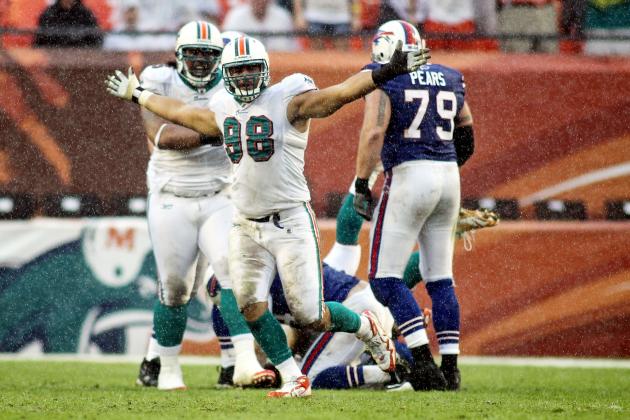 Marc Serota/Getty Images

The Miami Dolphins have had three straight losing seasons, going 6-10 last season. Fans have a few reasons to be optimistic, however, as some big changes have come in the past six months.
Joe Philbin was hired as head coach in January, replacing the energetic but overmatched Tony Sparano. Philbin brought on former Texas A&M head coach Mike Sherman as offensive coordinator and former Cincinnati Bengals defensive backs coach Kevin Coyle as defensive coordinator.
In the draft, GM Jeff Ireland officially signaled a new era in Miami football when he selected Texas A&M quarterback Ryan Tannehill eighth overall. Tannehill may not start at all this upcoming season, but he is officially the team's quarterback of the future.
Tannehill, along with fellow rookies Jonathan Martin, Lamar Miller, Olivier Vernon and Michael Egnew, should give Dolphins fans at least some hope that the future is bright.
But Miami still has some talent on the current roster, and there are a few players in particular who need to step up their game this season if they want to remain part of the team's future plans.
Begin Slideshow

»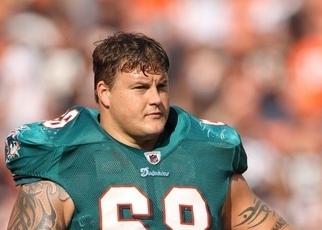 Photo courtesy of nfldraftwizard.com
To anyone who watches him play, it is clear that Incognito is no longer the prospect who was considered the strongest and most explosive player at the 2005 NFL combine.
He is still a good NFL starter, however, and needs to continue playing at a high level on an offensive line with a few question marks heading into the season. Jake Long needs to stay healthy, Jonathan Martin is a rookie and Mike Pouncey will have to fend off a sophomore slump.
Incognito, an eight-year veteran, may be relied on heavily to help solidify the unit throughout the year. Although some considered last season Incognito's best, he will have to adjust to the team's new, faster paced West Coast offense.
That will be no easy task for the 6'3", 324-lb. lineman, and if he proves to be too slow for the job, don't be surprised when Miami takes a guard in the first couple rounds of the 2013 draft.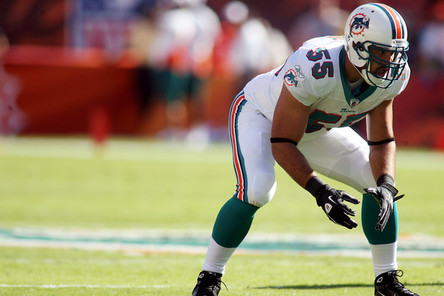 Photo courtesy of phinatics.com
Misi, taken 40th overall in the 2010 draft, had a very impressive rookie campaign. Last season, however, the linebacker took a step back, and will need to prove himself in 2012-2013. With the Dolphins switching from a 3-4 defense to a 4-3, hopefully Misi will return to his rookie season form.
On March 30 of this year, the former University of Utah standout was arrested on battery charges, which will not help his standing on the depth chart or with the fans. If Misi continues his downward trend, there is no chance that he starts for Miami in 2013. His legal troubles could even prevent him from playing during this season.
Gary Guyton is an athletic player who could become the new weak-side linebacker, and rookie fifth-round pick Josh Kaddu is a versatile playmaker who will also be gunning for his chance to get on the field. Linebacker could also be a top priority for Miami next offseason, via free agency and the draft.
Mike Ehrmann/Getty Images

Lamar Miller's presence is the main reason that Thomas got stuck on this list. With Reggie Bush getting the majority of the carries and Miller, taken in the fourth round, threatening behind him, Thomas' place on the roster is not at all secure.
Miller, who played at the University of Miami, slipped in the draft because of injury concerns, but his explosiveness and dynamic potential tempted Ireland enough to take him even with two good running back options already in place.
Thomas posted pretty strong numbers in his rookie year, rushing 165 times for 581 yards. He never found the end zone on the ground, however, and only played in 13 games due to a hamstring injury. If he gets hurt again and Miller impresses Philbin enough, Thomas could end up as trade bait.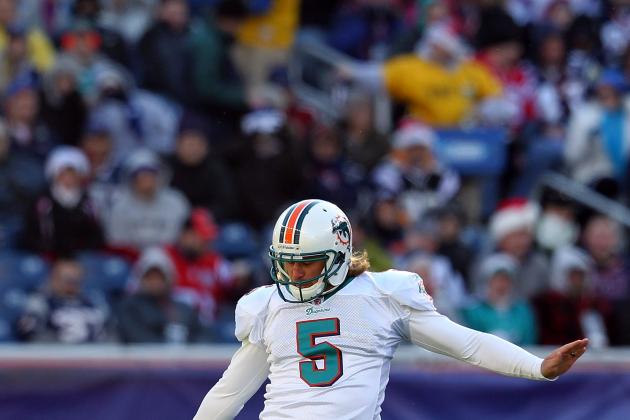 Jim Rogash/Getty Images

Am I the only one who can't believe that this will be Carpenter's fifth year in the league already? Signed in 2008 as an undrafted free agent out of Montana, Carpenter surprised everyone his rookie year, making 21 of the 25 FGs he attempted.
The 26-year-old has the capability of being a great kicker, but he will need to be consistent this year if he wants to keep his job. In 2009, he was one of the best kickers in the NFL, making 25 of 28 FGs, an impressive 89.3 percent.
But in 2010, he only made 73.2 percent of his FGs, and had two of his kicks get blocked. Last year he was a respectable 85.3 percent, but he will need to be better than average in this upcoming season.
Some of Miami's games are bound to be very close, and Carpenter may have the chance to steal a win or two for the team. If he has another down year, Miami may shop for a new kicker next offseason.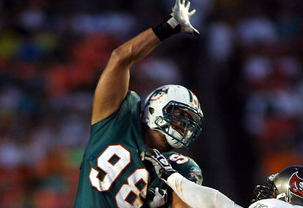 Photo courtesy of zimbio.com
Odrick, like Incognito, is a little oversized for what he'll be asked to do this year. In a 4-3 defense, Odrick will play on the end opposite Cameron Wake.
At 6'5", 302 lbs., Odrick is a physical beast. But he is more of a run-stopper than a pass-rusher, and may struggle a bit in his role as a 4-3 end. If he can adapt, the Dolphins will have one of the best defensive lines in the NFL with their attack of Odrick, Wake and Paul Soliai.
But if Odrick can't get around the edge fast enough to pressure the quarterback, rookie Olivier Vernon should start to get some snaps on passing downs. If Vernon proves to be effective, Odrick may very well become expendable.